Business Development Manager Resume Example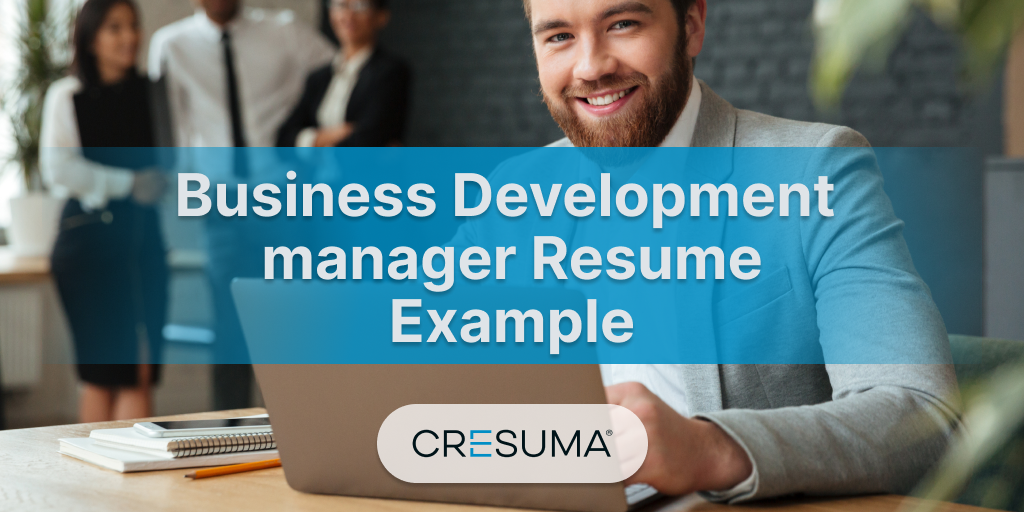 Why did the recruiters always reject your resume? Do not worry! That will not happen anymore. Here are the best tips to make your Business Development Manager Resume stand out and win your dream job!
No hidden costs. Download your ATS-Friendly resume in PDF for absolutely FREE!
Business Development Manager Resume
No need to start from the beginning. Edit this resume sample with your information and keywords from the job posting.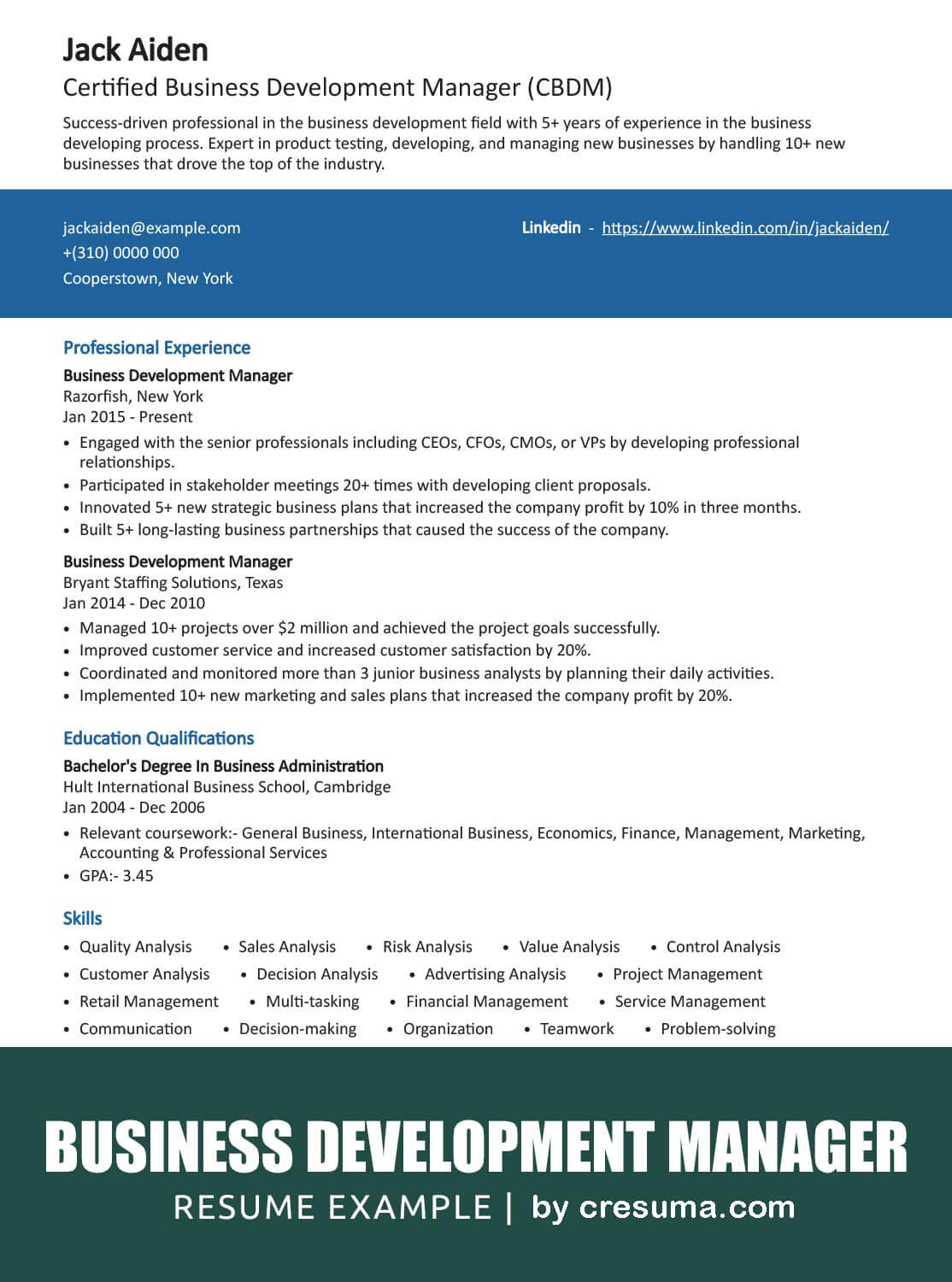 Best Tips to Make Your Business Development Manager Resume Stand out
If you are a beginner at resume writing, read our full article on how to write a perfect resume. However, the following resume tips will help you to make your resume content stand out

.
Make Your Job Title Impressive
Though you apply for a job opening or just send your resume for a company you need to make your job title more impressive. That means not just stating 'business development manager'. Because if you bring up 'certified business development manager' or 'self-motivated business development manager' as your job title, your resume can draw the recruiters' attention more.

Highlight the Top Achievements in Your Career History
You need to show a successful track record of marketing transformation or digital business transformation from your career history. That means the recruiters really want to know your most recent and relevant experience. The following facts will help you to make your resume stand out.
Try to inform that you have developed new learning leads via social media and relevant events. Also, that you have worked in a fast-paced and highly interactive environment. Not only that being a knowledge source of the industry, digital business models, and technology is also a unique talent to be a business development manager.
Reveal You are a Skillful Business Development Manager
Soft Skills for a Business Development Manager Resume
As a manager in the business development field, you need to have the soft skills to engage and work with others smoothly. Here are some soft skills that can add to the resume of a business development manager.
Leadership skills
Communication skills
Decision-making skills
Organizational skills
Working Ethics
Responsibility
Computer skills
Collaboration skills
Multi-tasking skills
Innovation
Problem-solving skills
Time Management skills
Hard Skills for a Business Development Manager Resume
The duties of a business development manager are totally connected with the analysis and management of various sectors. If you want to be a professional business development manager you need those hard skills. Management Skills Analytical Skills
Management Skills
Analytical Skills
Strategic Management
Marketing Management
Supply Chain Management
Manufacturing Management
Retail Management
Service Management
Financial Management
Project Management
Cost Analysis
Economic Analysis
Cash Flow Analysis
Fraud Analysis
Quality Analysis
Sales Analysis
Risk Analysis
Decision Analysis
Control Analysis
Quantitative Analysis
Production Planning Analysis
Leverage Analysis
Pricing Analysis
Capital Budget Analysis
Process Analysis
Advertising Analysis
Value Analysis
Customer Analysis
Productivity Analysis
Competitive Analysis
Qualitative Analysis
Business Valuation Analysis
Show Your Certifications and Licenses
If you have any certification that proves your knowledge and scope of the business management industry you can provide the details under the 'Certifications & Licenses' section. You need to state at least the certification name, certified date, and organization to prove your eligibility.
For example, the CBDM certification issued by the American Institute for Business Management and Communication is one of the most famous and relevant certifications for a Business Development Manager.
Other than that any certification that showcases your expertise in Google eCommerce Analytics, Google Analytics, SEO, or Outbound Marketing will enhance the value of your resume further.
Here are some certifications that enhance the value of your resume.
Associate in Project Management
CompTIA Project+ Certification
PRINCE2 Foundation/PRINCE2 Practitioner
Project Management in IT Security
Certified Associate in Project Management
Project Management Professional
Certified Project Director
Certified ScrumMaster
Certified Project Management Practitioner
Add Powerful Action Verbs in Your Resume Content
Action verbs can decorate the language of your resume. Especially if you grab the action verbs given in the job advertisement, the recruiters will feel the uniqueness of your resume. However, try to start the bullet points of your resume from a powerful action verb.
Action Verbs List
Developed
Updated
Generated
Managed
Provided
Coordinated
Organized
Completed
Prepared
Researched
Presented
Performed
Identified
Analyzed
Worked
Followed-up
Planed
Created
Negotiated
Responded
Attach a Splendid Business Development Manager Cover Letter
A cover letter is not just a letter. If you highlight your uniqueness and admire the recruiting company between the cover letter content, the recruiters will surely read your resume. So you can write a perfect cover letter and use it as a value increase of your resume

.
Business Development Manager Resume Sample (Text Version)
Jack Aiden
CBDM Certified Business Development Manager
+(310) 0000 000
jackaiden@example.com
Cooperstown, New York
Linkedin – linkedin.com/in/jackaiden/
Summary
Success-driven professional in the business development field with 5+ years of experience in the business developing process. Expert in product testing, developing, and managing new businesses by handling 10+ new businesses that drove the top of the industry.
See the complete resume summary guide
Work Experience
Business Development Manager
Razorfish, New York – 2015/Jan – Present
Engaged with the senior professionals including CEOs, CFOs, CMOs, or VPs by developing professional relationships.
Participated in stakeholder meetings 20+ times with developing client proposals.
Innovated 5+ new strategic business plans that increased the company profit by 10% in three months.
Built 5+ long-lasting business partnerships that caused the success of the company.
Business Development Manager
Bryant Staffing Solutions, Texas – 2010/Jan to 2014/Dec
Managed 10+ projects over $2 million and achieved the project goals successfully.
Improved customer service and increased customer satisfaction by 20%.
Coordinated and monitored more than 3 junior business analysts by planning their daily activities.
Implemented 10+ new marketing and sales plans that increased the company profit by 20%.
Education
Bachelor's Degree in Business Administration – 2004/Jan to 2006/Dec
Hult International Business School, Cambridge
Relevant coursework:- General Business, International Business, Economics, Finance, Management, Marketing, Accounting & Professional Services
GPA:- 3.45
Skills
Quality Analysis
Sales Analysis
Risk Analysis
Advertising Analysis
Value Analysis
Customer Analysis
Decision Analysis
Control Analysis
Manufacturing Management
Retail Management
Service Management
Financial Management
Project Management
Communication skills
Decision-making skills
Organizational skills
Multi-tasking skills
Problem-solving skills
Time Management skills
Teamwork skills
Languages
English – Native Speaker
French – Very Good Command
German – Working Knowledge
Spanish – Highly Proficient
Certifications
CBDM certification (American Institute for Business Management and Communication – 2016/Feb)
People who read this also read: