Hotel Front Desk Agent Resume Example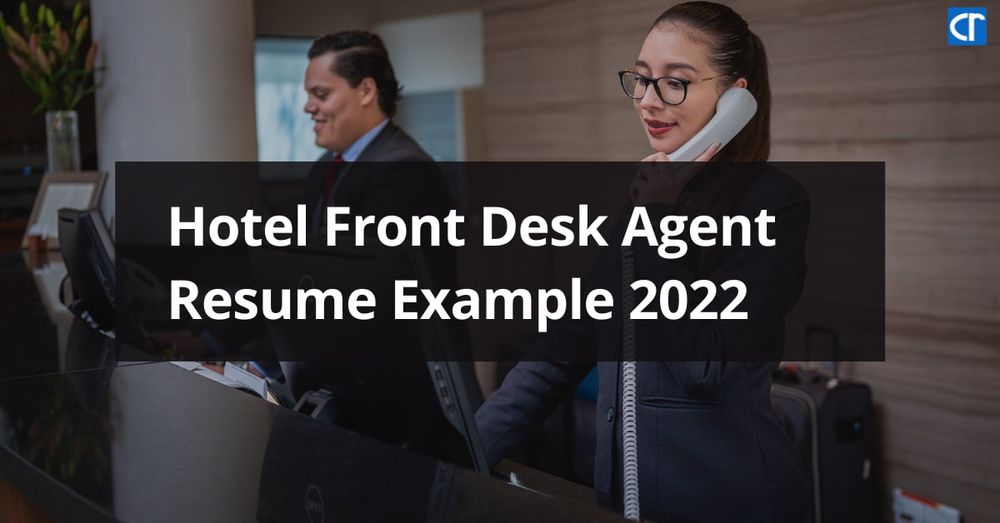 Complete Resume Guide for a Hotel Front Desk Agent
Ask from a Professional Front Desk Agent (Best Tips and Secrets)
Hotel Front Desk Agent Resume Example (Text Version)
No hidden costs. Download your ATS-Friendly resume in PDF for absolutely FREE after creating!
Hotel Front Desk Agent Resume
No need to start from the beginning. Edit this resume sample with your information and keywords from the job posting.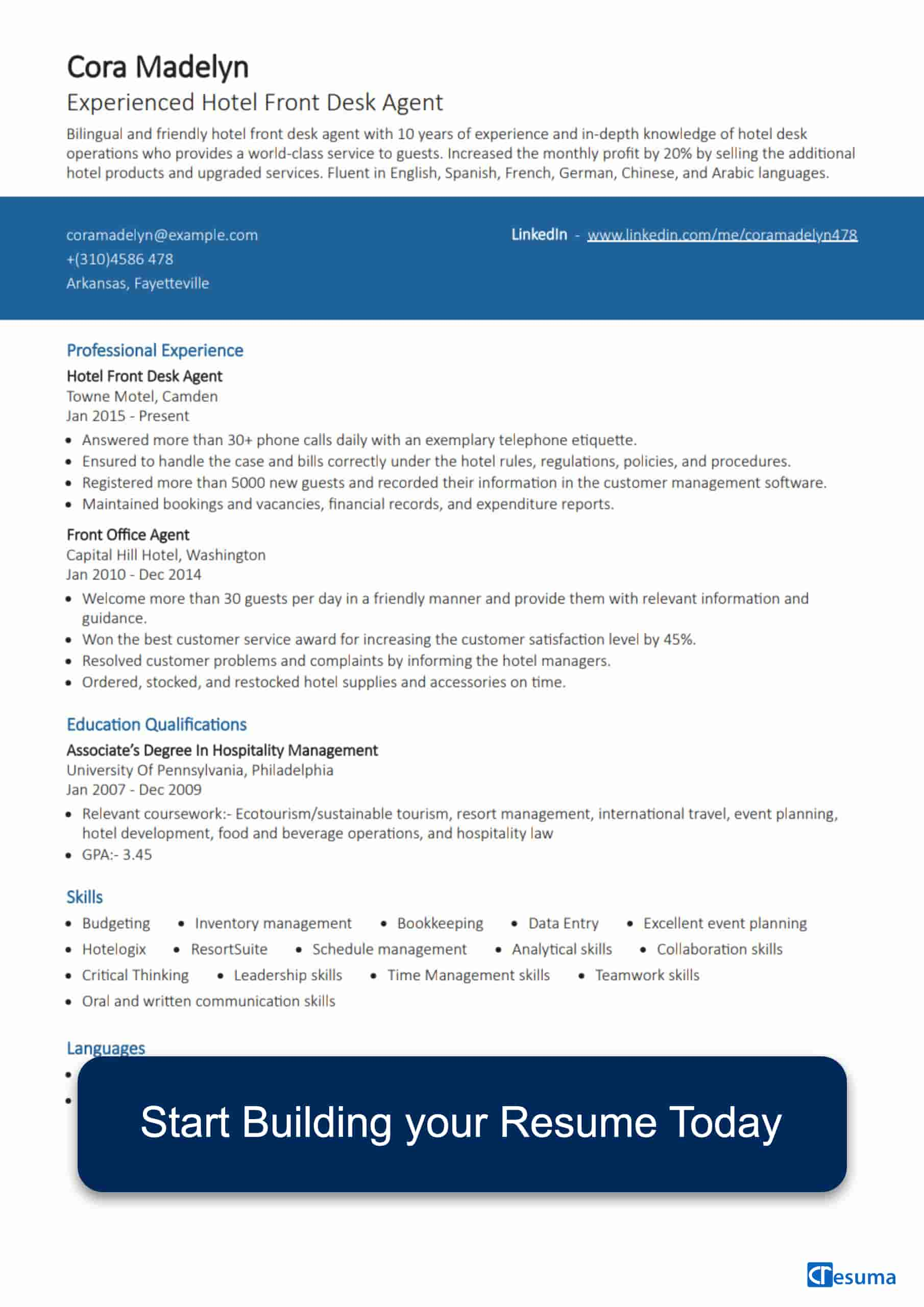 Complete Resume Guide for a Hotel Front Desk Agent
How to Create a Perfect Resume Template for a Front Desk Agent Quickly?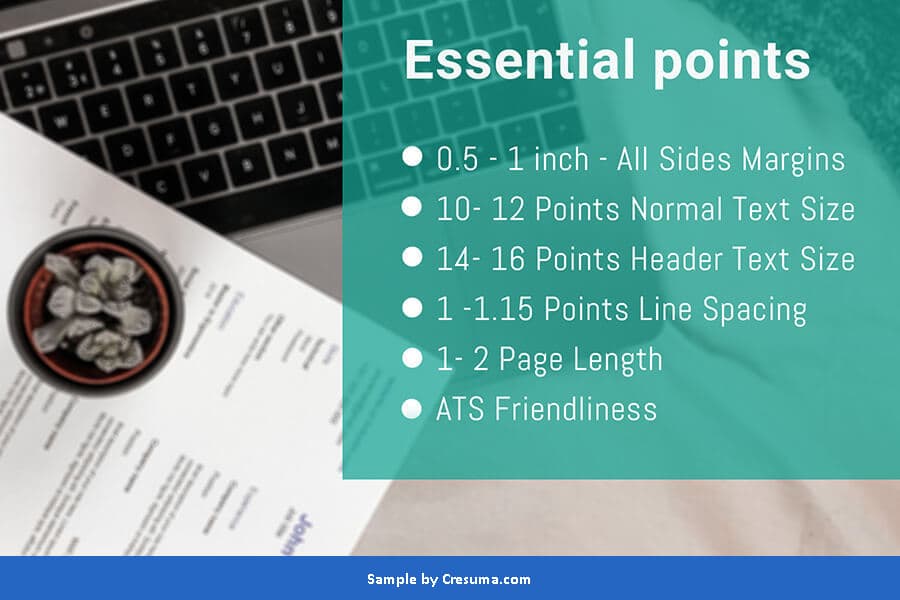 Nowadays many online resume builders are available. You can use one of them to create your front desk officer resume template. When you select an online resume template consider the following facts.
ATS friendliness:-
It is very important. Because your resume passes the Applicant Tracking System (ATS) test only if it is ATS friendly. In three steps you can check the basic features of ATS friendliness. First, see whether your content text can select. Then, ensure the links can click. Finally, do not use templates with heavy graphics.
Also make sure to add ATS friendly key words to unlock your potential and maximize your chances of landing your dream job.
Font Style:-
The cursive fonts and very stylish fonts are not eligible to use in a resume of a front desk officer. The resume font style must be clear and easy to read. We recommend you to use Georgia, or Helvetica font in your resume.
Enough Space:-
TYou ought to select a template that allows you to arrange your information into one page. That means one-page is the best resume length for a front desk agent. Though you have experience for more than 10 years try to limit your resume to one page by only stating the recent and relevant information.
File format:- Try to choose a resume builder that provides a PDF format of your resume. Because PDF format is the most ATS friendly file format. As it is universally accepted, you do not worry about the required file format of your target company.
May I Attach a Stylish Photo to My Front Desk Agent Resume?
No! That is not a good idea. As experts in resume writing, we recommend selecting a template without a photo. That saves more space to arrange your career details. But if your hiring personnel request you to add the best resume length attach a professional-looking photo, not a stylish photo.
What to include in the Resume Header of a Front Desk Officer?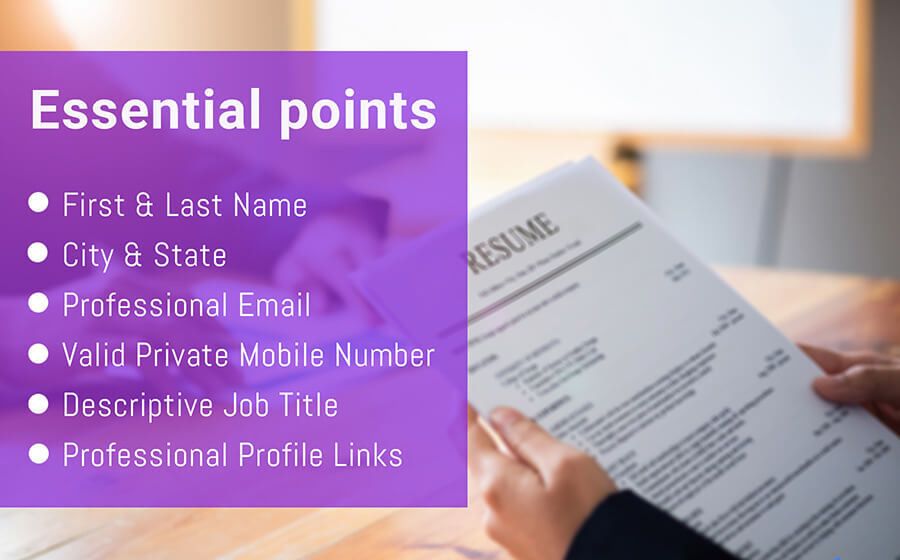 As common applicants, the guest service representative can include the personal contact details in the resume header. They are first and last name, city and state, job title mentioned in the job post, private contact number, and email address.
The professional personnel profiles like Facebook, Instagram, LinkedIn, Twitter, or personal website can be linked to your resume. But the social media URLs are optional to add to your front desk agent resume.
If you can prove any of your career details, skill, or talent related to the hotel front desk management from a social media account, you can provide the link in your resume header. Otherwise, you do not need to mention them.

How to Write a Perfect Resume Summary for a Front Desk Agent?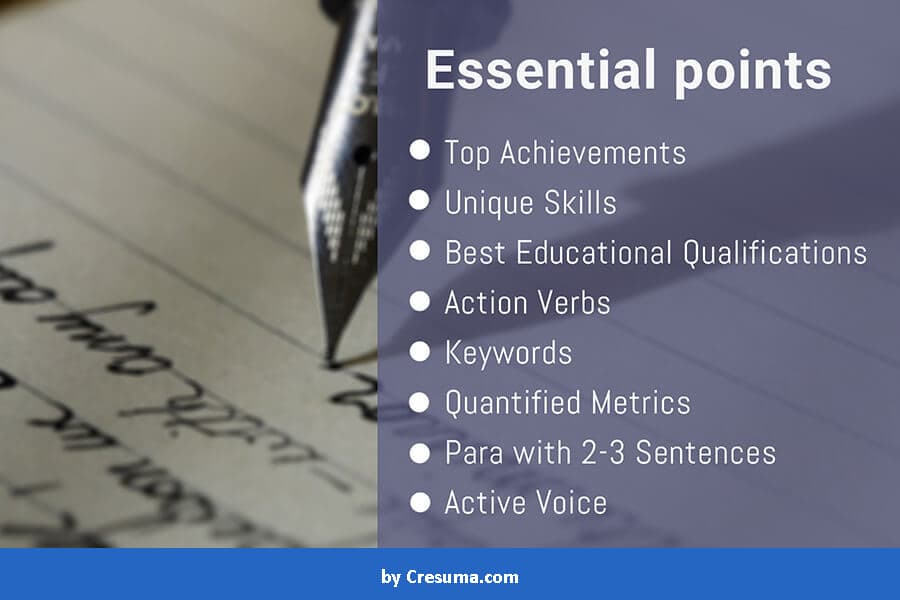 An impressive resume summary is a great way to draw the attention of hiring personnel in the hotel.
For that, you should collect best key words and your top career achievements, unique abilities, and competencies related to the job position and the best educational qualifications. Adding more buzzwords related your job description will help you to unlock your career success Then build a small but convincing paragraph using them.
The relevant action verbs and keywords will make your resume summary stand out. Also, try to quantify your accomplishments using percentages, years, and amounts.
Example from an Expert
Summary

Customer-oriented and dedicated hotel front desk agent with 10 years of experience in the hotel management field. Increased 20% of customer satisfaction level by providing quick and helpful service for the guests. The skills in data and information management, customer management, inventory management, document, and report management were caused to be the best employees three times.
What to Include in the Front Desk Work Experience Section?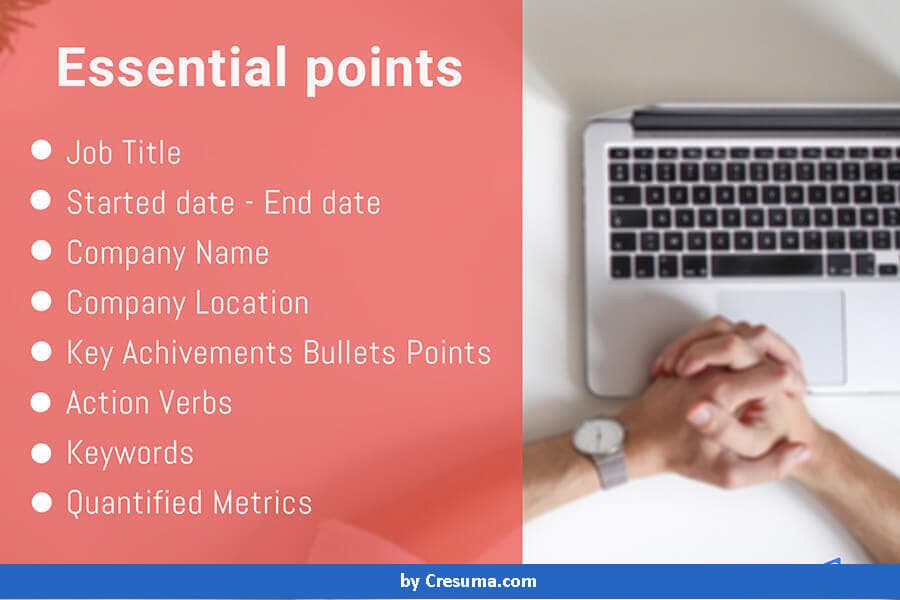 The work experience section is the best place to show your real value. You should not mention your entire career history. That means, the recruiters love to see only the recent and relevant career experience.
Do you already have similar work experience as a hotel front desk agent in other hotels? Then enter those experiences in your career history area.
Other than that, the experiences as a secretary, receptionist, or office assistant are also applicable in your resume work experience section.
A complete work experience section contains the job title, employed duration, the name of the hotel, the location, and at least 3-4 bullet points of your career accomplishments.
Also, enhance the value of your front desk resume by using relevant keywords, action verbs, and quantified metrics like years and percentages.
Example from an Expert
Work Experience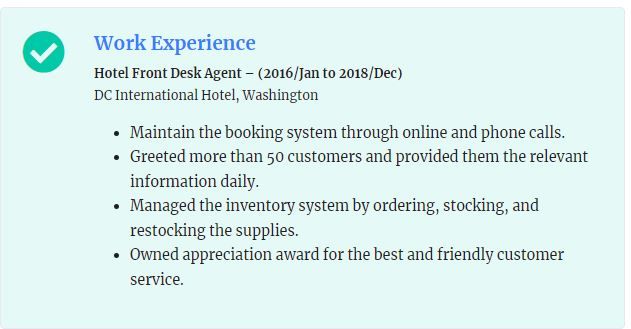 Hotel Front Desk Agent – (2016/Jan to 2018/Dec)
DC International Hotel, Washington
Maintain the booking system through online and phone calls.
Greeted more than 50 customers and provided them the relevant information daily.
Managed the inventory system by ordering, stocking, and restocking the supplies.
Owned appreciation award for the best and friendly customer service.
How to Build Powerful Career Achievements for a Front Desk Representative?
The bullet points of your career achievements ought to include the recent and relevant experience in previous jobs. The following facts help you to create the perfect front desk job description for your resume.
Pleasant look and cleanliness
The front desk representative is the critical first impression of hotel guests when they enter the hotel. Therefore, the recruiters love to hire a well dressed, and smiling agent for their front desk.  So, applicants can emphasize his positive behaviors of prior jobs. They may be cleaning and maintaining the work areas at all times, making a proactive and positive attitude in customers' minds, and ensuring uniform and personal appearance are clean and professional.
Proven office administrative assistant
The guest service representative is responsible for conducting some administrative duties such as sending and receiving faxes and emails, making copies, creating reports, correspondence, and distributing guests or staff mail and messages as necessary. Some hotels assign the duty of posting the charges for faxes, laundry, food, or beverage convenience store outlets to the front desk officer.
Proficient in technology
This job is usually connected with modern technology. Especially the ability to use the computer and internet is essential. Also, the best practices in PBX telephone etiquette, telephone, and two-way radio, fax machines, and photocopies are preferred.
Also, you can mention some ethical routines of your telephone usage. For example, keeping a calm voice, clear speaking, keeping a smile when answering the phone, addressing the caller properly, and not hanging up first are best practices in telephone conversations. So, do not forget to explain some occasions you got positive feedback from those habits.
Body fitness
The majority of recruiters request officers with good health. Usually, they mention it in their job post as follows. The applicant should be able to speak and hear over the phone, lift, and carry at least 20 pounds without assistance, reach overhead, push, pull, bend, and walk stairs. So, prove your body fitness as possible.
Flexible in work schedule
Do you know recruiters give more attention to the applicants who are flexible to work in extra schedules? Because the majority of workers reject overtime work. So, create an achievement that you have worked for the hotel in the evenings, weekends, and holidays and increased customer satisfaction or hotel income. That accomplishment will be an extra point for your resume.
Ability to handle different type of guests
There may be different types of hotel guests. They are confirmed or claimed reservations, walk-ins, groups, VIP guests, individuals with disabilities, etc. Also, some customers get angry quickly. If you can prove that you have experience in those types of visitors, the hiring personnel will be surprised.
Ensuring the privacy and security of the customer
The front desk officer is responsible to ensure the security of the hotel, money, documents, details, information, and all guests. On the other hand, an agent is an active responder in emergency accidents or thefts promptly. It means the officer should take an action within at least a 20 minutes response time. Following company policies and procedures is also a must for a guest service representative. You can create a perfect achievement by compressing this fact too.
Expert in paper and software documentation
Some hotels still use manual documentation systems. But the majority of hotels and restaurants have updated computerized systems. So, the front desk representative is the handler and maintainer of the reception hand overbook, recording all matters in HotSos or hotel specific recording process, front Office computer, manual system, completion of shift check-list,  and reporting transactions. It is time to provide an overview of your prior experience in documentation as an achievement.
Best knowledge of hotel credit policy
Money handling is the main duty of a guest service representative. Therefore, the knowledge of cash payments, credit card payments, voucher payments, the account to the company, third party payment, and the international currency is a must for the applicants. So, try to create an accomplishment in cash handling in your previous jobs.
What is the Minimum Educational Qualification for a Front Desk Officer?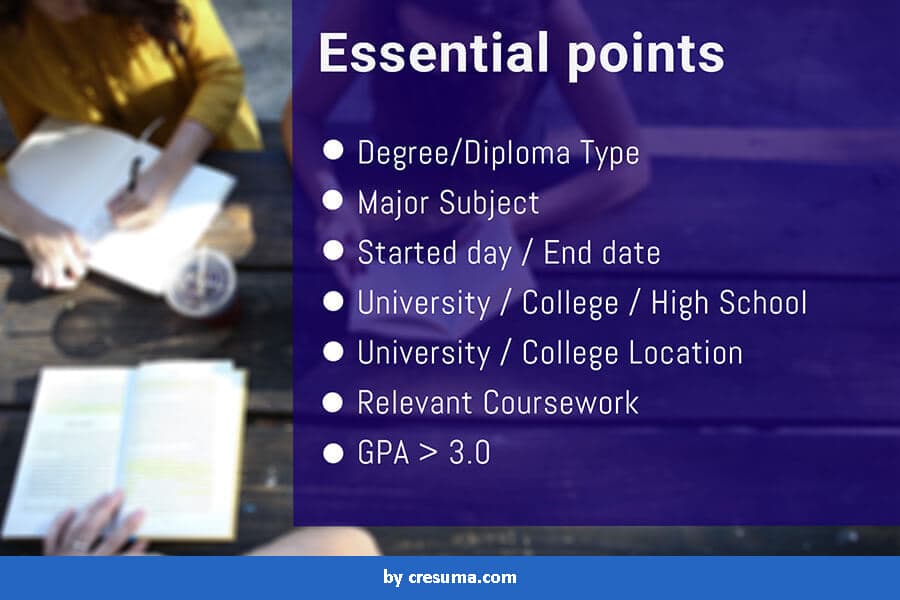 A high school diploma is a minimum qualification to be a professional hotel front desk agent. So, we can see the studied duration, name, and location of the high school in a common education section of resume of a guest service representative.
But mentioning some achievements as a speaker, assistant, and active player in your high school, will enhance the worth of your resume further.
But if you have a degree in hotel management, hospitality management, or another relevant field, mention it at the top of your education section. Because it is a top-notch qualification for a hotel front desk agent resume.
Also provide a concise set of information including the degree type, major subject, degree duration, university name, and location.
The relevant coursework and your GPA will increase the value of your resume. But check whether the GPA is higher than 3.0.
Example from an Expert
Education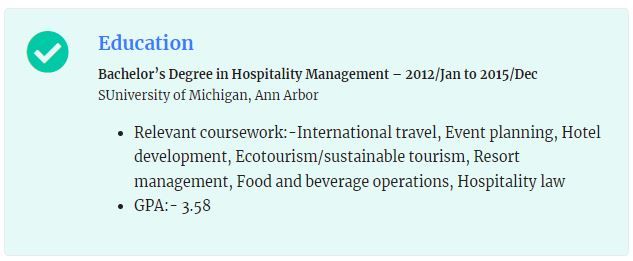 Bachelor's Degree in Hospitality Management – 2012/Jan to 2015/Dec
S University of Michigan, Ann Arbor
Relevant coursework:-International travel, Event planning, Hotel development, Ecotourism/sustainable tourism, Resort management, Food and beverage operations, Hospitality law
GPA:- 3.58
What are the Soft Skills Related to Front Desk Management?
The soft skills represent the personal and interpersonal behaviors of the front desk representative. They help to handle the daily duties of the person smoothly.
Interpersonal skills:- The applicant has to welcome and greet the guests in a friendly manner. Also, she is responsible to answer various questions about the customers' reservations. In simple terms, interpersonal skills are very important to provide a high standard of hospitality and customer service.
Teamwork skills:- The applicant should be ready to listen and respond to the concerns of employees, develop and maintain positive working relationships, and support the team to reach official goals. So, teamwork skills are very important for a front desk agent.
Organizational skills:- The day of a front desk agent is busy with programming room keys, handling guests' mail, restocking supplies, and many more. So, the applicant should be a well-organized person to conduct those duties smoothly.
Communication skills:- The duties of a front desk representative are always linked with both verbal and written communication. That means, communication skills are very important to complete and fill registration cards, record guests' comments, answer telephones using appropriate etiquette, and provide correct information about the hotel products.
Basic Mathematical skills:- Calculating room charges, collecting payment for all charges incurred, and handling large amounts of currency accurately are basic duties of a front desk officer. So the applicant must have basic mathematical skills.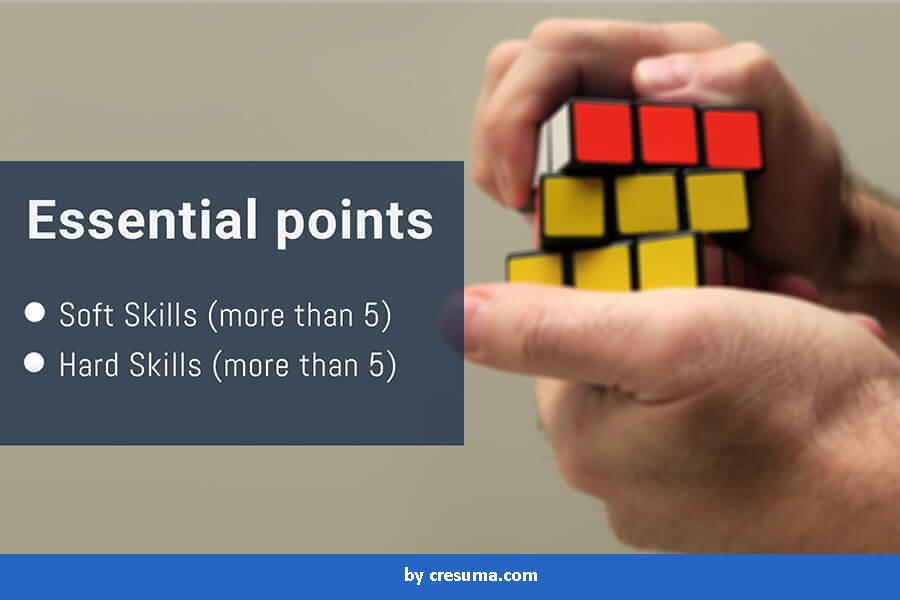 Are there any Hard Skills to Add to the Front Desk Resume?
The hard or technical front desk agent skills represent the unique competencies and abilities of the guest service representative. So, the following hard skills can include in the front desk agent resume.
The skills do not limit to the list of skills in your resume That means you can apply many relevant skills in your achievements of the summary statement or work experience section.
Hard Skills for a front desk agent
Budgeting management skills
Inventory management skills
Bookkeeping skills
Customer Billing
Customer Checkout
Customer service
Cash handling
Currency rates
Data Entry
Document managing (general business periodicals, professional journals, technical procedures, governmental regulations, roomMaster, and Hospitality)
Event planning
Front Office
Housekeeping schedules
Information Management
Lost & found items
Loss Control / Prevention
Multi-line Phone Systems
Office Administration
Quality assurance
Wake-up calls
Sales
Supply Management
Schedule Management
Telephone skills
Familiar with Office Equipment (fax machines, copiers, etc)
VOIP Phone Systems (Voice over Internet Protocol)
Software Requirements
Hotel front desk management software (Hotelogix, ResortSuite, Ezee Frontdesk)
Hospitality Management Software (Frontdesk Anywhere and Cloudbeds)
Microsoft Office Expertise (Word, Excel, Outlook)
Use of Internet/Intranet
How to Create a Hotel Front Desk Resume No Experience?
Here is the sample to follow when you are going to write a hotel front desk resume.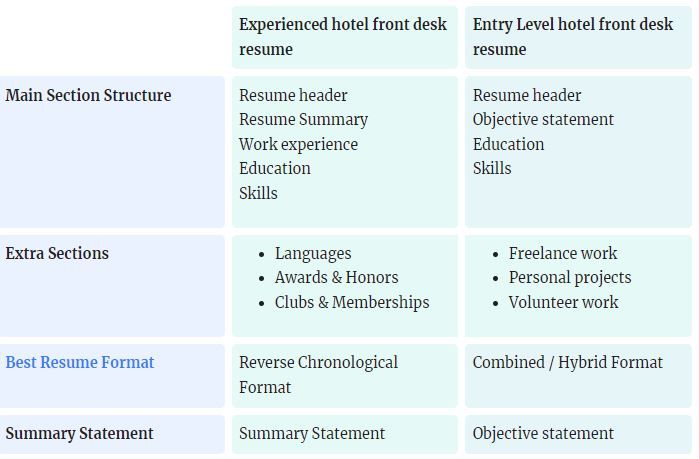 What to Include in the Front Desk Agent Resume Objective?
The resume objective is suitable for the student, intern, fresher, or entry-level front desk representative. Though you have no experience to mention in the objective statement, you can focus on your skills and education to show your value to the recruiters.
Therefore, compress your unique skills, best educational qualifications, and other extra values for the position into a tiny paragraph.
As in the resume summary, the keywords, action verbs, and quantified metrics increase the worth of your resume objective.
Are You a Certified Front Desk Assistant?
The certifications related to hotel management, office administration, customer service, or MS office suite are eligible to enter in a front desk agent resume. You should include the details of the certifications under the "Certifications & licenses" area.
Do not forget to state at least the certification name, certified date, and organization name under each certificate. If the certificate URL is available, provide that too.
Can You Communicate in Different Languages?
If you are a bilingual or a multilingual speaker, that will be an extra mark for you. Because the visitors of the hotel may be from different nations. The ability to understand what they are saying will help you to provide the perfect service for non-native customers.
Your recruiters will love to see your ability. So, make an extra section named "Languages". List down the languages you are fluent with their competencies as follows.
English – Native Speaker
Spanish – Working Knowledge
Chinese – Highly Proficient
French – Very Good Command
German – Good Working Knowledge
Arabic – B1
Russian – A1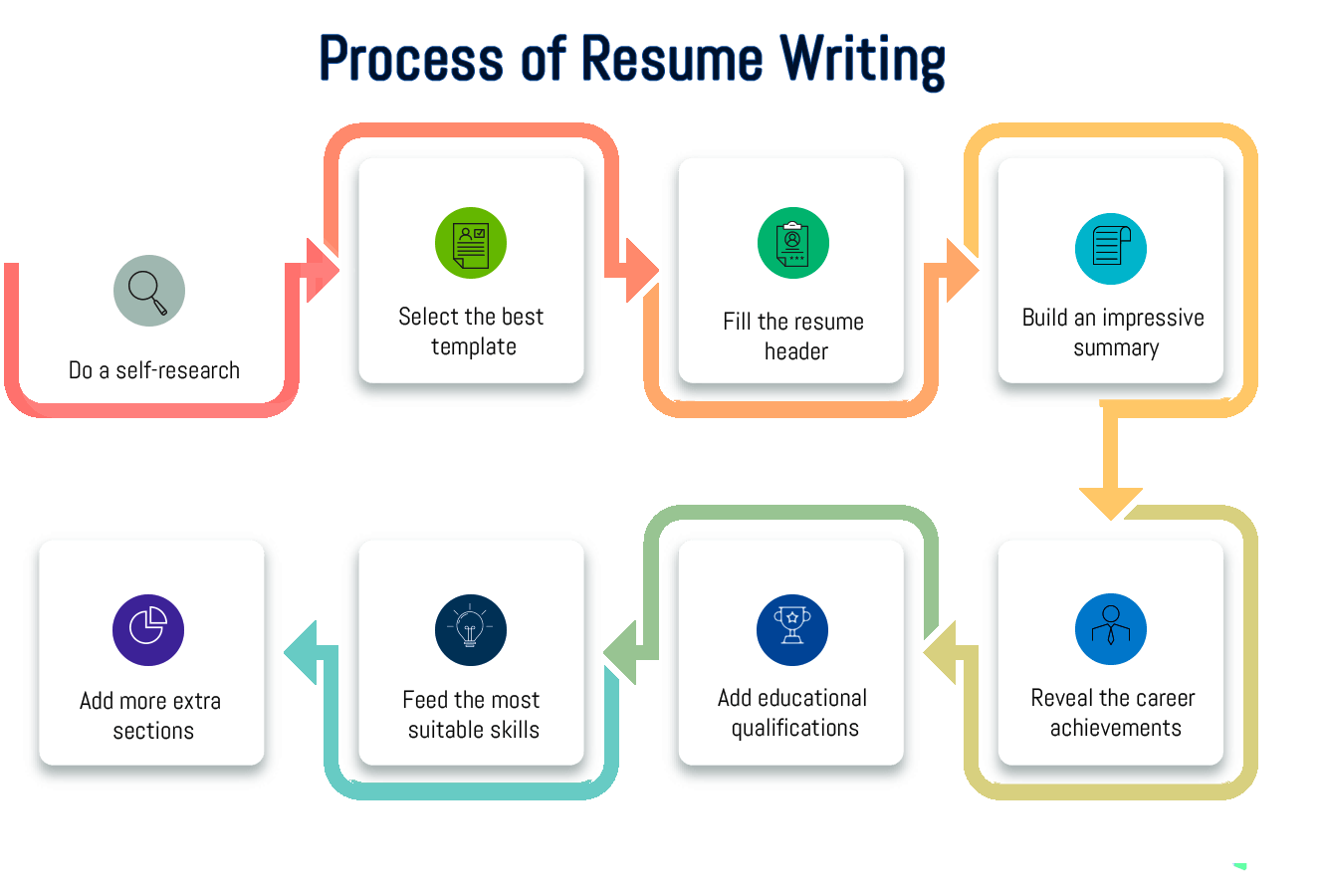 Ask from a Professional Front Desk Agent (Best Tips and Secrets)
Quiz #01:- Why Does a Front Desk Agent Do a Self – Research?
The majority of front desk agent jobs are available in the hotels. But according to the state of the hotel, the requirements are also different. So, you must understand the type of hotel before creating your resume template.
Especially the job advert provides some basic information about the job role. But you have to customize your resume based on the hotel. The social media accounts such as LinkedIn, Twitter, Facebook, or the official website of the hotel will give you major details of the premises.
Other than that, the current employees and customers of the guest house are another source to collect some information.
Finally, you will understand the scale, a number of employees, the average number of guests, state of the hotel, type of visitors, and information about the hiring process of the hotel. So you must consider all these details when you create your resume.
Quiz #02:- How to Find the Most Suitable Keywords for a Front Desk Agent?
The job advert is the perfect source to collect the most suitable keywords for a guest service representative. Those words usually represent the skills, qualifications, people, objects, or processes related to the hotel front desk management field. The given keywords can be different according to the hotel requirements.
You can use the key terms when you build the career achievements of your hotel front desk agent resume summary or work experience section.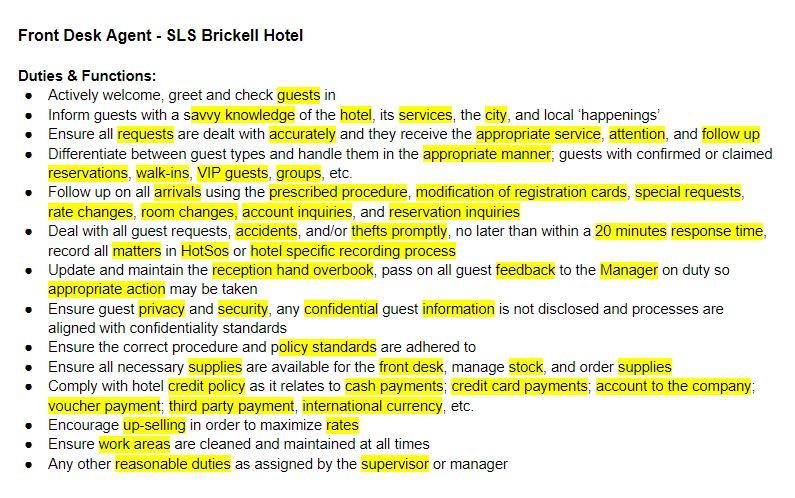 Quiz #03:- What are the Powerful Action Verbs in Front Desk Assistant Resume?
There are some common action verbs for a front desk agent. But, the verbs given in the job advert are the most powerful action verbs. If you refer to the front desk agent job description well, you can find out many action verbs.
You can highlight the verbs as in the following sample job advert. Then join them with your resume content as possible.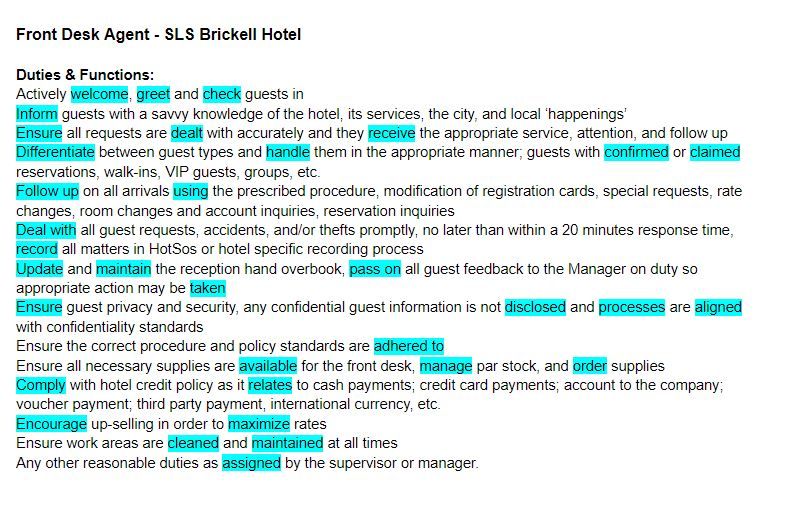 List of common Action Verbs
Assisted
Aided
Addressed
Assigned
Accommodated
Booked
Created
Conducted
Called
Checked
Confirmed
Contacted
Communicated
Developed
Designed
Demonstrated
Greeted
Generated
Handled
Maintained
Quiz #04:- What is the Importance of a Cover Letter for a Front Desk Representative Resume?
The applicant can draw the attention of the hotel recruiters unconsciously. Because a cover letter provides a space to communicate with the hiring managers of the hotel in a friendly manner.
There are some tricks to create a perfect cover letter for a front desk officer. First, admire the goodwill and sustainability of the hotel in your cover letter. Let them know you have researched about the hotel. Provide some positive feedback from customers or employees of the hotel as proofs. If you can find the name of the hiring manager, address him directly. Then your recruiter will be impressed.
Hotel Front Desk Agent Resume Sample (Text Version)
Cora Madelyn
Experienced Hotel Front Desk Agent
+(310)4586 478
Arkansas, Fayetteville
Summary
Bilingual and friendly hotel front desk agent with 10 years of experience and in-depth knowledge of hotel desk operations who provides a world-class service to guests. Increased the monthly profit by 20% by selling the additional hotel products and upgraded services. Fluent in English, Spanish, French, German, Chinese, and Arabic languages.
Work Experience
Hotel Front Desk Agent
Towne Motel, Camden – 2015/Jan – Present
Answered more than 30+ phone calls daily with an exemplary telephone etiquette.
Ensured to handle the case and bills correctly under the hotel rules, regulations, policies, and procedures.
Registered more than 5000 new guests and recorded their information in the customer management software.
Maintained bookings and vacancies, financial records, and expenditure reports.
Front Office Agent
Capital Hill Hotel, Washington – 2010/Jan – 2014/Dec
Welcome more than 30 guests per day in a friendly manner and provide them with relevant information and guidance.
Won the best customer service award for increasing the customer satisfaction level by 45%.
Resolved customer problems and complaints by informing the hotel managers.
Ordered, stocked, and restocked hotel supplies and accessories on time.
Education
Associate's Degree in Hospitality Management – 2007/Jan – 2009/Dec
University of Pennsylvania, Philadelphia
Relevant coursework:- Ecotourism/sustainable tourism, resort management, international travel, event planning, hotel development, food and beverage operations, and hospitality law
GPA:- 3.45
Skills
Budgeting
Inventory management
Bookkeeping
Data Entry
Excellent event planning
Hotelogix
ResortSuite
Schedule management
Analytical skills
Collaboration skills
Critical Thinking
Leadership skills
Time Management skills
Teamwork skills
Oral and written communication skills
Languages
English – Native Speaker
Spanish – Highly Proficient
German – Good Working Knowledge
French – Highly Proficient
Chinese – Working Knowledge
Arabic – Working Knowledge
Want to build a perfect resume by yourself? Click on the below button.
Want to get a perfect Hotel Front Desk Agent cover letter created by an expert?
People who read this also read: