Taxi Driver Resume Example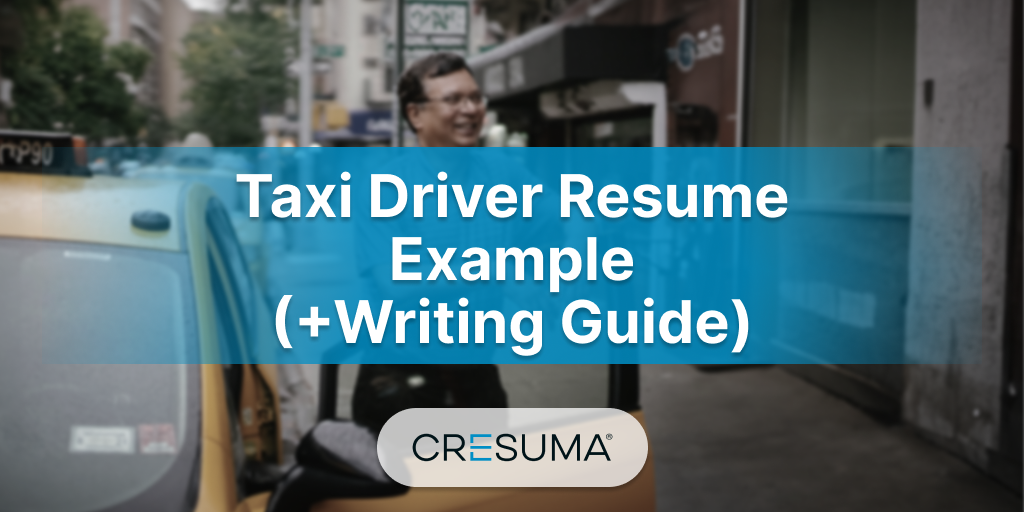 Complete Resume Guide for a Taxi Driver
Best Tips and Secrets from a Professional Taxi Driver
Taxi Service Companies vs Modern Recruitment Process
Taxi Driver Resume Example (Text Version)
No hidden costs. Download your ATS-Friendly resume in PDF for absolutely FREE after creating!
Taxi Driver Resume
No need to start from the beginning. Edit this resume sample with your information and keywords from the job posting.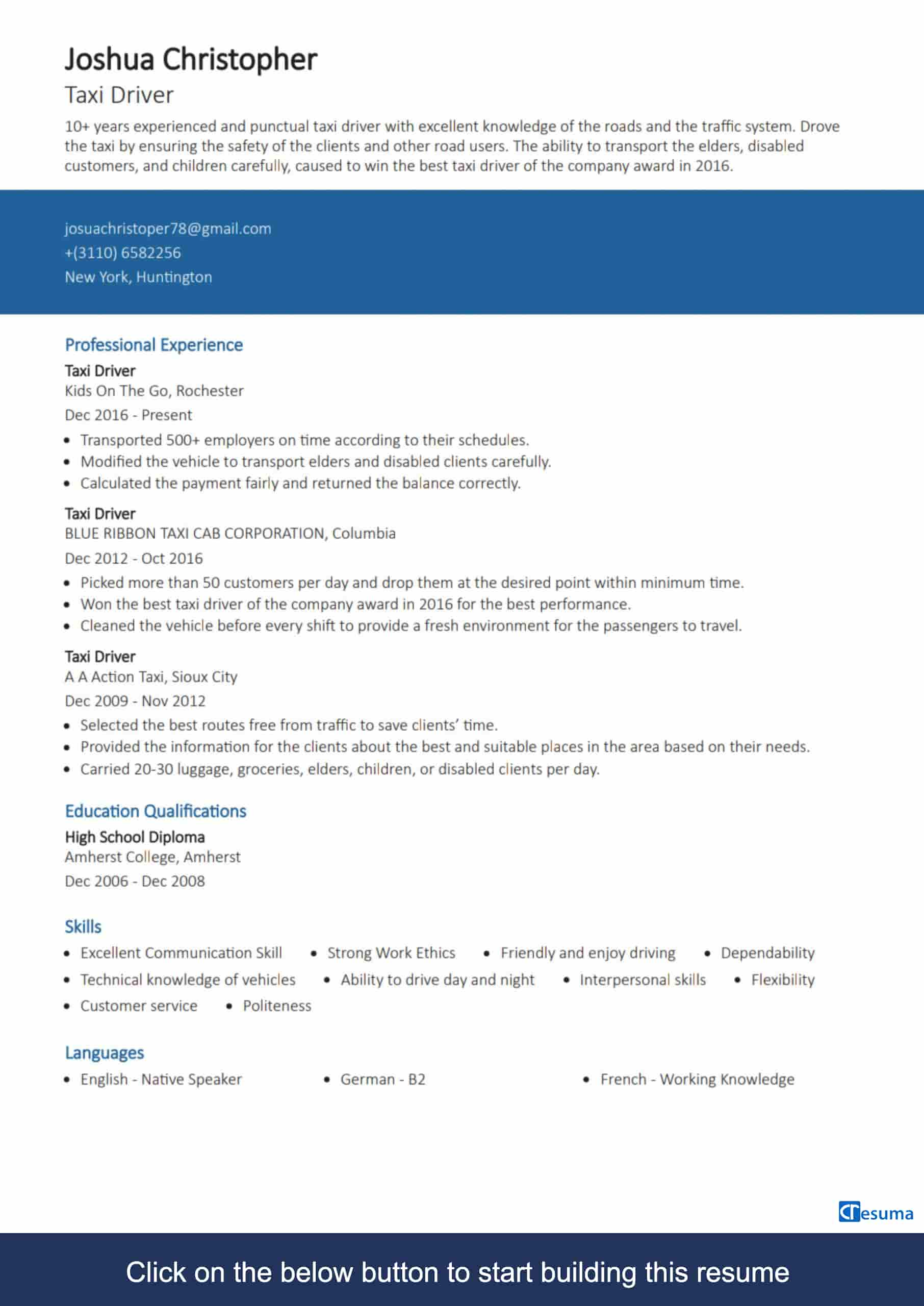 Complete Resume Guide for a Taxi Driver
What is the best resume template for a Taxi Driver?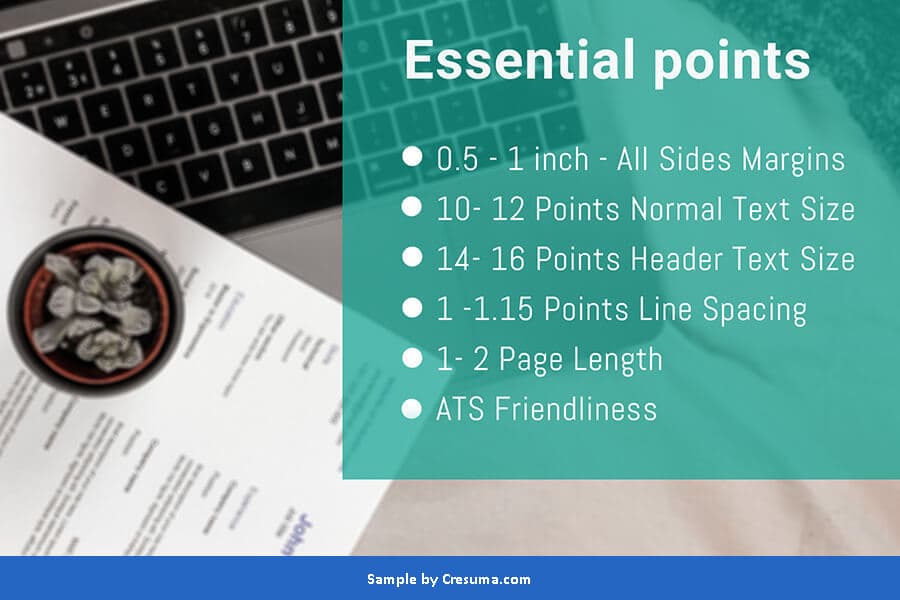 There is no particular taxi driver resume template. But you can select a resume template based on your willingness by considering the following facts.
No heavy graphics:- Select a resume template with light and simple graphics because heavy graphics usually disturb the ATS friendliness.
Clear Font type:-
Let the recruiters read your resume smoothly by selecting a clear resume font style We recommend you to use the 'Open Sans' font type.
Cool Colors:- Do not disturb the readability of your taxi driver resume. So apply cool colors that are comfortable to sight.
Free Online Template:- Nowadays the easiest and standard way to create a resume for job seekers is using free online resume builders. Because those builders always consider the ATS friendliness, quality, and standards of resume writing.
What a Taxi driver should include on his resume header?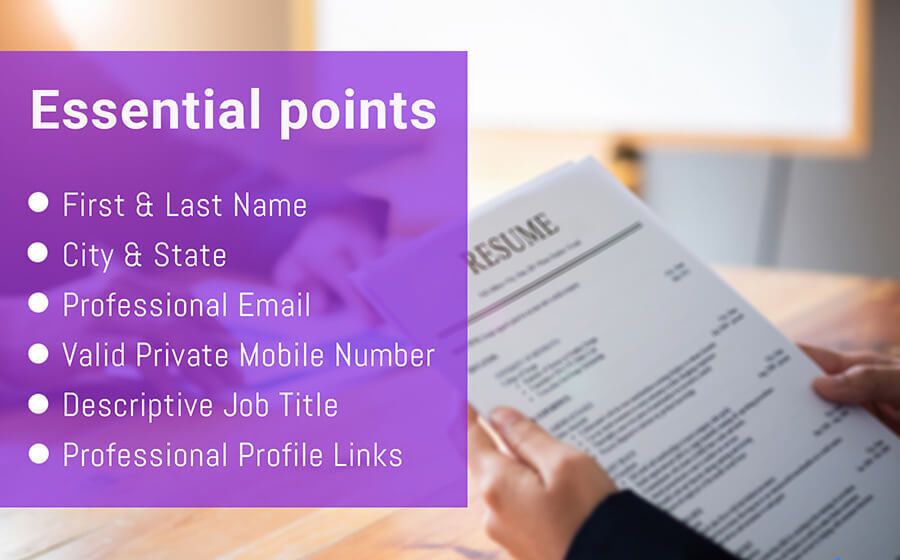 Usually, the resume header should contain your personal contact details. That means surely adding your name, location, job title, email address, contact number. But sharing your social media URLs is optional.
You can follow the below guidelines when you arrange your resume header.
Only mention your first and last name. Because the recruiters only want to know who you are. Mentioning the full name will waste more space from your resume.
The recruiters decide on how far your place is from the company, based on your location. Therefore just mention the city and state. Then the recruiters will feel that you are not far.
Job title refers to your target position and it includes in the job advertisement correctly. That may be a Taxi Driver, Shuttle Driver, Part-Time Driver, Driver, or Taxi Cab Driver. Therefore mention the same job title of the job advertisement in your resume.
Your email address should be professional. Because if it contains fancy words or it is the email address of your workplace, that will have a bad impact on your resume.
Do not list your every contact number in the resume and make the recruiters fed up to find out the available one. Therefore mention only one available personal contact number in your resume.
There is no restriction to add or not to add social media URLs in your resume. It is based on the capability to showcase your professional value through social media.

How to write an impressive resume summary for a Taxi driver?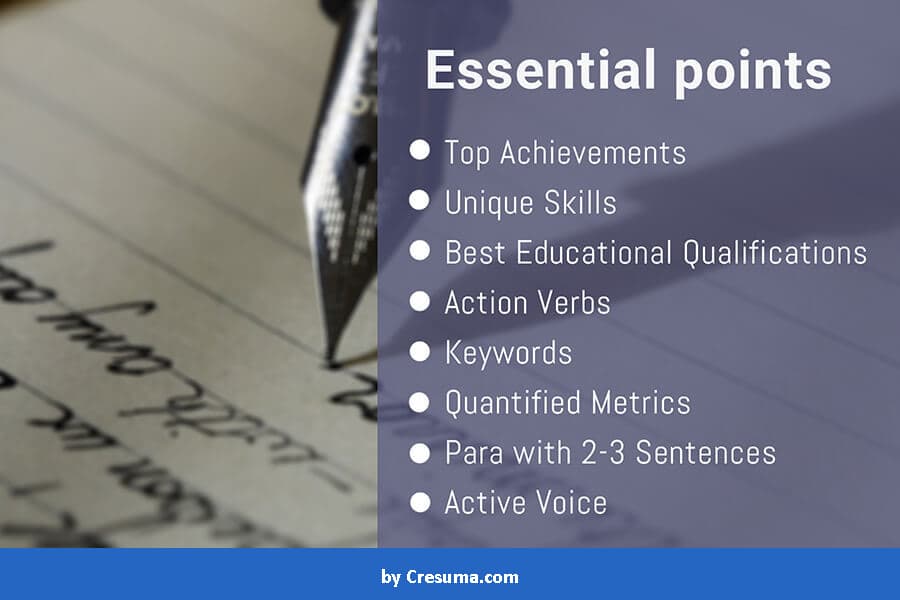 As the image represents, your resume summary should contain your values and qualities as a driver. If you can reveal that you are unique from other competitors that is a great chance to draw the recruiters' attention.
You can mention the top achievements in your career history, best educational qualifications, and unique skills as a taxi driver. When building up your resume summary, try to use keywords, action verbs, percentages, amounts, numbers, and years as possible.
Example from an Expert
Reliable taxi driver with 5+ years of experience and a clean driving record who ensures the client's safety, comfort, and pleasure by notifying the destination quickly, picking and dropping them at the point, helping them to load the luggage, and providing a clean and fresh space to travel.
What to insert in the work experience section of a Taxi driver?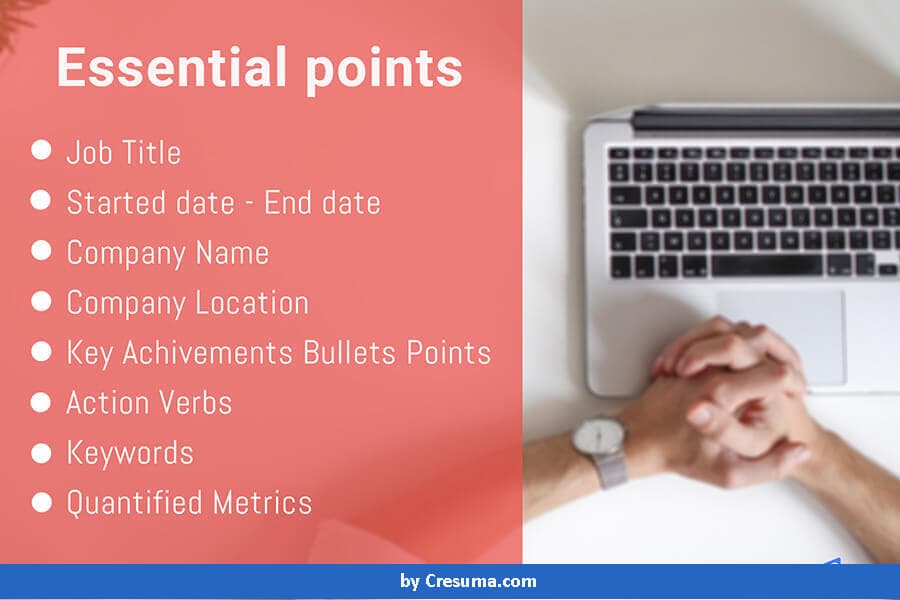 Though prior work experience as a taxi operator is not required, the excellent driving skills will support you to gain your dream job – fast. Therefore you can mention your prior experiences in driving.
Try to mention a complete set of information about your previous jobs such as job title, employment duration, company name, location, and 3-6 bullet points of your career achievements.
For further enhancement, start the bullet points from a formal and relevant action verb, and add suitable keywords possibly.
Example from an Expert
Taxi Driver – 2014/Oct to 2018/Dec
Metro Yellow Taxi Cab, Oakland
Transported more than 1000 customers to cities or suburban locations.
Carried 2-3 luggage, groceries, or wheelchair walkers per day.
Completed trip sheets and daily paperwork after each travel.
What should emphasize on Taxi driver's achievements?
When you mention your achievements in your summary or work experience section you can use the following facts. But we suggest not to mention them directly but reveal they are your own experiences.
Try to quantify your results in the achievements using years, percentages, amounts, and numbers as possible. Also try to include key words which were mentioned in the job description.
Reveal you are a law-abiding Taxi driver
Road rules
If you can mention in your achievements that you know the road rules well, how it helps you to be a talented taxi driver, what are the feedbacks that you got from the customers and prior company owners, the recruiters will understand your abilities as a driver.
Here are some famous driving rules
When to stop
What are the one-ways
When to take a u-turn
What are the no entry premises
What is the speed limit of separate routes
Country rules
Try to explain in your achievements how the awareness of country rules help you to overcome the day to day challenges as a taxi driver. Here are some country rules for driving.
Driving side of the country (Left-hand drive or Right-hand drive)
Number of passengers per transport
Vehicle condition required to drive
The recommended side to pass other vehicles
When and how to wear seat belts
How to use lightings of the vehicle
Mention you know the area well
As a driver, the awareness of the routes and the geography in the area is an essential qualification. Therefore you have to highlight how well you know the area well in your achievements. You can mention your prior experiences. Such as 'transported customers in the city and even out of the city'.
Showcase your great customer service in your resume
Courteous driver
The hiring managers will be impressed to know that you greet the customers well, smile at them pleasantly and you never mess up the personal problems in the profession.
Low-volume Music Listener
It is better if you can showcase that you never play music without the permission of the customer while traveling. At the same time, try to reveal that you never up the music too loud.
Great helper
If you are a beneficial driver who does some assists to the customers like opening the door for them and if they have luggage, placing them in the trunk, etc. try to mention them in your resume properly.
Formal chatter
Try to highlight that you are a great listener and an active talker who never talks about the topics that cause disagreements like political and religious.
Let them know you are a safe driver
You can mention that you never answer personal phone calls while driving and if you want to answer an official call you surely use a hand-free device such as a Bluetooth earpiece. Further, explain how it helps you to be a great driver.
You can highlight that you never take shortcuts or unexpected detours without informing the customer, though you are in a hurry. That will impress the recruiters.
Mention that you never speed up too much to ensure the safety of the client. Though you are in a hurry, you use the recommended speed limit. At the same time, the recruiters will be really happy to know that you never race with the other vehicles or taxi drivers.
Highlight that you care about hygiene first
A clean environment directly causes the comfortableness of the customers. Therefore you have to express to the hiring managers how both the inner and outer cleanliness of your vehicle affected your prior careers positively.
A pleasant look is a plus point to be a professional driver. Therefore try to explain how your proper look enhances your value as a taxi driver because you wear clean clothes with no wrinkles.
If you want to prove it further you can add a professional-looking photo to your resume. But it is better to have a photo-free layout because you can emphasize your qualities, skills, qualifications, and other values than your appearance.
Are you the volunteer driver of your family?
The hiring managers are fond of knowing that driving is not only your duty but also it is a passion in your personal life. Therefore try to add such qualifications to enhance your value. You can mention them in a separate section called 'Volunteer work'.
Does a Taxi driver need educational qualifications?
A degree, diploma, secondary, or any other educational qualification is not required to be an expert taxi driver.
But it is better to mention your best educational qualifications in your resume. Do not forget to mention the type of educational qualification, name, and location of the college or studied duration.
For further enhancement, you can add some achievements that you have achieved during the studied period. However, ensure the relevance of the achievements to the desired job position.
But, some driving schools might provide courses for taxi driving with map reading, customer service, federal and local regulations. Though the job-seeker did not follow a course or training he has to have a good knowledge of road signs, rules, regulations, and policies in driving.
What are the essential soft skills for a taxi driver?
Oral and written communication:- The candidate should be able to understand the correct destination of the customer and complete some paper works during the transport and the end of the day. Therefore he should be able to communicate fluently in both oral and written.
Time management:- The applicant should be responsible to transport the customer to the destination on time. At the same time, he has to return to another customer. Therefore they should be able to manage the time while considering the safety of the customer.
Organizational skills:- As the taxi driver has to work with many customers he should have a particular practice plan. To plan the day he should have good organizational skills.
Problem Solving:- Though the applicant is connected with a taxi company, he should be able to handle emergencies during the transport. Therefore problem-solving skills are a must for a taxi driver.
Interpersonal skills:- The candidates should be ready to deal with the customers each time. Therefore the interpersonal skills are very essential to provide great customer service as a taxi driver.
Basic Mathematical skills:- Financial management is the main duty of a taxi driver. At the same time, to calculate the fare correctly, to take the correct amount, and return the balance if there is a balance, mathematical skills are very essential.
Make sure to add ATS friendly resume key words to emphasize your soft skills.
Is there any technical skill related to a Taxi driver?
Not much. But there are a few technical skills. These skills of a taxi driver will help the applicants to process the day-to-day duties smoothly.
Here are some of the hard skills related to a Taxi driver
A better knowledge of roads and traffic system
Good geographical knowledge
Awareness of handling money
The technical expertise of vehicles
Excellent education about smartphones
Ability to use GPS software, online maps, or rideshare services apps
How does an entry-level Taxi driver's resume differ from an experienced one?
Carefully look for the difference in the below image to have a clear idea.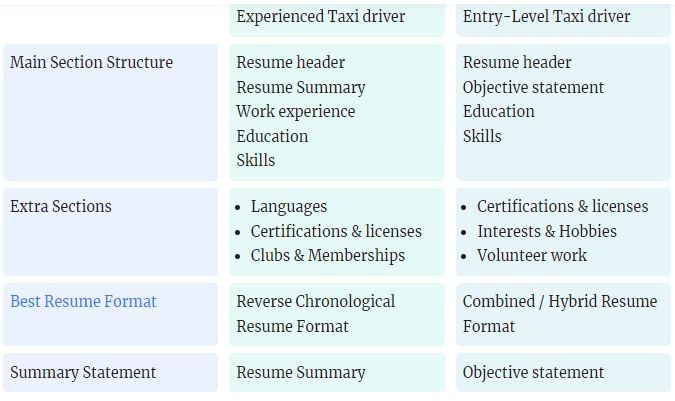 How to write an impressive objective statement for an entry-level Taxi driver?
The objective statement is the best substitution for a resume summary that facilitates an entry-level or fresher Taxi driver to showcase their values. Literally, the purpose of the objective statement should explain your objections. But ensure you have not explained your future plans.
Additionally, if you can explain your willingness to dedicate your skills and knowledge to ensure the company goals, that will be great. Because that is what the recruiters want to know from your objective statement. In brief, you have to provide a plan for how the Taxi cab service company can achieve the company goals by hiring you as an employee of their company. Read more resume samples to get an clear idea about resume templates.
Example from an Expert
To ensure client satisfaction by notifying the destination quickly, transporting them within less time, returning the balance after the payment, loading their luggage, and providing a comfortable environment to travel by using the best communication skills.
Can you communicate with the customers in different languages?
If you can communicate in different languages other than the native language that will be a great chance to get marks from the hiring managers. Therefore if you have such ability, mention the language and the competency level under the 'Languages' section.
Should a Taxi driver mention the availability of the driving license in the resume?
Exactly! They should mention it. Because a driving license is a major and essential requirement to be a professional taxi driver. It is better to mention the Driving license under the 'Certifications & licenses' section.
On account of informing that you have an international driving license will help you to get the job opportunity as fast as possible. Because taxi companies preferred to hire taxi drivers who accepted internationally.
Further, you can find out the other set of requirements of the particular city and mention them also in the above-mentioned section.
Best Tips and Secrets from a Professional Taxi Driver
TIP #01:Conducting a Self-Research on the Taxi service company
What is the importance of self-research?  The information that can be found from the self-research will provide a great background for creating a taxi driver resume.
What are the resources to conduct a self-research? The job advertisement is the main and the closest resource to understand the status of this job. Further, you can refer to the company profiles to understand the size, rules, and regulations, the number of employees, vehicle types of the taxi service company.
That will help you to tailor your resume exactly to the desired position of the company.
TIP #02:- Selecting relevant keywords from the Taxi driver's job advertisement
The job advertisement is full of keywords that represent the skills, qualifications, objects, procedures, and people related to the taxi service. The emphasized keywords will differ from one job advertisement to another.
Here we have highlighted some keywords of the below job advertisement sample.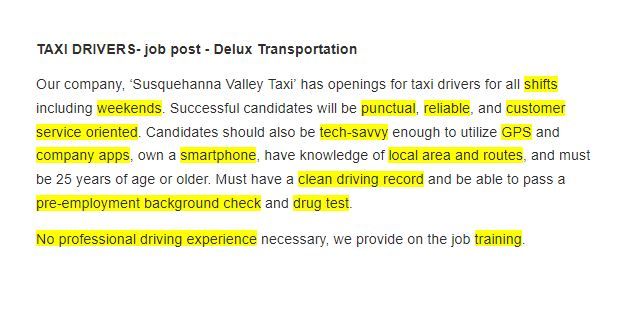 TIP #03:Using the relevant Action verbs for a taxi driver
Though the resume action verbs are common verbs in resume writing, those action verbs represent the duties and responsibilities of the desired position. As they are unique to the job field you should use them in your resume meaningfully.
You can refer to the following sample job advertisement for further understanding.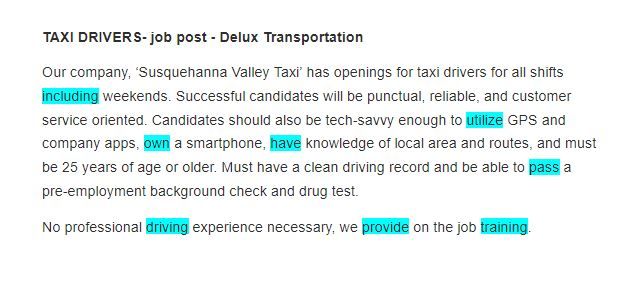 List of Action verbs
Assisted
Answered
Calculated
Followed
Figured out
Got
Helped
Informed
Loaded
Kept
Made
Notified
Operated
Picked up
Payed
Performed
Put
Serviced
Turned on
Washed
TIP #04:- Save the resume sample in PDF format
PDF format is a universally used file format and the most ATS friendly resume file format. Therefore we suggest you save your resume in PDF format. Though doc., Docx., and plain text documents are also ATS friendly they are a little bit unsafe because anyone can edit them. Therefore save your taxi driver resume sample in PDF format.
Taxi Service Companies vs Modern Recruitment Process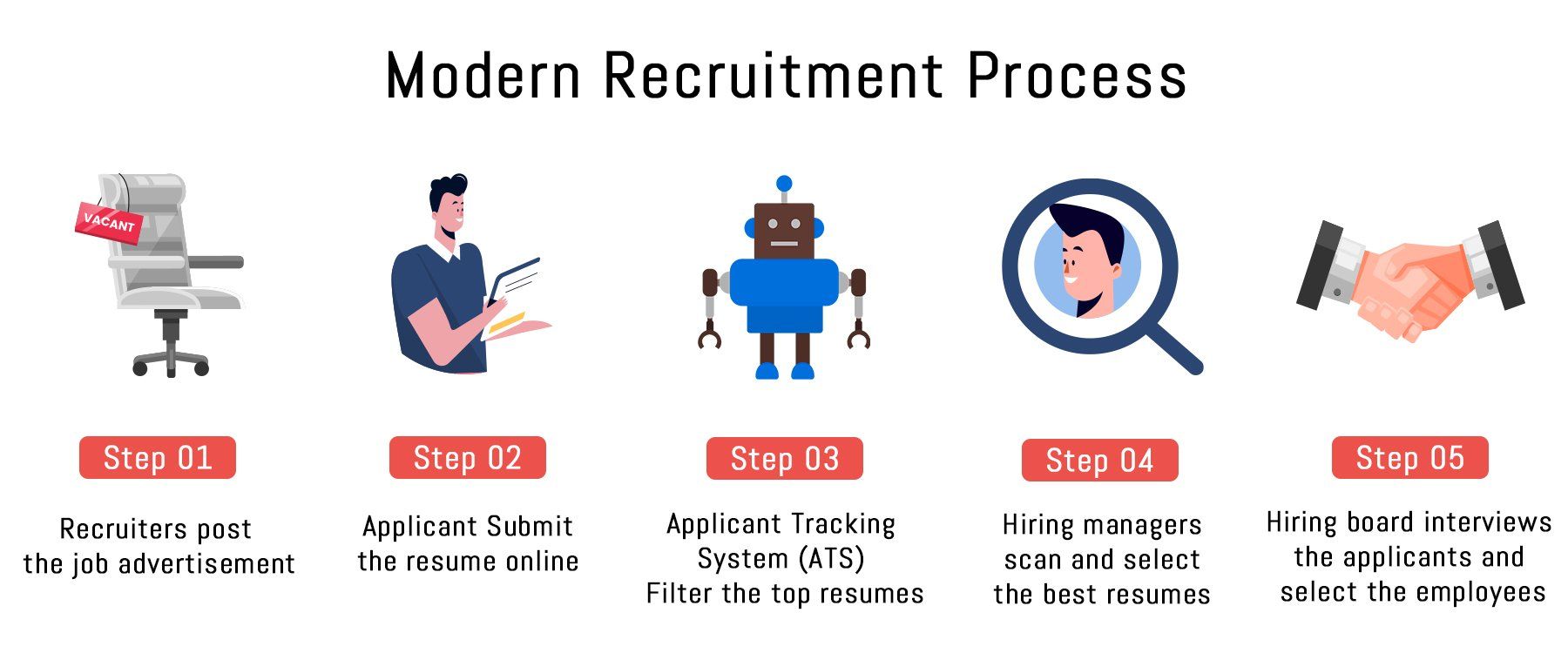 Modern Recruitment Process Overview
As the above image mentioned, the majority of the taxi service companies post the vacancies for taxi drivers on their web sites or other job posting sites.
Then the applicants submit their taxi driver resumes through an email.
A company receives more than hundreds of resumes per vacancy. Therefore they use an Applicant Tracking System (ATS) to filter the top resumes.
After the ATS filters the top resumes, the recruiters scan them to select the best resumes for the interview.
Finally, the owners of the best resumes are invited to the interviews and the hiring managers select the most suitable employee for their company.
Taxi Driver Resume Sample (Text Version)
Joshua Christopher
Taxi Driver
+(3110) 658 2256
josuachristoper78@gmail.com
New York, Huntington
Summary
10+ years experienced and punctual taxi driver with excellent knowledge of the roads and the traffic system. Drove the taxi by ensuring the safety of the clients and other road users. The ability to transport the elders, disabled customers, and children carefully, caused to win the best taxi driver of the company award in 2016.
Work Experience
Taxi Driver – 2017/Jan to Present
Kids On The Go, Rochester
Transported 500+ employers on time according to their schedules.
Modified the vehicle to transport elders and disabled clients carefully.
Calculated the payment fairly and returned the balance correctly.
Taxi Driver – 2013/Jan to 2016/Nov
BLUE RIBBON TAXI CAB CORPORATION, Columbia
Picked more than 50 customers per day and drop them at the desired point within minimum time.
Won the best taxi driver of the company award in 2016 for the best performance.
Cleaned the vehicle before every shift to provide a fresh environment for the passengers to travel.
Taxi Driver – 2010/Jan to 2012/Dec
A A Action Taxi, Sioux city
Selected the best routes free from traffic to save clients' time.
Provided the information for the clients about the best and suitable places in the area based on their needs.
Carried 20-30 luggage, groceries, elders, children, or disabled clients per day.
Education
High School Diploma – 2007/Jan to 2009/Jan
Amherst College, Amherst
Skills
Excellent Communication Skill
Strong Work Ethics
Friendly and enjoy driving
Dependability
Politeness
Flexibility
Customer service
Interpersonal skills
Technical knowledge of vehicles
Ability to drive day and night
Languages
English – Native Speaker
German – B2
French – Working Knowledge
More sample job descriptions for Taxi Driver
Taxi Driver
Collected freelance experience as a driver by handling the vehicles of relatives for more than 3 years.
Participated in the Young Driver Focus Conference that was organized by FirstCar, Road Safety GB, and the RAC Foundation in 2019.
Completed the high school diploma successfully 6 months ago.
Received the membership of the National Road Safety Foundation and actively participated in the meetings to update the knowledge.
Got the driving license by completing age 16 and at the same time, voluntarily started to manage and drive the family vehicle.
Learned Taxi commission rules, Meter operation, Paperwork requirements, and Wheelchair Accessible Vehicle (WAV) training by completing the Taxi driver training program of Hennepin Technical College (St. Paul, MN).
Owned an excellent medical report approved by a physician.
Expert in understanding and interpreting map information in any mobile mapping app.
Activated in social media highly and responded as soon as possible.
Followed and completed a high school diploma before one year.
Entry-level Taxi Driver
Increased passenger satisfaction by 50% by resolving the problems professionally and engaging with them friendly.
Checked the cleanliness and sanitary conditions of the vehicle before each trip.
Assisted passengers to load and unload their baggage by ensuring the safety of the baggage.
Handed over the company service leaflets to every passenger and increased customer re-engagement by 50%.
Handled cash and returned the correct balance by ensuring the safety and security of the money.
Cleaned and wiped to ensure the sanitization of the vehicle before each transport.
Engaged with peer taxi drivers to complete the shared car schedule on a daily basis.
Finished the daily travel by completing the paperwork and trip logs every day.
Used clear communication and interpersonal skills to approach the passengers and make them comfortable.
Got ready to accept any weekend or holiday schedules by providing a quick response.
Saved extra time by calculating the correct fee for each transport within a short time period.
Completed 6-month taxi driving training under three professional senior taxi drivers.
Ensured the proper condition of the vehicle by re-fuelling, checking oil and routine fluids, or reporting other technical issues to the supervisor.
Experienced Taxi Driver
Focused on customer service strongly and increased revenue by 20%.
Accepted more than 50 emergency schedules of weekends and holidays.
Made the passengers comfortable by communicating English, French, German, and Spanish fluently according to their requirements.
Trained more than 20 junior cab drivers by providing relevant information and instructions on time.
Appreciated by more than 20 passengers per week for ensuring the on-time arrivals of both in the city and far from the city.
Posted as the chairman of the informal cab driver community in 2018 and led the society successfully by actively participating in each session, communicating, and mentoring other members.
Confirmed whether the correct fee, mileage, and time duration have been recorded in the transaction logs before finishing the daily traveling.
Completed more than 100 transportations of disabled persons, elders, and children by ensuring their safety and comfort.
Decided the best, easiest, and quickest way to transport passengers to their destination by using the knowledge of geolocations.
Owned a track record of 5 years with high-quality customer service and without any complaints.
Provided a service with a tough time frame of 24 hours per 7 days with a quick response.
Informed each passenger about the best and easy taxi service of the company and increased customer requests for the company's taxies by 20%.
Appreciated by giving an award as the best taxi driver of the month for maintaining an accident-zero transportation record.
Want to build a perfect resume by yourself? Click on the below button.

Want to get a perfect Taxi Driver cover letter created by an expert?

People who read this also read:

Taxi Driver Cover Letter Example

.

Enjoyed Reading?
Help Cresuma cover the server and other costes to continue this 100% Free Service. Show your support below.