Waiter Waitress Resume Example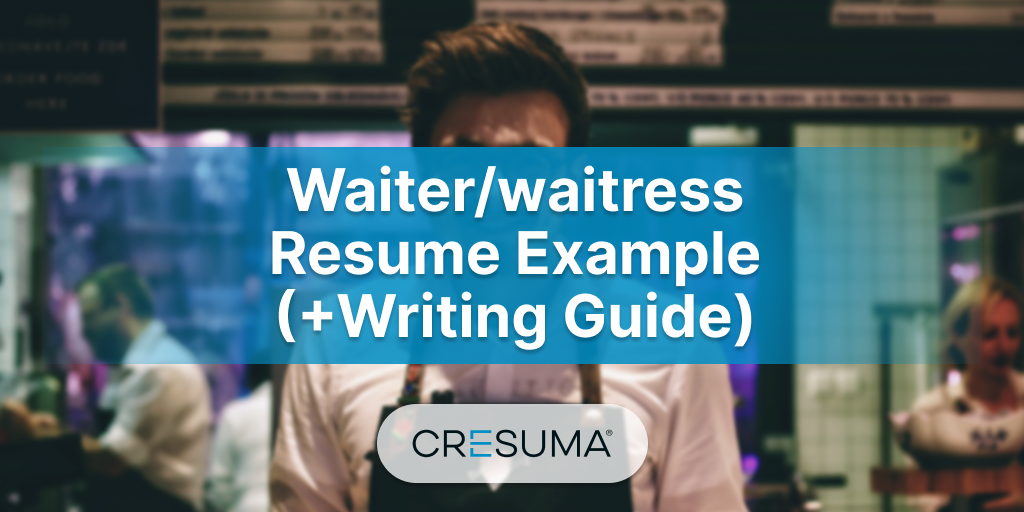 Complete Resume Guide for a Waiter or Waitress
Best Tips and Secrets from a Professional Waiter / Waitress
Hotel & Restaurant Industry vs Modern Recruitment Process
Waiter Waitress Resume Example (Text Version)
No hidden costs. Download your ATS-Friendly resume in PDF for absolutely FREE after creating.
Waiter Waitress Resume
No need to start from the beginning. Edit this resume sample with your information and keywords from the job posting.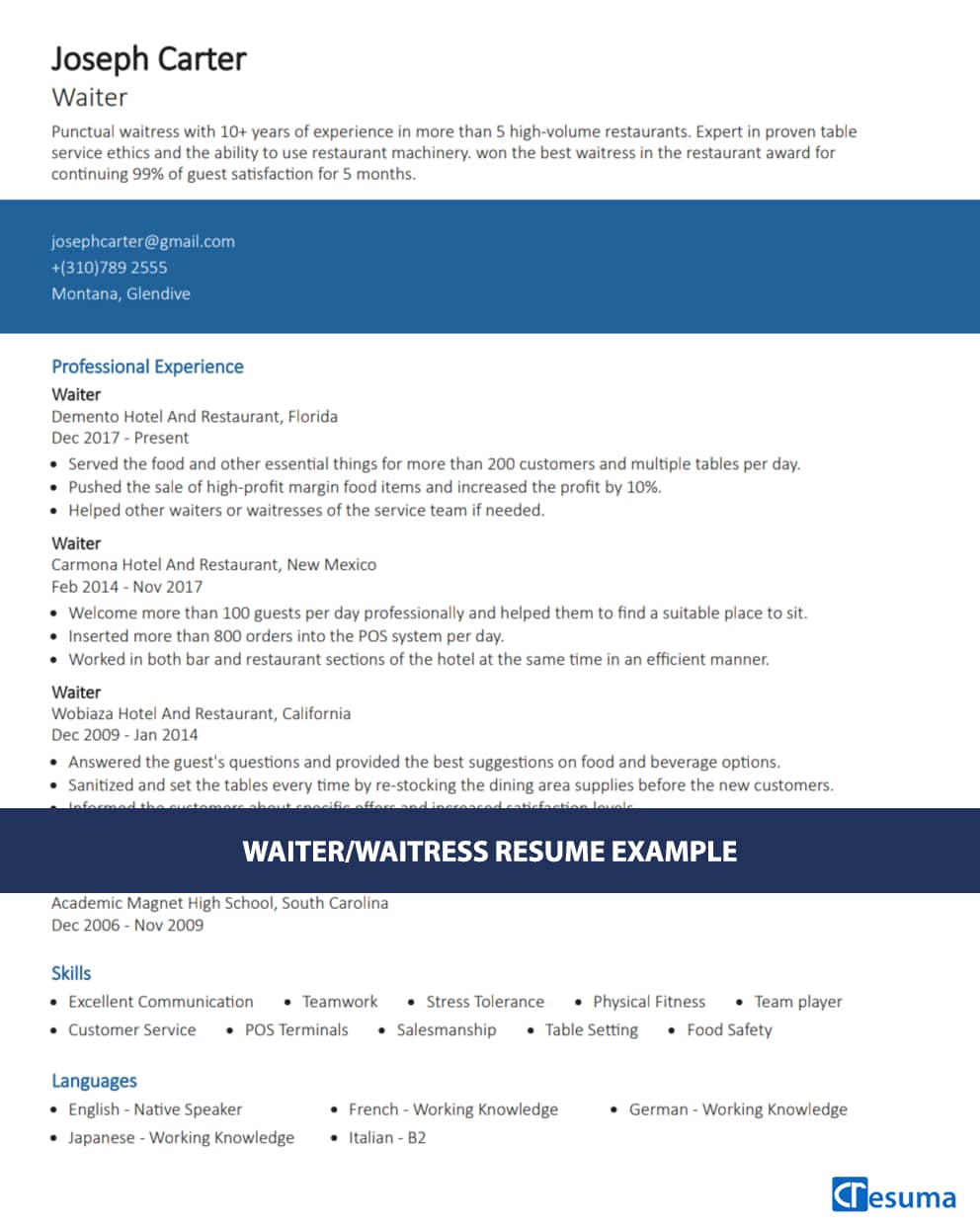 Complete Resume Guide for a Waiter Waitress
Why does a Waiter or Waitress need to conduct a self-research before creating a resume?
Self-research means searching for more information about the restaurant and waiter job position. Usually, the majority of restaurants mention them as servers.
The best resources for self-research are restaurant profiles such as Facebook, Instagram, Twitter,  and LinkedIn. Also, if you can personally contact the current workers of the restaurant, you will be able to collect some more information.
However, the waiter duties and responsibilities in resume differ from one restaurant to another. So understanding which type of server that the target restaurant is looking for will help you to tailor your resume according to their needs and requirements.
The following table provides you a guide to understand how to stand out your resume based on the type of your future working place.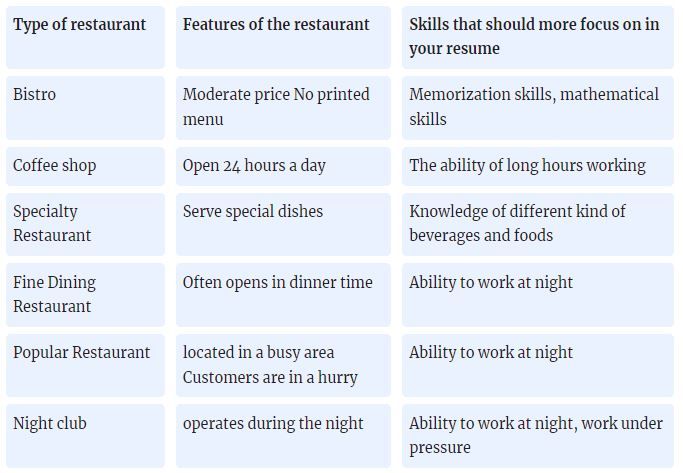 How can I find out the relevant keywords and action verbs for a waiter?
The best source to find out the relevant keywords and action verbs is the job advertisement. If you are wondering what is the importance of these words, you may not know about the Applicant Tracking System (ATS) test. Stay tuned! I will explain about the ATS at the end of the article.
Keywords
Keywords or key phrases are the unique terms that represent the qualifications, skills, things, people, and procedures related to a waiter. These keywords differ from one advertisement to another.
Why keywords? Usually, the ATS filters the resumes based on the qualifications, skills, and other unique words given in the job advertisement. Therefore you have to add those words in your resume as possible to increase your job interview opportunities.
Here we have highlighted some keywords of the following sample job advertisement for your assist.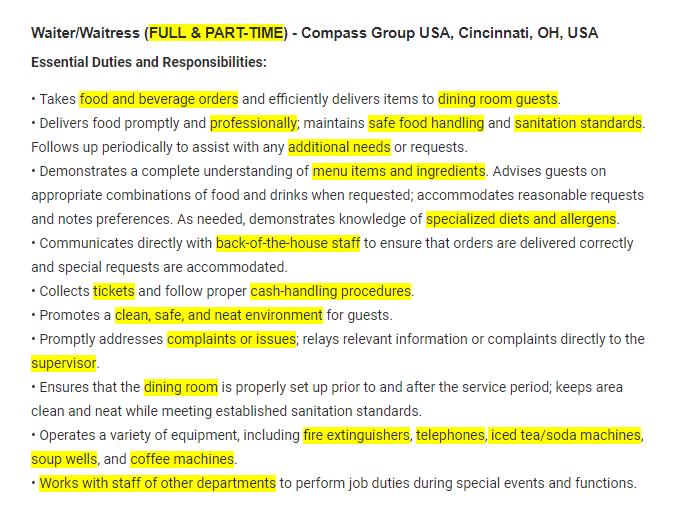 Action verbs
Resume action verbs are common verbs but they express especially the actions or duties of a waiter. If you have added the given action verbs to your resume meaningfully, the recruiters feel you are more organized and well-prepared for the job opening.
You can refer to the following image of the sample job advertisement and understand how to recognize the relevant action verbs for a waiter.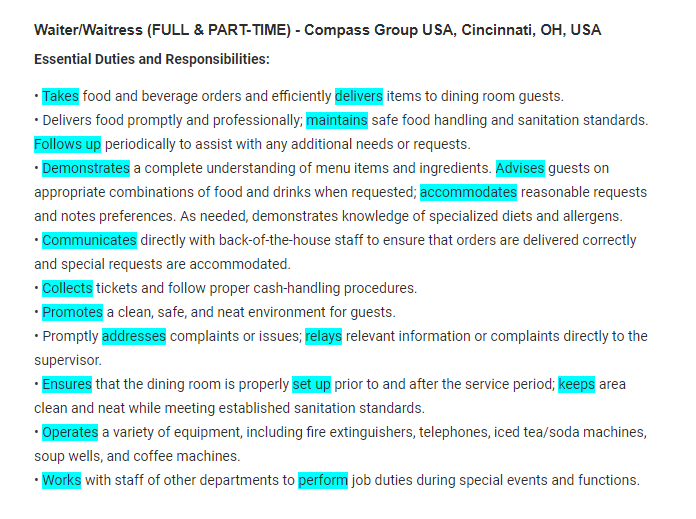 How to use Action verbs in the resume meaningfully? You can start your key achievements with a relevant action verb. Also, check whether you have used the perfect verbs in the summary and replace irrelevant verbs with relevant and formal action verbs.
List of Action verbs for a waiter
Assisted
Answered
Cleaned
Checked
Collected
Delivered
Ensured
Greeted
Handled
Helped
Memorized
Maintained
Organized
Offered
Served
Stayed
Sanitized
Trained
Took
Worked
How to select a suitable template for a waiter?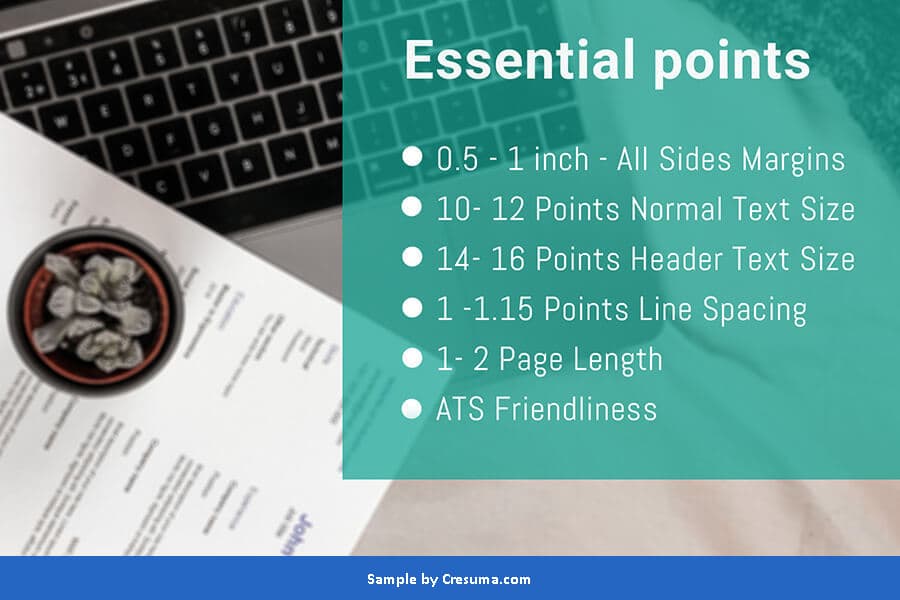 There is no exact waiter CV format type related to a waiter or other positions in the restaurant industry. Nowadays, so many creative templates are available online. You can try one of them. That means do not limit to the traditional resume template. However, there are some factors that you have to consider when you select a template.
Applicant Tracking System (ATS) friendliness of the template
Usually, there is a proven fact that resumes with heavy graphics are less-ATS friendly because they disturb the ATS readability. So consider whether you have chosen a resume with simple graphics.
Some luminous colors may hurt the recruiter's eyes and they will not be able to read your resume with ease. If they feel uncomfortable reading it then they will reject your resume. Therefore try to choose cool and calm colors for your resume.
You have to focus on your content more than everything. Also, the restaurant owners or hiring managers should be able to scan your resume quickly. Therefore we suggest choosing a template with a perfect resume font style like Open Sans, Calibri, or Georgia will be a great decision.
The ability to manage all sections in one-page
The hiring managers tend to scan a resume within just 6-7 seconds. Also, they are a little bit lazy to go through a lengthy resume. Therefore try to limit your resume to one page. But if you have experience as a waiter for more than 5 years you can keep a two-page resume based on your heavy content.
How to arrange the resume header of a waiter?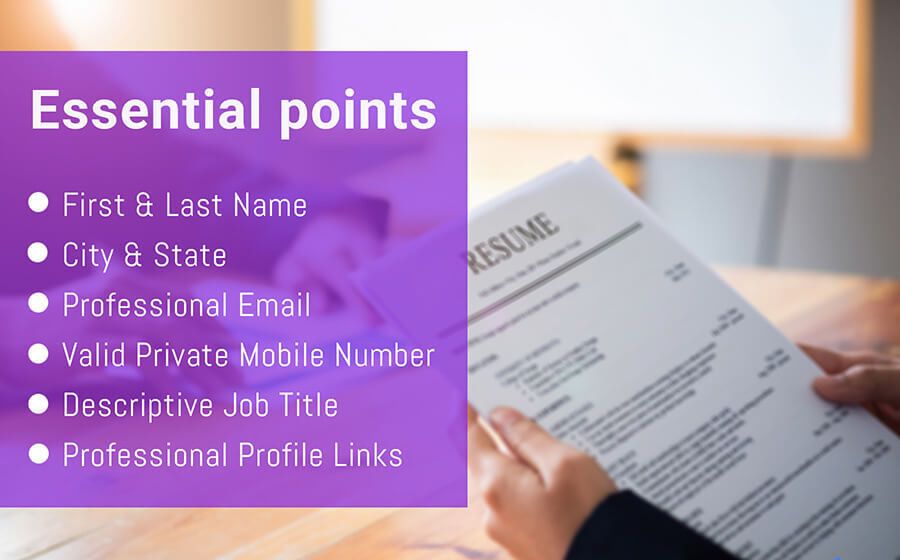 Full name is not needed:-
It is better to mention only your first and last name. But do not mention a shortened form of your name or your nicknames in your resume header
Add a descriptive job title:- First, check the job position mentioned in the job advertisement. It may be a Waiter​ / Waitress, Food & Beverage Waiter​ Waitress, Server, Restaurant Server, etc. Then add the exact same title as your job title. That will really impress the recruiters.
Do not list all contact numbers:- Mention only one contact number which is very personal to you.
Why a professional Email:- If you add an email address with fancy words the recruiters will create a bad image of you. So, use the same professional email to send the resume and mention it in the resume.
Social media URLs:- There should be a purpose to mention social media URLs in your resume. Do not mention them just because others mention them. If you can reveal that you are a social worker, friendly and active person, your talent in sports or other matching fields for a waiter, exactly mention them. If not, leave them.

What should you consider when you add a photo to your resume
The waiter is a direct relation with the customer in the restaurant. Therefore, a pleasant and professional look of a waiter will draw the customers to the restaurant again. Also, the recruiters who hire the waiters are usually seeking an attractive person as their waiter.
This is not about your look or skin color. An attractive smile is the best answer. So, if you add a photo to your resume, do not forget to add a professional-looking photograph with an attractive smile. Then the recruiters will be impressed.
But if you think that adding a photo to your resume will affect you badly, it is better to choose a photo-free resume layout. But, whatever your mind says, if the job advertisement requests a photo from you, you should add a photo in your resume.
What to emphasize in the waiter's resume summary?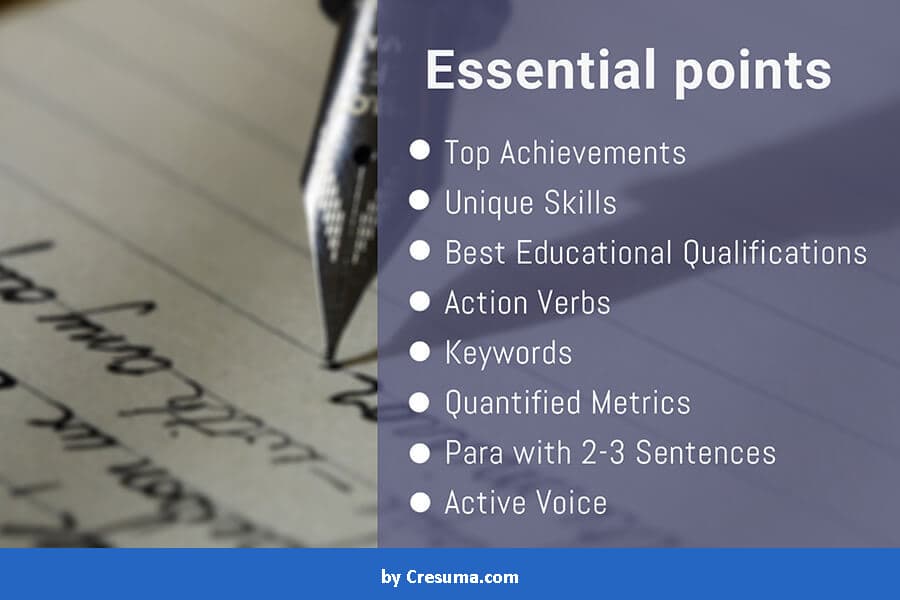 You have to create an image that you are a talented and professional waiter in the recruiters' minds. But you can't do it by saying it directly as "I am a talented waiter", and "I am an expert in serving."
That means you have to prove it in your resume summary You should give some pieces of evidence from your career history such as top achievements, proven skills, or educational or training qualifications.
Furthermore, you can use the relevant keywords and action verbs purposefully to stand out your content in waiter resume description. Also, try to quantify your results as possible by using years, amounts, and percentages.
Example from an Expert
Summary
Expert waitress with more than 10 years of restaurant experience who cares about the customer in an enthusiastic and friendly manner to ensure their satisfaction. Awarded as the best employee of the year in 2016 for the best performance and skills in POS and table setting.
What to include in the work experience section of a waiter?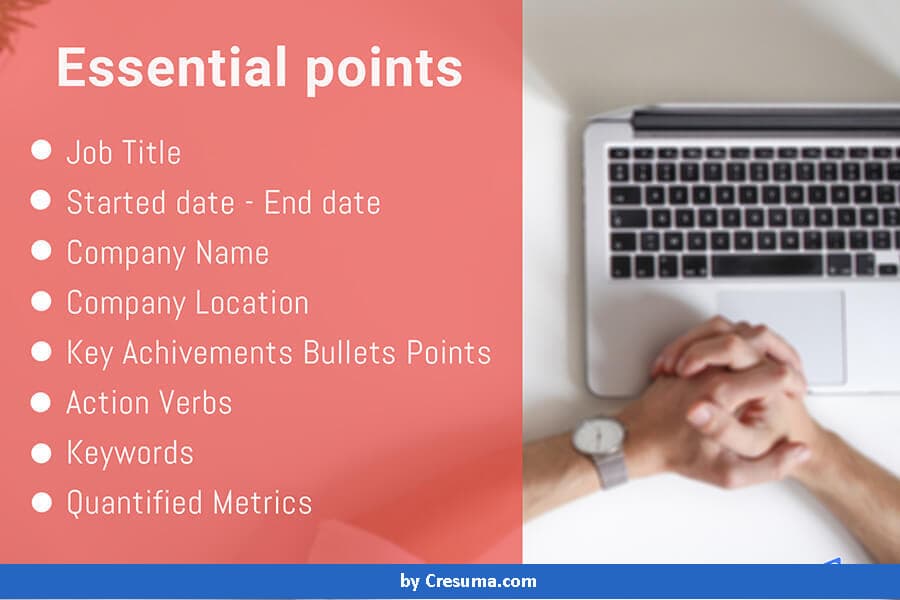 The above image shows you what is the most important information in the work experience section. Check whether you have compressed all information that the above image represented in your work experience section
When you provide a set of complete information with the job title, employment duration, restaurant name, location, and 3-6 bullet points of your career achievements, the recruiters will be able to understand your scope in the restaurant industry easily.
Example from an Expert
Experience
Waitress – 2016/Jan to 2019/Dec
Glorious Palace Hotel and Restaurant, Florida
Entered more than 500 orders into the POS system of the restaurant.
Handled both bar and restaurant sections in an efficient manner.
Delivered more than 100 room service orders on time.
How to build career achievements for a waiter?
You should not mention the waiter/ waitress duties and responsibilities in resume directly. But you can create them as what you have done or what you have achieved as a waiter by including the results of them.
Explain how you manage the wine bar to increase sales as a waiter.
Express how much did you grow customer satisfaction by providing the best suggestions and information on foods and beverages.
Briefly mention how did your knowledge of restaurant procedures such as opening a bottle of wine, carrying multi-plates and glasses, carving meat, and filleting fish assist to increase customer engagement with the restaurant.
Highlight how you use the restaurant machines such as refrigeration equipment, grills, ice machines, industrial dishwasher, and stainless steel washbasins.
However, do not forget to start your achievement with a relevant and formal action verb. Also, use the ATS friendly keywords to build your accomplishments meaningfully. Quantify the results as possible to enhance the value of the content further.
How about your maturity as a cleaner and greeter in your personal life?
The resume is a piece of paper in which you can include both professional and personal talent related to a waiter. As an entry-level waiter, you may have no experience to mention in the work experience. Don't worry! Here we go!
Power up your resume with the information below.
How do you manage your family kitchen on your own?
How do you serve the foods for your family members or guests?
How do you support cleaning the house?
How many chemicals do you use to clean the furniture?
Do you greet the guests who come to your place in a friendly manner?
Are you a talkative person among relatives, friends, and neighbors?
If you can talk about the above tasks in a positive way that will be a great chance to show your eligibility to be a waiter.
But how? Open a separate section called 'Volunteer Experience'. Just briefly explain the above-mentioned tasks as personal achievements related to the career as a waiter. Do not forget to add action verbs, keywords, and quantified results even in your volunteer experience.
Is an education section important in waiter or waitress CV?
Why not? Though a high school diploma is the minimum educational qualification to be a waiter, you should mention it in the education section. Because being an educated waiter is as important as being a skillful and experienced waiter.
At the same time, If you have followed a course or training which covers the fundamentals of restaurant management you can mention that qualification in the resume. That will be an added advantage for your eligibility to be a waiter.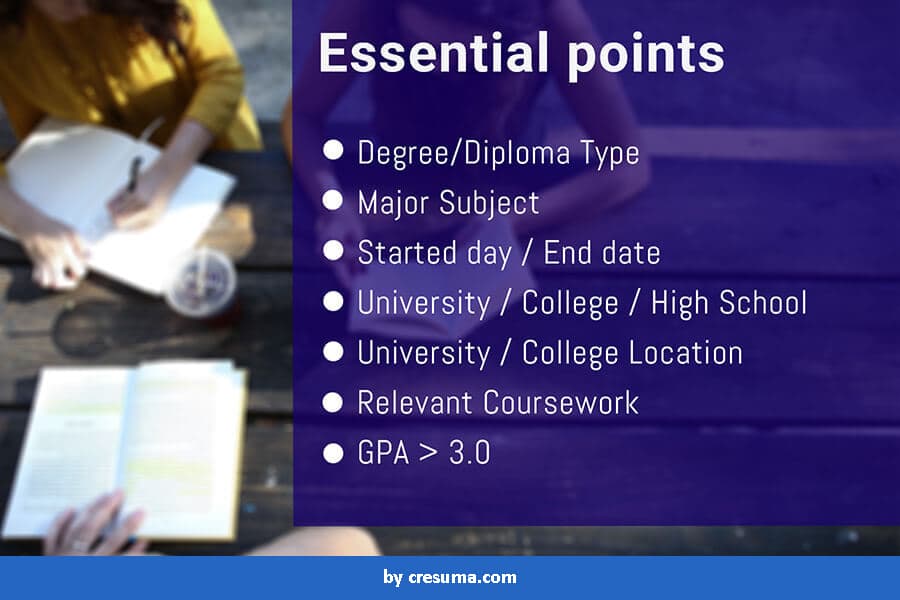 As the above image represents you should mention the type of diploma, course duration, high school name, and location as proof of your educational background.
If you have done any task that can prove your talent and uniqueness in your high school, you can mention them in bullet points. For example "Cleaned and assisted to clean the classroom every day", "Engaged with more than 500 students and 50 teachers in a friendly manner", "awarded as the most popular student of the year in 2005" etc.
Example from an Expert
Waiter / Waitress CV Example - Education

What are the most important waiter/ waitress skills resume?
Time management:-  Usually, a waiter has to handle more than two customers at the same time. Sometimes maybe more than 10 customers. However to provide a smooth and appreciable customer service the waiter should be able to manage the time well.
Team working:- The majority of restaurants have a team of waiters. Also, each waiter should engage with the others in a friendly manner to smoothly process the restaurant tasks. Therefore do not forget to mention that you are a great team player in your resume.
Oral and written communication:- The basic task of the waiter is communicating with the customer and checking what he /she wants. If he has to handle many orders they used to note down the orders. Therefore the ability to communicate fluently is a major skill for a waiter.
The bilingual ability increases the value of your resume more. So if you can communicate in different languages, mention that languages with the competency level as a separate section.
Active Listening:- Active listening and memorization skills are more important to a waiter. Because if he misses any food item or serves the foods by shifting the customers, they will feel uncomfortable and reject the restaurant. Therefore highlight that you are an active listener in your resume.
Organizational skills:- A waiter has to focus on different orders by using his time, energy, mental, and physical space. To conduct the restaurant process smoothly he has to have his own organized process of how to note down different recipes, how to serve multiple meals at once, how to manage messy tables etc.
What are the restaurant industry-specific skills of a waiter?
Working in a restaurant is not as easy as going to a restaurant and having a meal, because the knowledge of the restaurant procedures is more important to become a professional waiter. Therefore do not forget to mention at least 5 hard / technical / industry-specific skills in your resume.
Here are some restaurant industry-specific skills of a waiter.
Cash register
Math (basic calculations)
Customer Service
POS Terminals
Salesmanship
Table setting
Food Safety
Food preparation methods
Liquor laws and regulations
Hygiene and sanitation standards
Food handling techniques
Hospitality etiquette
Knowledge of service types:- American service, Silver service, Russian service, English service
How does an entry-level waiter differ from the experienced waiter in resume writing?
Below is the gist of the waiter waitress resume in terms of structure and layout.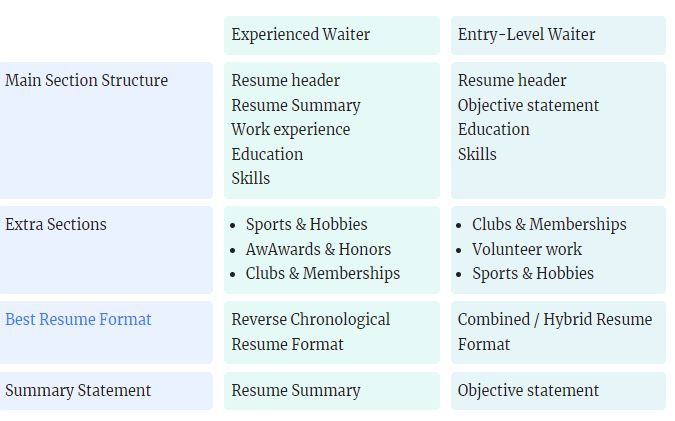 What should include in an objective statement of a beginner waiter?
The objective statement is the best substitution for the resume summary which assists to show the value of entry-level waiters. However, the recruiters are fond of knowing how you can help to achieve the future goals of the restaurant by using your skills, talent, education, and training.
Therefore write a simple paragraph by using action verbs, keywords, percentages, numbers, years, and amounts to showcase you are very unique.
How about my future goals? May I add them here? You do not need to mention them in the resume. If you are selected for the interview they will definitely ask about your future plans. Create an impressive answer for that, but do not combine them with your objective statement.
Are you a social worker?
The waiter should be able to assist people kindly. If you can reveal that you usually treat people in a kind manner even in your personal life, that will be a great opportunity to enhance the uniqueness of your resume.
If you are wondering how I can showcase my kindness, remind yourself. Have you ever helped people by engaging with a charity organization, child care association, or elders' homes? If yes, you could earn more marks.
List the names of the associations that you have got the membership. Briefly explain how did you spread your kindness among the people and how did you donate your time for them. Then the recruiters will understand your passion to be a waiter.
Here are some famous organizations in the United States.
Charity organizations
American heart association
Americares foundation
Transparent Hands Foundation
Child care associations
Smile Foundation
Defense for Children International (DCI)
Keeping Children Safe
Elders homes
Guardian Elder Care, Brockway
Visiting Angels, Greencastle
Home Care Assistance, Fairfax
Are you a good team player?
The recruiters always believe you with the evidence. That means mentioning the sports that you have participated in before is rather trustable than just adding 'teamwork skills'  in your resume. Therefore you can add the 'sports and hobbies' section and provide the sports you have participated in to enhance the teamwork skills.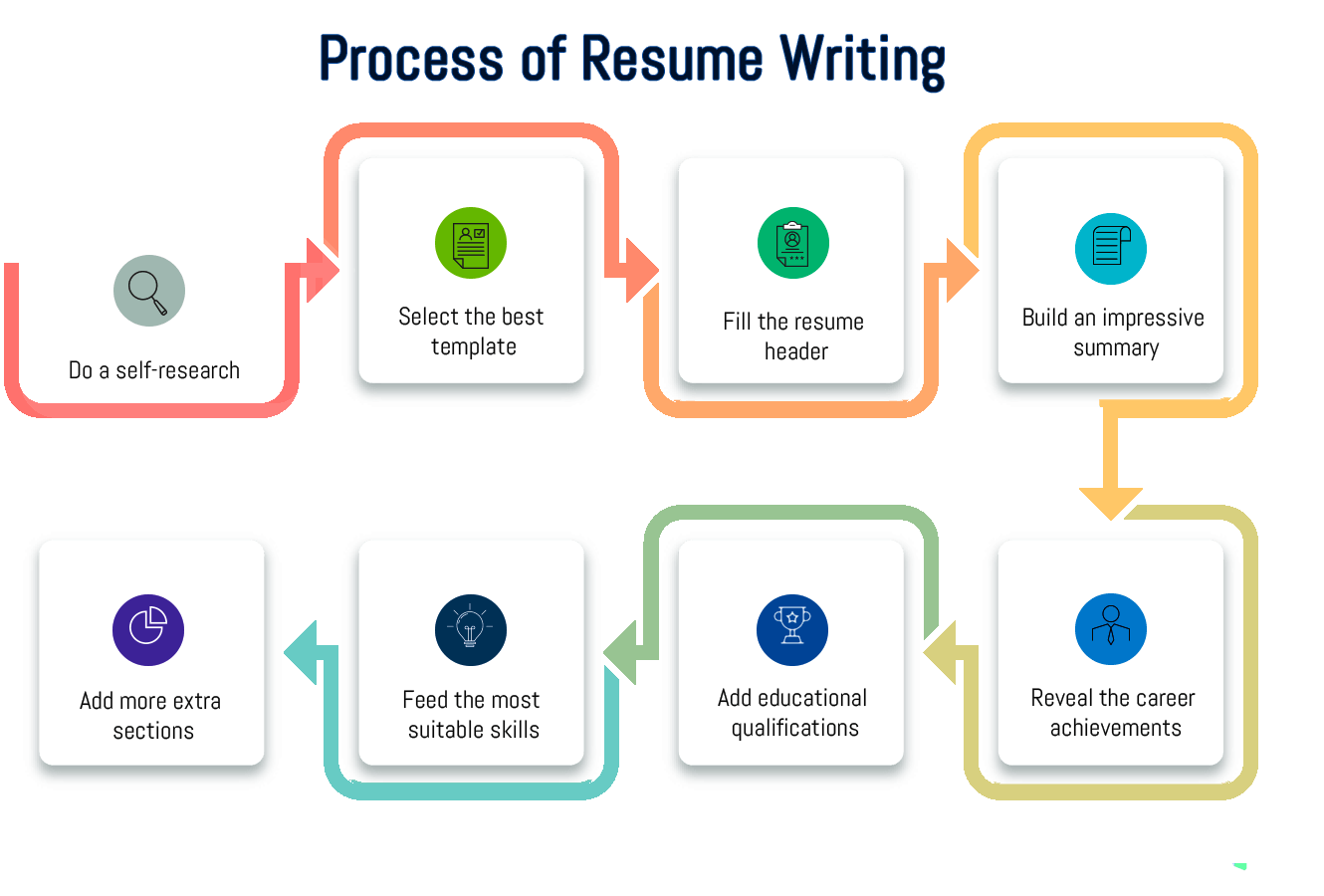 Best tips and secrets from a professional Waiter
TIP #01:- Attaching a cover letter
Though the job advertisement didn't request a cover letter from you, it is better to write a perfect cover letter and attach it to your resume. That is not a fault. You do not want to have a specific reason to write a cover letter.
You can address the hiring manager of the company directly. That means to find his / her name and use it in the salutation. Moreover, explain the facilities and features that make you interested in the restaurant and how you can help to achieve the restaurant's future goals. Unconsciously your resume will draw the recruiter's attention.
So, if a cover letter gives you a chance to admire the restaurant and the hiring managers, why don't you take the chance?
TIP #02:- Save the resume in PDF format
The ideal waiter cv format we recommend the PDF format because it is the most ATS friendly file format. But, doc., Docx., and plain text documents are also ATS friendly. Never send an image file of your resume, because the ATS can not read the text on an image.
TIP #03:- Proofread the resume before submitting
Submitting the resume without proofreading is a common mistake that is done by not only the waiters but also the majority of applicants. But both ATS tests and recruiters reject the resumes that contain the mistakes. Therefore do not forget to proofread your resume and cover letter before submitting them.
Do you want to know more resume tips? Just refer to the article 'resume tips 2022'.
Hotel & Restaurant Industry vs Modern Recruitment Process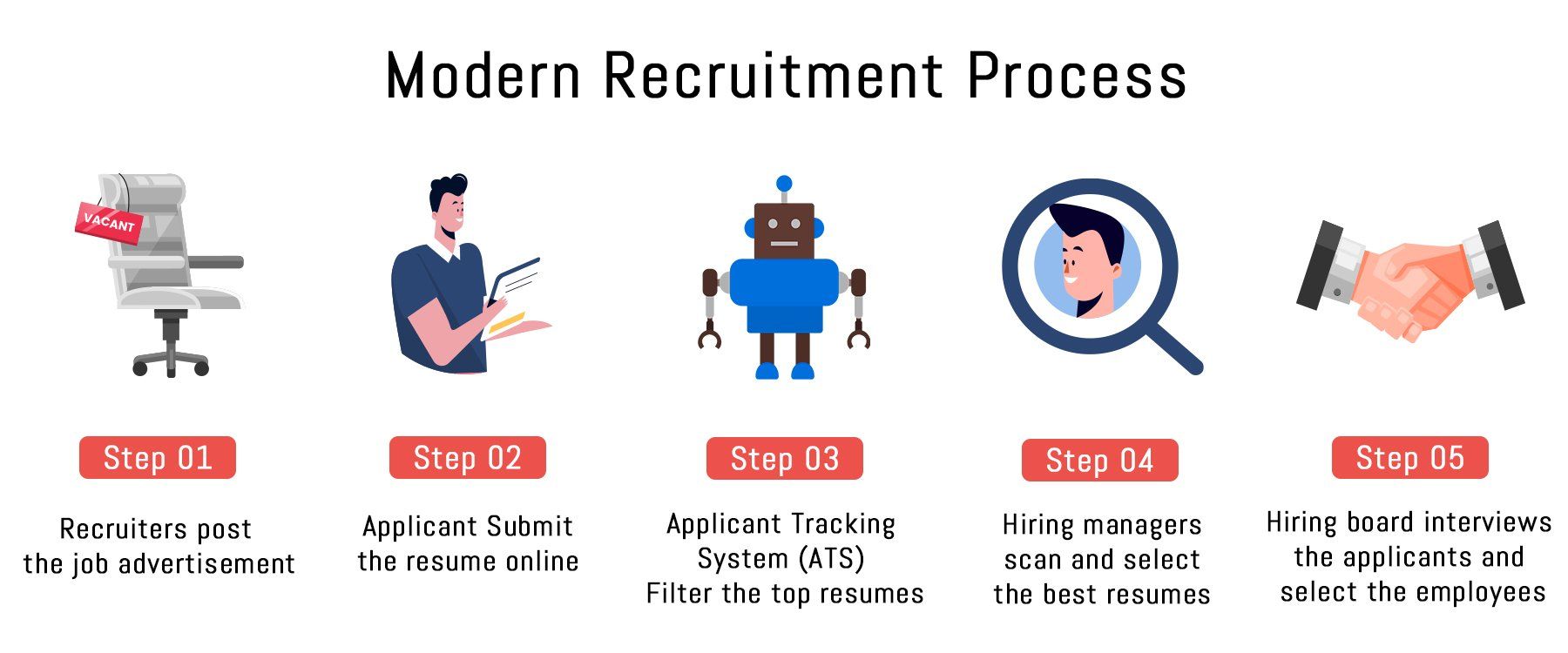 Modern Recruitment Process Overview
As the above image presents the majority of modern industries follow the same recruitment process. That means recruiting the applicants through a three-step procedure.
The hiring managers of the restaurant post the job advertisement for a waiter online. Then the applicants who are eligible and interested to join the restaurant as a waiter, send their resumes through emails.
When the restaurants receive thousands of resumes, they use an Applicant Tracking System (ATS) to filter the resumes. At last, the ATS selects the top resumes based on the availability of qualifications, keywords, action verbs.
The hiring managers of the restaurant go through only the top resumes and select a few best resumes to call the interview.
Finally, the most suitable waiter is selected by the hiring board in the interview session.
If you are wondering about the ATS test, just follow our 'How to write an ATS friendly resume' article.
How much can you earn as a waiter?
The waiter is able to earn an average income. As an amount, it is $21,689 per year. According to the type of restaurant and the facilities of the restaurant, the average monthly income may be slightly changed. However, the resume is not a fine place to mention your salary expectation. Therefore, Never mention your salary in your resume. But if the job advertisement requests you to mention your expected salary, mention a fair amount of salary in your resume after doing research on industry salaries. Check more resume samples to get  a clear idea.
Waiter Resume Sample (Text Version)
You can use the waiter / waitress CV sample below as a guide and customize it as per your requirements.
Joseph Carter
Waiter
+(310)789 2555
josephcarter@gmail.com
Montana, Glendive
Summary
Punctual waitress with 10+ years of experience in more than 5 high-volume restaurants. Expert in proven table service ethics and the ability to use restaurant machinery. won the best waitress in the restaurant award for continuing 99% of guest satisfaction for 5 months.
Work Experience
Waiter
Demento Hotel and restaurant, Florida – 2018/Jan to Present
Served the food and other essential things for more than 200 customers and multiple tables per day.
Pushed the sale of high-profit margin food items and increased the profit by 10%.
Helped other waiters or waitresses of the service team if needed.
Waiter
Carmona Hotel and restaurant, New Mexico – 2014/Mar to 2017/Dec
Welcome more than 100 guests per day professionally and helped them to find a suitable place to sit.
Inserted more than 800 orders into the POS system per day.
Worked in both bar and restaurant sections of the hotel at the same time in an efficient manner.
Waiter
Wobiaza Hotel and restaurant, California – 2010/Jan to 2014/Feb
Answered the guest's questions and provided the best suggestions on food and beverage options.
Sanitized and set the tables every time by re-stocking the dining area supplies before the new customers.
Informed the customers about specific offers and increased satisfaction levels.
Education
High School Diploma – 2007/Jan to 2009/Dec
Columbia University, NY
Academic Magnet High School, South Carolina
Skills
Excellent Communication
Teamwork
Stress Tolerance
Physical Fitness
Team player
Customer Service
POS Terminals
Salesmanship
Table Setting
Food Safety
Languages
English – Native Speaker
German – Working Knowledge
French – Working Knowledge
Japanese – Working Knowledge
Italian – B2
Want to build a perfect resume by yourself? Click on the below button.
Want to get a perfect Waiter Waitress cover letter created by an expert?
People who read this also read: