Pharmacist Resume Example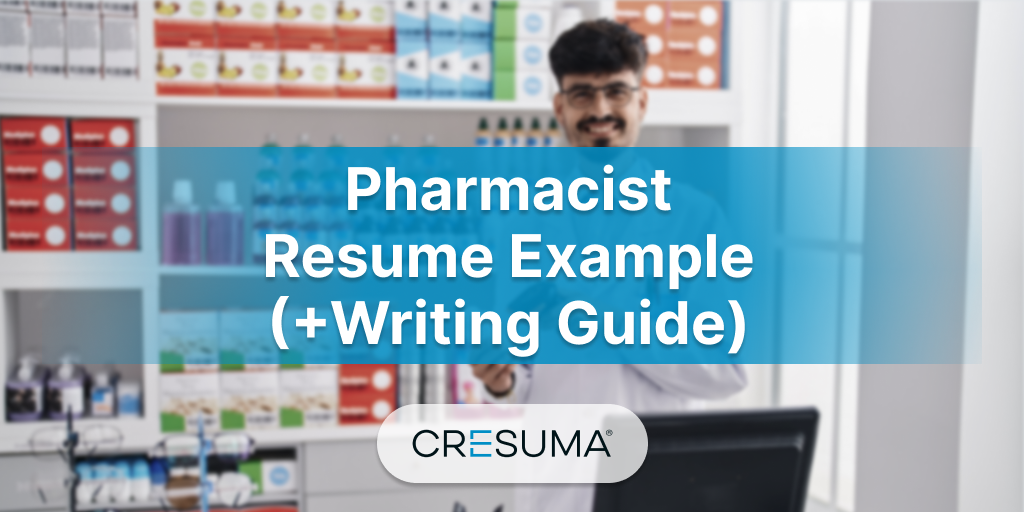 Complete Resume Guide for a Pharmacist
Ask from a Professional Pharmacist (Resume Tips and Secrets)
The Modern Recruitment Process of a Pharmacist
Pharmacist Resume Example (Text Version) / Pharmacist Curriculum Vitae Examples
No hidden costs. Download your ATS-Friendly resume in PDF for absolutely FREE after creating.
Pharmacist CV
No need to start from the beginning. Here's an example of pharmacy CV. Edit this sample pharmacy CV with your information and keywords from the job posting. Referring to job description for pharmacy tech jobs is important to determine the employer's expectations as well as keywords used.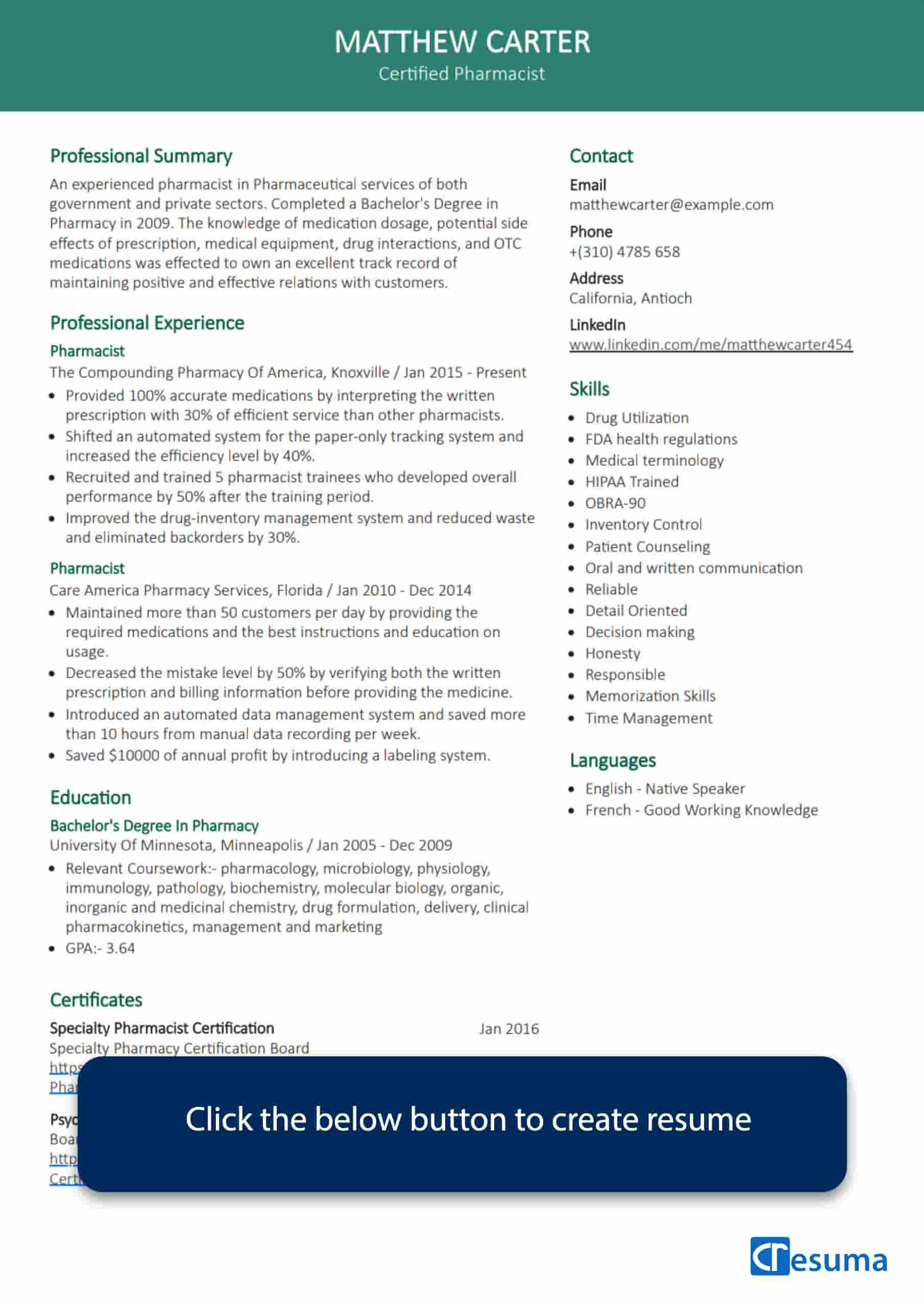 Complete Resume Guide for a Pharmacist
What to include in the header of CV for Pharmacy?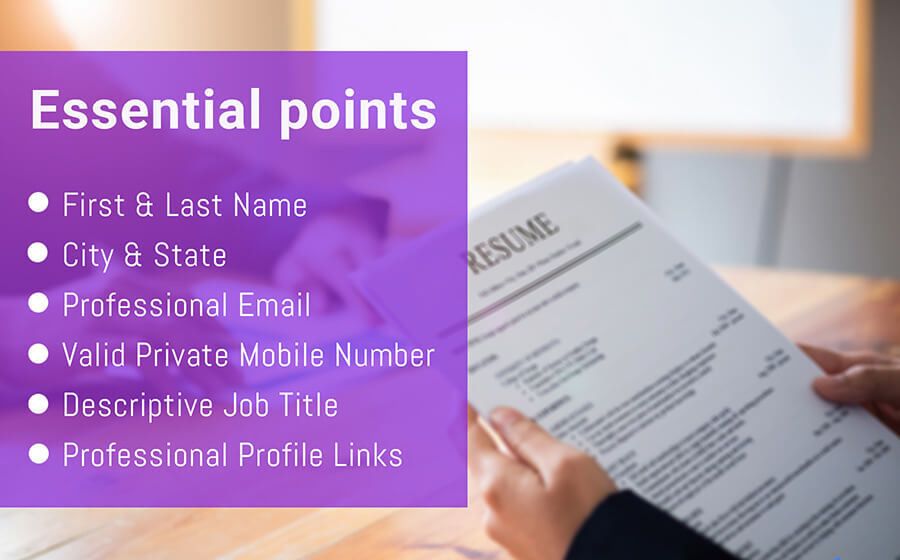 You may not know, some pharmacists lose their job opportunities because of adding unnecessary information such as gender, birthday, civil status, height, and weight into their resumes. So do not ruin your valuable chances by adding such irrelevant things in your resume.
A perfect resume header contains the major contact information of the applicant. For example, name, occupation title, location, contact number, email address are mandatory to state in the pharmacist resume header. You can mention your social media URLs as you wish.
But there are some limitations to share your details as follows.
Name:- Let the recruiters know who you are by mentioning only your first and last name. Do not waste the resume space by including your full name.
Job title:- It is better to mention the same occupation title stated in the job advert. That may be Staff Pharmacist Refill Call Center, Pharmacist Retail, Staff Mail Operations Pharmacist, Screening Pharmacist, or  Pharmacist – Specialty Mail Order.
Location:- The hiring personnel takes an idea about the distance from your place to their company based on the location you provide. Therefore only mention the city and state and let them feel you are close to the workplace.
Contact number:- Do not be an annoying applicant by listing down all contact numbers in your pharmacist resume header. Let them know only one available mobile number which is very personnel to you.
Email address:- The most important thing about your email address is being professional. If your email address does not contain any fancy or jargon words, and if your email address is not your workplace email, we can ensure that is a professional email. So, if you have not a professional email we suggest creating a professional one.

Social media URLs:- You do not need to surely add the social media URLs in your resume header. If you can prove your skills or career history from any of your personnel profiles it is good enough to mention the URLs. Otherwise, leave them.
Pharmacist CV Example Summary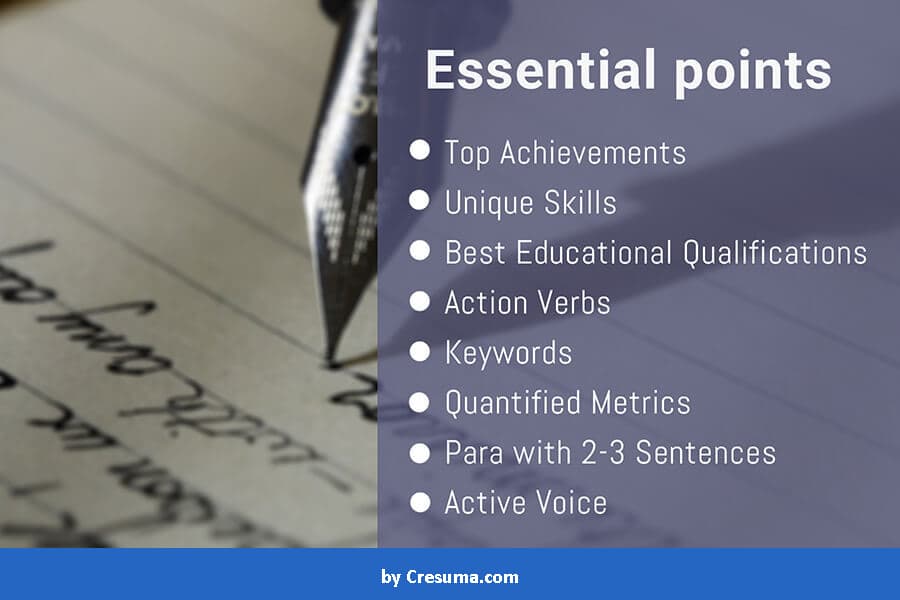 The resume summary contains the best part of the applicant as a pharmacist. That means it holds the applicants' top career achievements, unique skills, competencies, and the best educational achievements.
Furthermore, the pharmacist resume summary must be a one-paragraph and contain only 2-3 sentences. Besides, if you add the relevant verbs, key terms and quantified metrics such as percentages and years, the worth of your pharmacist resume sample will be enhanced.
Example from an Expert
Summary
An excellent pharmacist who has worked for the pharmaceutical service for more than 5 years with strong communication skills in 3 different languages. The ability to manage medicine and drugs with the knowledge of health, rules, regulations and side effects was caused to win the appreciation award in 2016. Increased customer satisfaction level by 50% from friendly and effective customer service.
Should the Pharmacist Resume Work Experience be in the past tense?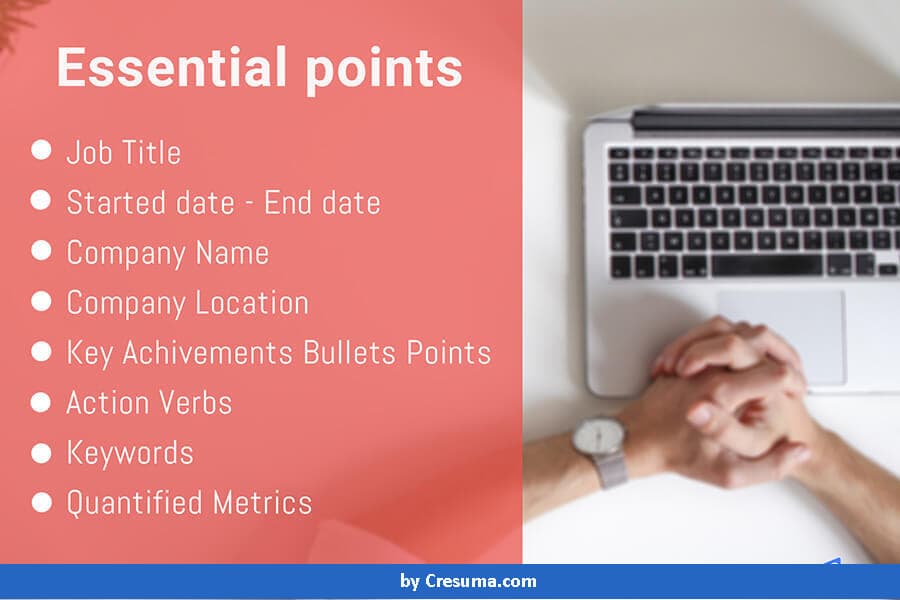 Why not! As a professional pharmacist, you may have worked in both the private and public sectors. Therefore, your professional achievements are considered as what you have done and gained. So you need to build your victories in the past form.
A well-arranged work experience section of a pharmacist contains the job title, employment duration, company name, location, and 3-6 bullet points of career achievements.
Never list down the duties and responsibilities of the pharmacist as your accomplishments. Because the person who hires you already knows those duties and they want to know what you have gained and achieved from prior careers. So, write well-compressed career achievements as bullet points.
Make an effort to increase the value of your accomplishments by joining the relevant verbs and key terms noticed in the employment application. Further, you can prove your victories by quantifying the results of your prior experiences.
Example from an Expert
Work Experience
Pharmacist – 2016/Jan to 2018/Dec
Prescription Services-America, Pennsylvania
Interpreted the written prescriptions correctly and provided 100% accurate medications.
Trained more than 3 pharmacist trainees and developed their performance level by 40%.
modified the inventory management system and reduced the wastage level by 50%.
Introduced a labeling system and saved the annual profit by 10.
How to describe the Pharmacist Career Goals Examples?
When you build up your accomplishments as a pharmacist, you have to explain the relevant and recent victories by providing proof. Here are some situations that can a pharmacist highlight in his resume sample.
Chemist or druggist who aware of interactions and side effects of drugs
Try to explain your scope of medication in your achievements. Furthermore, you can express the situations that you have protected the patients from danger by knowing the infection of the drugs. That fact will really impress the hiring managers by making them realize you are a great pharmacist.
A helpful pharmacist who serves excellent customer service
The customers expect from the pharmacist a brief explanation about the use, side effects, or interactions of medicine. Hence if you can reveal that you have advised each patient though you are in a busy circumstance, the authorities who hire you will feel you are the most suitable applicant among other pharmacists.
Pharmacist with an excellent track record
You can explain that you have never made any mistake or provided any wrong medication for the patients. Further, give some positive comments given by the daily customers to make stable your track record as a pharmacist in your accomplishments.
Stock and inventory managing pharmacist
The recruiters will really be fond of hiring pharmacists with multi-talents. Inventory management is an essential ability for a pharmacist. In consequence, make an attempt to explain how you manage the stocks. Additionally, reveal you have safety procedures such as keeping them out of sunlight, heat, children, and animals as well as keeping them in the original containers.
Responsible pharmacist in paperwork
A pharmacist has to manage and fill a set of reports and documentation on time. For this reason, you can interpret the expertise in paperwork related to a pharmacist. When the recruiters understand that you are a full package pharmacist they will definitely hire you.
Expert pharmacist in handling co-workers and partners
Some pharmacies employ more than two pharmacists. That depends on the scale of the pharmacy. In such a situation, the authorities are seeking a perfect team worker who assists other coworkers. So if you highlight that point in your achievements you can earn more marks than other applicants.
What to put in the Education Section of the Pharmacist resume?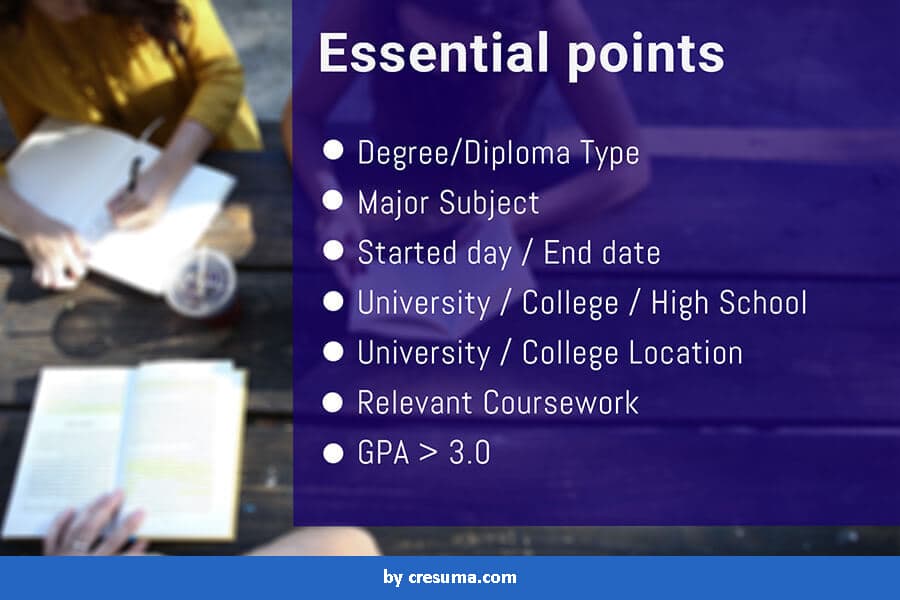 Usually, a bachelor's degree related to the pharmaceutical or any other relevant field is the minimum educational qualification for a pharmacist. So, it is better to mention the degree type, major subject, studied duration, graduated university name, and location as proof of your degree.
How to stand out in the education section of a pharmacist? You can mention the appropriate coursework to show the relevance of your degree. Also, promote the GPA of your degree if it is higher than 3.0 as follows.
Example from an Expert
Education
Bachelor's Degree in Pharmacy – 2012/Jan to 2017/Dec
University of Florida, Gainesville
Relevant Coursework:- physiology, biochemistry, pharmacology, microbiology, molecular biology, immunology, pathology, organic, inorganic, and medicinal chemistry, drug formulation, delivery, clinical pharmacokinetics, management and marketing
GPA:- 3.56
Should the Pharmacist resume have the Soft Skills Section?
Definitely yes! The skills section is a mandatory section for a pharmacist resume. This area ought to be full of both soft and hard skills. Make an attempt to add 8-10 skills in your pharmacist resume skills section.
Let's see why soft skills are important in the pharmacist resume. Check out the pharmacy skills for resume below.
Oral and written communication:- As the pharmacist engages with the customers always, he has to be capable to communicate and understand what is the requirement of the client. Further, in written communication, he must be a far expert in prescription translating and interpreting.
Detail Oriented:- Before serving medication the pharmacist has to examine the details of the drugs and perception. Then check whether the dozens and ingredients are correct or not. As this is the common process of the pharmacist's life, the detail-oriented skill is a must for him.
Time Management:- The pharmacist would manage the time well to handle the customers in a proper manner. Throughout the duties, he has to spend his time reading the prescription, selecting the medication, creating the correct dozens, and bill. So do not forget to mention the time management skill as your soft skill.
Organizational Skills:- The pharmacy is a place full of various drugs. There are various types of medication arrangements in pharmacies. The pharmacist must be able to organize all drugs in a proper manner. At the same time, the memorization skill is more important for a pharmacist.
Fast-learner:- The medication field is a daily updating field and the pharmacist would be able to adapt to the new drugs. At the same time, he has to have a correct awareness of the usage and side effects of the drugs. Therefore reveal you as a fast-learner.
What are the Hard Skills for a Pharmacist Resume Sample?
Though there are not many hard skills to add to the pharmacist resume sample, the following hard skills represent the applicant's unique capabilities and abilities as a pharmacist.
Analyzing information
Administering medication
Drug Utilization
FDA health regulations
Medical terminology
Medicaid and Medicare
Inventory Control
Patient Counseling
Pharmaceutical Storage Procedures
Pharmacy Operations
Pharmacology
Pharmaceutical Research
PharmaSys
HIPAA Trained
OBRA-90
PioneerRX
What is the Resume Format for Pharmacist Freshers?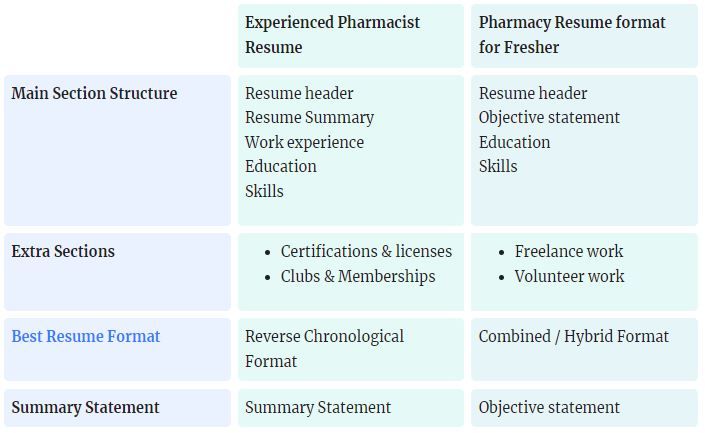 How to write a Resume Objective for an Entry-Level Pharmacist when no work experience?
Usually, the objective statement must show the object of the applicant. In a pharmacy student resume objective, you can explain your abilities, talents, and unique skills that cause the pharmacy to achieve the official goals. Briefly explain the positive changes that can happen if they hire you as their pharmacist.
As same as the resume summary, you can add the keywords, action verbs, and quantified metrics such as percentages, years, and numbers in your pharmacist resume objective.
Example from an Expert
Objective Statement
Detail-oriented and hard-working healthcare fresher who is ready to utilize the ability to read the prescriptions fast and correctly to increase customer service by 20% more efficiently. Completed the Bachelor's Degree in Pharmacy in 2019 and licensed by the state last month.
Should a pharmacist be licensed by the state to be a professional?
Definitely yes! The applicant has been licensed by the state to be a professional pharmacist. Hence mention the details about your license under the 'Certifications & licenses' section in your pharmacist resume. Here are the commonly requested licenses from a pharmacist.
Pharmacy Technician License
Licensed Pharmacist
Registered Pharmacist
Pharmacy Intern License
Further, if you have certification as healthcare personnel, that will be an excellent chance to showcase your uniqueness among other applicants. So, add the information about your certification in the same section above mentioned.
The managers who examine your resume will be fond of knowing at least the certification name, certified year, and certified organization name under the certifications & licenses area. You can mention the certification number and the URL if available.
Here are some certifications that are nice to have in a resume of a pharmacist.
Certifications Certified by the Board of Pharmacy Specialties
Board Certified Critical Care Pharmacist
Board Certified Nuclear Pharmacist
Board Certified Geriatric Pharmacist
Board Certified Oncology Pharmacist
Board Certified Ambulatory Care Pharmacist
Board Certified Cardiology Pharmacist
Board Certified Psychiatric Pharmacist
Board Certified Infectious Diseases Pharmacist
Board Certified Pharmacotherapy Specialist
Other Certifications
Certified Specialty Pharmacist – Specialty Pharmacy Certification Board
Foreign Pharmacy Graduate Examination Committee Certification – National Association of Boards of Pharmacy
Certified Pharmacy Technician – Pharmacy Technician Certification Board
Certified Pharmaceutical GMP Professional – American Society for Quality
Registered Medical Assistant – American Phlebotomy Association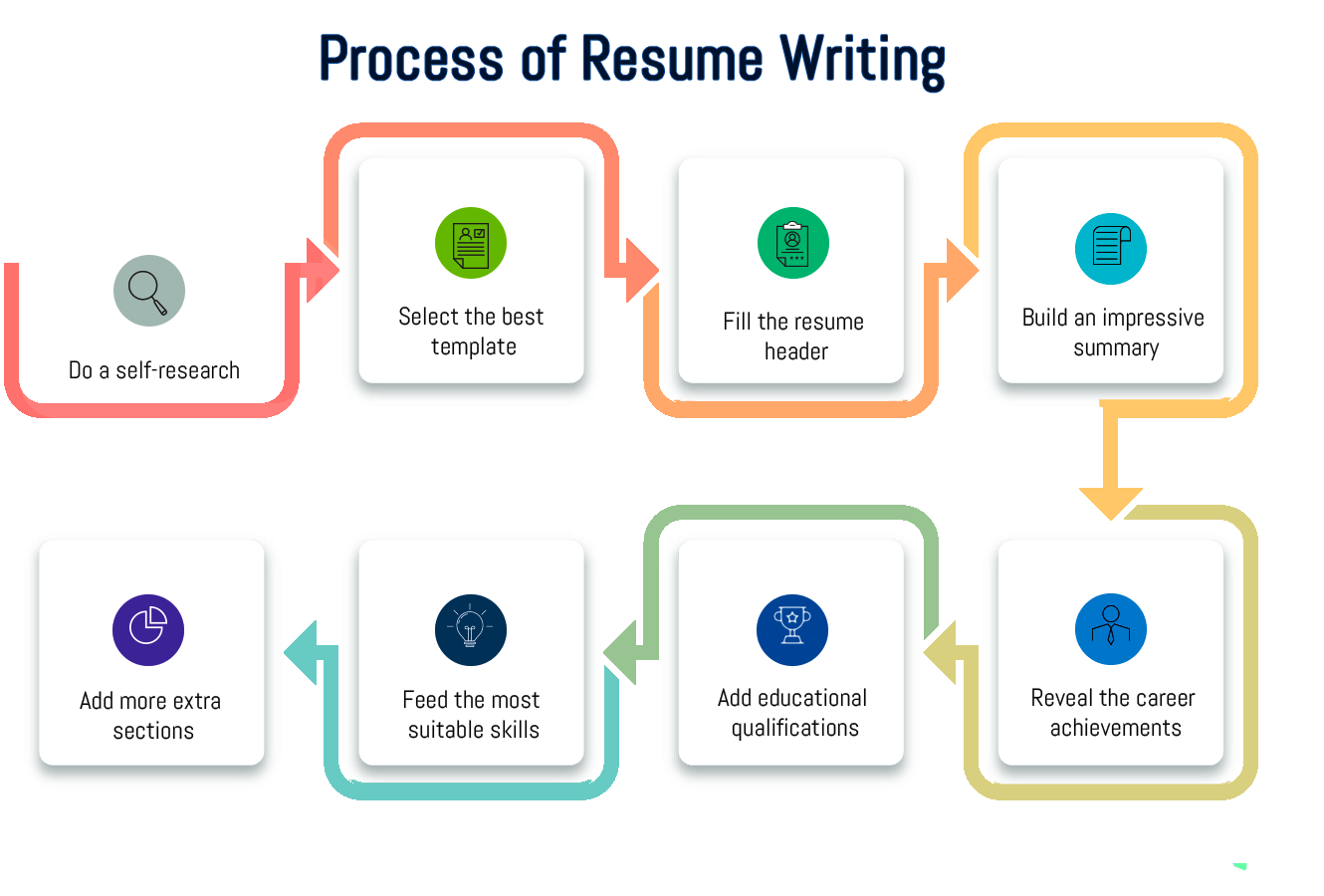 Ask from a Professional Pharmacist (Resume Tips and Secrets)
Quiz #01:- What is the link between a Pharmacist Resume Sample and a self-research?
There are many types of pharmacists such as community pharmacists working in common pharmacies, hospital pharmacists employing in hospital settings, and ambulatory care pharmacists assisting in the doctors' office.
Further, pharmacists can be found in pediatric departments, cardiac care units, poison control centers, emergency rooms, intensive care units,  oncology centers, and long-term care facilities (e.g., nursing homes). According to the recruiting place, the requirements of the position be varied.
Therefore the applicant ought to tailor his resume based on that basis. Self-research is more important to understand all criteria of the pharmacist resume and employment advertisement provide basic information about the career position.
Do not limit only to the employment advert and bunch the hits to official profiles of the pharmacy such as Facebook, Twitter, LinkedIn, and web page for more details.
Quiz #02:- When would a cover letter be sent as a Pharmacist?
There is no specific reason to send a cover letter with your pharmacist resume sample. That means you can write a perfect cover letter to impress the recruiters anytime.
As the cover letter provides a formal background to communicate with the person who hires you, admire the sustainability, features, and goodwill of the pharmacy. Explain your passion to join the pharmacy too.
Especially if you can find out the name of the hiring manager you can directly address him in your pharmacist cover letter.
Quiz #03:- Should the Pharmacist bold keywords in his resume?
No! If you join the relevant keywords to your resume content meaningfully, that's enough. You do not need to highlight them because ATS can read them in the regular format. But make sure the text of your resume can select well.
How to find out the most suitable keyword? The advert for the position is the major and best source to select the keywords that can be used in your pharmacist resume.
Here we have highlighted the key terms of the following job advertisement sample.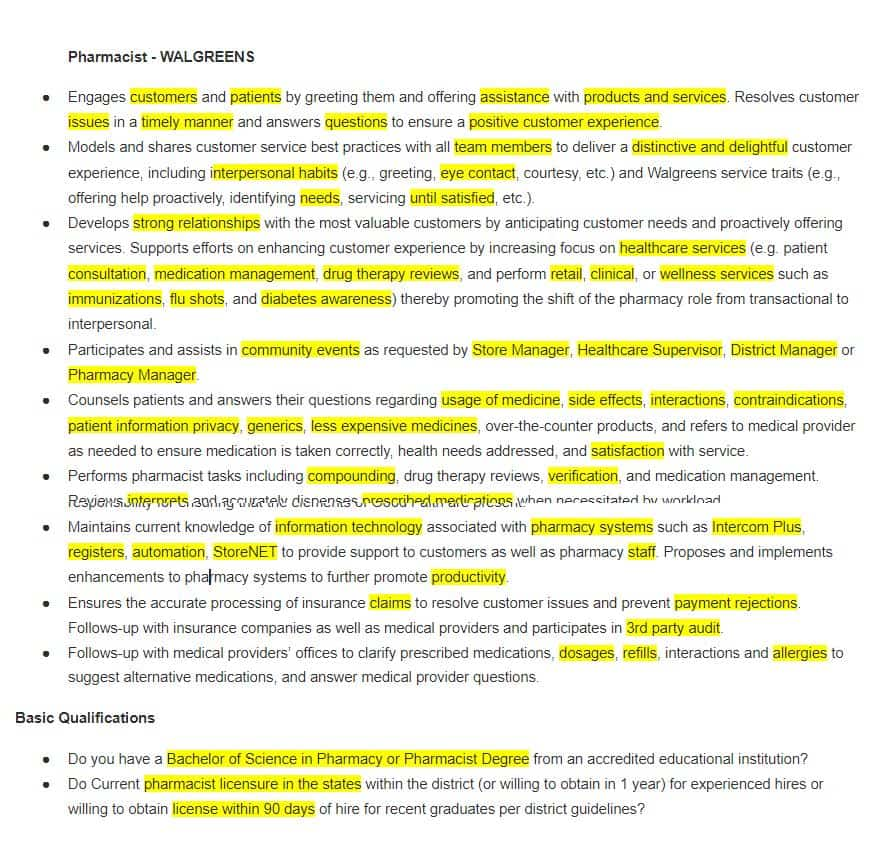 Quiz #04:- What are the good action verbs to use in the Pharmacist resume?
There are so many resume action verbs related to a pharmacist position. But they are common for each applicant. But you have to search for the most applicable action verbs in your resume sample. Therefore, read the advertisement of occupation well and highlight the given verbs as follows.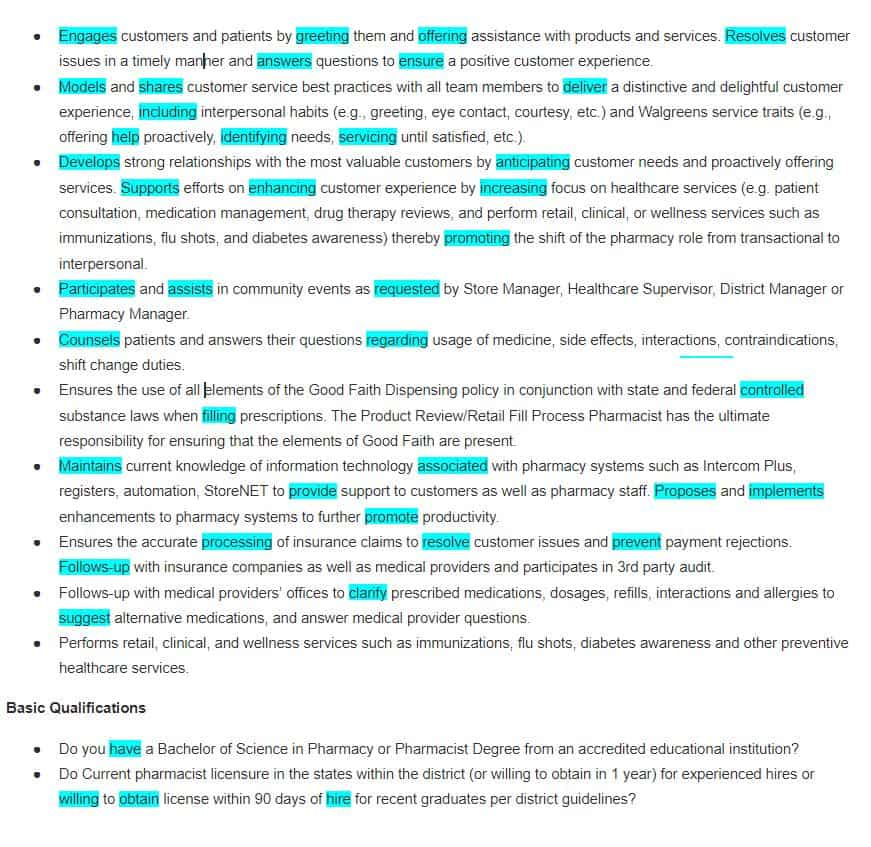 List of common action verbs for pharmacists
Advised
Aided
Arranged
Assisted
Attended
Carried out
Controlled
Conducted
Coordinated
Collected
Established
Facilitated
Handled
Identified
Investigated
Instructed
Interpreted
Questioned
Read
Served
Quiz #05:- Why do the majority of Pharmacists submit PDF formatted resumes?
PDF format is the most ATS friendly file format to save your resume. At the same time, it has been accepted universally. After saving the PDF file, anyone cannot modify your resume content and the file is not messed up automatically like Word.
Therefore the majority of applicants save their pharmacist resumes in PDF format. But the word and plain text file formats are also ATS friendly.
Especially, read your full document and correct the grammar and spelling mistakes before saving and submitting it.
Quiz #06:- Why do I need to select a Template from a Pharmacist Resume Builder?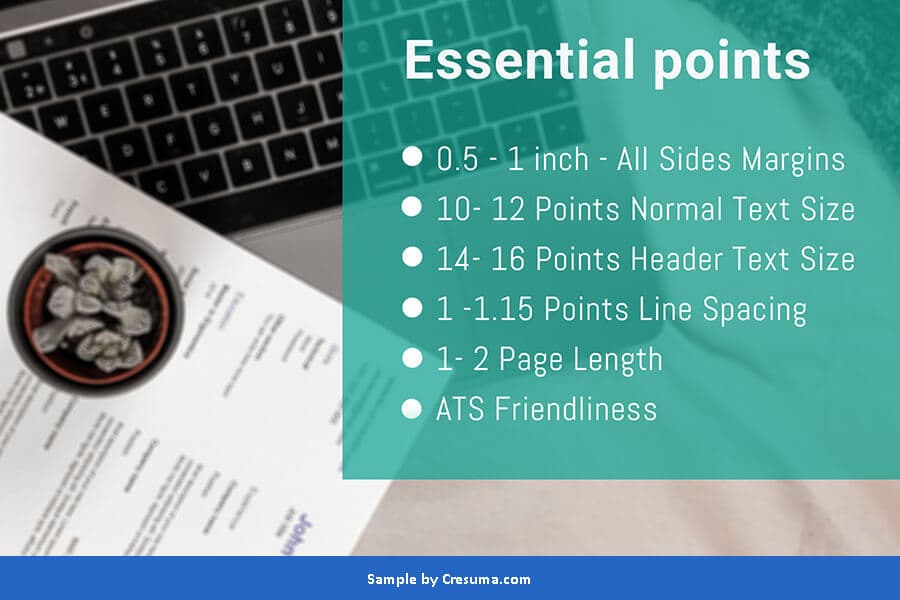 Because the quality, standard, format, and layout of the online resume templates can be ensured by 80% than the resumes created manually. However, consider the following factors when you select an online resume template as a pharmacist.
ATS Friendliness:- The ability to select the text and click the links as well and using the simple graphics will decide the ATS friendliness of your pharmacist resume template. Therefore check whether the template you select has the above-mentioned qualities.
Font Style:-
There are some font styles recommended for resume writing So try to select one of the most suitable font styles for a pharmacist. We recommend 'Open Sans' font will go nicely with your resume.
Cool Colors:- Strive to select a cool and calm color collection for your pharmacist resume. Because the readers' eyes become tired by some glamorous and shiny colors.
Enough space:-
The best resume length for any applicant who applies for the pharmacist vacancy is one-page. So you have to examine that your resume template has enough space to arrange all sections clearly.
Layout with a photo:-
First, see whether the advertisement requests a photo from you. If not, it is better to select a layout without a photo. But do not forget to supply a professional-looking photograph if you are willing to enter a photo on your resume.
The Modern Recruitment Process of a Pharmacist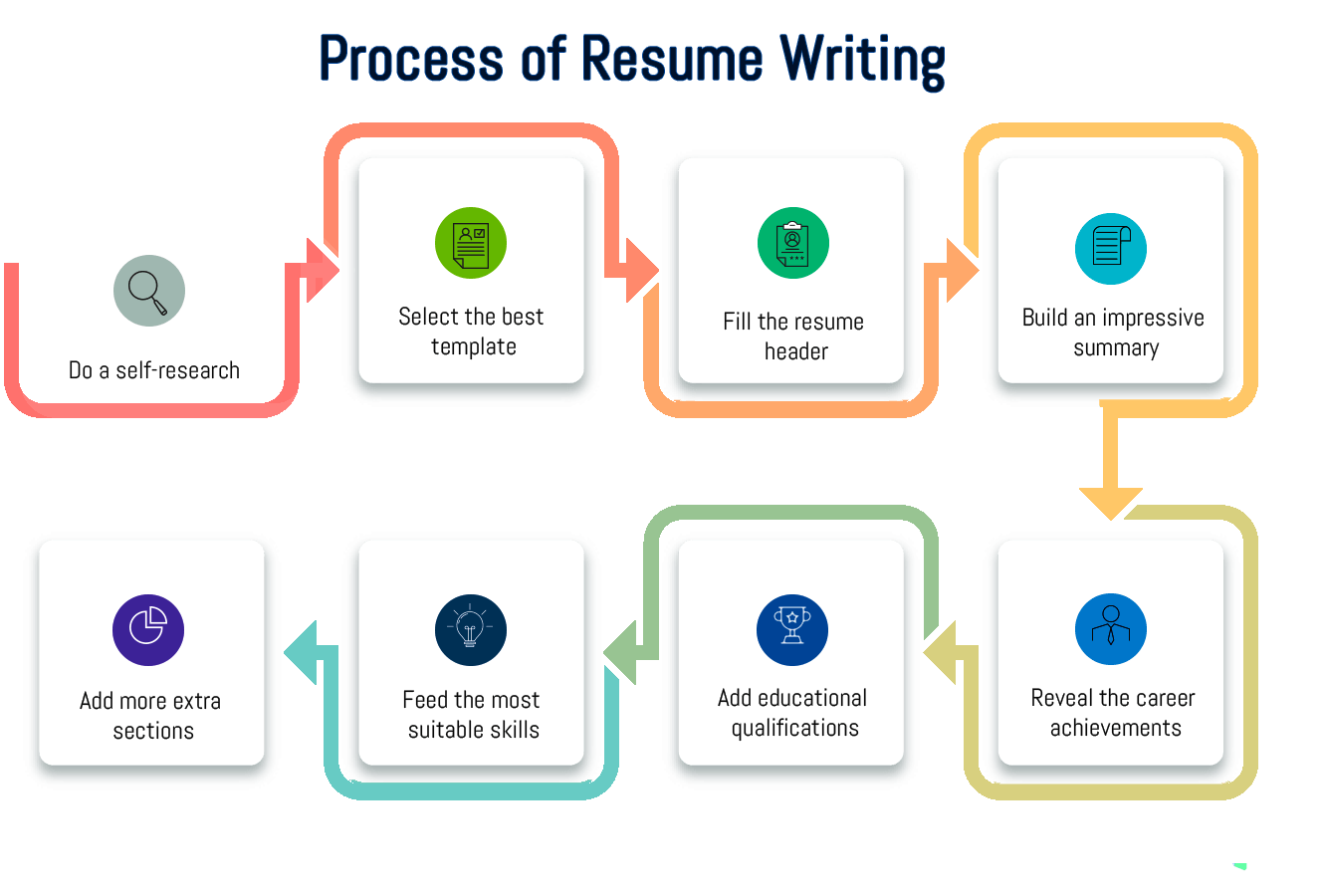 Overview
The majority of private pharmacies and hospitals or other pharmacist recruiting premises post the career advert on their official web page or other job posting site.
Then the applicants who are eligible to be professional pharmacists create their resume samples perfectly and send them through emails.
Likewise, thousands of applicants apply for the vacancy and the recruiters enter all resumes into the Applicant Tracking System (ATS) and let it filter the top resumes.
ATS searches for the availability of the qualifications in the resume and provides scores. In the end, the system selects the top-rated resumes.
The top resumes are handed over to the hiring managers and they search for the best resumes among them to invite to the interview session.
Finally, the owners of the best pharmacist resume samples have to face in the interview and the company selects the most suitable pharmacist among them.
Average Salary of a Pharmacist
The salary amount of a pharmacist depends on the certifications he has, the years of experience he worked as a pharmacist, and the state where he lives. Here are the top paid premises for pharmacists per year.
Scientific research and development services
$ 129,790

Warehousing and Storage
$ 128,130
Offices of Physicians
$ 127, 550
Health and personal care stores
$ 119,420
General Medical and Surgical Hospitals
$ 117,690
Grocery Stores
$ 115,080
Pharmacist Resume Sample (Text Version)
Matthew Carter
Certified Pharmacist
+(310) 4785 658
matthewcarter@example.com
California, Antioch
LinkedIn – www.linkedin.com/me/matthewcarter454
Summary
An experienced pharmacist in Pharmaceutical services of both government and private sectors. Completed a Bachelor's Degree in Pharmacy in 2009. The knowledge of medication dosage, potential side effects of prescription, medical equipment, drug interactions, and OTC medications was effected to own an excellent track record of maintaining positive and effective relations with customers.
Work Experience
Pharmacist
The Compounding Pharmacy of America, Knoxville – (2015/Jan to Present)
Provided 100% accurate medications by interpreting the written prescription with 30% of efficient service than other pharmacists.
Shifted an automated system for the paper-only tracking system and increased the efficiency level by 40%.
Recruited and trained 5 pharmacist trainees who developed overall performance by 50% after the training period.
Improved the drug-inventory management system and reduced waste and eliminated backorders by 30%.
Pharmacist
Care America Pharmacy Services, Florida – (2010/Jan to 2014/Dec)
Maintained more than 50 customers per day by providing the required medications and the best instructions and education on usage.
Decreased the mistake level by 50% by verifying both the written prescription and billing information before providing the medicine.
Introduced an automated data management system and saved more than 10 hours from manual data recording per week.
Saved $10000 of annual profit by introducing a labeling system.
Education
Bachelor's Degree in Pharmacy – (2005/Jan to 2009/Dec)
University of Minnesota, Minneapolis
Relevant Coursework:- pharmacology, microbiology, physiology, immunology, pathology, biochemistry, molecular biology, organic, inorganic and medicinal chemistry, drug formulation, delivery, clinical pharmacokinetics, management and marketing
GPA:- 3.64
Certifications
Specialty Pharmacist Certification (2016/Jan)
Specialty Pharmacy Certification Board
URL- https://www.Specialty Pharmacy Certification Board/Specialty Pharmacist Certification/FGDF215-582VDF-AED486
Psychiatric Pharmacist Certification (2011/Aug)
Board of Pharmacy Specialties
URL – https://www.Pharmacy Specialties Board/Psychiatric Pharmacist Certification/FDG-588DXVC-SFSD1Z2
Skills
Drug Utilization
FDA health regulations
Medical terminology
HIPAA Trained
OBRA-90
Inventory Control
Patient Counseling
Oral and written communication
Analytical skills
Critical Thinking
Decision making
Computer skills
Teamwork
Memorization Skills
Time Management
Languages
English – Native Speaker
German – Working Knowledge
French – Good Working Knowledge
Russian – Very Good Command
This resume can be customized to write,
Pharmacy assistant resume
as a Pharmacy tech resume sample
as a Pharmacy student CV example
CV for pharmacist fresher
Want to build a perfect resume by yourself? Click on the below button.
Want to get a perfect Pharmacist cover letter created by an expert?
People who read this also read: