Event Planner Resume Example (+Writing Guide)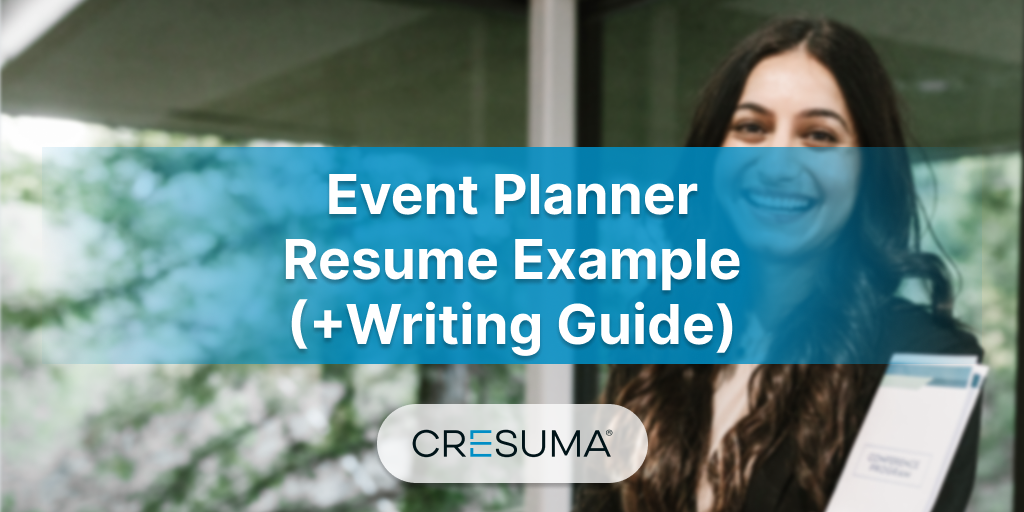 Complete Resume Guide for an Event Planner
Ask from a Professional  Event Planner(Best Tips and Secrets)
Event Planner Resume Example (Text Version)
No hidden costs. Download your ATS-Friendly resume in PDF for absolutely after creating.
Event Planner Resume
No need to start from the beginning. Edit this resume sample with your information and keywords from the job posting.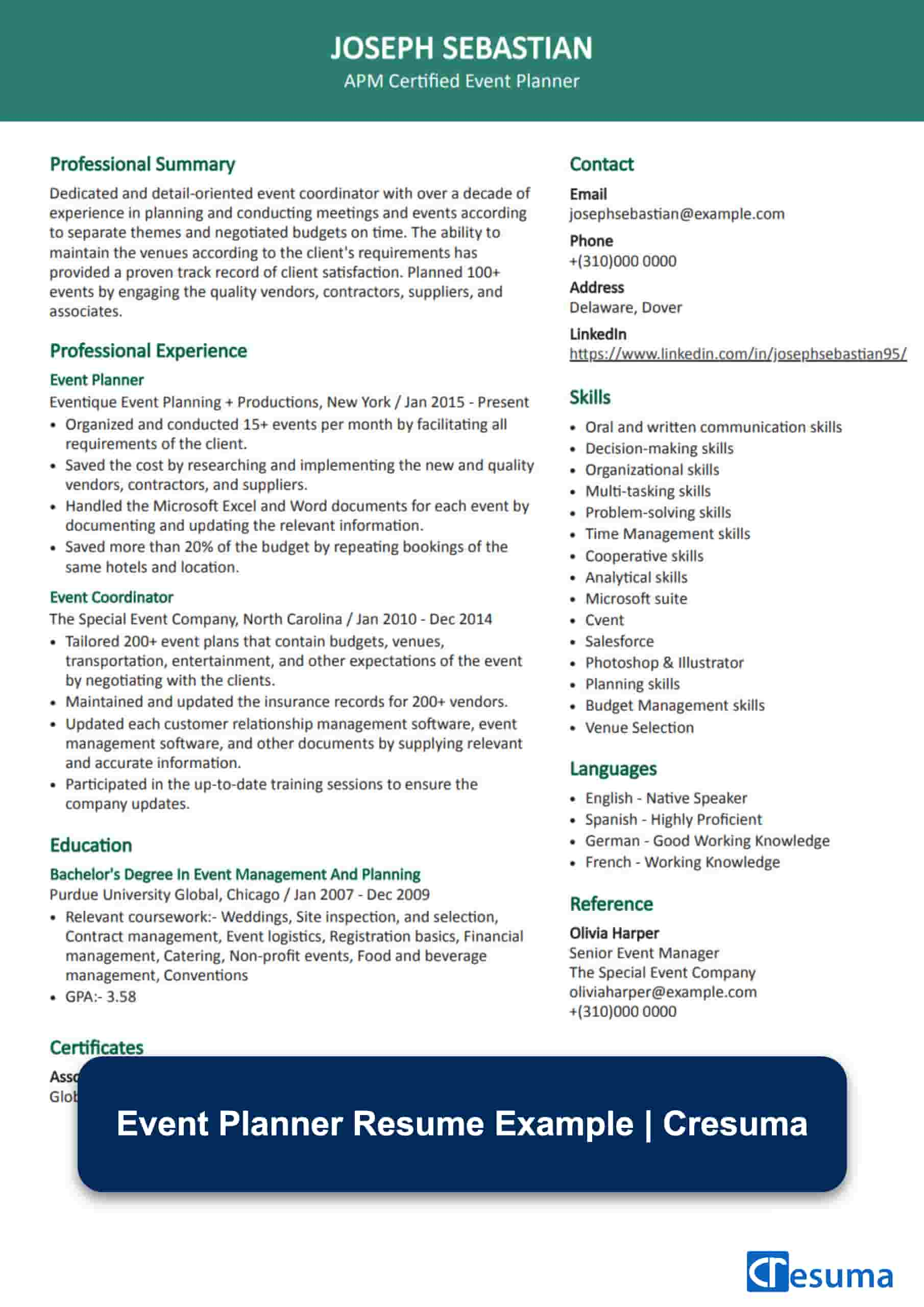 Complete Resume Guide for an Event Planner
Are Resume Templates Free for Event Planners?
Some resume builders provide free resume templates for any applicant. Especially Cresuma Resume Builder gives you ATS friendly, well-formatted, and standard resumes for 100% free.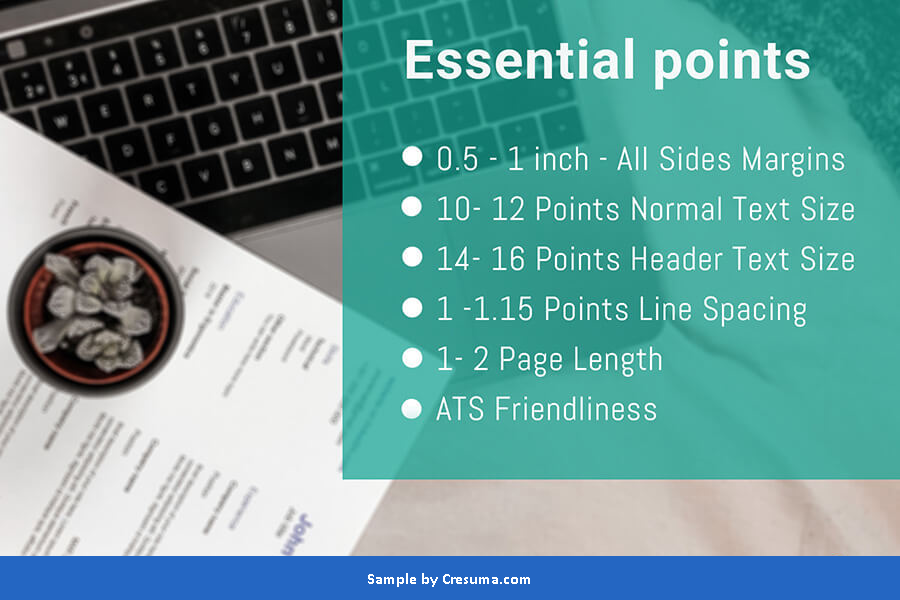 However, consider the following features when you create your resume template.
ATS friendliness is the main fact that affects your job opportunity. Therefore you should consider whether your resume is ATS friendly or not. You can refer to your article on 'How to write an ATS friendly resume' for more information.
The font of your resume should be more clear and easy to read font style. Especially, we recommend the Helvetica font style to use in your resume. For more font styles for resume and cover letter writing refer to, best fonts to use on resumes
Try to limit and compress your resume into one-page. Because that is the perfect resume length for an event planner. But if you have experience of more than 10 years you can create a two-page resume. However, ensure you have entered the best and professional values throughout the whole resume.
After finishing your resume and cover letter writing make sure to proofread them. Then save them as a PDF formatted document and submit them. PDF is the most ATS-friendly file format in the resume writing process.
Should an Event Planner Add a Photo on Resume?
It depends on the recruiters' request. If they request to add a photo to your resume, provide a professional-looking photograph. Otherwise, select a resume template without a photo. That saves you more space to add professional details about yourself.
How to Make an Event Planner Resume Header?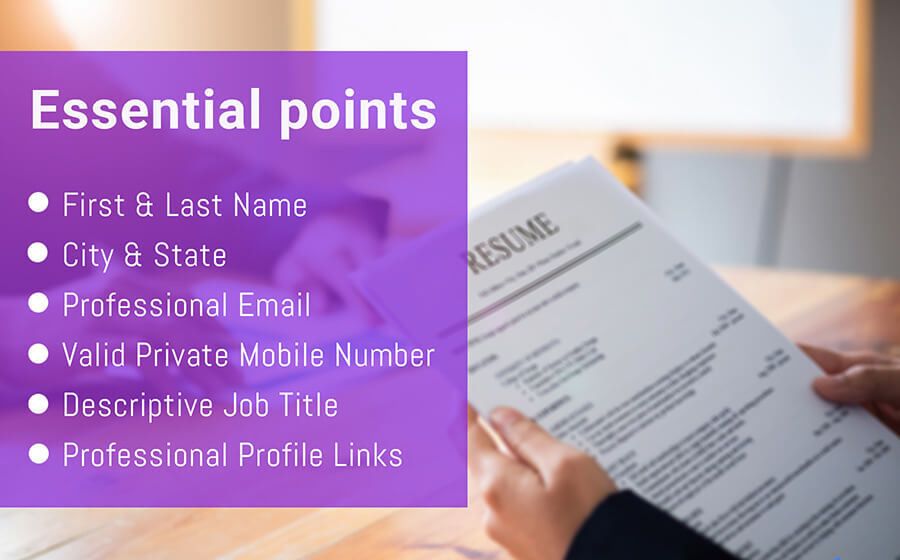 Your name should be the biggest text in your resume. Also, only provide the first and last name as a professional applicant. The recruiters want to know where you are from. So share only your city and the state. The hiring personnel is searching for one available mobile number and your professional email address in the resume header to contact you.
Especially state the same job title given in the job advert as your job title. That may be Event, Meeting and Travel Planner, Meeting and Event Professional, Events Coordinator, Retail Communications, and Events Planner.
The above-mentioned contact information is mandatory to insert in your event planner resume header. You can mention some social media URLs also. But they are optional to mention.
Especially if you can showcase your qualification, skills, extra talent, educational or career history from your private profiles, link them with your resume header. For example, you can share LinkedIn, Facebook, Twitter, and even a Youtube URL to enhance your value.

What is a Professional Summary of an Event Planner?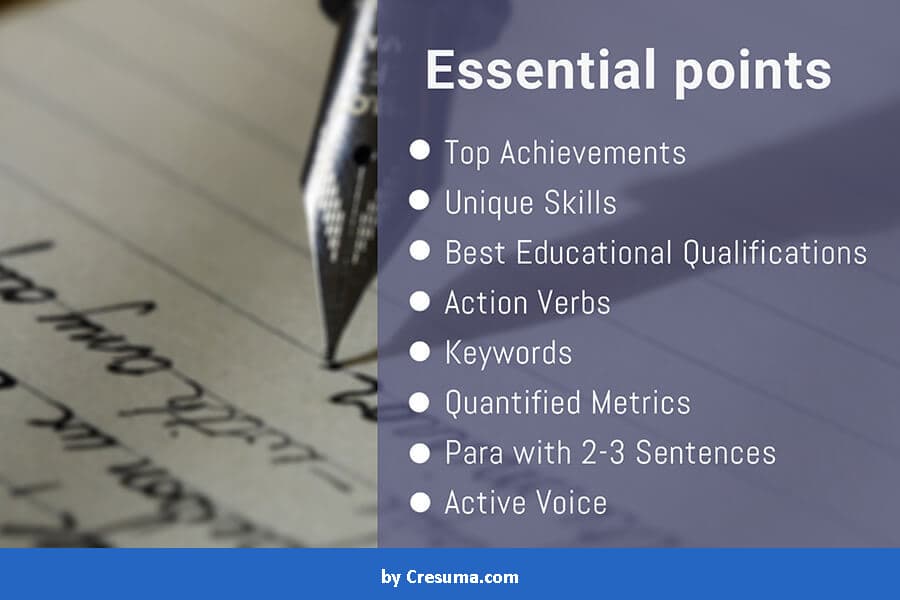 You may know the resume summary is the first part that is seen by the recruiters after the resume header. As you place it at the top of the page you should enter your top professional information within a tiny paragraph that contains 3-4 sentences.
Sum up your top career achievements, unique skills or competencies, and your highest educational qualifications using proper action verbs and in the active voice. Also, use the keywords and quantified metrics such as years, percentages, amounts, and numbers as possible to stand out your accomplishments.
Example from an Expert
Summary
Experienced event coordinator for more than 5 years in planning parties, meetings, trade shows, expositions, weddings, and other large-scale events. Negotiated and managed the theme, venue, and budget according to the requirements of the client. Planned 200+ events by developing a solid network with the contractors, vendors, suppliers, and associates to succeed and complete the events on time.
How Should Work Experience Be Listed on an Event Planner Resume?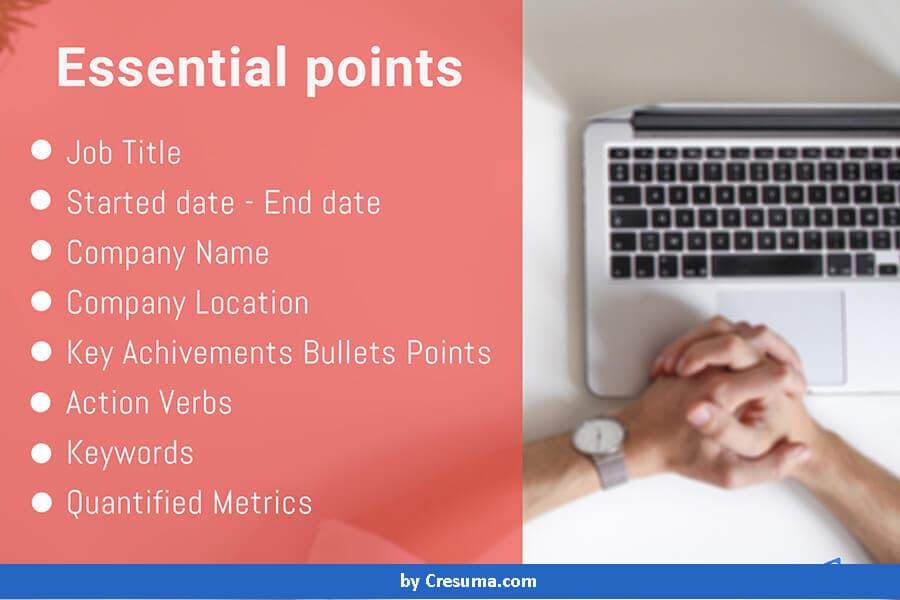 You should arrange a complete set of information about your previous careers under the work experience section. But the experience must be the latest and relevant for the event planner.
Especially if you are an experienced applicant for more than 10 years limit your career history to the most recent 10 years. Then you can keep your resume in between 1-2 pages.
For a better and short explanation, you can mention your previous job title, employment duration, company name, location, and 3-4 compressed bullet points of your career achievements. But never list down event planner duties and responsibilities as bullet points. Because the recruiters already know them and they want to know your scope and value as an event planner.
You can start your key achievements with a formal and relevant action verb. Also, try to join keywords and key phrases with your resume content as much as possible. Furthermore, you can quantify your accomplishment by using years, percentages, and amounts.
Example from an Expert
Event Coordinator – 2016/Jan to 2018/Dec
Rafanelli Events, New York
Organized 500+ events and meetings from conception to completion by negotiating the budget, venue, and other requirements.
Documented each event by creating the CAD diagrams and other relevant records.
Ensured the updating of the company knowledge by participating in the latest training sessions.
How to Describe Your Career Achievements as an Event Planner?
Experience in different areas
The scope of an event planner can be spread throughout different fields. According to the variety of the sector, the experience also can be different. Hence, follow the below table and collect your achievements related to those different fields and mention them in your resume. If your targeting company is specific for a certain category try to focus on that specific category than others.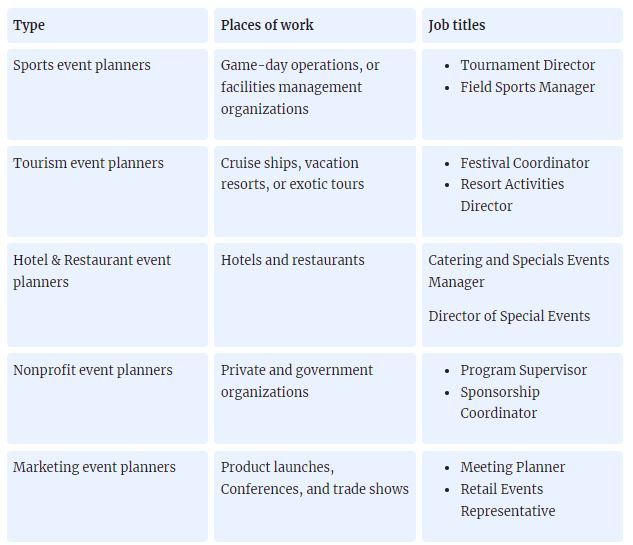 Availability of specific management skills
Event planning is a collection of different management sectors. They are clients, vendors, budget, schedule, time, and events. Therefore the position required specific management skills such as project, operations, marketing, training, and social media management. If you can remark that you have those skills with proven facts that will be an effective fact that leads you to win the job.
Ability to handle the required technology
There are some essential equipment and technologies of an event planning business. They are a high-quality camera, tablet, printer, laptop computer, WiFi router, cell phone, and cellular service. Make an effort to reveal that you are familiar with using those technologies. Also provide some occasions that you overcome the problems, increase the productivity or customer satisfaction based on the knowledge of that technology.
Usage of different reports and documents
The talent for reporting and documenting is essential for the event planning process. Because the planner has to handle different types of records such as event diagrams, customized event elements, contact lists, floor plan layouts, guest tracking information, special requests, to-dos list, shareable calendar, and other notes.
Creating a central manual or document is very essential to keep the team on the same page. Especially it is better to include the vendor contracts, floor plans, client, and attendee information in that document. Then anyone can access the information and the planning process will continue smoothly.
So create separate achievements to show your reporting and organizational skills to the recruiters. Try to prove them by linking prior relevant experiences.
Master plan based event organization
Your accomplishments should reveal that you are literally a great planner. Then the recruiters do not think twice to give you the responsibility. So explain what kind of process you used to handle the event well.
For example, here are some common steps of the event planning process. Meeting the client, understanding goals and objectives, organizing the team, distributing the workload among the team members, meeting vendors, partnerships, or sponsors, maintaining the budget, booking venue and accessories, rechecking all requirements before a week, conducting the event, and post-event review.
Creating a backup plan for each event is also a wise task to overcome emergencies. So you can explain such situations how you overcome the problems you faced by using the pre-planning skills.
Actions for increasing customer engagement
The recruiters will love to know that you have the best practices and habits to increase client engagement and business well. For example, taking photographs of each event, uploading them on social media once the event is over, and encouraging your followers. Also, handing over the business cards to the participants of the event is another business expanding habit. So you can explain how much you enhance the prior businesses by using those techniques. Prove the above actions by providing numeric values in your achievements.
Ability to work in different schedules
The event planner must be able to handle large events that need four to six months and small events that need at least one month to plan. Whatever the timeline is the planner is responsible to keep the event flowing smoothly. Also, recruiters love to know whether you can work on weekends, holidays, and evenings. Further, the ability to travel long distances and having a personal vehicle is preferred. Therefore do not forget to use those facts when you create your accomplishments.
What to Include in the Educational Section of an Event Planner?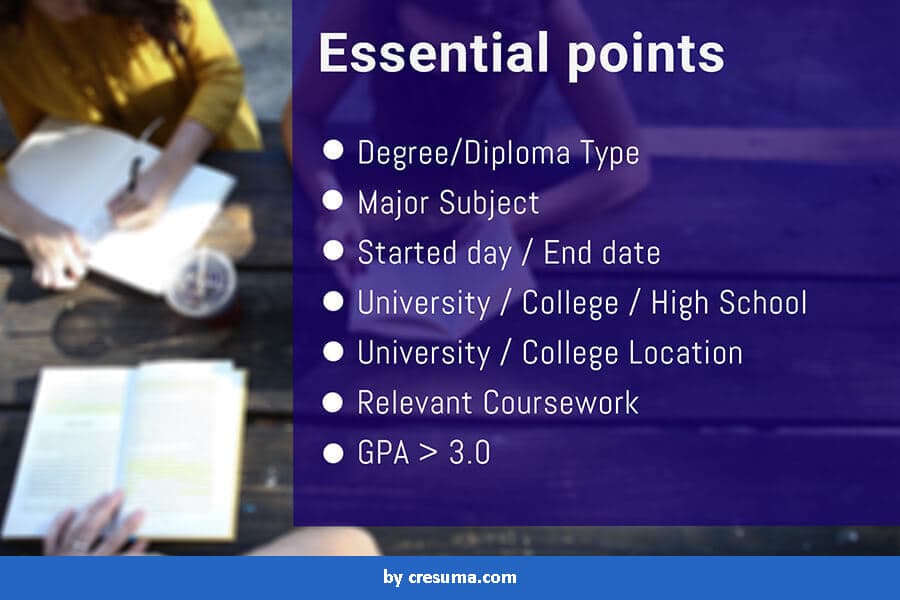 An associate degree or bachelor's degree is the minimum educational qualification required to be a professional event planner. Here are several fields of study that will help you to qualify for this position.
Marketing
Communications
Stage Management
Service Management
Business Management
Entertainment Business
Hospitality Management
Global Club Management
Entertainment Technology
Meeting and Event Planning
Facility and Event Management
Tourism and Events Management
Interior Design Event Management
Hotel and Restaurant Management
Recreation and Parks Management
Conference and Event Management
Arts And Entertainment Management
You have to mention at least the degree type, major subject, studied duration, university name, and location under the education section. Also, if you share the relevant coursework and your GPA that will enhance the value of your resume. However, check whether your GPA is higher than 3.0 before sharing it.
Example from an Expert
Bachelor's Degree in Hospitality Management – 2014/Jan to 2017/Feb
University of South Carolina, Columbia
Relevant coursework:- Introduction to Hospitality, Hospitality IT Systems, Event Management, Food Services Course, Service Quality Management, Hospitality and Transport, Restaurant Operations management, Food and Beverage Control for the Hospitality Industry.
GPA:- 3.54
What are the Best Soft Skills for an Event Planner?
As the skill section is a mandatory section of each resume you should provide at least 8-10 resume skills represent the personal and interpersonal behavior of the applicant.
Time management skills:- The event organizer has to work in a pressured environment. But if he manages the time well, he can stay calm under stressful situations. Keeping and updating a notebook, calendar, and reminder will sharpen your time management skill well.
Interpersonal skills:- Specially the applicant should be friendly enough. When the planner meets the clients or vendors for the first time, they must feel comfortable with you. A pleasant smile, good handshaking, eye contact, being professional and casual will give an idea to the recruiter that you are engaging with them. So interpersonal skills are really important for an event planner.
Effective Listening Skills:- If the planner listens well, he can learn a lot about the client at their first meet. Also, effective listening skill is essential to understand the client or vendor's wishes, thoughts, requirements, and needs.
Negotiation skills:- Everybody comes in the bottom line of their price. That means the budget should be usually pretty firm. Also according to the desires of the clients, the applicants must be able to negotiate the prices with the vendors. The main responsibility of the planner is saving the client's money.
Organizational skills:- The planner may have so many vendors and clients that he is dealing with. Hence he should have a good timeline and proper way of maintaining the daily duties. Then the planner can reduce the work overloading.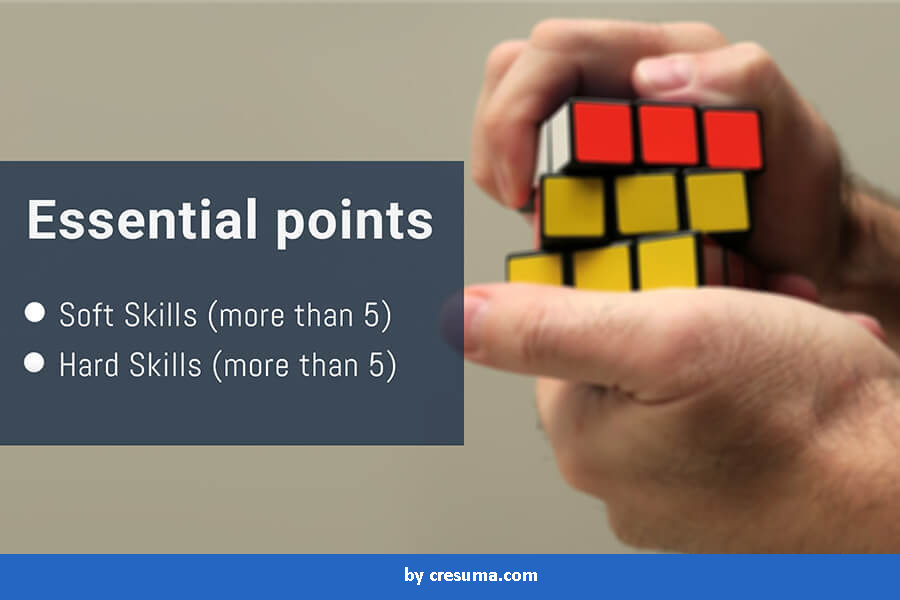 Does an Event Planner Need Hard Skills?
The hard skills are job-specific competencies, abilities, and strengths of the applicant. The easiest and the best resource to find out the relevant skills of your target company is the job advertisement. But here are common hard skills for an event planner.
Hard Skills
Marketing skills
Planning skills
Project management skills
Event Coordination
Budget Management skills
Service Ordering
Caterer Management
Venue Selection
Negotiation skills
Timeline creation
Client Database Administration
Customer relationship management:- Salesforce, EngageBay, Cogmento CRM, Dynamics 365
Microsoft suite:- Word, Excel, PowerPoint
Graphics applications:- PhotoShop, Illustrator, CorelDraw, Adobe InDesign
Event management software:- Scoro, EventBank, Glue-Up, idloom-events, Attendo Plus, EventXtra, Cvent
How to Write an Event Planner Resume with No Work Experience?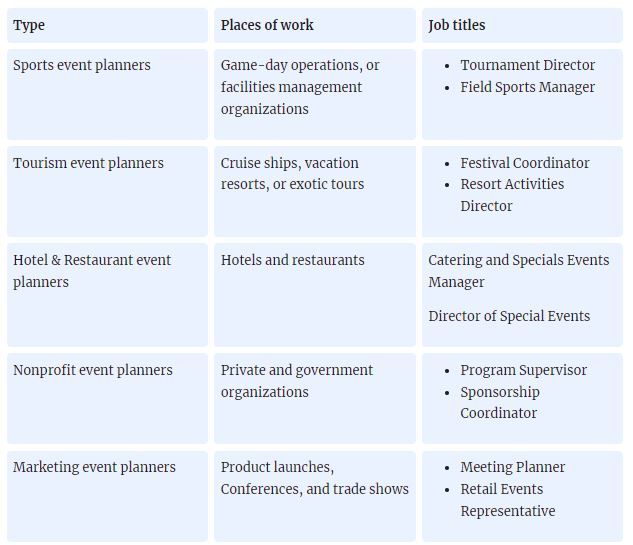 What to Include in Event Coordinator Resume Objective?
Usually, the hiring authorities expect an adjective statement from a student, college, intern, fresher, or entry level event planner resume. So, they can compress the unique skills, best educational qualifications, freelance experience if they write a resume objective.
For further enhancement, you can add action verbs, keywords, and numeric values to your objective statement. However, ensure it is a well-compressed tiny paragraph that reveals your values to the hiring personnel.
Are You a Certified Event Planner?
If yes, the hiring managers will never think twice to hire you because the certifications always prove your abilities, knowledge, and competencies in the event planning field.
You should mention the certification name, certified year, certified organization name, and certification number under the 'Certifications & Licenses' section. For better faith, you can share the certification URL too.
Here are some certifications that can be entered into the resume of an event planner
CMP: Certified Meetings Professional – Convention Industry Council
CSEP: Certified Special Events Professional – International Live Events Association (ILEA)
CPCE: Certified Professional in Catering and Events – National Association for Catering and Events (NACE)
CGMP: Certified Government Meeting Professional
GTP: Global Travel Professional – Global Business Travel Association
DES: Digital Event Strategist
CMM: Certification in Meeting Management
CEM: Certified in Exhibition Management – International Association of Exhibitions and Events (IAEE)
CTSM: Certified Trade Show Marketer – Exhibitor Magazine
CEPS: Certified Event Planning Specialist – National Career Certification Board
CQEP: Certified Quality Event Planner – Management and Strategy Institute
PCM: Professional Certified Marketer – American Marketing Association
Can You Handle Clients with Different Languages?
If yes, that will add extra value to your resume. But you should arrange the information perfectly. That means listing down the languages with their competency level as follows. Do not forget to enter them into a separate section called the 'Languages'.
English – Native Speaker
Spanish – Highly Proficient
Chinese – Good Working Knowledge
French – Working Knowledge
German – B2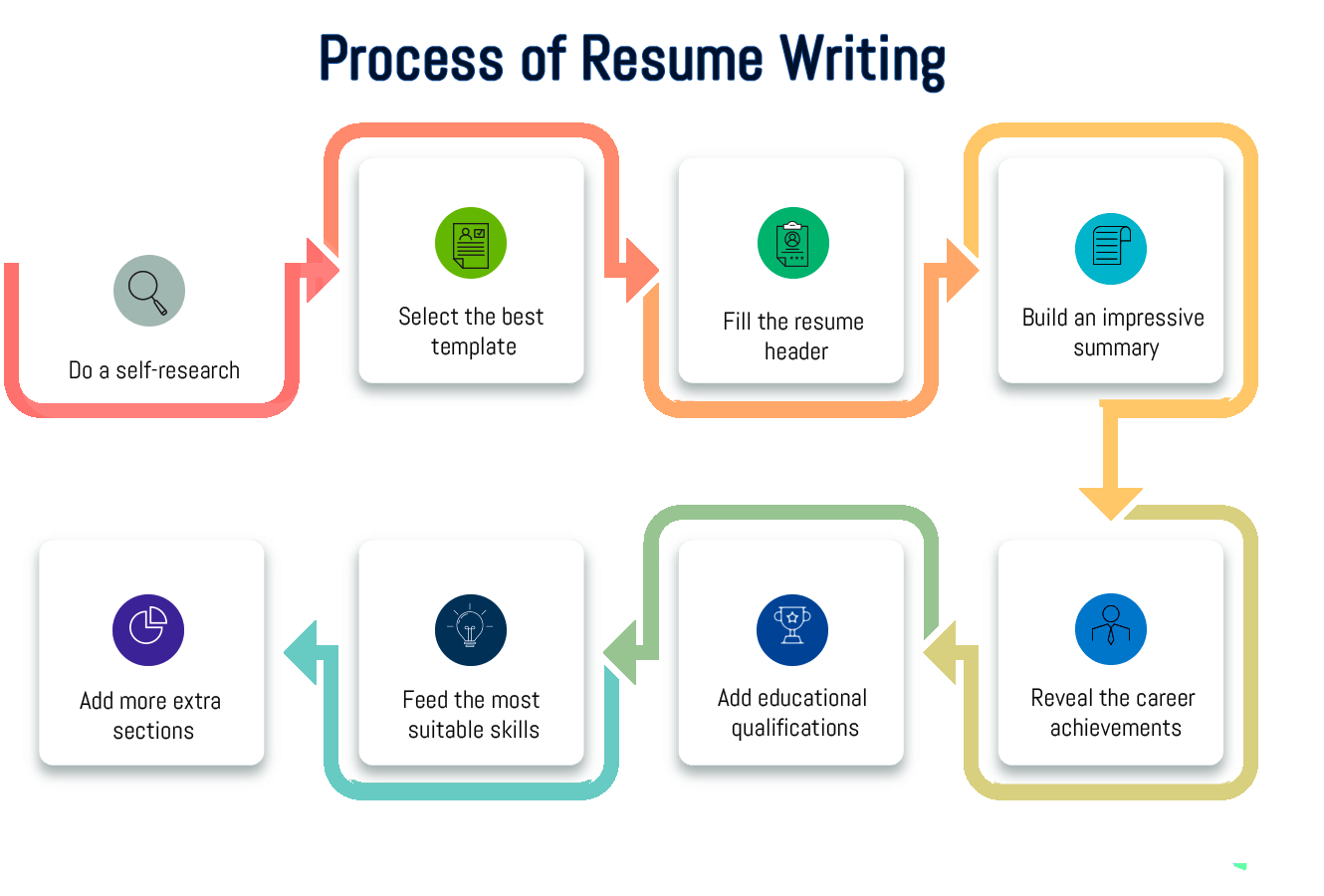 Ask from a Professional Event Planner (Best Tips and Secrets)
Quiz #01:- Why Do I conduct Self-Research?
The resume is not just arranging your contact, professional, educational details, and skills into one page. You have to adjust information according to the requirements of the recruiters.
For example, the content of a wedding coordinator resume must be different from an event producer resume. Because the wedding coordinator is specific for the weddings and the event producer is common for all events.
Hence, you have to research to find out the status of the job position and workplace before creating your resume. Job advert, Facebook, Twitter, LinkedIn, or official website, current employees, clients, and vendors of the company are some good sources to know about the company.
After analyzing the collected information you can understand what kind of planner the recruiters want. Then you are ready to create your resume with covering all the requirements.
Quiz #02:-What are the Keywords ATS Looking for in Event Planner Resume?
Usually, the ATS filter the resumes based on the keywords that the recruiters have given in the job advertisement. Therefore if you can add the keywords they are expecting, you can get more interview opportunities.
So, thoroughly read the job post. You will meet some words that represent the objects, people, processes, skills, and qualifications related to the event planner position. Highlight those words. Then use that keywords and phrases in your resume and cover letter content as much as possible.
You can refer to the following sample image for better understanding.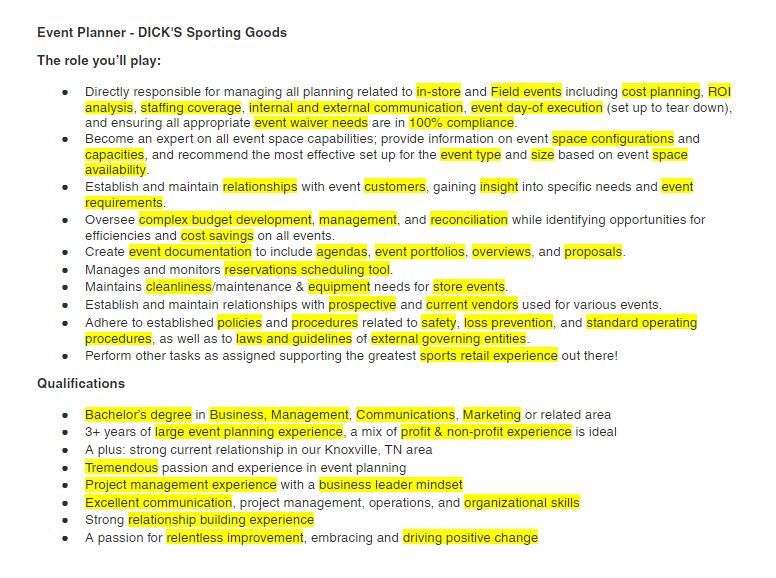 Quiz #03:- What are the Most Suitable Action Verbs in Event Planner Resume?
Using the action verbs in your resume or a cover letter not only helps the recruiters reading it easily but also shows what you have achieved in previous careers.
But adding whatever comes to your mind is not effective. Because the verbs should be formal and relevant. So, you should refer to the job advertisement thoroughly and find the given action verbs. Especially have a look at the duties and responsibilities section.
Then add them to your resume by matching the content and context. You can use them when you create the accomplishments in the resume summary, work experience section, and other sections. Especially try to start the bullet points from a powerful action verb.
Here we have highlighted the given action verbs in the following sample job advert.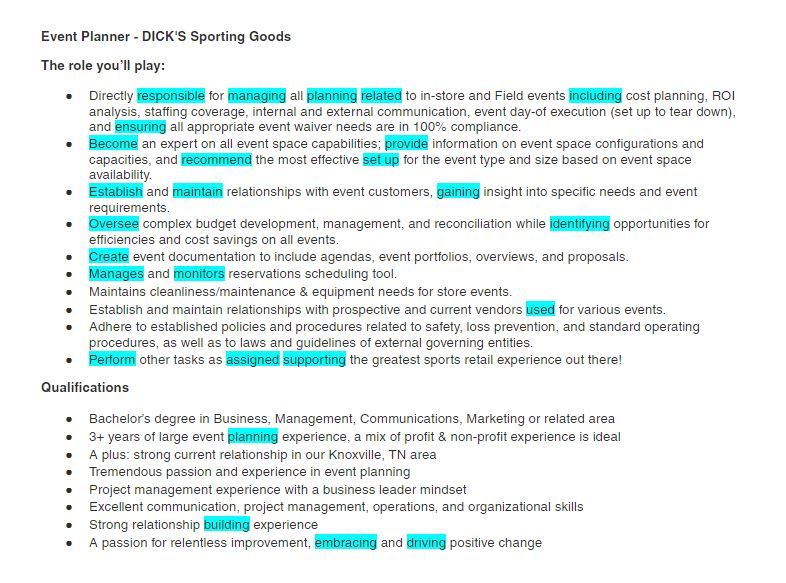 Best resume action verbs for an event planner
Arranged
Created
Understood
Booked
Researched
Carried out
Assisted
Scheduled
Discussed
Coordinated
Planned
Identified
Hired
Conducted
Aided
Directed
Controlled
Supervised
Facilitated
Negotiated
Quiz #04:- Is Cover Letter Necessary for an Event Planner Job Application?
Only if the hiring authorities ask you to submit a cover letter, it is essential. But though they do not expect that, you can write a perfect cover letter and attach it to your resume. That will cause no harm to your job search.
You can admire the success of the large events they have organized, the positive comments of the clients and vendors, sustainability, and the goodwill of the company in your cover letter. Also, try to give a positive reason to apply for the vacancy.
It is very important to proofread your event planner cover letter and resume before submitting the job application.
Quiz #05:- May I Mention the Salary Expectation in My Resume?
Only if your hiring managers request to add your salary expectation, provide a fair salary for an event planner. You can research to find out the correct salary range according to your experience, certification, and location of the workplace. The average salary of an event planner is $49,573 per year.
If the job post does not request to mention your salary expectation, never mention it in your resume. Because recruiters will think that money is your motivation.
Quiz #06:- How Do Recruiters Select an Event Planner?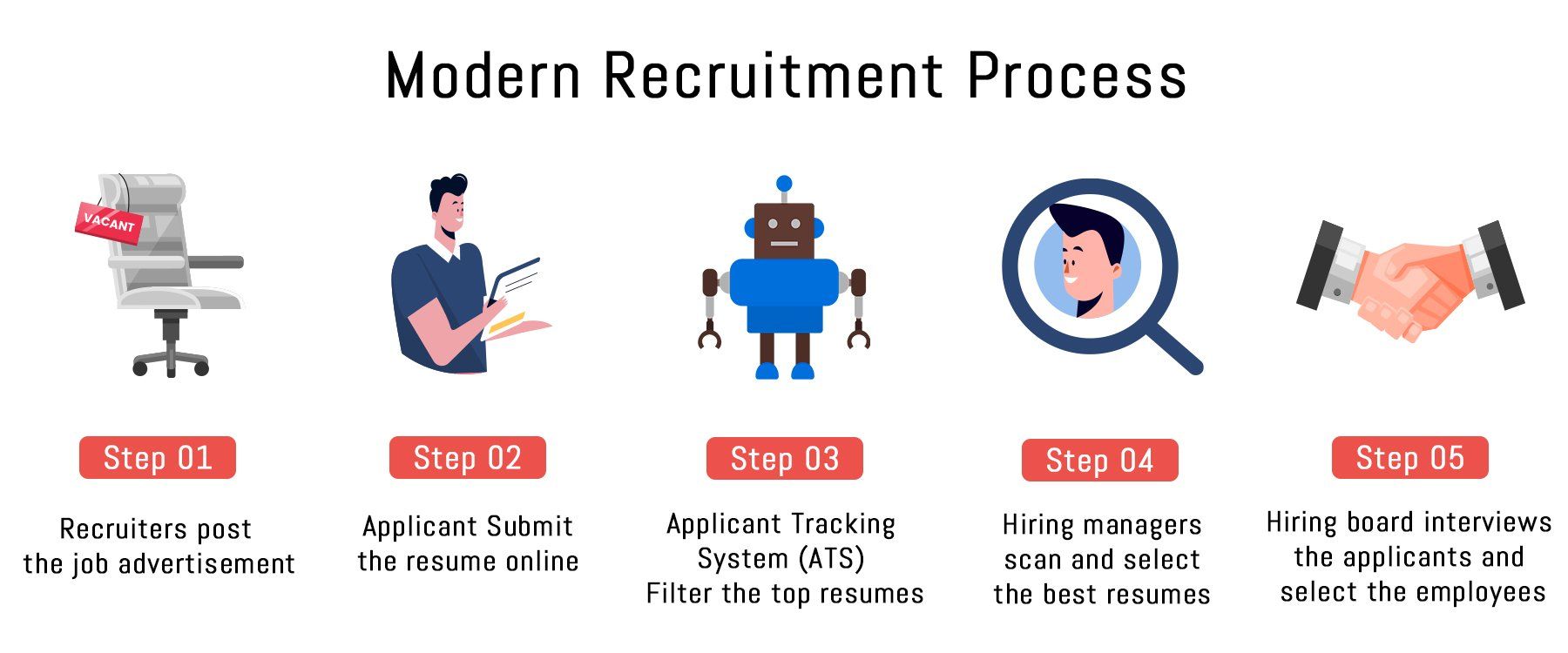 Want to build a perfect resume by yourself? Click on the below button.

Want to get a perfect Event Planner cover letter created by an expert?

People who read this also read:

How to write an impressive cover letter

.

Enjoyed Reading?
Help Cresuma cover the server and other costes to continue this 100% Free Service. Show your support below.