Fashion Designer Resume Example 2023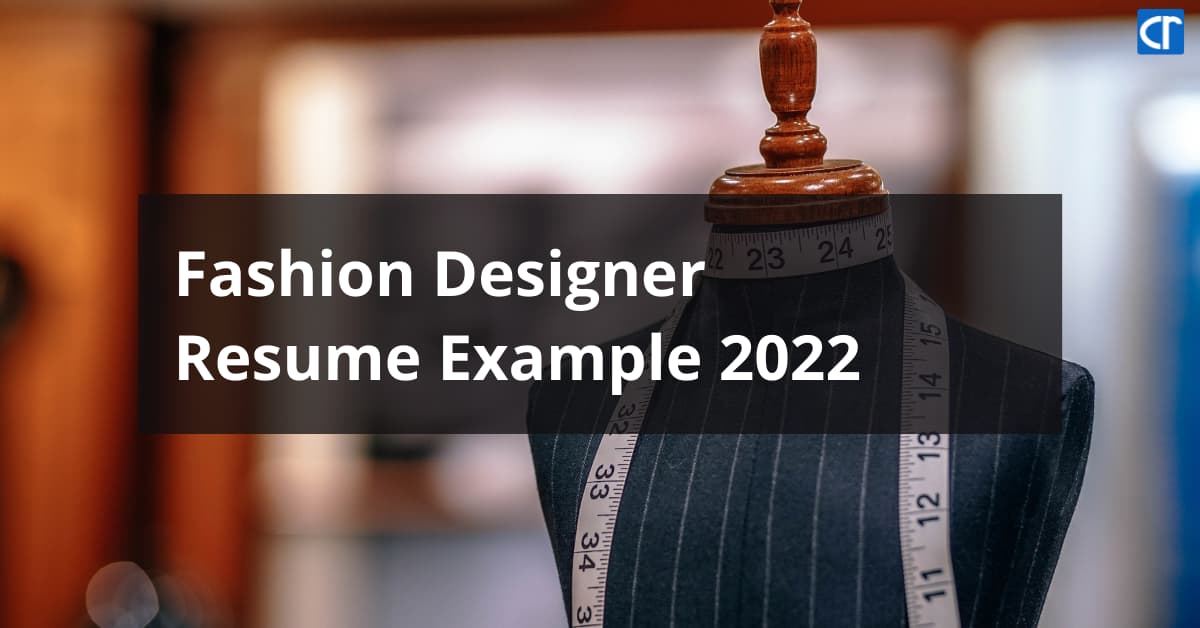 Complete Resume Guide for a Fashion Designer
Best Tips and Secrets from a Professional Fashion Designer
Fashion Industry vs Modern Recruitment Process
Fashion Designer Resume Example (Text Version)
Fashion Designer Resume
No need to start from the beginning. Edit this resume sample with your information and keywords from the job posting.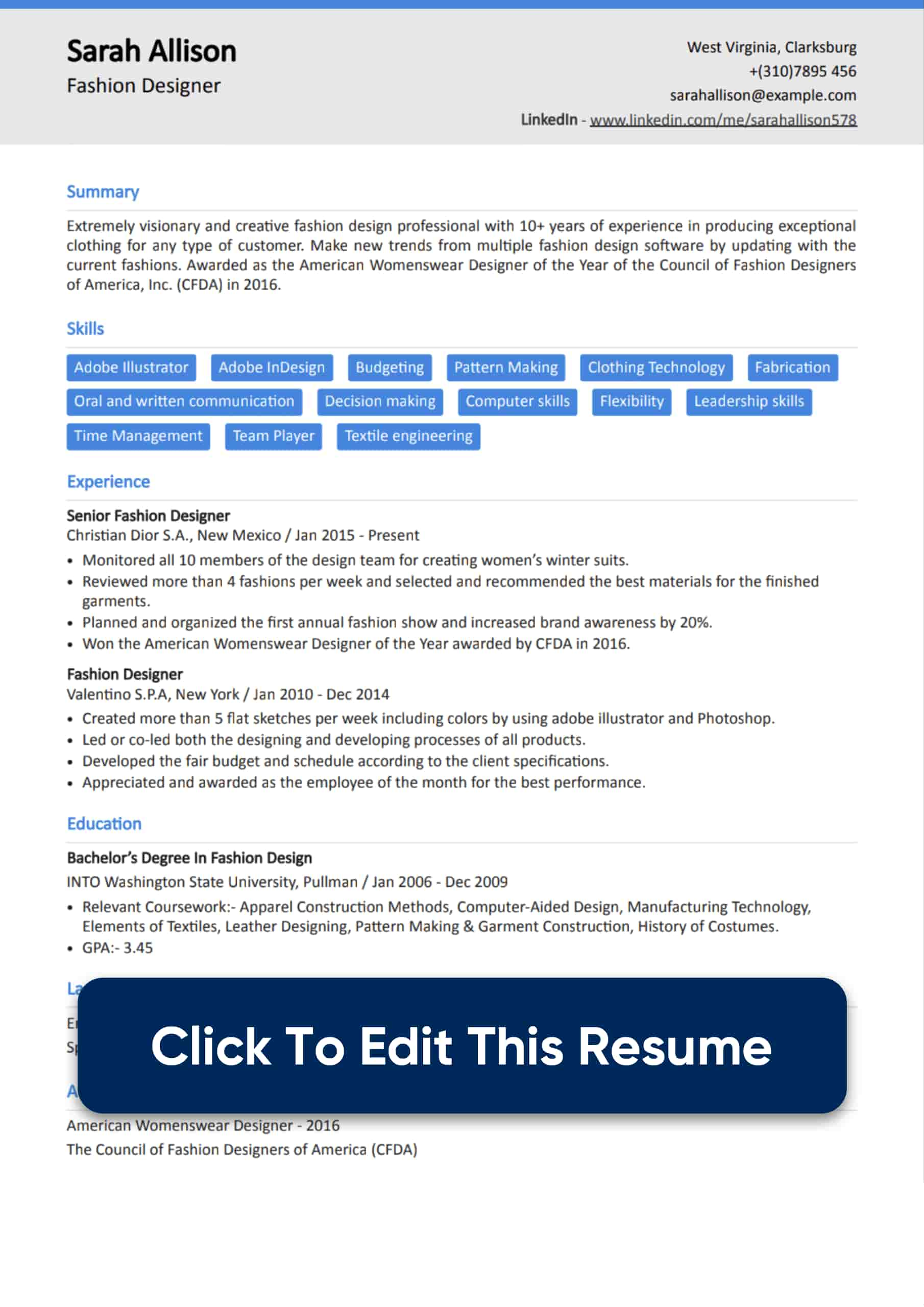 Complete Resume Guide for a Fashion Designer
What is the best resume template for a fashion designer?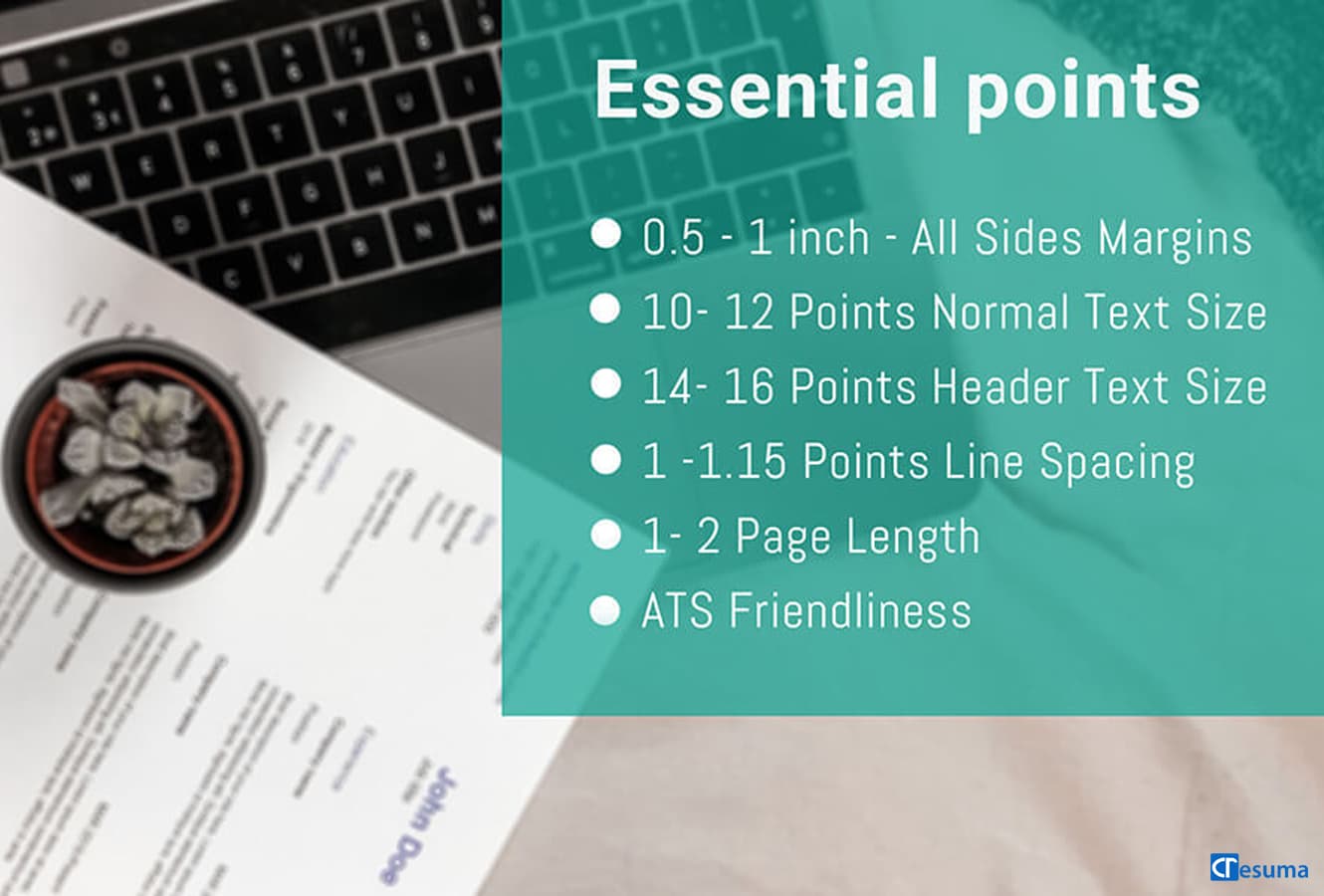 Why should not use heavy graphics on your resume?
As the heavy graphics usually disturb the ATS friendliness and ATS readability of your resume, it is better not to use heavy graphics on your resume.
Is there any specific color selection for the fashion designers?
Definitely not. You can choose a cool color combination according to your creativity. But there is a myth that the color range from orange to yellow is more suitable for a fashion designer.
Is there any specific font type for the fashion designers?
Open Sans is a clear and easy-to-read font style, it is the best resume font for a fashion designer. Therefore you can use the medium, regular, bold, semi-bold, extra bold, and italic variants of the Open Sans font type in your resume purposefully.
What is the best resume length for a fashion designer?
Actually, it depends on your work experience. If you have no experience or have worked as a fashion designer for less than 5 years it is better to submit a one-page resume.
But the +5 years experienced fashion designers are eligible to have a two-page resume. Though you have experienced more than 10 years, limit your work experience in the resume to the latest 10 years. Because usually, the hiring managers less-read the lengthy resumes.
What is the importance of using a resume builder's template?
Exactly it saves your time and provides an ATS-friendly resume within a few seconds. You have to fill in the content only. You can be sure of the standard of the resume 100%. Therefore we recommend using our free resume builder. to create your resume.
How to add a Descriptive job title to your Resume Header?
You may know the job role of a fashion designer depends on his/her type and specialization.
Do you know what is the importance of mentioning a descriptive job title in your resume? Always it depends on you. If your target company is specific to your specialization, it is better to mention a descriptive job title in your resume header.
Here you can understand how to create a descriptive job title for a fashion designer.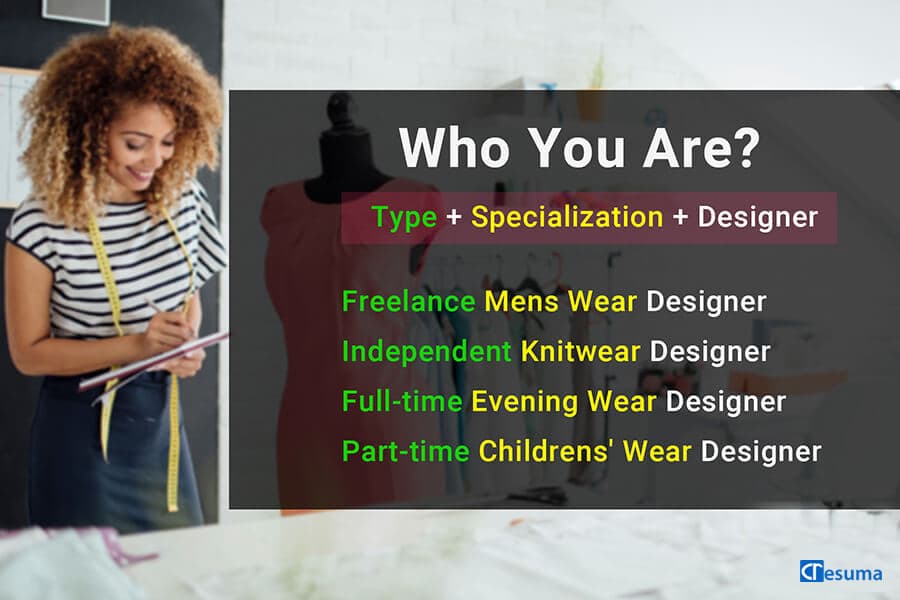 Fashion Designer Types
Full-time Fashion Designer
Part-time Fashion Designer
Independent Fashion Designer
Freelance Fashion Designer
Fashion Designer Specializations
Swimwear
Eveningwear
Sportswear
Childrenswear
Menswear
Womenswear
Intimate Apparel
Activewear
Outerwear
Denim Apparel
Knitwear
What if you have two or more specializations? If you are specialized in one or more categories, check out the major specialization of your target company and mention it as your job title.
What I can include on a fashion designer resume header?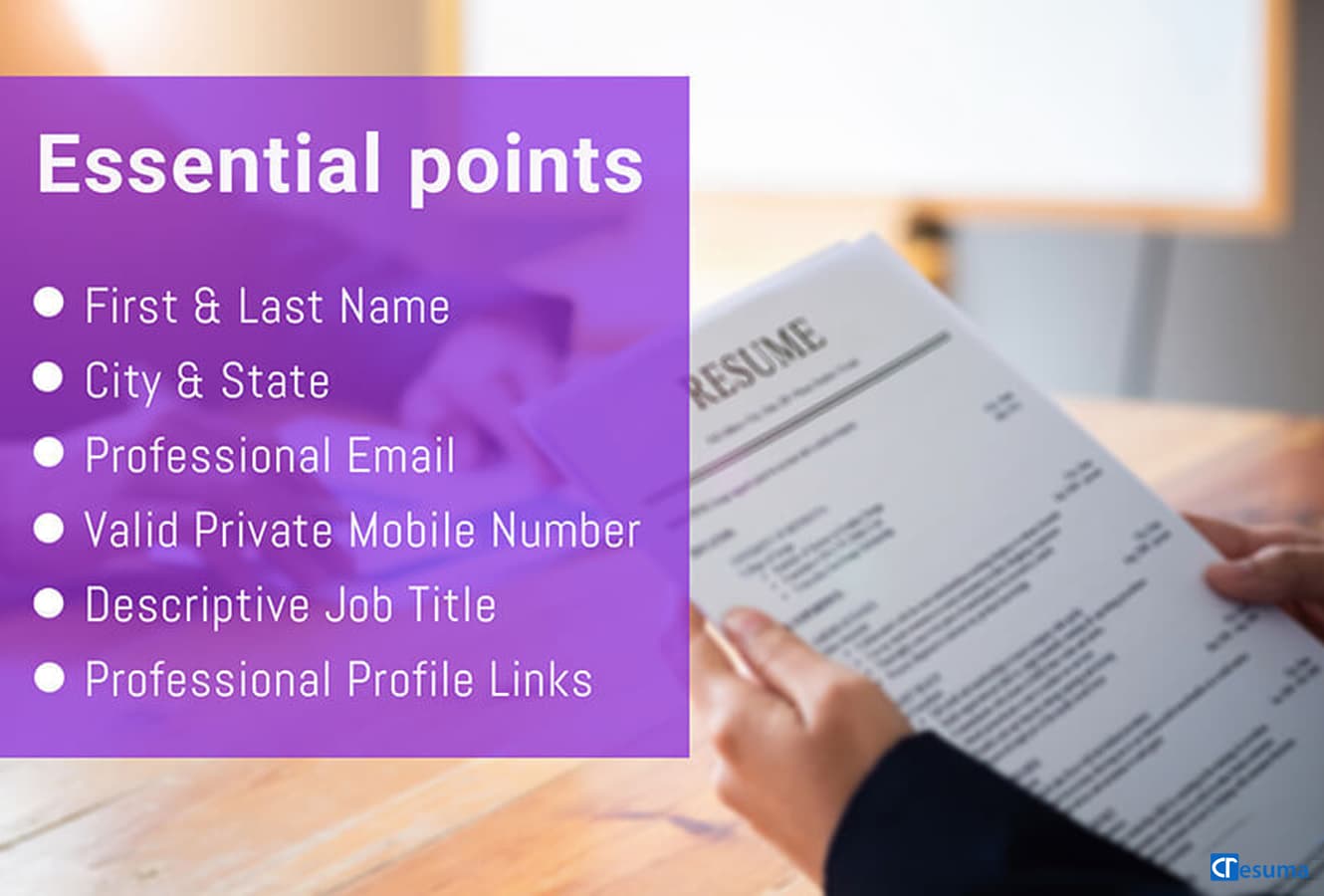 The fashion designing company wants to receive your common contact details. Therefore make sure you have mentioned the primary contact information in your resume.
As the recruiters want to know who you are, mention only the first and last name as the biggest text of your resume header. You can mention your target fashion designing job position as the job title.
Furthermore, let the hiring managers contact you quickly by providing a valid mobile number that is very personal to you. Some applicants do not mention the email address because they sent it from their email. But a professional email address is essential information on the resume header.
What is the major mistake done by fashion designers in creating their resume header?
Unconsciously, some fashion designers tend to mention irrelevant information in their resume headers such as favorite color, favorite dress code, height, weight, gender, beliefs, or salary expectation. That will be a huge bad impact on their job opportunities.
How to make your resume header stand out?
If you can showcase your unique prior designs, that will impress the recruiters a lot. If you have uploaded the images of your previous fashion designs to a Pinterest, Behance, Instagram, or Facebook profile mention that URL in your resume header. Other than that mentioning your LinkedIn or Twitter URLs will help the recruiters to understand your professional background further.
Do I need to add a photograph?
It depends on your willingness, country rules and regulations, and requirements of the job advertisements. If the job advertisement requests you to add a photo to your resume, definitely add a professional-looking photo.
Otherwise, ensure that your country usually lets the applicants add a photograph on their resume. If possible add a professional photograph.
But we recommend you to submit a photo-free resume to save your space and highlight your qualifications than appearance.
How to write a stylish fashion designer resume summary?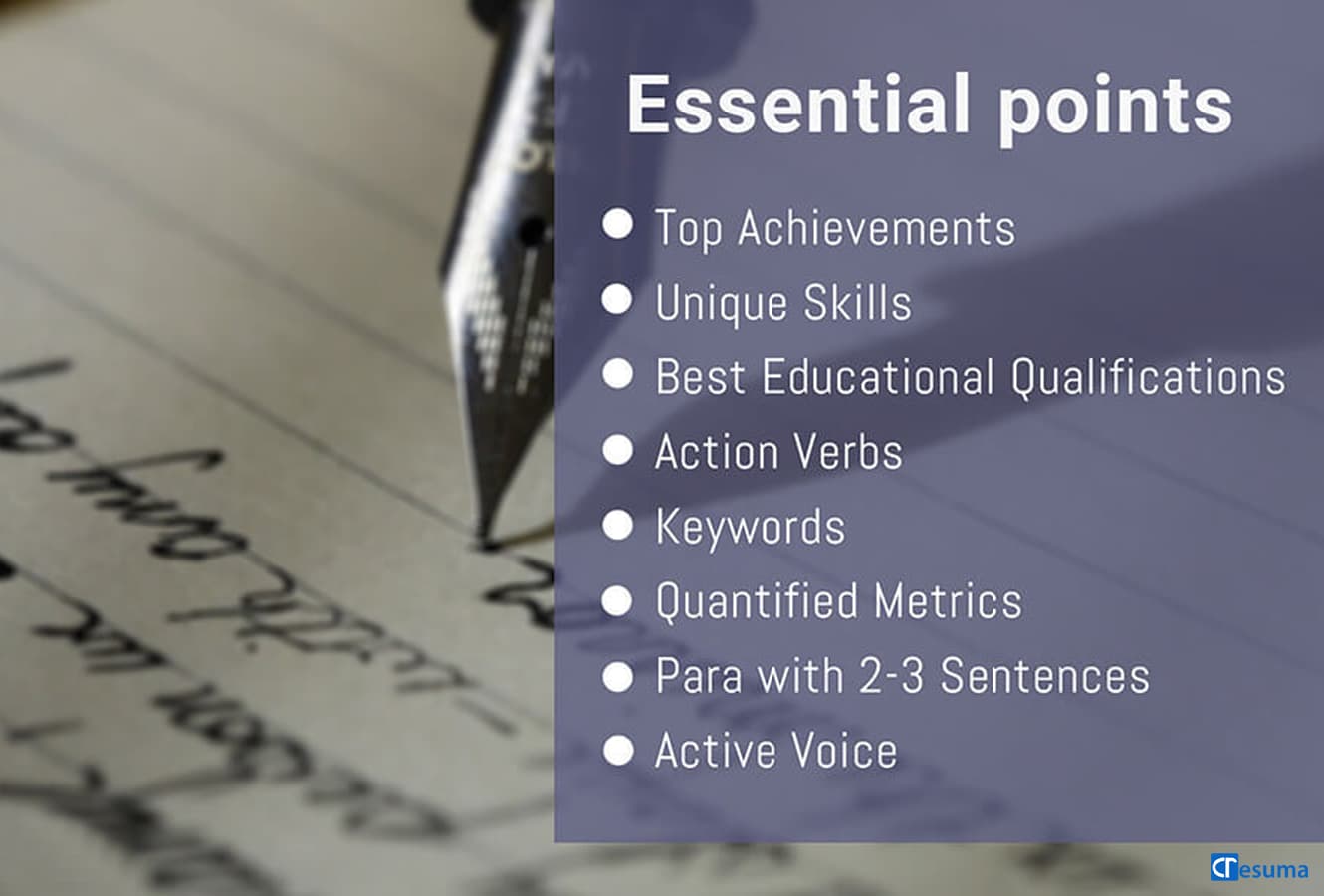 It depends on your willingness, country rules and regulations, and requirements of the job advertisements. If the job advertisement requests you to add a photo to your resume, definitely add a professional-looking photo.
The resume summary or the professional summary is the best showcase of your top qualifications to be a professional fashion designer.
Let the recruiters read your summary statement easily by compressing your top achievements, unique skills, and highest educational qualifications. You can use the active voice for a better tone.
What enhances the content of the resume summary?
Mainly the relevant action verbs, the unique terms of the job position, and quantified metrics enhance the ATS friendliness of your career summary. But ensure you have used them meaningfully.
Example from an Expert
Summary
An expert customer-oriented fashion designer with 10 years of experience in a luxury brand environment. Promoted as the chief fashion designer of the company in 2014 for boosting the sales of highly acclaimed men's summer collection by 35%. Won the Global Men's Designer of the year award of CFDA in 2018.
What do the recruiters want to see in the work experience section?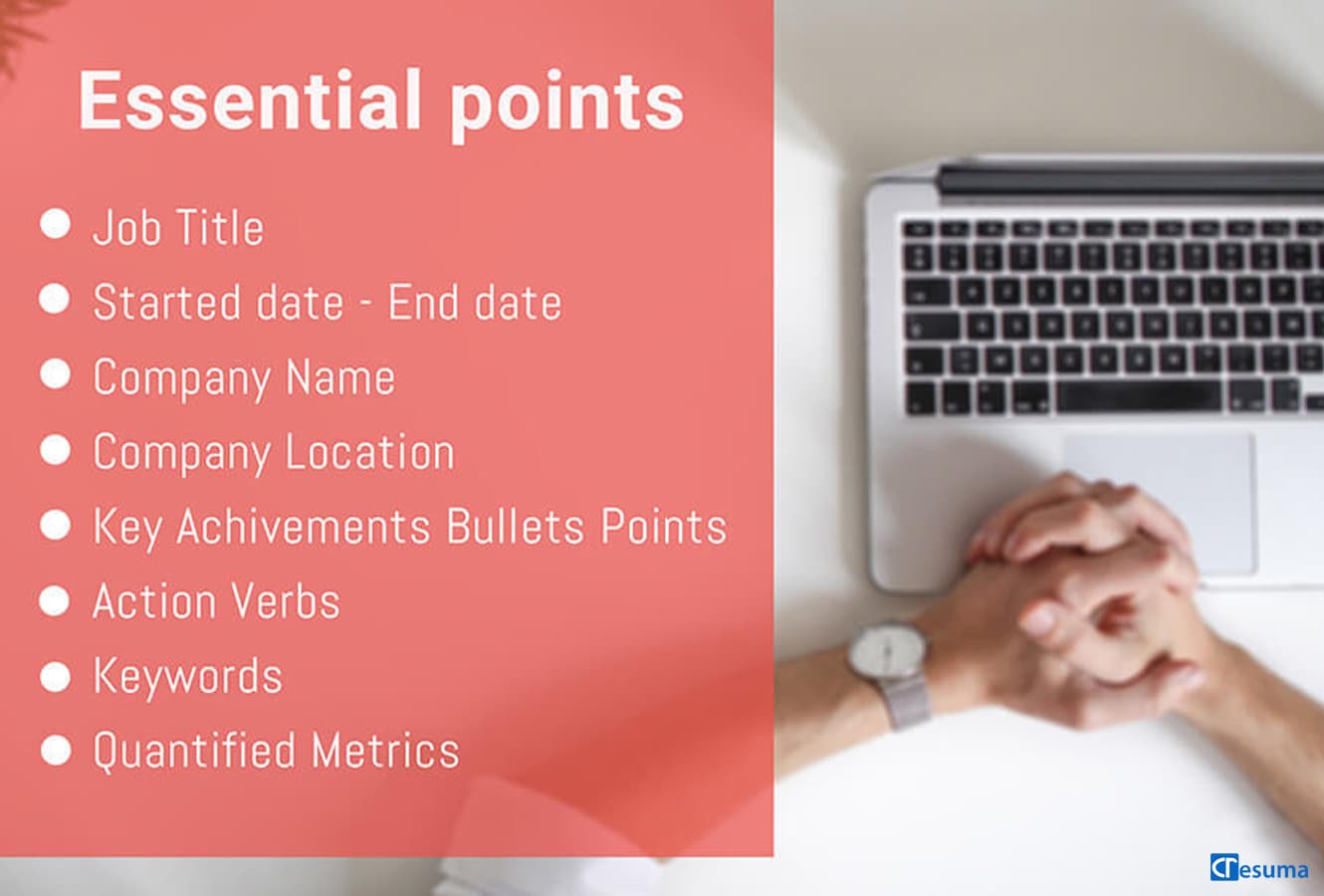 Recruiters analyze the information of your work experience and understand your scope of the fashion industry. Therefore it is better to provide a complete set of previous career information.
Mention your job title, started date, end date, company name, location, and 3-6 bullet points of your career achievements in each part to reveal how much you have engaged with the fashion industry.
What is the main mistake done by a fashion designer in the work experience section?
Unfortunately, some fashion designers are rejected by recruiters as they mention the duties and responsibilities of a fashion designer such as creating designs, sketching drafts, and selecting fabrics instead of career achievements.
How to describe my fashion designing achievements on the resume?
Though you should not mention the duties and responsibilities of a fashion designer you can use a slight shadow of the duties and responsibilities when you describe your career achievements.
That means you have to mention them as what you have done and what you have gained as a fashion designer.
How to increase the value of the bullet points?
Start your key achievement from a relevant action verb. Use some keywords such as fabrics, garments, fashion shows meaningfully. Try to quantify your information using years, percentages, currency, or numbers.
It is better to list them as bullet points because it helps the hiring managers to read the content easily. Never create a paragraph of your key achievements in the resume work experience section.
Example from an Expert
Work Experience
Fashion Designer – 2016/Jan to 2018/Dec
Alexander McQueen, North Carolina
Selected fabrics and trimmings for more than 20 finished garments within 5 months.
Conducted more than 10 advertising campaigns for sales promotions that increased sales by 40%.
Draped, sketched, and designed more than 5 new styles for women's sportswear that increased client satisfaction within the promotion period.
Why volunteer experience and freelance experience are important for a fashion designer?
What does it mean by fashion designing volunteer experience?
If you have worked in a fashion designing company based on your willingness and without expecting a salary you have collected volunteer experience.
Both entry-level and experienced fashion designers can mention that volunteer experience with mentioning the achievements gained as a volunteer fashion designer.
How can I have freelance experience as a fashion designer?
If you have provided your service for a salary only as an outsourcer but not an employee of the fashion designing company, or if you have worked as an independent fashion designer you can mention that experience as a freelance experience.
Both volunteer and freelance experience sections will showcase your talent and engagement with the industry. So if you have such kind of experience as a fashion designer do not forget to mention them in your resume as separate sections.
What is the major and essential educational information for a fashion designer?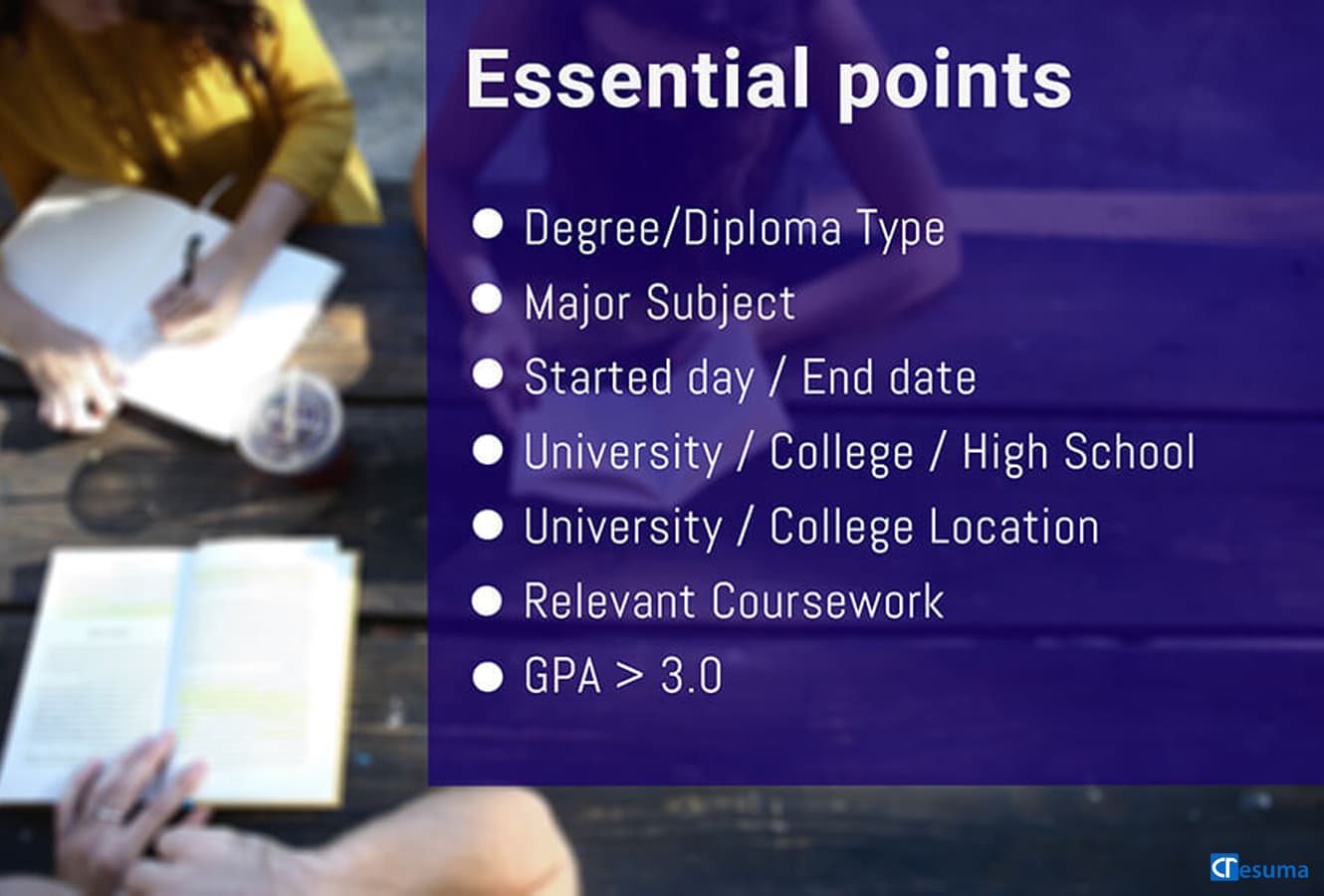 A bachelor's degree related to a fashion or design field is the minimum educational qualification that is required to be a fashion designer.
You can reveal your degree type, major subject or field, studied duration, university name, and location under the education section.
Make sure the recruiters can scan your educational details quickly by using a clear arranging style.
How do I stand out in the educational section?
Mentioning the relevant coursework or subjects of your degree program related to the fashion designer position will enhance the value of your education section. Therefore use this best practice to impress your recruiters.
Here are some relevant coursework and subjects of a fashion designer.
Principles of Fashion
Global Fashion Scenario
Fashion Marketing
Computer-Aided Design
Fashion Industry and Concepts
Pattern Making
Fashion Sketching
Fundamentals of Fabrics
Design Process
Fashion Illustration
Prototype Development
Fashion design
The element of Colour & Design
Fashion Technology
Surface Development Techniques
Fashion Accessory
Garment Construction
Analytical Drawing
Fabric Dyeing and Printing
Creative Jewelry
Fashion Theory
Colour Mixing
Visual Merchandising
Fashion Model Drawing
Leather Designing
History of Fashion
Advanced Draping
Textile Science
Research & Communication
Fashion Forecasting
Free Hand Drawing
Geometrical Construction
Fashion Studies
Apparel Development
Fashion Communication and Presentation
Garment Manufacturing Technology
Fashion Distribution Management
Can I mention my GPA? Sure. But make sure your GPA is higher than 3.0
Example from an Expert
Education
Bachelor's Degree in Fashion Design – 2012/Jan to 2014/Dec
Liberty University, Lynchburg
Relevant Coursework:- Apparel Construction Methods, Computer-Aided Design, Manufacturing Technology, Elements of Textiles, Leather Designing
GPA:- 3.56
Why are soft skills important for a fashion designer?
Oral and written communication:- Usually the fashion designer should be able to negotiate the prices of the sources and collect the requirements of the clients correctly. Therefore he/she should be a person who can handle both written and oral communication well.
The ability to communicate in multiple languages will be preferred by the recruiters. Therefore list down those languages with their competency levels as the Languages section.
Organizational skills:- Handling sketches, drafts, various fabrics, sewing accessories, ready-made dresses are the common life of a fashion designer. Therefore organizational skills will help the fashion designer to design, innovate new fashions with a clear mind.
Team working:- The overall fashion designing process is teamwork. Therefore the ability to engage with peer or senior fashion designers, suppliers, and clients in a friendly and professional manner is a very essential skill to be a fashion designer.
Problem Solving:- Always the fashion designer has to deal with the competitive industry. So he/she should be a quick problem solver as well as a risk-taker to reach the success of the industry.
Time Management:- Each designing process is limited to a specific time frame. Therefore the fashion designer should be able to manage the time correctly for giving a perfect output.
Creativity:- Creativeness is the major skill of a fashion designer because he/she has to innovate creative and unique fashions by updating with the modern fashions to last forever in the industry. Therefore watch fashion shows as possible and examine both the latest and old fashions to enhance your creativity.
What are the industry-specific skills of a fashion designer?
Industry-specific resume skills refer to the abilities and capabilities that are unique to the fashion industry. They are hard skills or technical skills.
You should mention at least 5 industry-specific skills to show your value to the recruiters. Here are some technical skills related to the fashion industry.
Adobe Illustrator
Pattern making
Fitting
Artistic taste
Client support
Persuasiveness
Luxury fashion merchandising
Colorways
Cutting
Commercial fashion
Eye for detail
Presentation
Observation
MS Office
Fashion trends
Adobe InDesign
Sewing
Construction techniques
Budgeting
Draping
Excellent sense of style and color
Clothing technology
Textile engineering
Leather
Silhouettes
Trim
Pressing
Fabrication
What are the differences between entry-level and experienced fashion designers' resumes?
Experienced Fashion Designer
Entry-Level Fashion Designer
Main Section Structure
Resume header
Resume Summary
Work experience
Education
Skills
Resume header
Objective statement
Education
Skills
Extra Sections
Fashion Shows
Awards & Honors
Clubs & Memberships
Freelance work
Personal projects
Volunteer work
Best Resume Format
Reverse Chronological
Resume Format
Combined / Hybrid Resume Format
Summary Statement
Resume Summary
Objective statement
How to write an impressive objective statement for a beginner fashion designer?
Usually, the objective statement is used by entry-level fashion designers. It is a substitution for the resume summary.
Explain how you can help to achieve the company goals by using your skills, education, and competencies when you write an objective statement.
What is the worst mistake done by beginner fashion designers in their objective statement?
Some applicants tend to explain their personal future plans in the objective statement and that is the worst mistake. But you have to show how special you are and what are your advantages for the company.
Have you gained certifications related to the fashion industry?
If yes, you are amazingly fit for the industry. Because the recruiters also tend to hire applicants who have extra qualifications, knowledge, and competencies.
Here are some certifications that a fashion designer can mention under his certification section.
Adobe Certified Expert in Adobe Illustrator CC
Adobe Certified Expert in Adobe InDesign CC
American Academy of Fashion Design Certification
Have you ever participated in fashion designing shows/workshops?
Usually, fashion designing companies organize fashion shows periodically. Check whether you have participated in the fashion shows conducted by the target company. If yes, mention them at first.
You can mention other famous fashion shows and fashion designing workshops that you have participated in. But make sure you have mentioned them as a separate section clearly.
Usually, the recruiters are fond of hiring applicants who actively participate in industrial occasions. Here are some famous fashion shows in the United States.
Detroit Fashion Week
DC Fashion Week
Fashion in Film Festival
Fashion Week Cleveland
Africa Fashion Week New York
Are you a member of a fashion club or association?
It is worth for a fashion designer to be a member of a club or association related to the fashion industry. Therefore mention the clubs and associations that you got the membership in as a separate section.
Here are the most famous fashion associations in the United States.
Association of Sewing and Design Professionals
American Apparel and Footwear Association
Fashion Group International
International Textile and Apparel Association
Council of Fashion Designers of America
Have you received any fashion awards?
Awards and honors put you at the top of other applicants because the recruiters believe you are very talented in the industry if you have an award related to the fashion industry.
Usually, the Council of Fashion Designers of America announces the annual winners of the following awards.
American Womenswear Designer
American Menswear Designer
Accessories Designer
Global Women's Designer
Global Men's Designer
If you have received the above awards or any other fashion industry-related awards mention them under the 'Awards & Honors' section.
***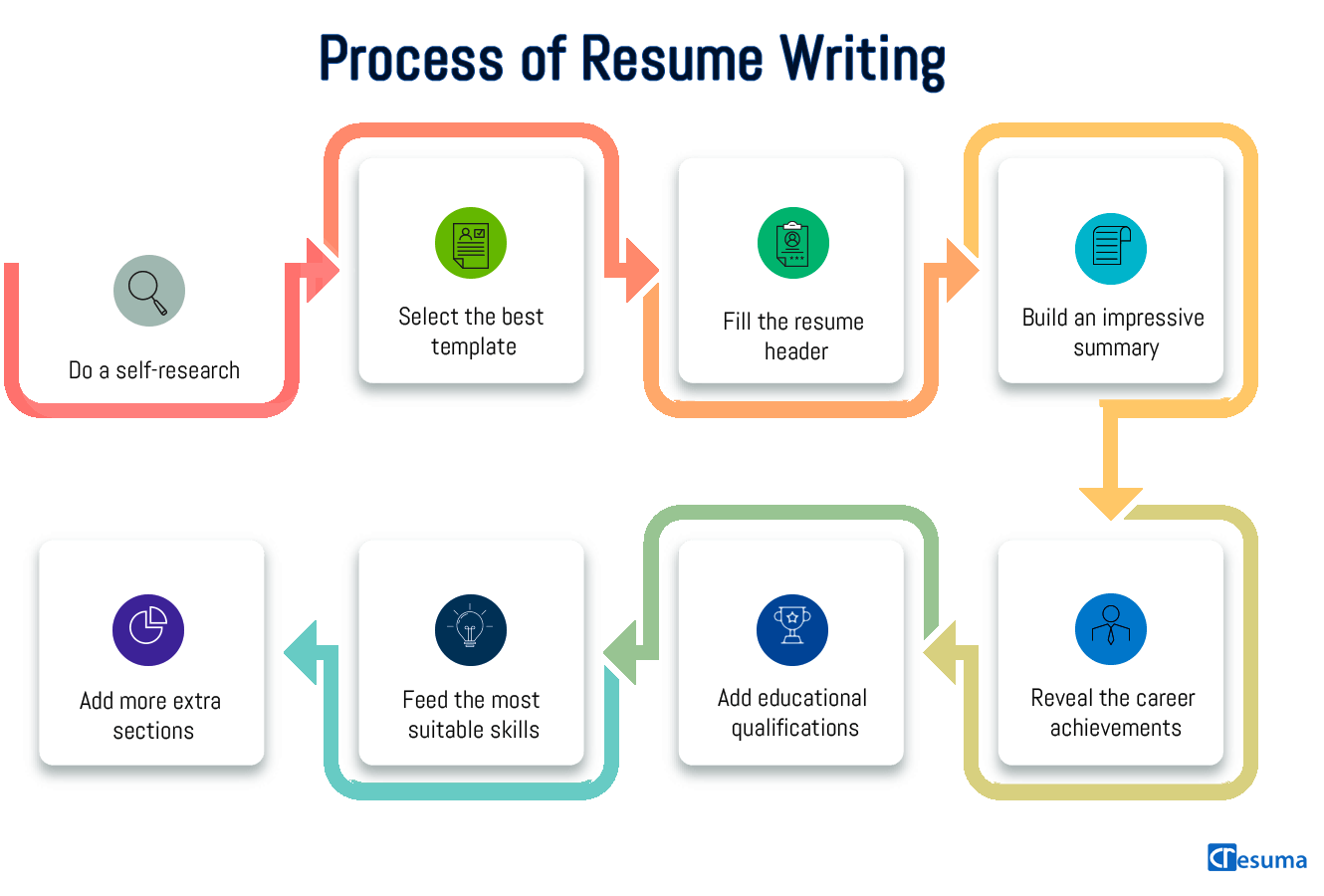 Best tips and secrets from a professional Fashion Designer
TIP #01:- Conducting a self-research
Why a self-research?
You have to prove that you are the most suitable applicant for the position. In other words, your resume should be seen as the reply resume of their job advertisement. As well as you have to show your awareness of their company and specific job position. Therefore you have to do a self-research before writing your fashion designer resume.
How to conduct a self-research?
The main and easy source to do a self-research is the fashion designer job advertisement. Other than that you can find out more information from your fashion designing company profiles. They may be company Facebook, Twitter, Instagram, LinkedIn accounts, or official web page. Otherwise, get some information from the current workers of the fashion design company.
After analyzing the information you can understand whether it is a small or large-scale fashion designing company, what are the specific garments of the company, what are the recent fashion shows conducted by the company, the rules and regulations of the company, and the recruitment process of the company.
Though it seems a little bit time-consuming task, the awareness of the job position and the company will lead to creating a job-winning resume.
TIP #02:- Adding a cover letter
Why a cover letter?
The majority of applicants tend to attach a cover letter to their resume only if the job advertisement requests it.
Though the job advertisement does not require a cover letter we suggest creating a perfect cover letter and attach it to your resume. Then the recruiters will impress and will be curious to read your resume.
How to write a creative/friendly cover letter?
Make your cover letter well organized by mentioning your contact information correctly. Greet the correct person directly by using his/her name to impress them. That will reveal your awareness of the target fashion designing company.
You can highlight your top qualification in the cover letter but make sure you have not copied the same content of the resume. It is better to use action verbs and keywords to enhance the value of your cover letter too.
TIP #03:- Using keywords and key phrases
What are the keywords?
Keywords represent the unique terms of the industry or job position. The keywords and key phrases are commonly used to filter the resumes from the ATS test.
How to find out the relevant keywords?
The best source to find out the relevant keywords is the job advertisement. Thoroughly read the job advertisement and find out the unique terms that represent a person, thing, or a possess related to the fashion designer.
TIP #04:- Placing relevant action verbs
Why are action verbs important for a fashion designer?
Action verbs are also used to filter the resumes from the ATS test. As well as if you add relevant action verbs in your resume purposefully the recruiters feel like your resume is the answer resume for their job advertisement when they scan your resume. That will provide more and more interview opportunities for you.
What is the best source for relevant action verbs?
The job advertisement is a close and easy source to collect the relevant action verbs. Especially in the responsibilities and duties section, you can find out more action verbs. However, you should use the past verb of each action verb in your resume to reveal you have already achieved those goals.
List of related action verbs for a fashion designer?
Analyzed
Created
Designed
Developed
Displayed
Organized
Planned
Produced
Researched
Reviewed
Selected
Sketched
Trained
Understood
Visualized
Worked
TIP #05:- Save the resume in PDF format
Why especially in PDF format?
PDF format is the most ATS friendly file format for resumes. However, it does not mean that doc., Docx. or text file formats are not ATS friendly. They are too, ATS friendly.
Can I submit my resume as a photo file?
Definitely not. Because ATS can not read the text on a photo and you will be rejected from the ATS test if you submit a JPEG, PNG, or other image file format.
With best wishes for your dream job as a fashion designer, we invite you to find out more tips and secrets from our Resume Tips article
Fashion Industry vs Modern Recruitment Process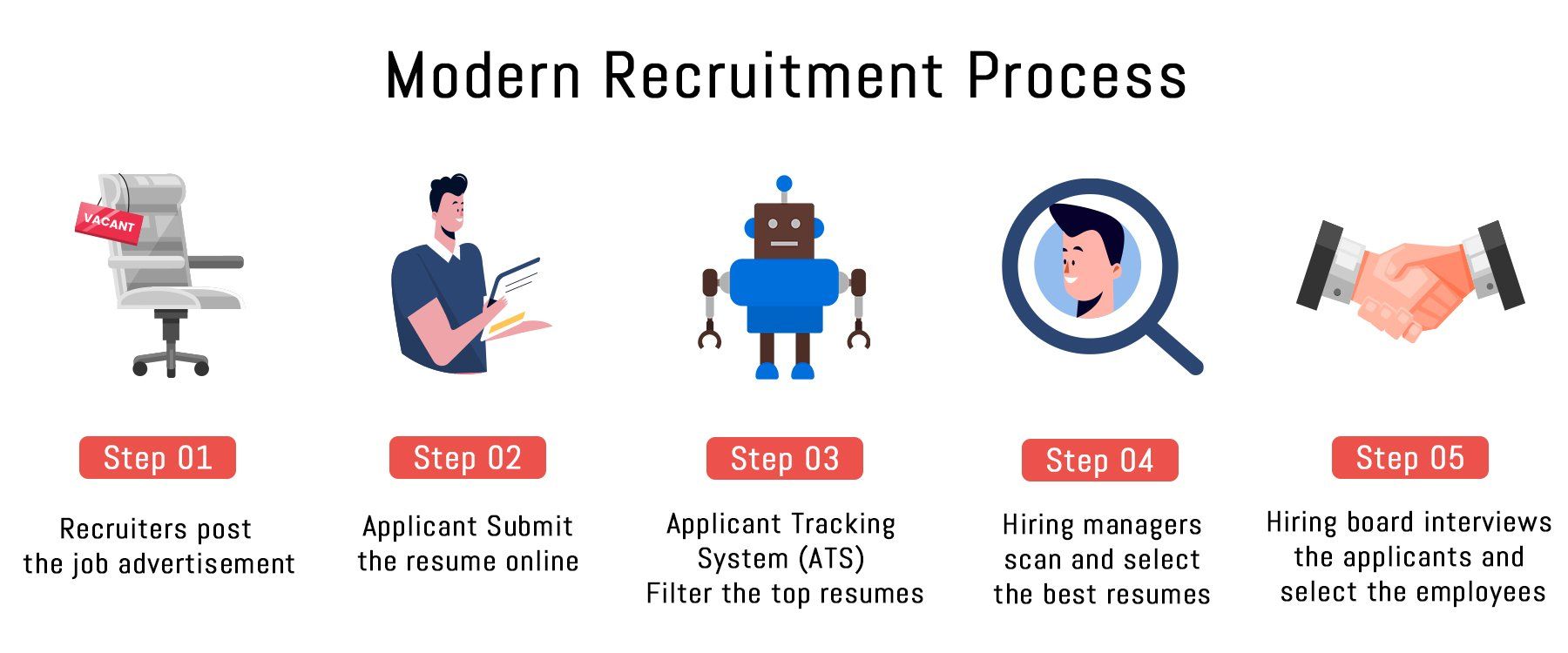 ✢✢✢
What are the updates on the modern recruitment process?
Not only in the fashion industry but also in the majority of other industries, the modern recruitment process has been divided into three steps.
STEP #1:- After the fashion designing company posts a job advertisement, applicants have to submit their resumes to the company email or given email. After the closing date, the top resumes are filtered through an Applicant Tracking System.
STEP #2:- The filtered resumes are scanned by the hiring managers within just 6-7 seconds and select the required number of employees from the best applicants.
STEP #3:- Finally, the selected applicants should pass the interview session to be an employee of the target company.
✢✢✢
How does the ATS test influence the recruitment process?
In the last few years, the recruitment process has changed with technology.
Especially the recruiters invented the Applicant Tracking System (ATS) to stop the time-wasting of the recruitment process and select the best applicants.
The majority of companies in the fashion industry also tend to use the online application calling system and ATS in their recruitment process.
Therefore, passing the ATS test is essential to be a professional fashion designer.
Simply the ATS store the resume files and scan whether the resume contains the required skills, educational and other qualifications. Then assign the relevant scores for the resumes and finally filter the best resumes that took top scores.
Don't be afraid!
Follow the full guide and we will teach you how to create an ATS-friendly resume.
✢✢✢
What recruiters are looking for in a fashion designer's resume?
Passion for Fashion
Why the recruiters are looking for the designer's passion for fashion? As the fashion industry is updating with new innovative designs the fashion designers should be ready to create new designs.  Passion is the main requirement to open the creative mind of the designer.
How can you showcase your passion for fashion? You can list some fashion shows that you have participated in. Otherwise, if you are going to add a photo to your resume you can dress a professional but fashionable dress.
Relevant Skills
Why do the recruiters consider the relevant skills in resumes more? Fashion designing is based on hundreds of specific skills. Therefore, the applicant will be able to process his duties as a fashion designer only if he has the relevant soft and hard skills. Therefore the recruiters consider the resumes with skills listed perfectly.
How to display your skills? There are two ways to display your skills in your resume. First, create the relevant and available resume skills list with 8-10 skills. Also, you can add your unique skills to the resume summary to stand out your resume further. Try not to duplicate the same skills in both places.
✢✢✢
What are the other job varieties of the fashion industry?
CAD Designer – Adobe illustrator
Technical Designer – Problem Solving, Engineering,
Product Developer – Sourcing, Negotiating
Merchandiser – Researching, Analyzing
Stylist (Visual Merchandiser) – Mixing & Matching designs, Creating outfits
Sourcing Specialist – MOQ's, maintaining relationships
Customer Compliance Coordinator – HTS codes, Logistics, and coordination
Any applicant who has followed a fashion designing course or a degree can apply for these jobs. However, it is important to note that if you apply for one or more above job vacancies do not submit the same resume. Tailor your resume based on the job position, target company, and job advertisement.
For example, If you apply for a CAD Designer you should emphasize your graphic designing skills on your resume more and more.
✢✢✢
What is the value of a fashion designer in the fashion industry?
Usually, a fashion designer can earn a median salary per year. As an amount, the annual wage of a fashion designer is $73,790. Furthermore, a fashion designer is eligible to receive at least $37,260.
It is important to note that, though you are aware of your salary do not mention your salary expectation in your resume. Because that will create a bad image on the recruiters' minds. But if your job advertisement requests to mention the salary expectation definitely mention it.
✢✢✢
Fashion Designer Resume Example (Text Version)
Sarah Allison
Awarded Fashion Designer
+(310)7895 456

[email protected]

West Virginia, Clarksburg

LinkedIn – https://www.linkedin.com/me/example/sarahallison2825
Summary
Extremely visionary and creative fashion design professional with 10+ years of experience in producing exceptional clothing for any type of customer. Make new trends from multiple fashion design software by updating with the current fashions. Awarded as the American Womenswear Designer of the Year of the Council of Fashion Designers of America, Inc. (CFDA) in 2016.
Work Experience
Senior Fashion Designer

Christian Dior S.A., New Mexico – (2015/Jan to Present)
Monitored all 10 members of the design team for creating women's winter suits.
Reviewed more than 4 fashions per week and selected and recommended the best materials for the finished garments.
Planned and organized the first annual fashion show and increased brand awareness by 20%.
Won the American Womenswear Designer of the Year awarded by CFDA in 2016.
Fashion Designer

Valentino S.P.A, New York – (2010/Jan to 2014/Dec)
Created more than 5 flat sketches per week including colors by using adobe illustrator and Photoshop.
Led or co-led both the designing and developing processes of all products. Developed the fair budget and schedule according to the client specifications.
Appreciated and awarded as the employee of the month for the best performance.
Education
Bachelor's Degree in Fashion Design – (2006/Jan to 2009/Dec)
INTO Washington State University, Pullman
Relevant Coursework:- Apparel Construction Methods, Computer-Aided Design, Manufacturing Technology, Elements of Textiles, Leather Designing, Pattern Making & Garment Construction, History of Costumes.
GPA:- 3.45
Skills
Adobe Illustrator
Adobe InDesign
Budgeting
Construction techniques
Pattern Making
Clothing Technology
Textile engineering
Fabrication
Oral and written communication
Decision making
Computer skills
Flexibility
Memorization Skills
Analytical skills
Leadership skills
Problem Solving
Time Management
Team Player
Critical Thinking
Working Ethics
Languages
English – Native Speaker
German – Highly Proficient
Spanish – Working Knowledge
Chinese – B2
Congratulations. Now you know how to build your Fashion designer resume. Want to start building now? Click the below button