Headhunter Resume Example [+Writing Guide & Tips]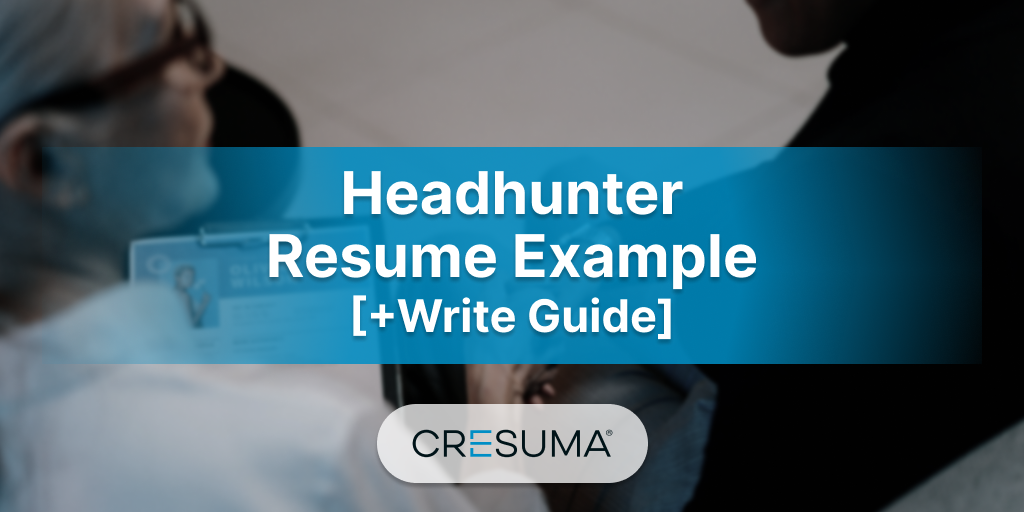 Do you want to create a headhunter resume that can catch the attention of recruiters? If so, here's a great resume writing guide for you to follow.
No hidden costs. Download your ATS-Friendly resume in PDF for absolutely FREE after creating.
If you already have an ATS-Friendly resume, check your resume missing or need more  action verbs. By using more action verbs, you can easily fine-tune your resume to match the expectations of recruiters and employers.
Headhunter Resume
No need to start from the beginning. Edit this resume sample with your information and keywords from the job posting.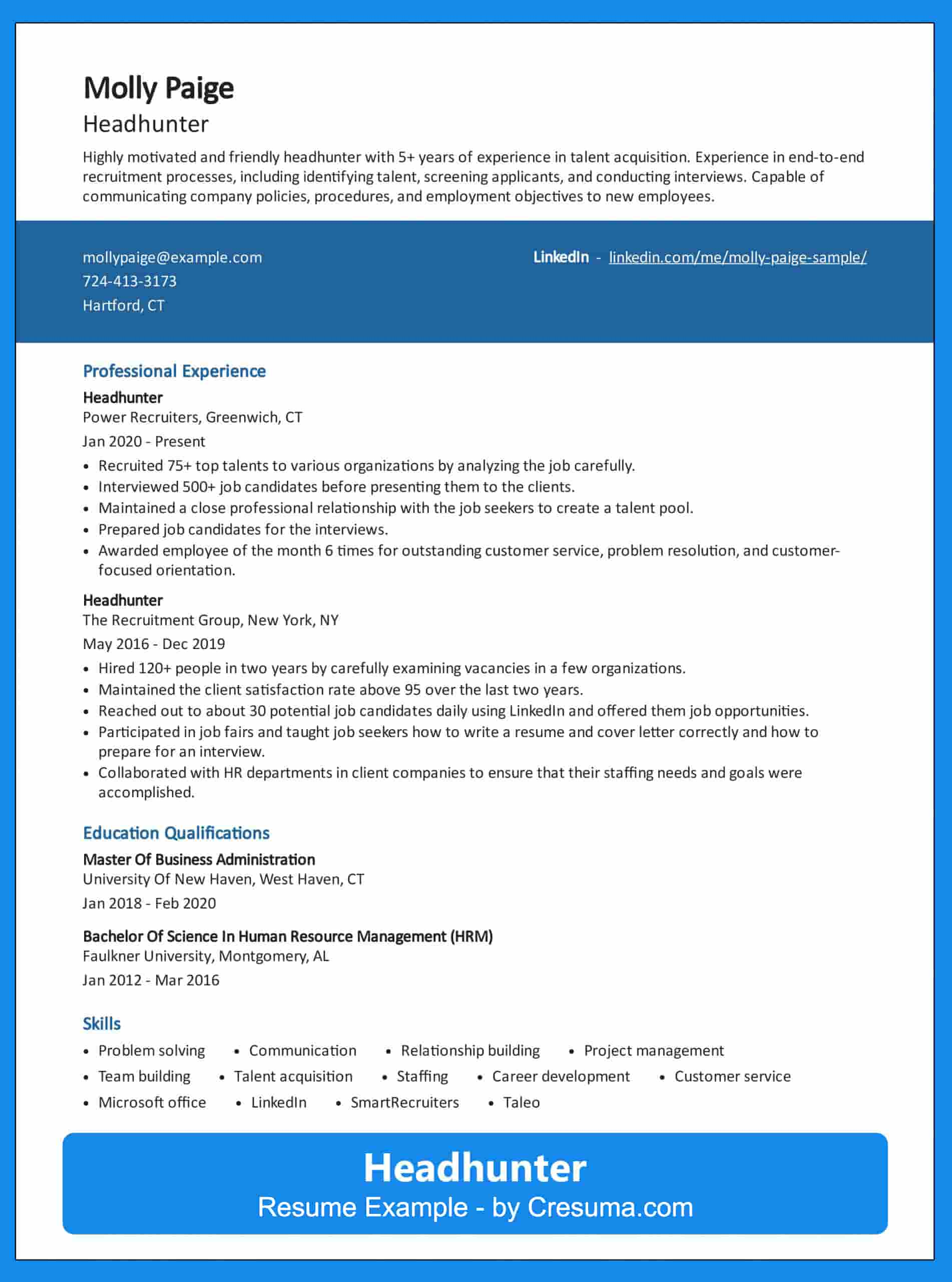 Let's first learn about the headhunter role
Head Hunters are looking for potential candidates to fill a vacancy within their organization. Their responsibility is to reach out to job seekers, job search candidates and professionals and invite them to a job offer if they are a good fit for their organization. Headhunters often work closely with the human resources departments of companies.
Headhunters often work in staffing agencies and recruitment agencies. These companies provide third party services to other companies such as filling the positions etc. Also, if desired, one can serve as a freelance headhunter in different companies.
If you already have previous experience with headhunting, you may have a good understanding of this job. But we made this introduction because it is very important for an entry level job candidate to have at least a little understanding of the job to write a good headhunter resume.
So now let's dive in to learn how to create a perfect resume for a headhunting position.
How to write a headhunter resume
Before writing a resume, it is important to know the sections that should be included in a standard resume. Each resume has mandatory sections as well as optional sections.
| | |
| --- | --- |
| Required | Optional |
| Contact information | Volunteer experience |
| Resume Summary | Certifications and licenses |
| Work Experience | Honors and awards |
| Education | Hobbies and interests |
| Skills | Language skills |
If you want your resume to stand out from the rest of the resumes in the big pile, you have to consider adding these optional sections as well. If you use our free resume builder you can create a winning headhunter resume by including optional resume sections. Let us now see how to write each of these sections correctly.
Contact Information
The resume header is very important for a hiring manager to distinguish your resume in the big resume pile. So try to make your resume header a bit more highlighted with a nice background color.
Your contact information is a set of very important details in a resume. Contact information is usually entered in the resume header, which includes your name and job title too. If the hiring manager thinks you are the right person for the job, they will use this information to contact you. So check if your contact information is correct and accurate.
The following is a great example of a headhunter resume contact information section.

Summary
As a headhunter, the resume summary is the best place to convince the hiring manager that you are the best pick for the vacant position. Briefly list your best career achievements and show that you are qualified to hold the specific position. Because most hiring managers do not spend much time reading the whole resume. But most of the time they read the resume summary with genuine interest.
So if you write this section correctly, you will be able to get their first impression. Then the hiring manager will be motivated to read your entire resume.
Highly motivated and friendly headhunter with 5+ years of experience in talent acquisition. Experience in end-to-end recruitment processes, including identifying talent, screening applicants, and conducting interviews. Capable of communicating company policies, procedures, and employment objectives to new employees.
Work Experience
Many recruiters want to know the positive impact you have made on the companies you have worked for in the past. That's why they definitely don't forget to look at the Work Experience section of your resume
But many are tempted to mention the duties and responsibilities assigned to them here. In fact, hiring managers are well aware of the responsibilities and duties of head hunters. They do not need to be told over and over again. Instead, present your achievements as bullet points with the quantified results you achieved when you were a headhunter in the previous organization. That's enough to make your resume stronger.
Each experience should mention your job position, the name and the location of the recruitment agency or the company, the number of years or months you worked for that organization, and your accomplishments.
When writing headhunter job description bullet points, outline them briefly with short sentences. It's sufficient to describe your achievements and responsibilities in each role with 4-5 bullet points.
If you want, you can get the assistance of the relevant job advertisement to create your resume work experience section. If you read the job advertisement carefully, you will be able to identify the skills and experience your prospective employer needs and optimize your resume accordingly. This method is a great way to tailor your headhunter resume to the job advertisement. It also unknowingly turns your resume into an ATS friendly one. Including relevant experiences and keywords to your resume will help you get an interview easily.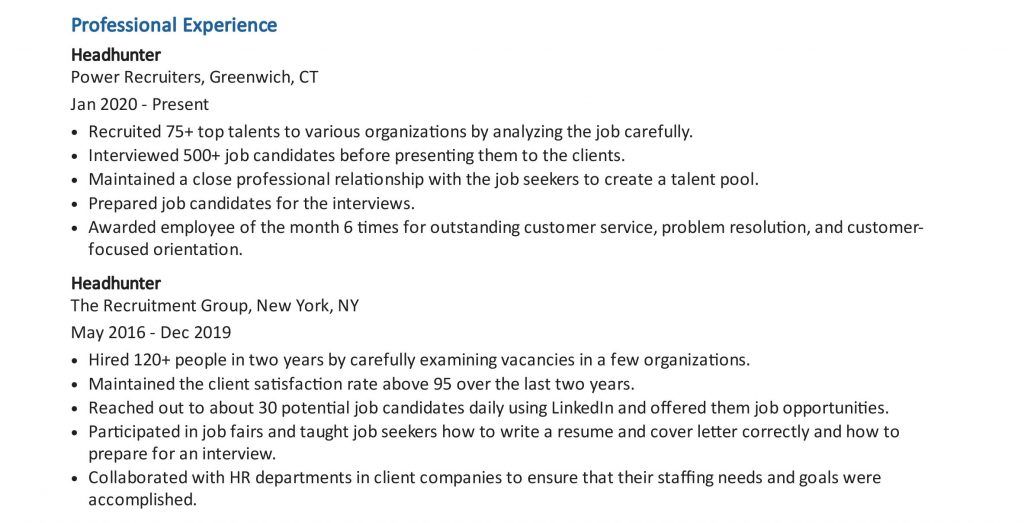 Education
Usually a four year degree related to Human Resource is a common requirement for a headhunter. A person who has learned theoretically about the relevant job can easily carry out the headhunting job. However, if you do not have a related degree, you can make your resume stand out by mentioning details about on-the-job training obtained at previous companies.
Common majors for headhunters
Communications
Sociology
Business
Psychology
Human resources
You can format your resume education section as follows.

Skills
If you want to have a successful career as a headhunter, it is very important to have soft skills as well as relevant technical skills. So by listing headhunting skills on your resume, you can convince the hiring manager that you are a good candidate for the job. If you read the job advertisement carefully you can find out what skills you need to become a headhunter.
Anyway, now that you are ready for a headhunting career. Therefore, try to master the following skills in yourself. If you already have them, be sure to list them in your resume skills section
Soft Skills
Administrative skills
Communication
Networking
Organization
Persuasion skills
Adaptability
Time management
Customer service
Problem solving
Project management
Patience
Confidence
Attention to detail
Marketing skills
Relationship building skills
Reliability
Technical Skills
Staffing
Career development
Relationship development
MS Office
Google Suite
SmartRecruiters
LinkedIn
Talent management
Sourcing
Applicant tracking systems
BambooHR
Headhunter resume writing tips
Now you know how to write a basic resume sample for your headhunter job. Same as you, if other applicants are aware of this, how can you make your resume a unique one and make it a winning resume? The following resume tips will help you with that.
Use headhunting action verbs
Start each sentence with a strong action verb when listing your accomplishments as well as when writing the resume summary. Then your achievements and your impact will be enhanced.
Here are some of the best action verbs to use in your headhunting resume.
| | |
| --- | --- |
| Led | Volunteered |
| Assessed | Collaborated |
| Oversaw | Engaged |
| Monitored | Organized |
| Managed | Advocated |
| Enacted | Coordinated |
| Notified | Identified |
| Improved | Instructed |
| Administered | Captured |
| Carried | Consigned |
| Created | Hired |
| Recruited | Mandated |
| Reached | Communicated |
Use reverse chronological resume format
The best resume format to structure a headhunter resume is the chronological format. This resume format is best for experienced and professional head hunting job seekers. However, if you do not have much experience or if you are an entry level job seeker, it is a good idea to use the functional resume format that prioritizes your skills, professional qualifications and academic training.
Don't insert a headshot
Although many job seekers are accustomed to including a photograph in their CV, we do not recommend it. Because inserting a photo on your resume can expose you to various discriminations. Include a resume photo only if strictly mentioned in the job advertisement to do so.
Insert your LinkedIn profile and showcase your LinkedIn knowledge
LinkedIn is one of the most important online profiles that any professional should have. So if you do not have a LinkedIn account, start your LinkedIn account today Then update all your professional details and insert the link of the relevant profile in the header of your resume.
Also, knowledge of LinkedIn is essential for a headhunter. Because LinkedIn is a leading online tool that can be used to fill positions in organizations. So don't forget to mention more about your LinkedIn knowledge and LinkedIn marketing skills in your resume.
Add certifications
Here are some of the best certifications to advance your career. Having these kinds of certifications will undoubtedly increase the value of your headhunter resume.
Certified Professional (CP)
Associate Professional in Human Resources
Professional in Human Resources
Professional Recruiter Certification
Certified Social Sourcing Recruiter
Elite Certified Recruitment Expert
LinkedIn Certified Professional Recruiter
Recruiting 101
Associate Professional in Talent Development
Talent Manager Practitioner
Certified People Sourcing Professional
Include a headhunter cover letter
Every time you apply for a job, you must send a cover letter tailored to the job along with your resume. This is the best opportunity you have to communicate with the employer before a job interview. Read our cover letter writing guide to learn how to write a cover letter correctly.
Now you know how to write a headhunter resume properly. Make your resume as mentioned above and get an invitation for a job interview and land your dream job in a reputed recruitment and staffing agency.
Congratulations on your job search!
Want to build a perfect resume by yourself? Click on the below button.
Want to get a perfect Headhunter cover letter created by an expert?
People who read this also read: