Chiropractic Assistant Resume Example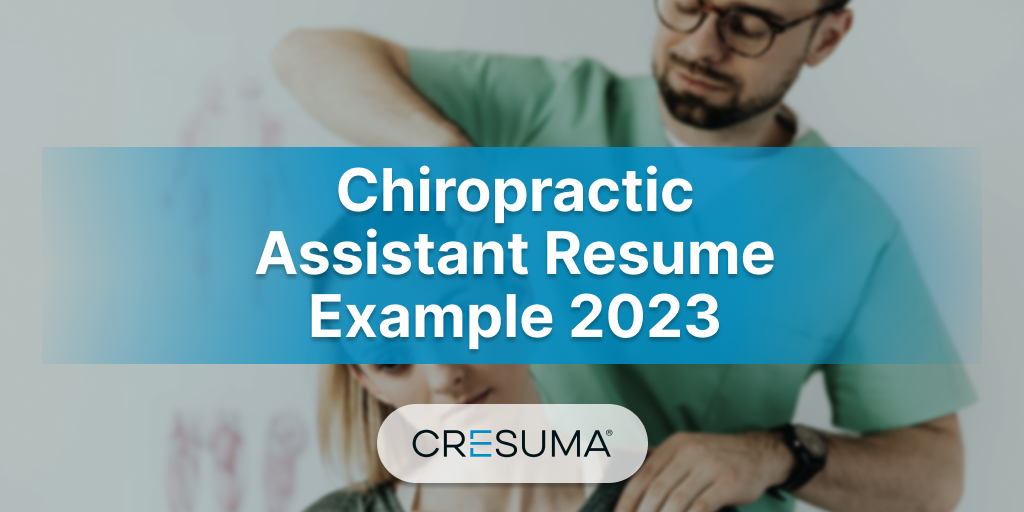 Complete Resume Guide for a Chiropractic Assistant
Ask from a Professional Chiropractic Assistant (Best Resume Tips and Secrets)
Modern Recruitment Process of Chiropractic Assistant
Chiropractic Assistant Resume Example (Text Version)
No hidden costs. Download your ATS-Friendly resume in PDF for absolutely FREE after creating.
Chiropractic Assistant Resume
No need to start from the beginning. Edit this resume sample with your information and keywords from the job posting.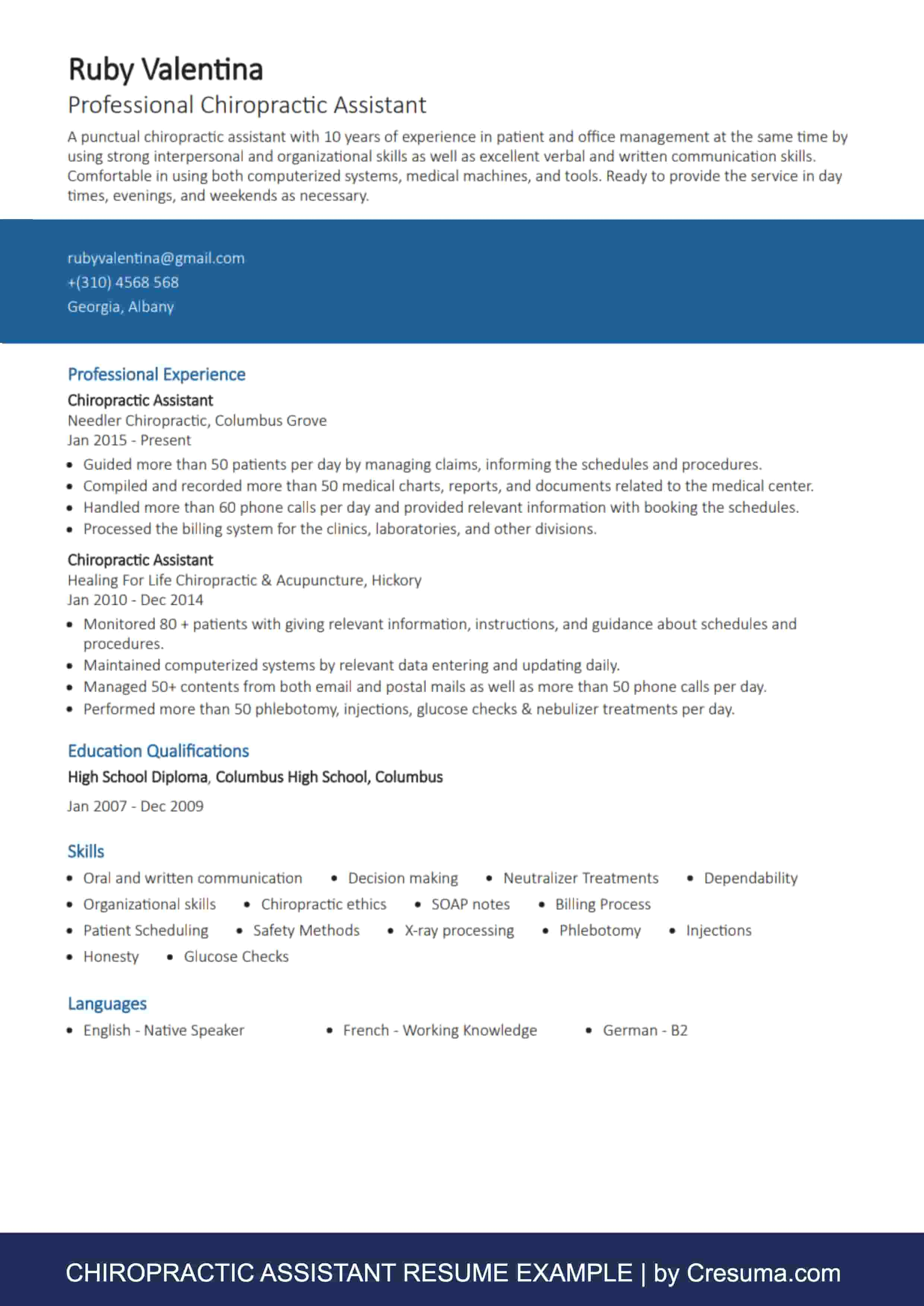 Complete Resume Guide for a Chiropractic Assistant
Should Chiropractic Assistant buy a resume template?
No! The free resume builders are available now online. You can select a perfect resume based on your willingness. Also make sure to add action verbs to ensure that your resume aligns perfectly with the expectations of recruiters and employers.
However, do not forget to consider the following factors while selecting a resume template for you.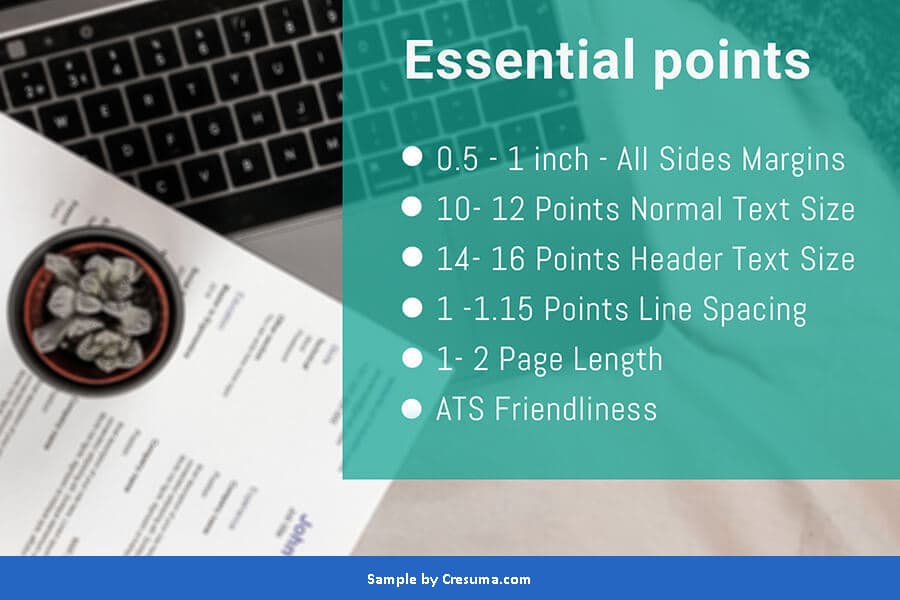 ATS friendliness of the resume template depends on the text selectability, link clickability, and the graphics you use. The heavy graphics disturbs the ATS friendliness of the resume is a proven fact. So you need to check those factors of your resume template.
PDF format is the best and universally accepted file format for resumes. As the PDF formatted resumes can not edit after saving them, the majority of experts recommend it. But word files and plain text files are also ATS-friendly file formats.
You can decide whether you enter a photo on your resume or not. But we suggest you choose a photo-free resume layout. Contrarily, add a professional-looked photo to your resume.
Check whether the font style of your resume is clear and recommended for resume writing like Open Sans. Except for the above conditions, consider the colors that you choose. Especially choosing a cool and calm color collection will affect you positively.
Some resume templates waste the space by compressing more graphics and finally, applicants receive a lengthy resume. But one-page is the most suitable resume length for any chiropractic assistant resume sample. Therefore you have to check the space deviation of your resume template.
What should the Chiropractic Assistant resume header look like?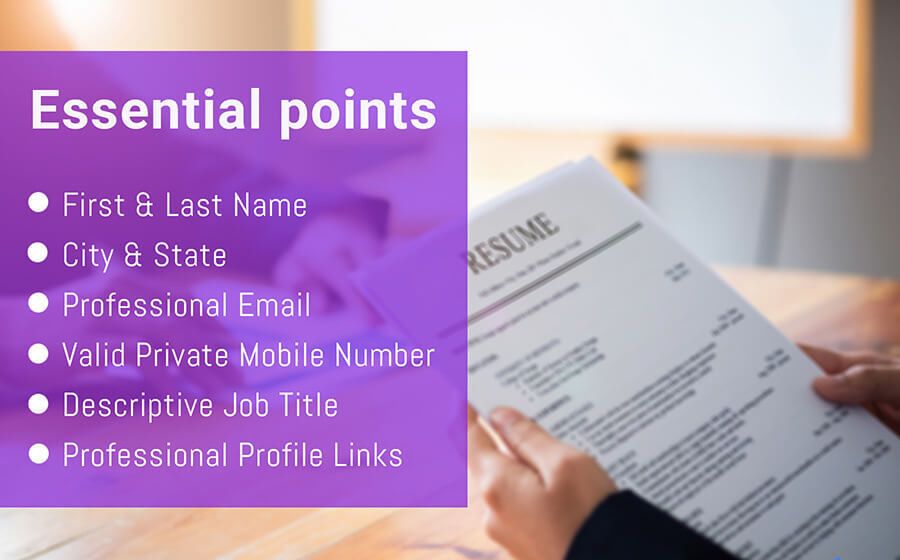 The resume header is the place that lets the recruiters know your contact information. In other words, you have to mention at least your name, job title, location, contact number, and email address in your chiropractic assistant resume header.
You can follow the below guidelines to stand out your contact details.
Name:- State only your first and last name. Mentioning your full name will waste the space of your resume. Because the hiring personnel only want to know who you are.
Job title:- It is better to bring up the job title given in the job advert as the job title of your resume.
Location:- Let the recruiters feel that you are close to the workplace by only sharing your city and state in your resume header.
Contact number:- If you are selected as the chiropractic assistant, the hiring managers will call you. For this reason, you have to provide a valid mobile number which is very personal to you.
Email address:- Your email address should be a professional one. That means it should not contain any fancy words. If so, it is better to create a new professional email to mention in your resume and to send it.
Personal Profiles:- They are the personal web page, Facebook, LinkedIn, or Twitter account. But you must be able to prove your skill, talent, educational qualification, or career victory as a chiropractic assistant from them to mention in your resume header. Unless they are useless.

What's a good Resume Summary for a Chiropractic Assistant?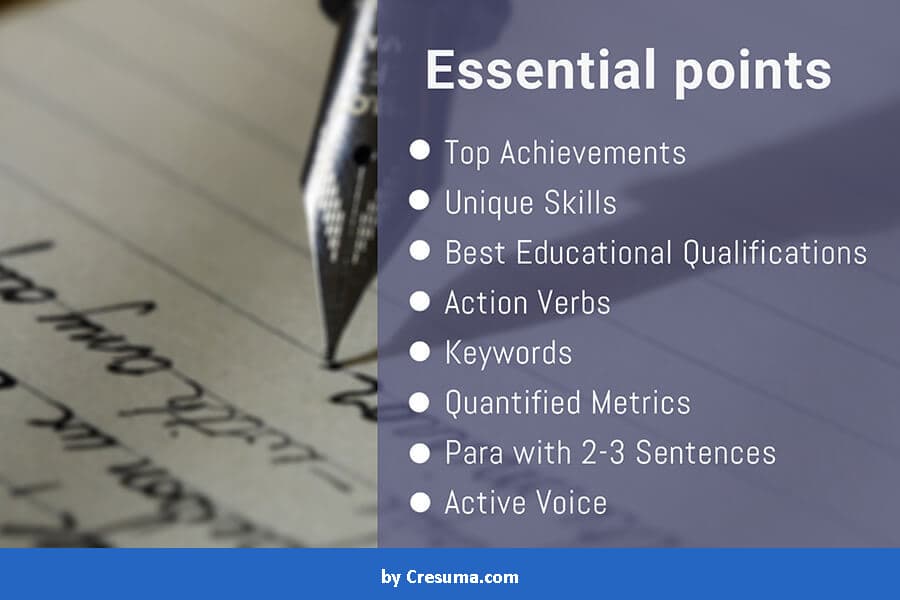 The resume summary is when you collect your top achievements, unique skills, and the best educational qualifications and compress them into a tiny paragraph that contains two or three sentences. Its function is showing your value as a chiropractic assistant.
If you gain the assistance of the relevant key terms, verbs, quantified metrics like years, numbers, and percentages to build your resume summary, the recruiters will understand your worth further. By following more resume samples you can get an idea to increase your chances of catching recruiters attention and getting your resume noticed.
Example from an Expert
Summary

[Text]
Responsible and professional chiropractic assistant who holds 3+ years' administrative experience related to the chiropractic setting by planning doctor's schedules, managing the waiting area, assisting patients, handling relevant documentation, and reporting as necessary with strong interpersonal and organizational skills as well as excellent verbal and written communication skills.
Does Chiropractic Assistant Resume Work Experience have to be in chronological order?
Not only the work experience section but also the education section of the chiropractic assistant need to be in chronological order. That means stating the most recent information first and older information then.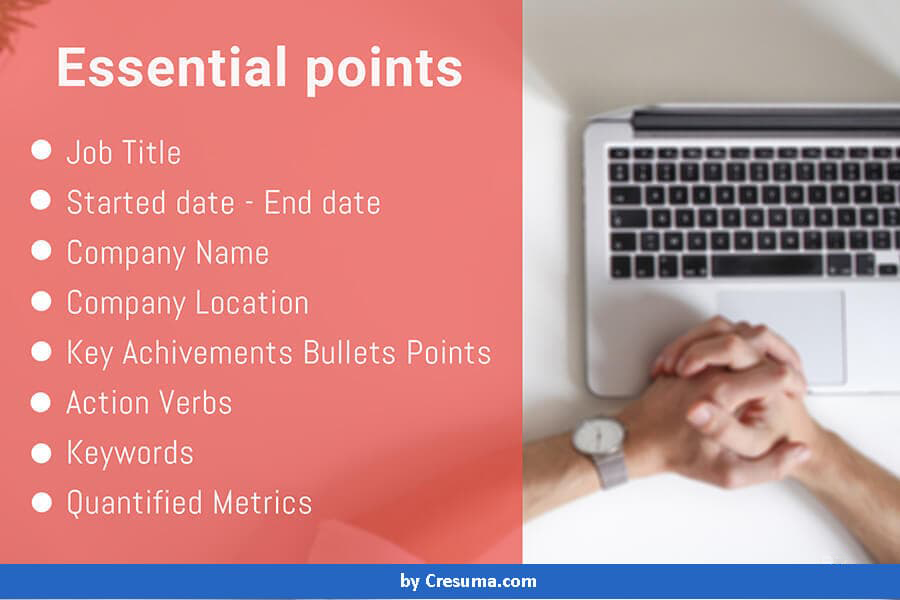 A perfect work experience section of a chiropractic assistant resume can be mixed up with the experience in both the nursing assistant field or office administration field. Because this position is a combination of both fields.
At a greater distance, providing a complete set of information such as job title, employment duration, company name, location, and 3-5 bullet points of career achievements connected with the chiropractic assistant's duties will supply you more marks.
Example from an Expert
Work Experience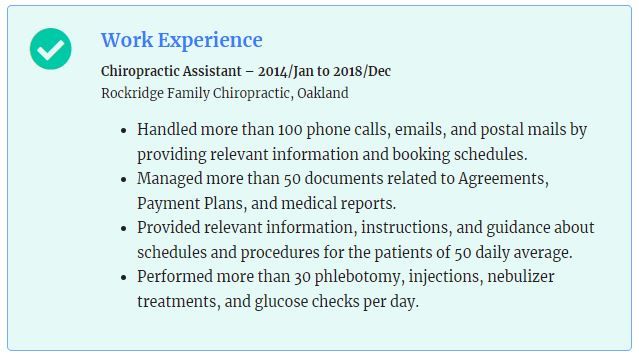 [Text]
Chiropractic Assistant – 2014/Jan to 2018/Dec
Rockridge Family Chiropractic, Oakland
Handled more than 100 phone calls, emails, and postal mails by providing relevant information and booking schedules.
Managed more than 50 documents related to Agreements, Payment Plans, and medical reports.
Provided relevant information, instructions, and guidance about schedules and procedures for the patients of 50 daily average.
Performed more than 30 phlebotomy, injections, nebulizer treatments, and glucose checks per day.
What are the greatest Career Achievements of a Chiropractic Assistant?
It depends on you. Remind whether you have achieved the following goals as a chiropractic assistant and add them as your career accomplishments in the resume sample.
Solved several chiropractic patients' problems based on registering, transferring, and placing them, managing their files and x-rays, billing, coding, and verifying the insurance in a friendly manner by using your perfect customer service skills.
Managed the postage mails, emails, phone calls, and alternative documents daily based on your ability and knowledge of office administration.
The chiropractic doctor has admired your assistance and flow of duties as the chiropractic assistant.
The Engagement, assistance, and communication with peer chiropractic assistants or authorities of the company in a friendly manner caused you to be the most famous employee who is admired by all.
Worked hard even beyond the office time such as weekends, holidays, and evenings for the process enhancement of the chiropractic clinic.
Made an effort to keep the chiropractic office neat by performing light custodial duties such as cleaning counters, dusting, vacuuming, emptying trash, and cleaning the toilet bowls.
Do not forget to build your career achievements mentioned above by joining with the most suitable verbs, keywords, amounts, years, and percentages. At the same time, do not create a lengthy sentence per each bullet point.
How to fill the education section of the Chiropractic Assistant?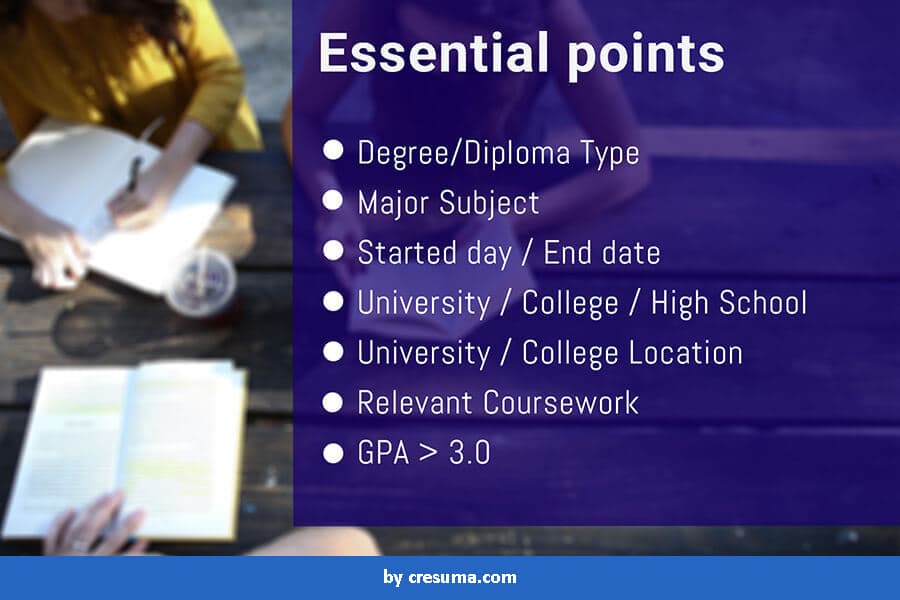 A high school diploma or GED certificate is the minimum educational qualification that is required to be a professional chiropractic assistant. But the relevant certifications that show the applicant's competencies and knowledge in the nursing assistant field or office administration field are value-added qualifications to your resume.
However, when you mention your educational qualifications, it is better to reveal at least the type of qualification (whether a high school diploma or GED certificate), the graduating year, the institute name, and location under the education section. Further, you can mention the achievements that you have gained related to the nursing and office administration fields as follows.
Example from an Expert
Education
[Text]
High school diploma – 2013/Feb to 2015/Dec
Cajon High School, San Bernardino
Arranged more than 5 medical programs as the chairperson of the school health organization for 2 years.
What are the most suitable Soft Skills for a Chiropractic Assistant?
Time management:- As the chiropractic assistant has to maintain the customers, files, office administration, and assist the doctor during the office time, he/she must be a great time manager to smoothly do those duties.
Cooperative:- The majority of candidates have to work as a team after getting the job. At the same time, the assistance of the doctor is the major essential task of the position. Therefore the candidate should be a cooperative person.
Basic Computer Skills:- The applicant should have computer literacy in keyboard skills, internet skills, and software applications such as Microsoft Office package. Because a chiropractic assistant has to maintain emails and data entries daily.
Oral and written communication:- Collecting customers' and doctor's requirements is another basic chiropractic duty. At the same time, the ability to fill in the documents, reply to the postal mails, emails, and phone calls is a must in the daily duties of a chiropractic assistant. Sometimes he/she has to communicate in different languages too. Therefore do not forget to mention you are fluent in oral and written communication.
Basic Mathematical Skills:- The complete process of producing the correct bills is related to basic mathematical skills. With this exception, the billing information directly affects the income of the clinic. So it is better to reveal you are an expert in mathematics in your chiropractic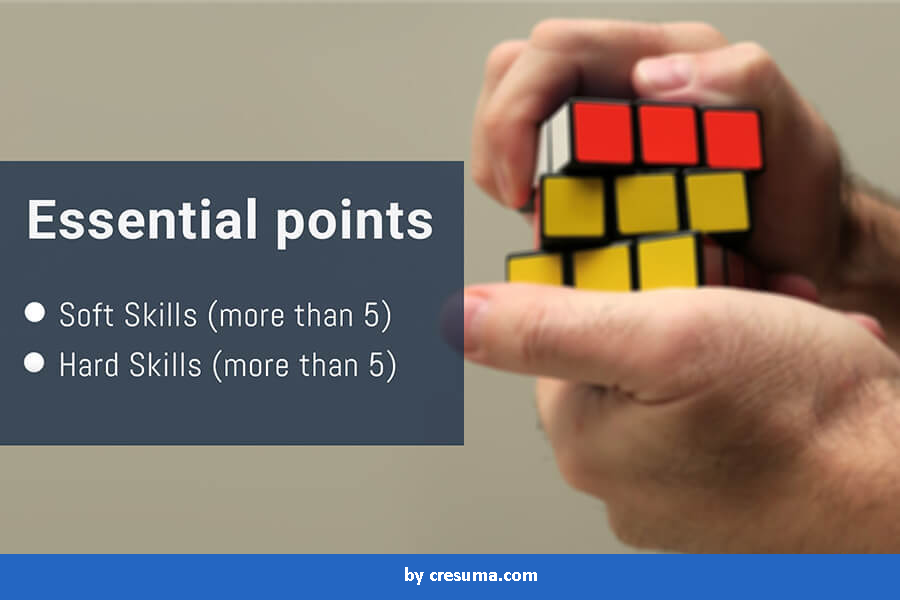 Are there any Hard Skills related to a Chiropractic Assistant?
Yes, there are several hard skills that can enter into the chiropractic assistant resume. These skills are related to office administration and health care competencies and requirements. So, do not forget to mention at least 8-10 skills including hard and soft skills.
Not only in the skills section, but you can also explain the following skills in your career victories of the work experience section.
Patient Scheduling
Obtaining patient history
Recording vital signs
Medical records management
SOAP notes
Billing Process
coding
Recognizing emergencies
Biohazard procedures
Chiropractic ethics
Familiarity with commonly treated disorders and diseases
Therapeutic modalities
Physiotherapy
Safety Methods
X-ray processing
Phlebotomy
Injections
Glucose Checks
Nebulizer Treatments
How to create a resume for a Chiropractic Assistant Fresher?
Below is the difference between the resume format for experienced Chiropractic Assistant and Entry-level Chiropractic Assistant.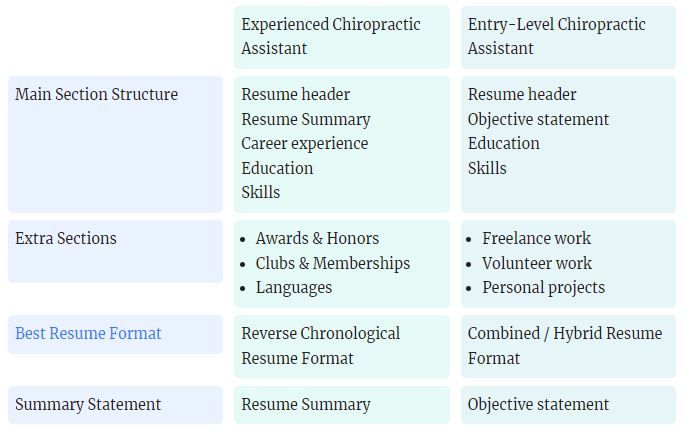 Is Resume Objective necessary for an Entry-level Chiropractic Assistant?
Yes. Though an entry-level or fresher can not express work experience and their key achievements, there is another chance to show their worth for the recruiters. That is the objective statement.
Attempt to explain how you can help the chiropractic doctors and clinic to achieve the official goals by using your skills, competencies, talent, training, and educational qualifications.
As same as in the resume summary, you can make your resume more highlight than alternative chiropractic assistant resumes by joining the relevant verbs, key terms, numeric measurements such as percentages, years, and amounts with your objective content.
Are you a Certified Chiropractic Assistant?
If yes, that's great! As there are many online courses and chiropractic assistant training courses conducted by community colleges or medical assistant training facilities, the recruiters tend to hire the applicant who has trained well.
For this reason, it is better to mention your certification or training details at least certification name and certified year under the 'Certifications & licenses' area. For further enhancement, you can mention the certificate number, certificate URL, and relevant course units.
The Federation of Chiropractic Licensing Board (FCLB) conducts The Certified Chiropractic Clinical Assistant Course(CCCA) and prepares the trainees for the National Board Exam to become a Certified Chiropractic Clinical Assistant.
However, make sure your course has provided you the competencies related to the chiropractic assistant duties such as documentation, patient safety, and procedures.
Can you handle the Chiropractic patients who communicate in different languages?
If you can communicate in different languages such as Spanish, Chinese, French, German, Arabic, Russian that will be a great chance to show your uniqueness among all chiropractic assistant applicants. Further, you can mention that information in the 'Languages' section of your resume.
But just listing down the languages you can communicate with is not enough. In other words, specify the competency level of each language such as Highly Proficient, Very Good Command, Good Working Knowledge, B1, A1, A2, etc. Then the hiring managers can understand your abilities well.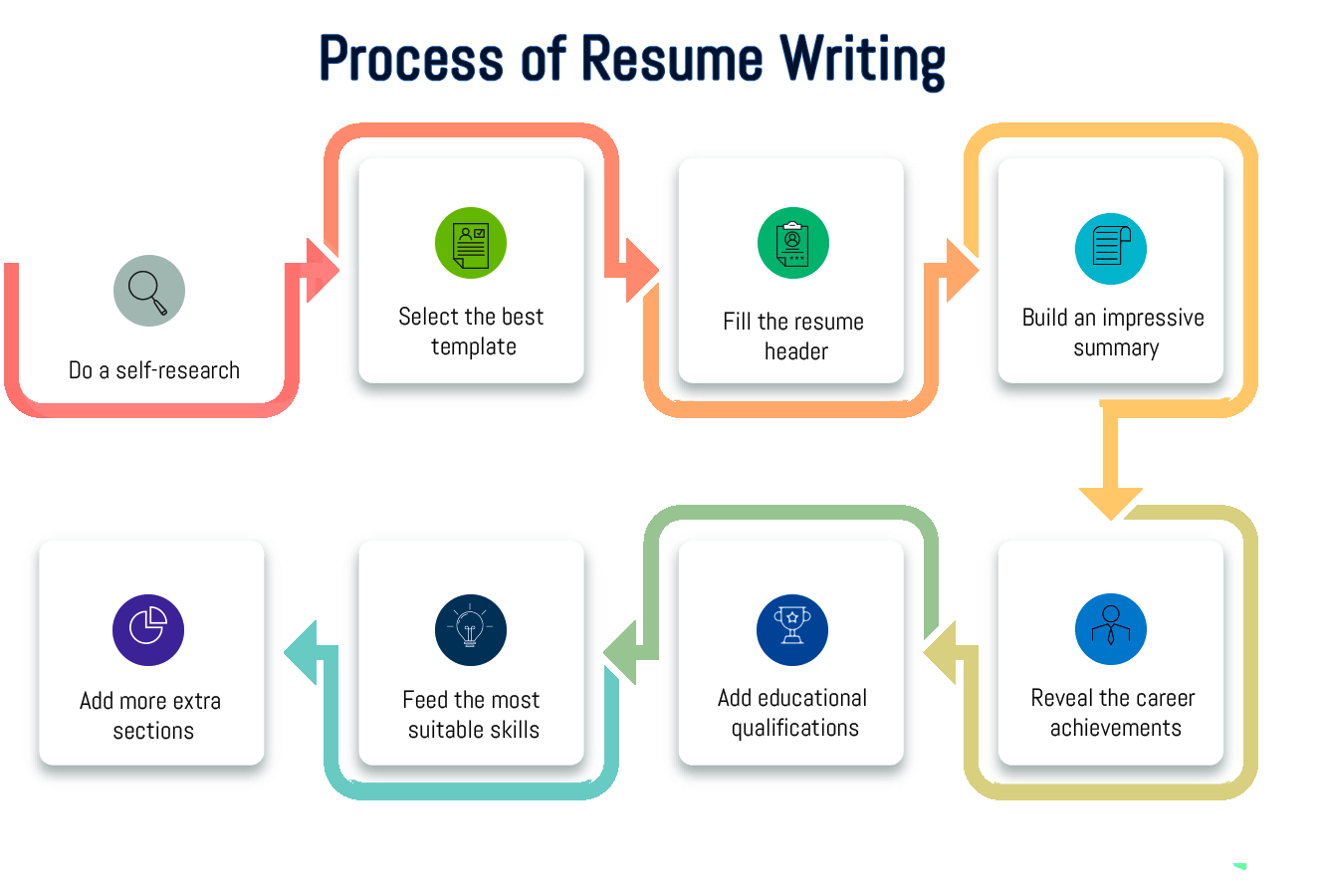 Ask from a Professional Chiropractic Assistant (Best Resume Tips and Secrets)
QUIZ #01:- Why should a Chiropractic Assistant conduct a self-research?
Getting a job opportunity is a major reason. Because tailoring your resume based on the target job advert is the most effective fact to be the winner of the job post.
You can refer to the job advertisement thoroughly to understand the requirements of the recruiters. Also, the official profiles such as Facebook, Instagram, Twitter, LinkedIn, and the web page will provide you another set of information about the workplace. Not only that, the current employees and customers of the clinic will give real-time information for you.
After examining all the above factors you can decide which information should highlight and explain more in your chiropractic assistant resume.
QUIZ #02:- Should each Chiropractic Assistant write a Cover Letter?
There is no restriction to write or not to write a cover letter for a chiropractic assistant. It depends on your willingness. Sometimes, the occupational advert requests a cover letter from you. You can write a cover letter though they do not request one. Because a perfect cover letter can help you to earn more marks than alternative applicants.
In your cover letter content, admire the sustainability, excellent customer service, and results of the chiropractic clinic, reveal you have researched about the clinic, explain the reasons for applying for the post, and highlight your passion to become an employee of the target office positively.
QUIZ #03:- How to include Keywords in the Chiropractic Assistant Resume?
First, you should select the given keywords in your job advert. Then decide the achievements to enter in your resume. When you build the achieved goals in the career add the following keywords meaningfully.
As the keywords represent the skills, qualifications, people, objects, and procedures linked with the chiropractic duties, the ATS selects the top resumes based on those terms. Therefore some applicants try to cheat the ATS by listing the keywords, adding them in white color, and mention them everywhere in the resume unnecessarily. But that causes to reject from the ATS.
Here we have assisted you to select the suitable keywords by highlighting them in the following sample job advertisement.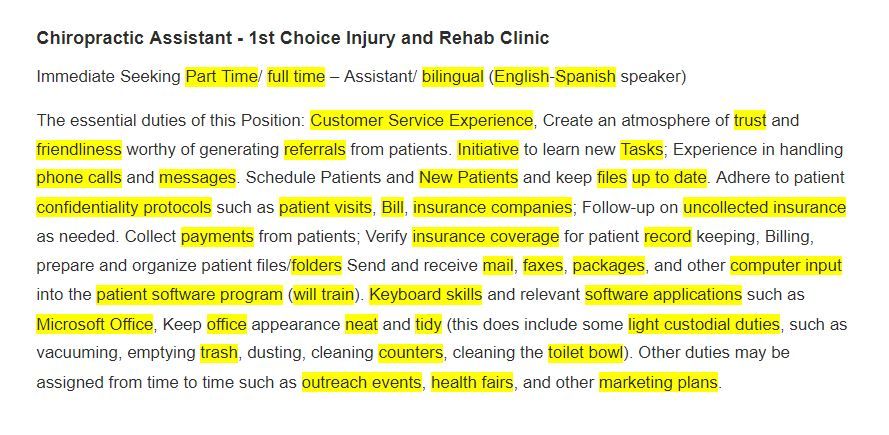 QUIZ #04:- What are the powerful Action Verbs in the Chiropractic Assistant Resume?
Action verbs usually represent the duties and responsibilities of the chiropractic assistant. Though more action verbs can use to explain the same duties, the most powerful action verbs are given in your job advert.
When you explain your career accomplishments, it is better to start them with a powerful action verb. Because they enhance the standard, formality, professionalism, and quality of your chiropractic assistant resume.
Here you can refer to the following sample job advertisement to understand how to select the powerful action verbs.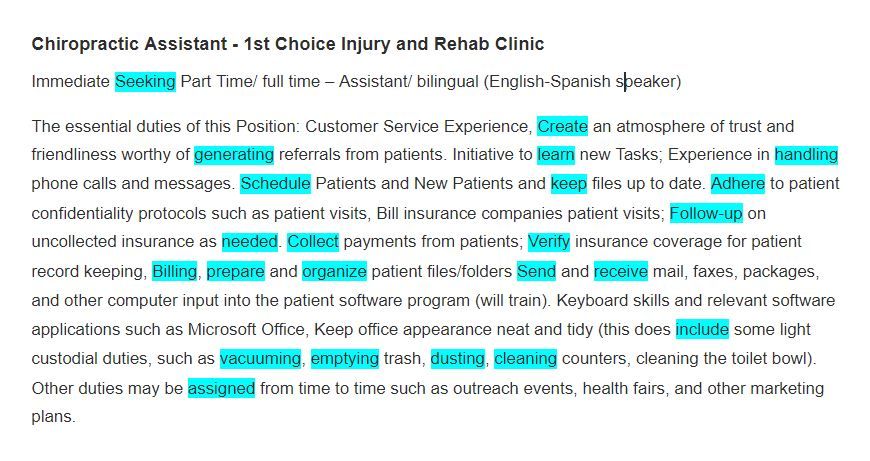 List of Common Action verb of Chiropractic Assistants
Answered
Assisted
Arranged
Administered
Balanced
Booked
Calculated
Collected
Controlled
Completed
Checked
Cooperated
Collaborated
Documented
Greeted
Helped
Maintained
Managed
Scheduled
Updated
Modern Recruitment Process of Chiropractic Assistant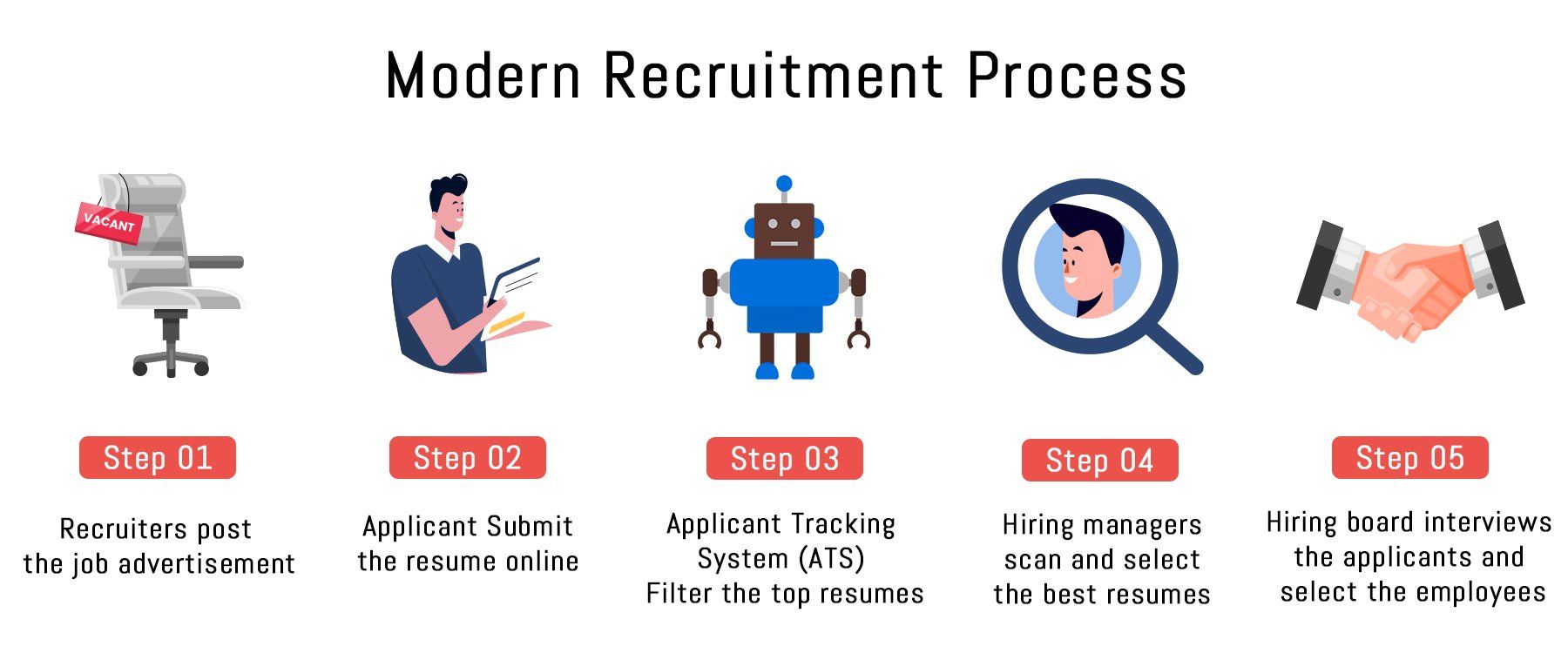 Overview
Usually, the chiropractors are the recruiters of their assistants. Also, they post the job advertisement by including the requirements for the post on the official website or a job posting site.
The candidates who are eligible to be professional chiropractic assistants send their resumes including the best values and worth.
The challenging fact is thousands of resumes are received per one opening and if you want to become the winner, you have to optimize your resume according to the company and position.
Further, the managers who hire you, store all the resumes in an Applicant Tracking System (ATS) and filter the top resumes from the bulk.
Next, they scan the top resumes and select the best resumes for the interview.
Finally, the most suitable chiropractic assistant is selected after the interview session.
Salary
A chiropractic assistant can earn at least $13.35 per hour. This average wage can be different based on the years of experience, workplace, and the state.
The following table shows how the salary differs based on the years of experience in the chiropractic Assisting field.
Years of experience
Average salary per hour
Less than 2 year
$12.50
3 to 9 years
$15.50
More than 10 years
$15.86
Here are the top three premises for the chiropractic assistants.
Company Name
Average salary per hour
Cummins Chiropractic & Wellness
$17.43
SouthWest Chiropractic
$16.90
Discover Chiropractic
$16.53
Whatever your salary expectation is we recommend not to mention it in your chiropractic assistant resume sample. Because then the managers who hire you will think that your motivation is the salary.
Chiropractic Assistant Resume Sample (Text Version)
Ruby Valentina
Professional chiropractic assistant
+(310) 4568 568
rubyvalentina@gmail.com
Georgia, Albany
Summary
A punctual chiropractic assistant with 10 years of experience in patient and office management at the same time by using strong interpersonal and organizational skills as well as excellent verbal and written communication skills. Comfortable in using both computerized systems, medical machines, and tools. Ready to provide the service in day times, evenings, and weekends as necessary.
Work Experience
Chiropractic Assistant
Needler Chiropractic, Columbus Grove – 2015/Jan to Present
Guided more than 50 patients per day by managing claims, informing the schedules and procedures.
Compiled and recorded more than 50 medical charts, reports, and documents related to the medical center.
Handled more than 60 phone calls per day and provided relevant information with booking the schedules.
Processed the billing system for the clinics, laboratories, and other divisions.
Chiropractic Assistant
Healing For Life Chiropractic & Acupuncture, Hickory – 2010/Jan to 2014/Dec
Monitored 80 + patients with giving relevant information, instructions, and guidance about schedules and procedures.
Maintained computerized systems by relevant data entering and updating daily.
Managed 50+ contents from both email and postal mails as well as more than 50 phone calls per day.
Performed more than 50 phlebotomy, injections, glucose checks & nebulizer treatments per day.
Education
High school diploma – 2007/Jan to 2009/Dec
Columbus High School, Columbus
Skills
Oral and written communication
Decision making
Honesty
Dependability
Organizational skills
Chiropractic ethics
SOAP notes
Billing Process
Patient Scheduling
Safety Methods
X-ray processing
Phlebotomy
Injections
Glucose Checks
Nebulizer Treatments
Languages
English – Native language
French – Working Knowledge
German – B2
Want to build a perfect resume by yourself? Click on the below button.
Want to get a perfect Chiropractic Assistant cover letter created by an expert?
People who read this also read: