Translator Resume Example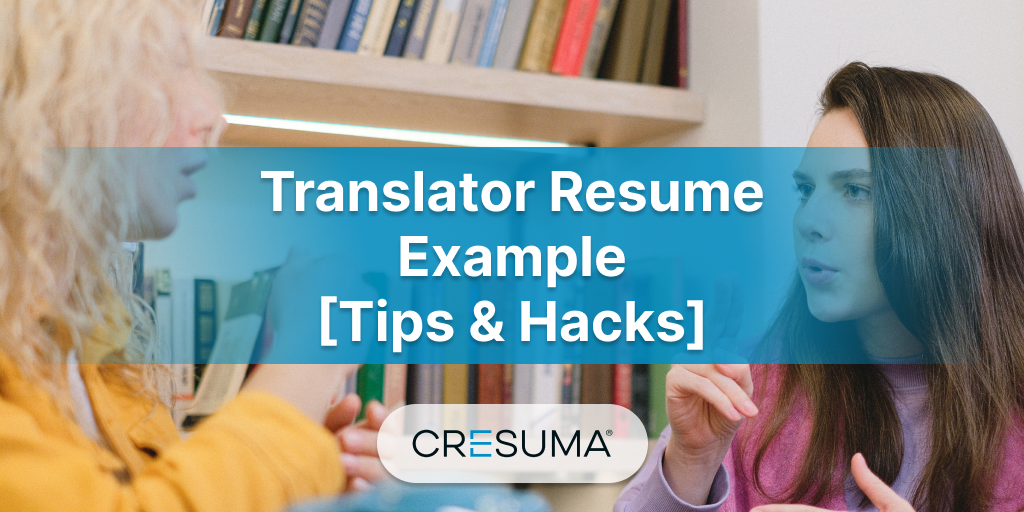 How can you be a professional translator in your dream company as soon as possible? For that, you need to have an impressive translator resume. Here are the best tips to make your resume stand out and boost your job-winning opportunities.
No hidden costs. Download your ATS-Friendly resume in PDF for absolutely FREE after creating!
Translator Resume
No need to start from the beginning. Edit this resume sample with your information and keywords from the job posting.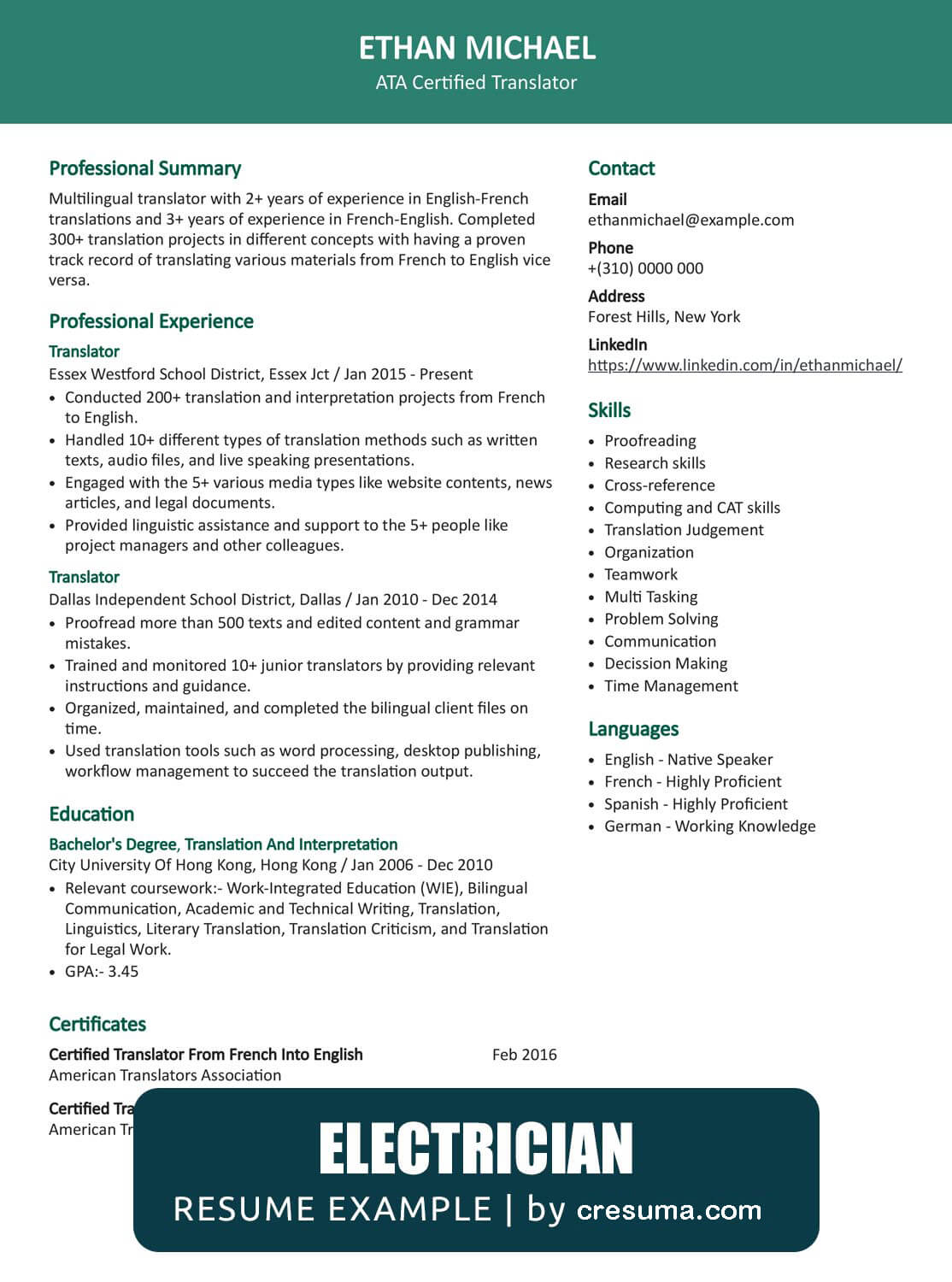 Make Your Job Title Impressive
Do you know that you can draw the recruiters' attention at the first sight to your resume? For that, you need to mention a descriptive job title. Now you may think how do I make my job title descriptive. That is simple. If you are a certified translator add the certification you have as your job title. Otherwise, you can join a unique skill you have with your job title.
For example 'ATA Certified Translator' or 'Multilingual Translator' will be a great beginning to your resume than just mentioning 'Translator' as a job title.

Highlight the Top Achievements in Your Career History
The recruiters want to know the most recent and relevant experience from your career history. Therefore you can insert journalism, marketing, creative writing, or other related fields of in your translator resume.
You can express the different types of cross-references you have used in prior projects to check the quality of translation. For example, using dictionaries or other digital translation tools. Also, the recruiters are fond of knowing your ability to proofread the translated texts for grammar, spelling, and punctuation accuracy. So you can provide a numeric value of your prior proofreading in your career achievements.
A good sense of culture, the sensitivity of the context and concept, and appropriateness of content for the target audience are the major facts to be a successful translator. So try to explain how you adapt to the project with your cultural, conceptual, and language sensitivity.
You may know the majority of the duties of a translator have been modified with Youtube and the film industry. So If you are an expert in preparing subtitles for videos and online presentations that will be a great chance to show your uniqueness among other resumes.
The best achievement of a modern translator is the practice and the awareness of CAT software. There may be different software such as Smartcat, Lokalise, Crowdin, MateCat, Text United, SDL Trados Studios, and MemoQ. You need to mention which software you have used and practiced in prior jobs.
Reveal You are a Skillful Professional in the Translation Field
Soft Skills for a  Resume
Communication Skills:- A translator needs advanced communication skills than other positions. Because an idea, information, or context in another language should be shifted into the target language clearly and logically without killing or damaging the meaning of the original text. Also, the translator must have a broader understanding of both languages to handle the sensitivity to cultural, ethnic, religious, and sexual differences.
Teamwork:- The translator must engage with internal team members and clients to ensure that the translation meets their needs. Therefore the applicant must be able to collaborate with others and interact in a friendly manner.
Time management:- Usually the translators are working under pressure with tight deadlines. Therefore the ability to manage time is an essential skill to be a professional translator in near future.
Attention to detail:- The translator must go through even the tiny details of the original content to succeed the final translated output. Also, the attention to detail skill is more important to proofread and edit a translated text.
Hard Skills for a  Resume
In-depth cultural knowledge
Research skills
Proofreading
Translation judgment
Computing and CAT skills
Creative Writing
Cross-reference
Copywriting & Copyediting
Prove Your Certifications and Licenses
There are some related certifications that prove the scope of the applicant like the ATA Certification issued by the American Translators Association. You may have other related certifications in the language competency, translation, or interpretation field. As the certifications can bring extra marks to your translator resume you must provide at least certification name, certified date, and certified organization under the 'Certifications & Licenses' section.
Bring up Your Multilingual Ability
As a translator, you may be fluent in at least two languages. But sometimes you are fluent in multi-languages. Though you are not an expert in those languages you can mention them under the 'Languages' section in your translator resume. Do not just list down the languages. It is better to mention the competency level with the language.
For example:
English – Native Speaker
French – Native Speaker
Spanish – Highly Proficient
German – Working Knowledge
Add the Powerful Action Verbs in Your Resume Content
First, refer to your job advert before creating your resume. Because the job advert is the best resource to find out the perfect words for your resume. Action verbs are some of them. Especially the duties and responsibilities section contains the majority of action verbs that assist you to make your career achievements stand out. Here are some action verbs that are commonly contained in job adverts.
Action Verbs List
Translated
Performed
Formatted
Maintained
Managed
Assisted
Interpreted
Investigated
Handled
Completed
Rendered
Ensured
Prepared
Followed up
Proofread
Edited
Understood
Helped
Referred
Supplied
Attach an Impressive Cover Letter
The cover letter provides you a free space to communicate with the recruiters. So it is time to impress them. They never think that reading your cover letter is time-wasting. So why don't you write a perfect cover letter. and attach it to your translator resume? There is another simple way. If you are in a hurry, you can use your cover letter builder. That will give you perfect output

.
Translator Resume Sample (Text Version)
Ethan Michael
ATA Certified Translator
+(310) 0000 000
ethanmichael@example.com
Cooperstown, New York
Linkedin – linkedin.com/in/ethanmichael/
Summary
Multilingual translator with 2+ years of experience in English-French translations and 3+ years of experience in French-English. Completed 300+ translation projects in different concepts with having a proven track record of translating various materials from French to English vice versa.
See the complete resume summary guide
Work Experience
Translator
Essex Westford School District, Essex Jct – 2015/Jan to Present
Conducted 200+ translation and interpretation projects from French to English.
Handled 10+ different types of translation methods such as written texts, audio files, and live speaking presentations.
Engaged with the 5+ various media types like website contents, news articles, and legal documents.
Provided linguistic assistance and support to the 5+ people like project managers and other colleagues.
Translator
Dallas Independent School District, Dallas – 2010/Jan to 2014/Dec
Proofread more than 500 texts and edited content and grammar mistakes.
Trained and monitored 10+ junior translators by providing relevant instructions and guidance.
Organized, maintained, and completed the bilingual client files on time.
Used translation tools such as word processing, desktop publishing, workflow management to succeed the translation output.
Education
Bachelor's Degree in Translation and Interpretation – 2004/Jan to 2006/Dec
City University of Hong Kong, Hong Ko
Relevant coursework:- Work-Integrated Education (WIE), Bilingual Communication, Academic and Technical Writing, Translation, Linguistics, Consecutive Interpreting, Literary Translation, Translation Criticism, Translation for Legal Work, Language Acquisition, Programming, and Data Analysis for Language Studies
GPA:- 3.45
Skills
Proofreading
Research skills
Cross-reference
Translation judgment
Computing and CAT skills
Organizational skills
Teamwork skills
Multi-tasking skills
Problem-solving skills
Communication skills
Decision-making skills
Time Management skills
Languages
English – Native Speaker
French – Native Speaker
Spanish – Working Knowledge
German – Highly Proficient
Certifications
Certified Translator from French into English – 2016/Feb
American Translators Association
Certified Translator from English into French – 2016/Dec
American Translators Association
Want to build a perfect resume by yourself? Click on the below button.
Want to get a perfect Translator cover letter created by an expert?
People who read this also read: