Banker Resume Examples and Complete Writing Guide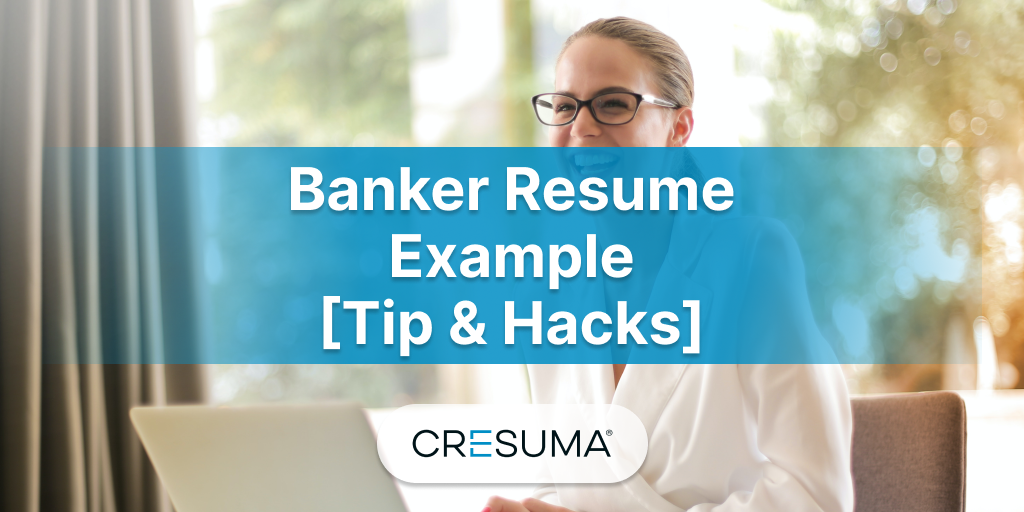 Hey job seekers! Do you want to achieve your dream job in a reputable bank? So, you need a perfect banking resume. Take the guidance of the following best tips to make your resume stand out.
No hidden costs. Download your ATS-Friendly resume in PDF for absolutely FREE!
Banker Resume
No need to start from the beginning. Edit this resume sample with your information and keywords from the job posting.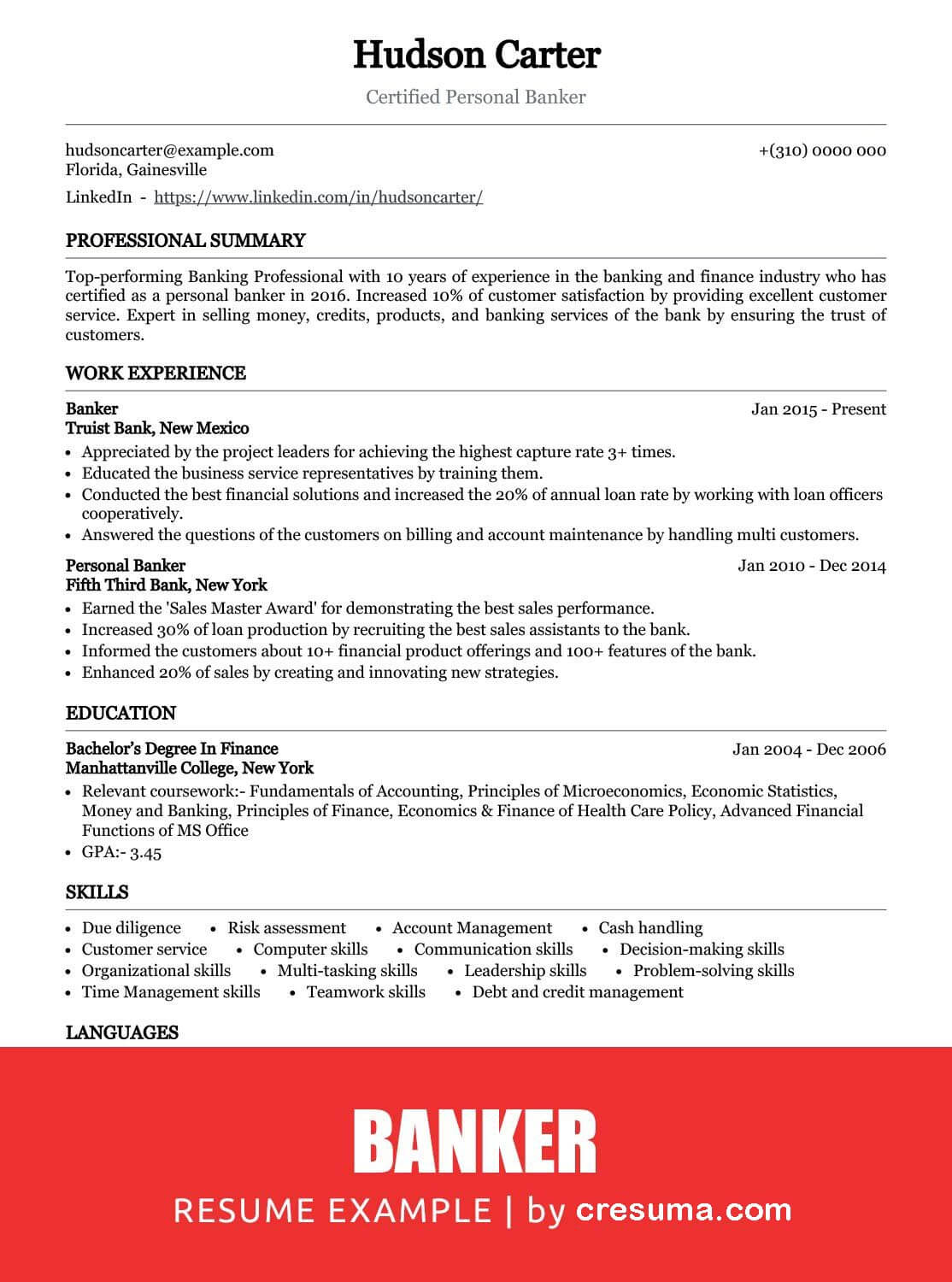 The Best Tips for a Job-Winning Banker Resume
Are you a beginner in the resume writing process? Read our complete guide on 'how to write an excellent resume' You can follow these tips to enhance the worth of your banking resume and gain more interview opportunities

.
Make Your Job Title Descriptive and Impressive
The relevant certifications and unique skills can make your job title descriptive. Also, a descriptive job title can impress the recruiters and draw their attention to your banker's resume.
Just think that mentioning 'Banker' is more common. But if you state 'Certified Banker' as your job title, that is more interesting and draws the attention of readers. So try to make your resume stand out with a descriptive job title.
Build the Top Career Achievements in the Banking Field
The ability to introduce the bank products and services is another duty the hiring managers required from the banking candidates. So make an effort to add the achievements that showcase how you increased the sales of prior banks by using your talent in marketing and education about emerging bank technology and digital solutions such as ATM, mobile, and online offerings.
The hiring managers have preferred flexibility in scheduling such as evenings, weekends, and holidays. Because there are fewer applicants who accept any schedule. So, create some achievements to reveal that you have accepted and worked different schedules.
Also, the recruiters want to hire applicants who can work in a high volume, stressful and noisy environment. Therefore try to reveal that you have successfully worked in such an environment from your career achievements.
Understand the Worth of Soft Skills for a Banker
Communication skills:- A banker should be an expert in verbal and written communication. Because contact with the clients, providing relevant information about the loan or account details, filing financial reports are the basic responsibilities of a banker.
Teamwork skills:- Usually bankers work as a team. So the positive attitude of working with other team members cooperatively and trying to achieve the official branch goals are essential to be a professional banker.
Time Management skills:- Customer handling is the main responsibility of a banker. So the time management skill helps to reduce the number of customers in the waiting area, enhance customer satisfaction and engagement. So surely mention in your resume that you can manage the time well.
Basic Computer skills:- Bankers have to enter data, maintain financial software, operate computers and other office machinery in their duty time. So the computer competency is very important to conduct the daily duties of bankers.
Don't Forget to Mention the Best Banking Resume Skills
The following hard or technical skills are very important to be a professional banker. Because all or majority of them are required in many banker job posts.
You can insert them in your resume summary, work experience, or other sections. Especially the main area to place them is the skills section.
Account Management
Banking databases and software
Customer service
Cash handling
Customer complaint resolution
Due diligence
Debt and credit management
Financial analysis
Investment management
Mutual & hedge funds
Risk assessment
Relationship Building
Training and Mentoring
Reveal You are a Certified Banker
The recruiters love to see extra qualifications from the applicants' resumes. Certifications are specific points to showcase your scope in the banking field. Therefore if you have any certification related to the banking industry, mention the details under the 'Certifications & Licenses' section.
You need to state at least the certification name, certified date, and organization under each certificate. Also, the certification number and URL can mention in further detail.
Here are some famous certifications related to the banking field.
Certified AML and Fraud Professional (CAFP)
Certified Corporate Trust Specialist (CCTS)
Certified Enterprise Risk Professional (CERP)
Certified Financial Marketing Professional (CFMP)
Certified IRA Services Professional (CISP)
Certified Regulatory Compliance Manager (CRCM)
Certified Retirement Services Professional (CRSP)
Certified Securities Operations Professional (CSOP)
Certified Trust and Fiduciary Advisor (CTFA)
Submit a Banker Cover Letter with Your Resume
Do you know how to write an impressive cover letter? Our full guide on 'How to write an impressive cover letter' will help you to create your banker cover letter. Because a cover letter can grab the attention of the recruiters to your resume. So do not forget to attach a well-written cover letter with your resume

.
Text Version (Banker Resume)
Hudson Carter
Certified Personal Banker
Florida, Gainesville
+(310) 0000 000
hudsoncarter@example.com
LinkedIn – Linkedin:- https://www.linkedin.com/in/hudsoncarter/
Professional Summary
Top-performing Banking Professional with 10 years of experience in the banking and finance industry who has certified as a personal banker in 2016. Increased 10% of customer satisfaction by providing excellent customer service. Expert in selling money, credits, products, and banking services of the bank by ensuring the trust of customers.
See the complete resume summary guide
Work Experience
Banker – 2015/Jan to Present
Truist Bank, New Mexico
Appreciated by the project leaders for achieving the highest capture rate 3+ times.
Educated the business service representatives by training them.
Conducted the best financial solutions and increased the 20% of annual loan rate by working with loan officers cooperatively.
Answered the questions of the customers on billing and account maintenance by handling multi customers.
Personal Banker – 2010/Jan to 2014/Dec
Fifth Third Bank, New York
Earned the 'Sales Master Award' for demonstrating the best sales performance.
Increased 30% of loan production by recruiting the best sales assistants to the bank.
Informed the customers about 10+ financial product offerings and 100+ features of the bank.
Enhanced 20% of sales by creating and innovating new strategies.
Education
Bachelor's Degree in Finance – 2004/Jan to 2006/Dec
Manhattanville College, New York
Relevant coursework:- Fundamentals of Accounting, Principles of Microeconomics, Economic Statistics, Money and Banking, Principles of Finance, Economics & Finance of Health Care Policy, Advanced Financial Functions of MS Office
GPA:- 3.45
Skills
Due diligence
Debt and credit management
Account Management
Risk assessment
Customer service
Cash handling
Communication skills
Decision-making skills
Organizational skills
Multi-tasking skills
Leadership skills
Problem-solving skills
Time Management skills
Teamwork skills
Computer skills
Languages
English – Native Speaker
French – Very Good Command
Russian – Working Knowledge
German – Working Knowledge
Certifications
Enterprise Risk Professional Certification 2015/Feb
American Bankers Association
Want to build a perfect resume by yourself? Click on the below button.
Want to get a perfect banker cover letter created by an expert?
People who read this also read: