How to Write a Catchy Resume Headline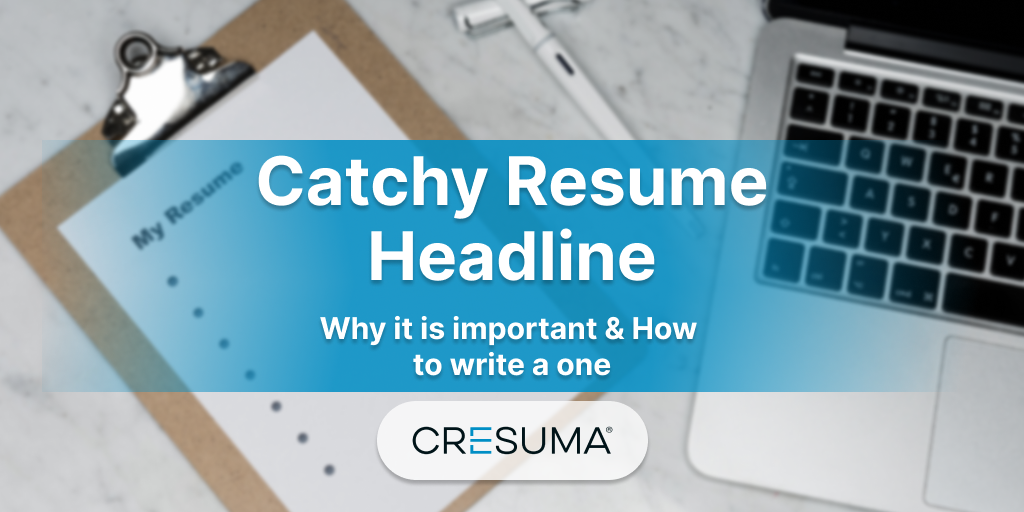 Do you know that a Resume Headline can attract recruiters to have a deep look at your resume?
A perfect resume headline is one of the critical factors that will decide if you will land your dream job. Why do I say this? Well, it is the message that delivers the ideal image of your personality and your capabilities and thus convince the hiring manager or the recruiter. So, the resume headline has and should be given a lot of weight on it. Let us find out more information about the Resume headline.
What is a Resume Headline?

The Resume headline is the initial introduction of yourself with your work experience, skills, capabilities, and professional background. A striking headline will encourage the companies and the recruiters to look at your resume with more attention and respect. It also will allow you to pass applicant tracking systems (ATS) easily and ensures that your resume CV reaches gets read by the company you apply for. So make sure to add catchy keywords to your resume headline.
Advantages of  a Resume Headline
Make your Resume Standout among others
Having a resume headline helps recruiters identify your resume separately as a unique one from the applications or the resumes that don't have them.
Grab the Hiring Manager's or the Recruiter's  Attention

Remember, we have said this many times. Recruiters or hiring managers are really busy reading applications. They usually spend only 7-9 seconds reading an application. Therefore, having resume headline helps you briefly showcase your strengths and achievements etc. and thus encourage them to read your application fully and consider.
Help Recruiters Get an Overall Idea of your Background Immediately
Having a good resume headline helps contextualize your resume. Meaning if the recruiter get to know about your professional background both easily and immediately, they are more likely to interpret your resume's whole information very quickly.
Highlights your Resume
A headline on a resume always highlights you. Meaning the recruiter will soon get to know of your achievements and strengths.
What Should I Include in My Resume Title?
When you write your resume, you must be careful about what to mention in your headline. As you already know, the headline is a crucial feature; it should be striking and attention-drawing. Therefore having a good idea on what to include on your resume headline will definitely be beneficial to expect positive results from the recruiter's side.
A good resume title is often the job title you target to go into. Also, it has the skills you process and your qualifications. Some include years of experience as well. Additionally, you may add your achievements with the awards if you need them to look more appealing.
When we talk about the style, well, the writing style matters a lot. It is always one brief phrase. Do not mind if it s not a complete sentence. You only need to express your idea well. If the phrase is extended, you will lose the purpose of the Resume title. The main goal of it is to highlight your value and your capability as a candidate. If the description is longer, it will ultimately drive the purpose out of track. Make sure to use the resume keywords rather than resume buzzwords that demonstrate your resume skills and abilities along with the experiences you have.
If you need more clarifications on the resume headline, it is the brief description under your name and above your resume summary. Below are the key points that you need to highlight in the title of the resume:
The title needs to be short. Just a single sentence can serve the purpose
It needs to be unique and memorable so the viewer can remember it
Always write it in the title case, just like a newspaper headline
Some Essential Points you Can Use When Writing your Resume Headline
Start with a promise. Make a statement of your expectations in serving the company you wish to join.
Make it enjoyable with verbs and adjectives that are catchy./li>
Ask a question or make a comparison.
State a controversial opinion that draws the attention of the reader.
Make it to the point, and do not make it too lengthy.
Paly with the language and make it more interesting.
Best headline for resume and job profile
Let us now see what tips we can follow to write the best headline for a resume or a profile. Here are a few trusted tips.
Keep the headline brief and straightforward. The main goal is to add value to the candidate. Anything longer destroys the purpose of the headline.
By making your heading or the headline capital, you can make it more outstanding to draw the reader's attention directly.
Make sure to incorporate your skills in an excellent way to match the job listing so that it shows the importance of your application.
Do not write a generic headline. Make it more job-specific so that it shows relevance well.
Use the keywords relevant to the job listing. So that the recruiting officials can directly relate your resume to their needs
Do not use the common phrases that employers use in their resumes. Make it unique and outstanding.
We hope that the readers are clear about these tips we shared above. Also, we would like to share a few Resume headline examples so you can get a clearer picture. They are attention-grabbing and catchy.
An award-winning editor with skills in Web Designing
Cook with vast knowledge and experience in fine dining
Successful marketing manager in organizing campaigns and promotions
A goal-oriented Senior accounting with ten years of experience in the field
A rewarded army veteran with determination and a strong work ethic
An experienced nursing graduate with a particular focus on rural health care
So above are a few examples o how you can put up your headline for the resume in a more focused approach.
Resume headline for fresher
If you are writing your resume for the first time, you need to be more careful and think of certain aspects to get it right. Let us see how we can guide you out with such a matter.
Do not forget to mention your internship details and your experience so far in the headline. It is essential as it adds some value to your resume. You can also mention a few facts about your job profile and the personal attributes that can help the company to grow. But with all this, remember that the headline has to be short. Do not make it; please do, as it destroys the goal.
When you think of putting up the headline in the resume for a fresher, you can consider the points mentioned below.
Review the job description carefully and understand it well. You need to have a clear picture of the specific requirement of the job.
You need to write a job-specific job line.
Make sure to choose the correct keywords.
Keep it short, simple, and straightforward.
Mention the headline at the top of your resume.
Do not forget to format your resume headline.
What to Include on a Fresher Resume Headline?
This is what common questions freshers ask when it comes to Fresher Resume Headline. Let us help you with it.
Educational qualifications.
Certifications and professional memberships
Academic achievements.
Relevant skills
Language proficiency
Any other necessary information such as the internships etc.
Include these if you are a fresher writing a resume for your dream job.
Resume headline for Naukri

As in other Resumes, you need to consider the headline an essential point when writing your Resume for Naukri. Make sure to write it most straightforwardly as the recruiting persons will not have time to go through lengthy descriptions of your resume. Make it short but effective with all the needed details mentioned very briefly. The headline section of Naukri allows only 250 words.
That means you must properly plan your headline, so you do not miss anything important. Yet it would help if you made it attractive and catchy that the recruiting persons want to read.
Here are several examples that you can refer to. These are the ideal types you can use as the headline for the Naukri resume headlines.
As a statistics graduate, I have five years of experience developing analytic solutions for the E-commerce sector. I deeply understand the methodologies and am skilled in SAS, R, and Python. Looking for an opportunity as a Manager of Analytics
Financial Analyst-Bachelor's degree in finance, excellent experience handling business intelligence tools and dash boar reports. Skilled at analyzing financial data, budgeting, financial forecasting, and modeling tools.
I process a Master's degree in accounts and am capable of handling accounting operations and cash flow management. Strong knowledge of GAAP, Financial Reporting, industry trends, auditing, and taxation
Above are a few examples you can follow as the models to create your headline for the resume.
Indeed Resume Headline
Like Naukri, you need to be cautious of the content you write in your headline for the Indeed Resume. A sentence summary of your skills and capabilities is sufficient enough to show off your potential. Use appropriate keywords and write in an active voice to describe your experience. Use key active words. Include your top achievements as well.
Keep it short and to the point. Find your unique strengths and mention them in the headline. Make sure to use numbers when you indicate your years of experience. Avoid using the common phrases that you can see in regular resumes. Make sure of the keywords and be job-specific.
So dear readers, we hope that you can gain some knowledge on writing the best resume headline for your resume. Be sure to follow the guidelines we mentioned, and also remember to add your qualifications and achievement.
Final word for Job Seekers
After all, you have to be proud of yourself, and you need to show that in your resume, so that the people who recruit will remember your outstanding resume. More than anything, keep in mind that the resume reflects your personality, qualifications, and achievements. It indeed creates demand. Also, it is the first impression the employee gets of yourself even before they meet and see you at the physical interview. So make sure to use more resume tips to build your resume.
People who read this also read: How to Write a Perfect Resume
Enjoyed Reading?
Help Cresuma cover the server and other costes to continue this 100% Free Service. Show your support below.