Property Manager Resume Complete Guide 2023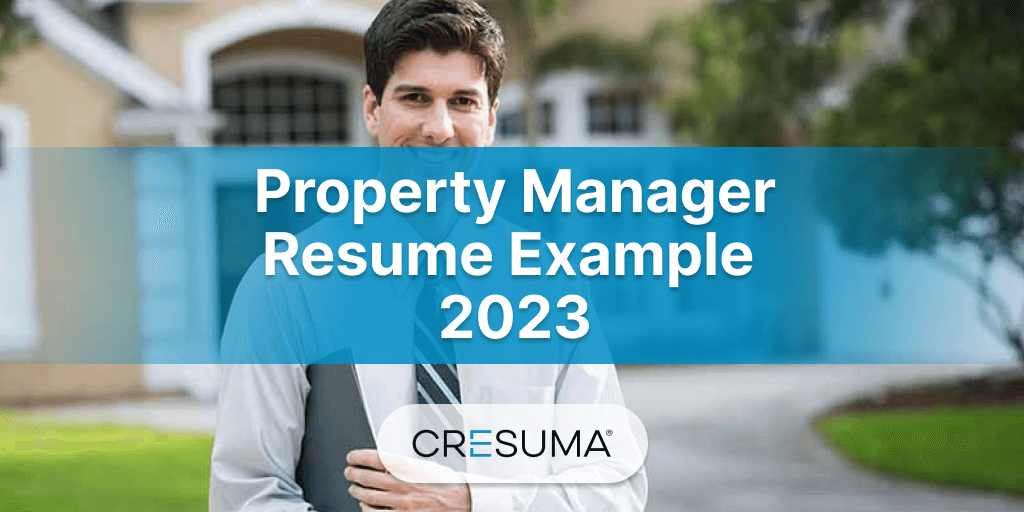 This article is a complete guide on how to write a professional Property Manager resume to secure that ideal job! Resume writing is a serious deal because it's what conveys the hiring manager the first impression about you! Therefore, we took the liberty to address some of the most asked key concerns about Property Manager CV writing.
This detailed article walks you through,
Cresuma Resume Builder is a one-stop destination to build your property manager resume and validate it!
How to write a Property Manager Resume?
#1 Write an impressive profile summary.
Profile summary is important as it's one of the first spots to leave a lasting good impression about you. When writing the profile summary, pay attention to the key factors below.
Focus on key highlights as a property manager.
Embed keywords related to the job description for property manager for resume.
Try to make it measurable.
It should be brief and precise with 2 - 3 sentences.
#2 Make your experience measurable.
One of the biggest mistakes that can be seen in property manager resumes is that experiences are summarized in a very general way rather than making them measurable. If you do this, you are missing the point of demonstrating your expertise aligned with what the recruiter seeks. Most importantly, try to include any products or software you used in the context that helped you excel in your role. Also, if possible, quantify your achievements by indicating figures such as success rates. This is one way to make your CV stand out!
#3 Maintain relevancy in Education and Certification
It's important the educational qualifications that you add are relevant to the role. You may be competing with hundreds of other applicants. Therefore, relevancy matters to be shortlisted. While briefing the academic history pay attention to the following points.
The highest level of education should come first.
Make sure to add the duration of your study.
Add the awarding body/ institution, name of your qualification, and GPA (if relevant)
Including relevant certifications also boosts the power of your CV. In this case, state,
Name of Certification, awarding body, Received Date
Also, if there are certifications that are not directly related to the Property Manager portfolio yet cater to the soft/ technical skills it requires, adding them provides extra benefits.
#4 List out the relevant skills.
We have dedicated a whole section about skills below as both relevant soft skills and technical skills are crucial to make a positive impression.
Skills for Property Manager Resume
The skills section is vital in your property manager resume for it focuses on your competency in the role hence helping the reader to determine you as a suitable candidate. Before putting a general skill list in, take a good look at the advertised property manager job description for resume to identify what the company seeks in you.
Here in skills, technical skills are as important as your interpersonal skills. Take a look at some of the key skills that you can include. Here, we've listed out some industry-recognized synonyms, so you may notice that some words give very specific meanings, whereas some are general in meaning. However, which word to choose among the alternatives should solely based on what the job description says.
Real Estate Management | Asset Management | Rental Property Oversight
Tenant Relations | Resident Engagement | Leaseholder Communication | Occupant Interaction
Lease Administration | Rental Agreement Management | Lease Oversight | Tenancy Documentation
Maintenance Coordination | Repairs and Maintenance Organization | Facility Management | Building Upkeep
Budgeting and Financial Analysis | Financial Planning | Expense Management | Budget Oversight
Marketing and Advertising | Property Promotion | Rental Marketing | Advertising Campaigns
Conflict Resolution | Dispute Mediation | Issue Resolution | Problem-Solving
Legal Compliance | Regulatory Adherence | Legal Obligations | Compliance Management
Property Inspections | Site Surveys | Building Evaluations | Inspection Reports
Customer Service | Client Support | Tenant Assistance | Resident Care
Vendor Management | Supplier Coordination | Contractor Oversight | Vendor Relations
Data Analysis | Information Assessment | Analytics | Data Evaluation
Action verbs for Property Manager Resume / CV
You can use these action verbs to start bullet points describing your work experiences and accomplishments in your property management career. Remember to tailor your property manager resume to the specific job you're applying for and use these verbs to showcase your relevant achievements and responsibilities.
This is only a brief list if you want more action verbs for your property manager resume. However, do you know that the buzzwords kill the potential of your resume? Now you can use one of the leading buzzword-finder below to save your property manager resume!
Managed
Oversaw
Implemented
Coordinated
Organized
Conducted
Communicated
Resolved
Developed
Implemented
Negotiated
Analyzed
Maintained
Supervised
Delegated
Improved
Collaborated
Achieved
Trained
Planned
Property Manager Duties Resume Tips
When it comes to the property manager responsibilities and duties for resume, the following key points should be thoroughly addressed to beat the competition.
Conduct proper research.
When writing an effective property manager resume, doing the initial research is vital. To begin with, initiate research about the company you are applying for. The more you are aware of what the company expects from you, the better you can tailor your property manager's CV to fit the requirements.
Action verbs matter!
Use strong resume action verbs rather than sticking to more general words when it comes to explaining your experience, achievements, etc. The right action verb helps to carry the right meaning to the reader.
Proofread
Submitting a CV with poor grammar and spelling is a big turn-off because it legit shows your lack of professionalism. You can use online tools to check the grammar and punctuation of the content. Also, you can get someone qualified to review your CV for you. Don't risk it. This is a crucial step.
Property Manager Resume Examples / Template
Take a look at the property manager profile sample / example / bio sample given below to gain insight of the DOs in your CV.
Commercial property manager resume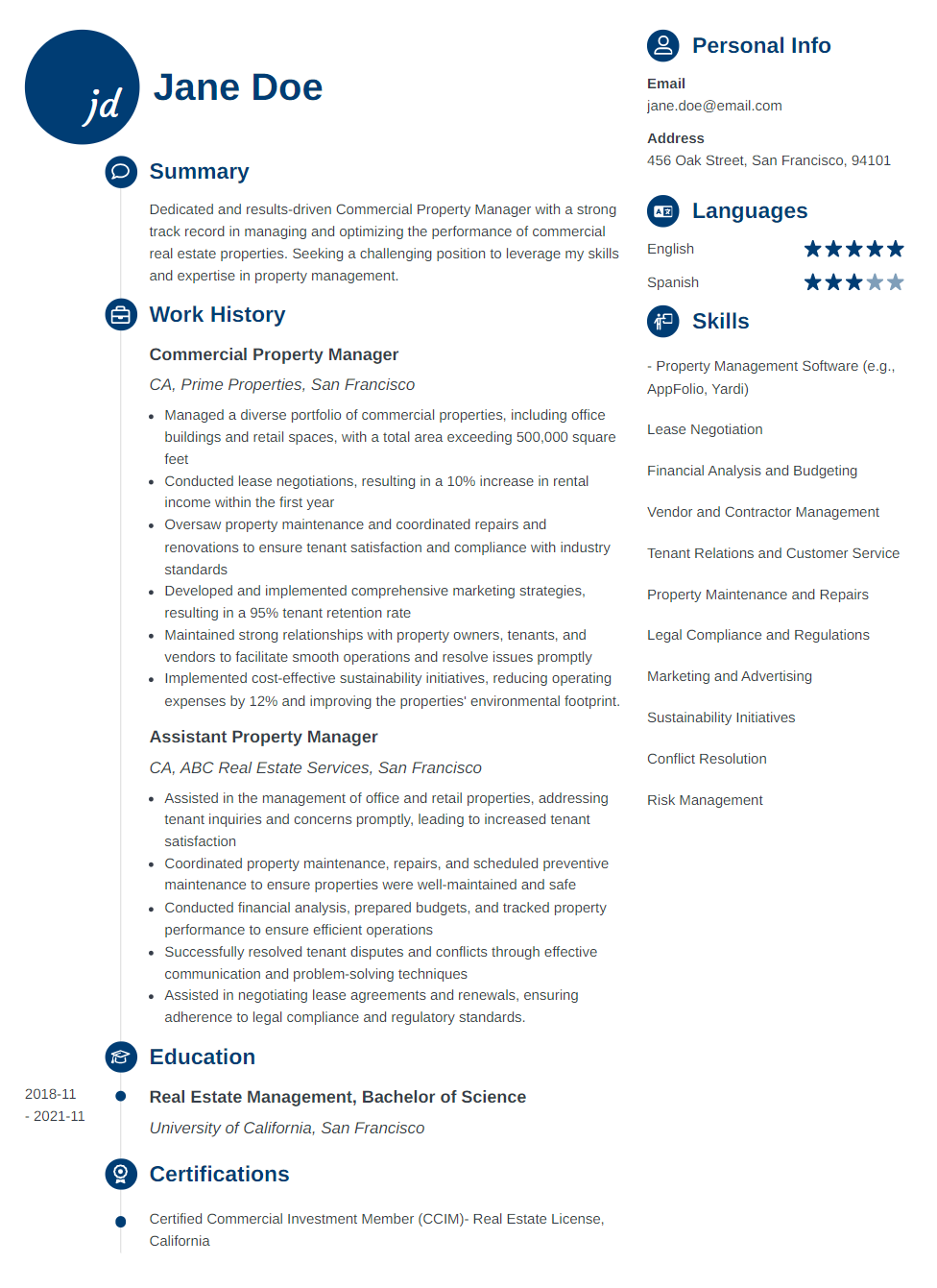 Assistant property manager resume sample / example.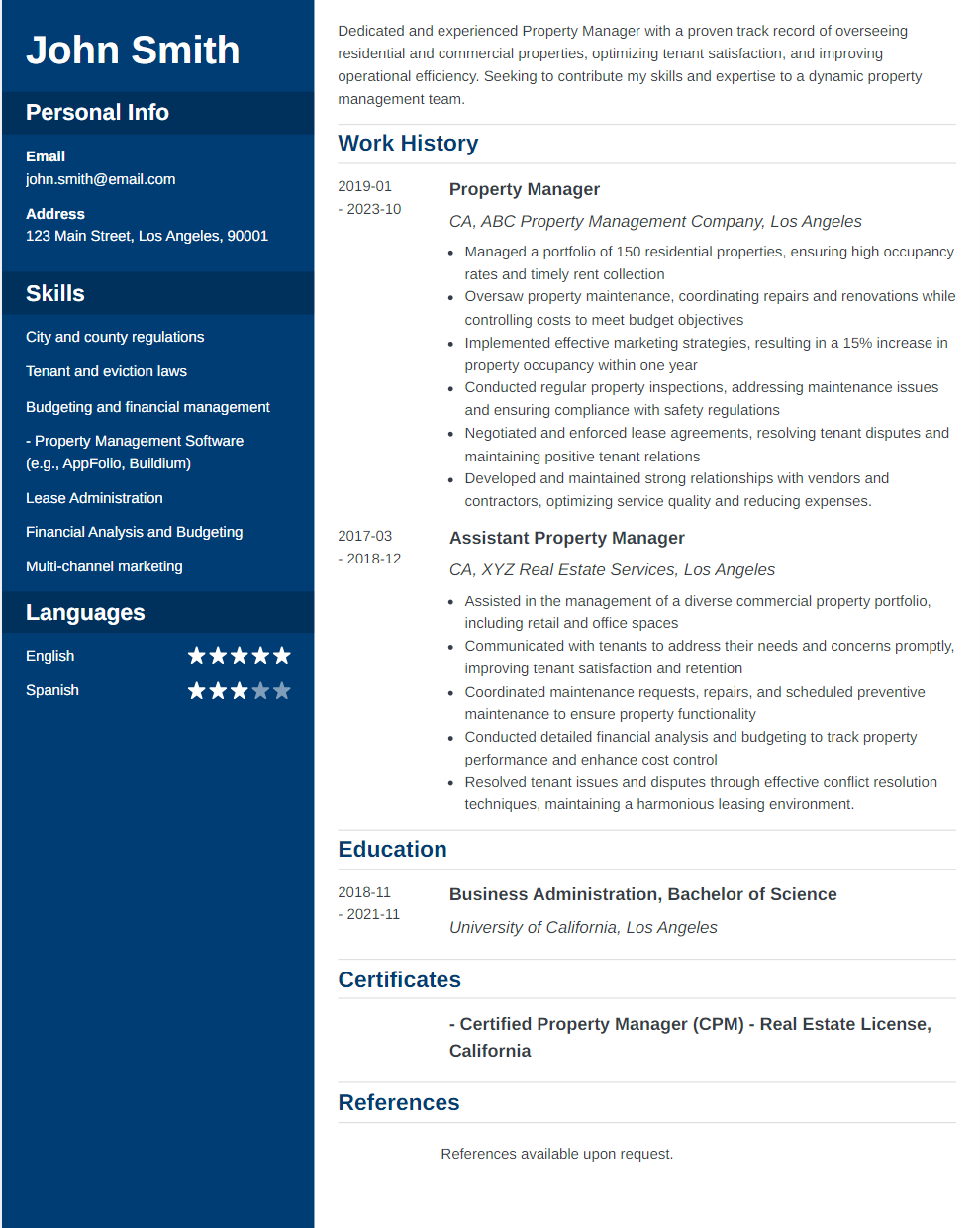 Property supervisor resume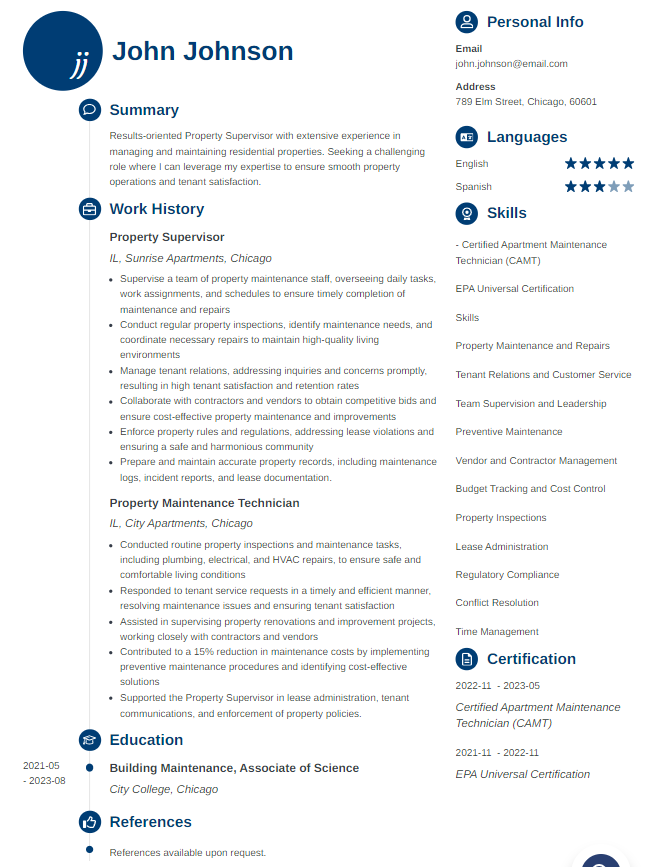 Similarly, whether you require a residential property management / property manager resume, apartment property manager resume, or any other type of property manager skills resume / CV, you can now use the above templates as guidelines to customize yours.
Moreover, our best resume format page can give you further insight into other general concerns when formatting your property manager resume.
We have covered a wide array of other resume examples in many contexts such as photographer resume examples, Construction worker resume samples, Hairstylist CV samples, and many more that you can explore on our Resume samples page.
Our resume writers work hard to provide you the accurate and effective resume solutions. Care to appreciate their work?