Librarian Resume Example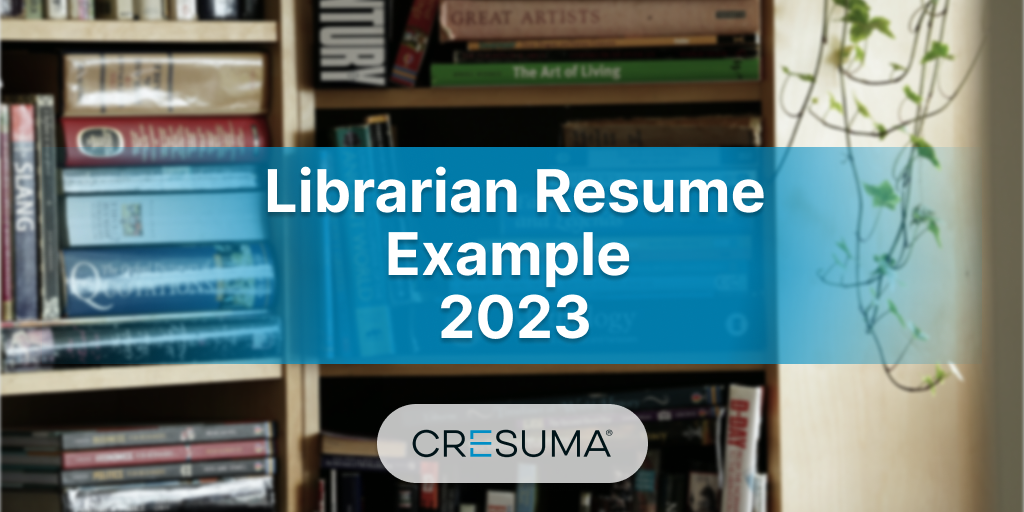 The librarian job position is not tough to achieve if you have a perfect resume. Here are the best tips to make your resume stand out with a few steps.
Librarian Resume
No need to start from the beginning. Edit this resume sample with your information and keywords from the job posting.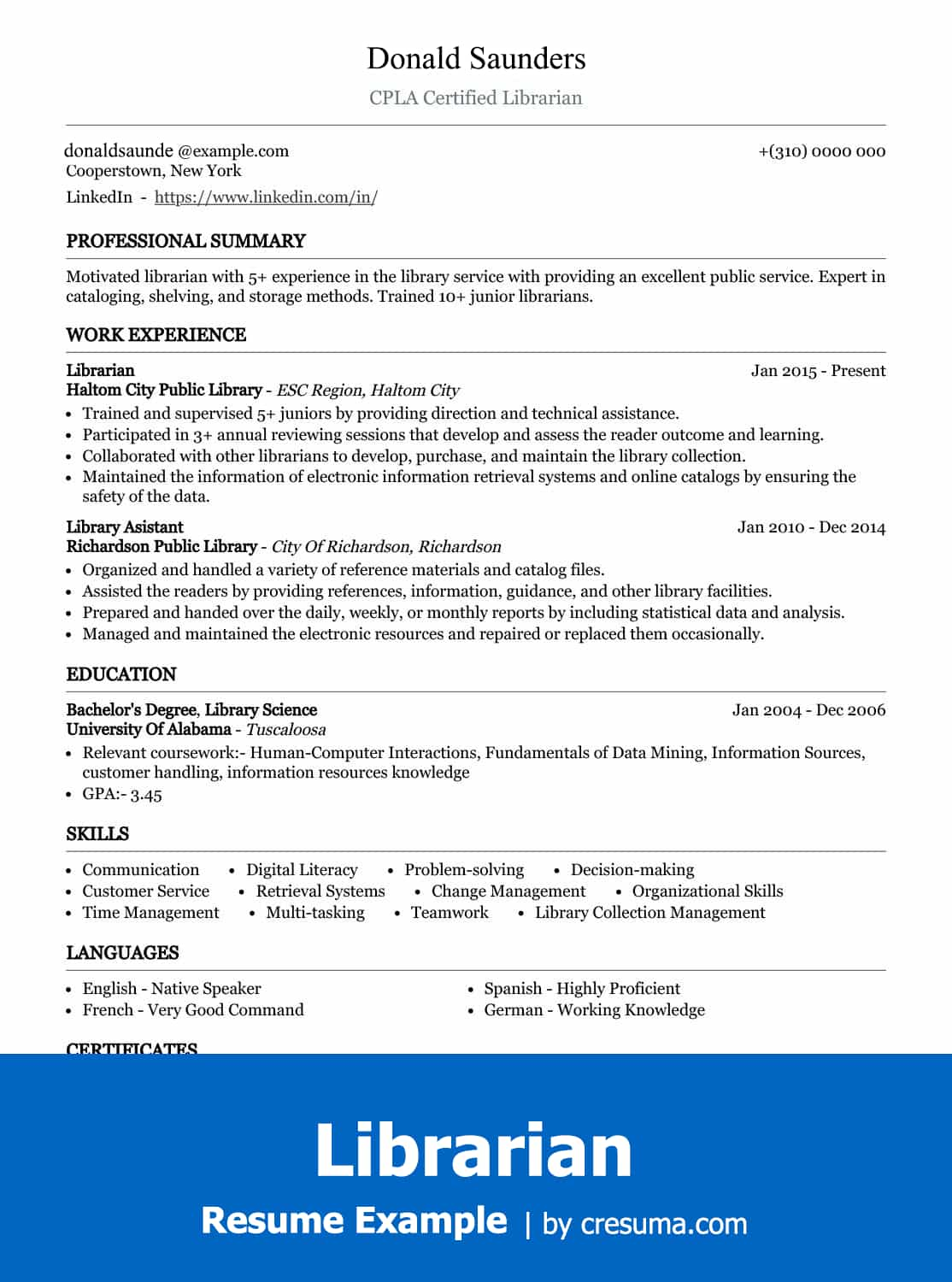 Best Tips to Make Your Librarian Resume Stand out
Make Your Librarian Resume Job Title Impressive
Do you want to draw the attention of the recruiters from the first sight of your resume? Then you need to add a descriptive job title to your resume. In simple terms, you can make your job title more impressive and descriptive by adding a certification or unique skill you have.
Highlight the Top Achievements in Your Career History
Usually, the recruiters want to know how you work before in library service or related fields. That means you need to arrange the most recent and relevant career information in your librarian resume. Here we give you some points to remind you of your achievements according to the hiring personnel's taste.
If you have great experience in supervising junior librarians, clerks, and others within the library you can build up another achievement by adding numeric values and powerful action verbs.
Also try to express that you are a resourceful worker with library principles, methodology, operations, concepts, and management to serve information to the required users. Especially explain how you handled the library by arranging items in alphanumeric and/or subject order.
Not only that, make an effort to highlight your experience in using diverse information sources such as the variety of databases with specialized structure, content, and access protocols.
Reveal You are a Skilled Librarian
Soft Skills for a Librarian Resume
Excellent Communication Skill:- The librarian must be an expert in written and oral communication because the majority of library users tend to get information about books and resources from the librarian.
Interpersonal skills:- The applicant must be a person who can treat people in a friendly manner and the ability to handle angry users is also a plus skill to be a successful librarian in the future.
Advanced computer skills:- The majority of the library systems have computerized and sometimes there are facilities to pay taxes online. Also, there are common electronic devices like fax machines, bar code readers, and printers. So the candidates must be aware of that.
Reading skills:- The librarian must be a book lover. Also reading skill is more important in this job position because not to live with books all the time but to educate the library users about the books.
Problem-solving Skill:- As an administrative handler of the library, the librarian is responsible to solve the problems of that residence. So you need to inform that you have great problem-solving skills by giving evidence, especially with career achievements.
Hard Skills for a Librarian Resume
Hard skills are more related to job duties. That means these knowledge and skills are very important to run the daily duties in a library smoothly. So the hiring managers want to see at least five hard skills in your resume. Here are some of them.
Patron inquiries
Retrieval systems
Acquisition of new materials
User registration procedure
Change management
Proving value
Creativity and innovation
Library Collection Management
Library Organization
Digital literacy
Marketing
Digital Information management
Influencing and negotiation
Developing and managing space
Supporting research in a digital world
Knowledge of books and information sources
Customer Service and Community Relations
Prove Your Certifications and Licenses
There may be several certifications that prove your scope in library service. CPLA certification and Library Support Staff Certification(LSSC) that are issued by American Library Association are the most famous and relevant certifications for a librarian.
However, you need to add a specific section called 'Certifications and Licenses' in your librarian resume and arrange at least the details about certification name, certified date, and organization name.
Add Some Powerful Action Verbs in Your Resume Content
If you are wondering how to find out the most suitable and powerful action verbs for your resume, refer to your job advert. That's the perfect resource to find out the best words. Also, we have listed down the most applicable action verbs in the librarian resumes.
Action Verbs List
Assisted
Provided
Served
Performed
Participated
Provided
Planned
Displayed
Developed
Selected
Searched
Promoted
Organized
Prepared
Read
Supervised
Trained
Created
Updated
Maintained
Express Your Willingness to Engage with Books even the Whole Day
If you are a book lover this job will be very easy and interesting for you. Therefore you can insert a separate section called "hobbies and interests" into your librarian resume. But remember to mention how many books and types of books you have read before. Because that will be a great chance to show your uniqueness.
Attach an Impressive Librarian Cover Letter
The recruiters sometimes request a cover letter from you. Though they request or not you can write a perfect cover letter and attach it to your resume. That will be more perfect if you add your unique and professional values to the cover letter content. Especially try to admire the recruiting company.
Librarian Resume Sample (Text Version)
Donald Saunders
CPLA certified Librarian
+(310) 0000 000

jamesbenjamin@example.com

Cooperstown, New York

Linkedin – linkedin.com/in/donaldsaunders/
Summary
Motivated librarian with 5+ experience in the library service with providing an excellent public service. Expert in cataloging, shelving, and storage methods. Trained 10+ junior librarians.
Work Experience
Librarian

ESC Region, Haltom City – 2015/Jan to Present
Assisted the readers by providing references, information, guidance, and other library facilities.
Maintained the information of electronic information retrieval systems and online catalogs by ensuring the safety of the data.
Participated in 3+ annual reviewing sessions that develop and assess the reader outcome and learning.
Collaborated with other librarians to develop, purchase, and maintain the library collection.
Librarian

City of Richardson, Richardson – 2010/Jan to 2014/Dec
Organized and handled a variety of reference materials and catalog files. Trained and supervised 5+ juniors by providing direction and technical assistance.
Prepared and handed over the daily, weekly, or monthly reports by including statistical data and analysis.
Managed and maintained the electronic resources and repaired or replaced them occasionally.
Education
Bachelor's Degree in Library Science – 2004/Jan to 2006/Dec
University of Alabama, Tuscaloosa
Relevant coursework:- Human-Computer Interactions, Fundamentals of Data Mining, Information Sources, customer handling, information resources knowledge
GPA:- 3.45
Skills
Library Collection Management
Digital literacy
Marketing
Digital Information management
Customer Service
Retrieval systems
Change management
Organizational skills
Time Management skills
Teamwork skills
Multi-tasking skills
Problem-solving skills
Communication skills
Decision-making skills
Languages
English – Native Speaker
French – Very Good Command
Spanish – Highly Proficient
German – Working Knowledge
Certifications
TCPLA certification – 2018/Feb
American Library Association
Hobbies and Interests
Read 500+ books including educational and entertainment books.
Congratulations. Now you know how to build your Librarian resume. Want to start building now? Click the below button
Enjoyed Reading?
Help Cresuma cover the server and other costes to continue this 100% Free Service. Show your support below.