Janitor Cover Letter Example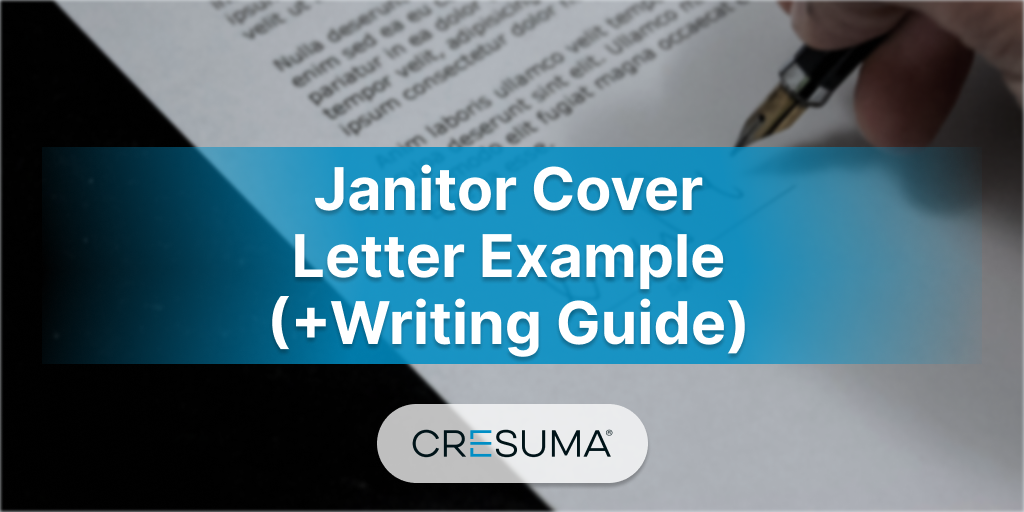 What if you have a clean and clear cover letter that is specially tailored to your targeted janitor job? That will be very helpful to land your dream job quickly in 2023. See the janitor cover letter example and learn how to write an impressive cover letter with the expert writing tips.
Sample Janitor Cover Letter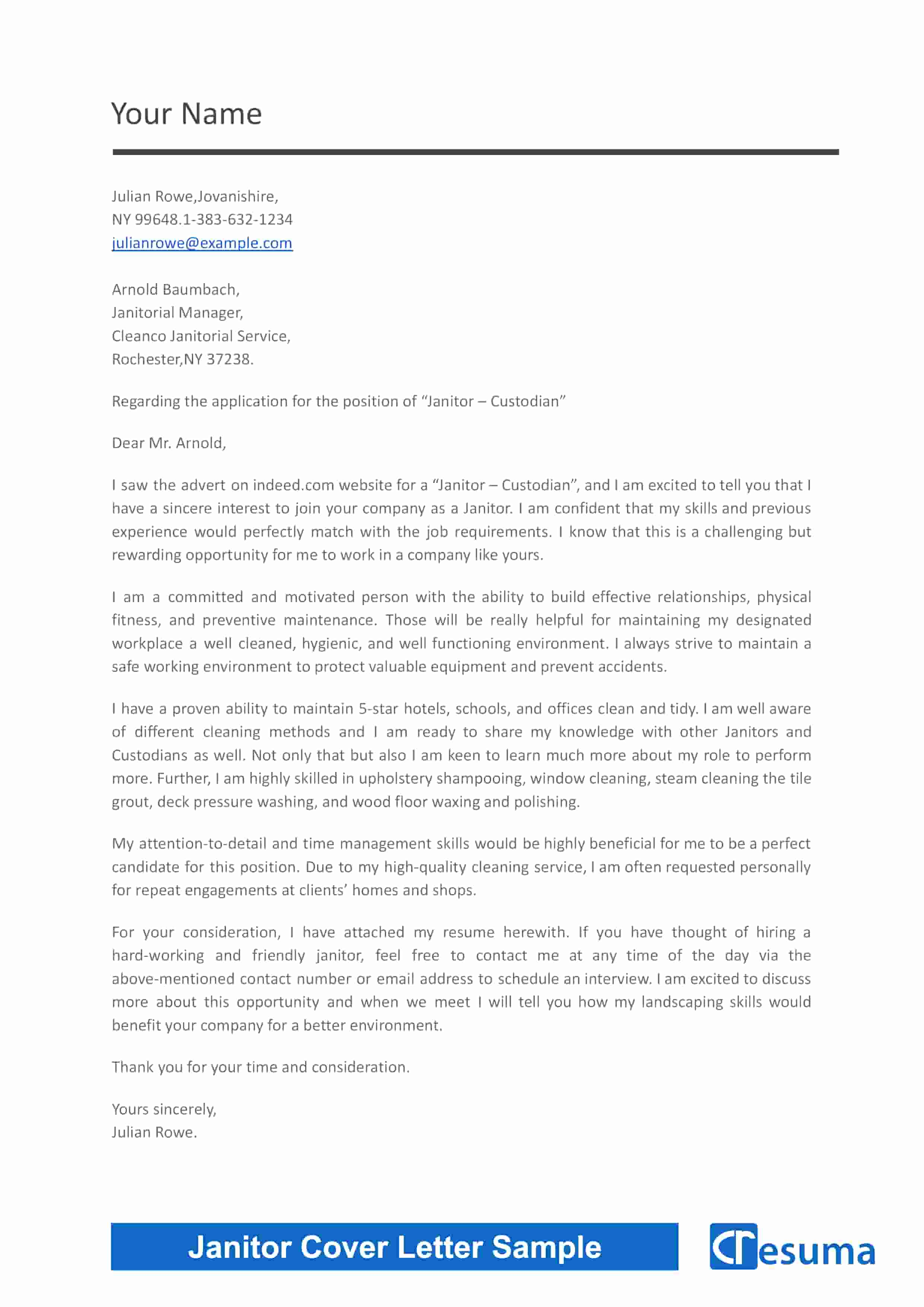 Janitors are considered essential workers who work in a variety of businesses and organizations such as hospitals, schools, hotels, and office buildings, etc. They are the ones who responsible for maintaining a cleaned-up, hygienic, safe environment, and a very well functioning workplace. If you already have a cover letter in your hand, make sure to add action verbs to highlight your resume and cover letter.
To become a skillful janitor in a well-reputed company is no longer a dream if you have a perfect janitor resume and a solid janitor cover letter. A janitor's job duties include: cleaning designated areas, emptying trash bins, vacuuming and cleaning the workplace, steam cleaning carpets, preventing pest infestation, adhering to health and safety regulations, and making minor repairs. You have to include these experiences in your cover letter to receive more job opportunities. Follow more cover letter tips to make your janitor cover letter more impressive.
Janitor Cover Letter (Text Version)
Julian Rowe,
Jovanishire,
NY 99648.
1-383-632-1234
julianrowe@example.com

Arnold Baumbach,
Janitorial Manager,
Cleanco Janitorial Service,
Rochester,
NY 37238.
Dear Mr. Arnold,
Regarding the application for the position of "Janitor – Custodian"
I saw the advert on indeed.com website for a "Janitor – Custodian", and I am excited to tell you that I have a sincere interest to join your company as a Janitor. I am confident that my skills and previous experience would perfectly match with the job requirements. I know that this is a challenging but rewarding opportunity for me to work in a company like yours.
I am a committed and motivated person with the ability to build effective relationships, physical fitness, and preventive maintenance. Those will be really helpful for maintaining my designated workplace a well cleaned, hygienic, and well functioning environment. I always strive to maintain a safe working environment to protect valuable equipment and prevent accidents.
I have a proven ability to maintain 5-star hotels, schools, and offices clean and tidy. I am well aware of different cleaning methods and I am ready to share my knowledge with other Janitors and Custodians as well. Not only that but also I am keen to learn much more about my role to perform more. Further, I am highly skilled in upholstery shampooing, window cleaning, steam cleaning the tile grout, deck pressure washing, and wood floor waxing and polishing.
My attention-to-detail and time management skills would be highly beneficial for me to be a perfect candidate for this position. Due to my high-quality cleaning service, I am often requested personally for repeat engagements at clients' homes and shops.
For your consideration, I have attached my resume herewith. If you have thought of hiring a hard-working and friendly janitor, feel free to contact me at any time of the day via the above-mentioned contact number or email address to schedule an interview. I am excited to discuss more about this opportunity and when we meet I will tell you how my landscaping skills would benefit your company for a better environment.
Thank you for your time and consideration.
Yours sincerely,
Julian Rowe.
PS: The top-secret of my high-quality service is that I love and enjoy what I do and I am delighted when I exceed the clients' expectation levels.
How to Write a Janitor Cover Letter? (Writing Tips)
Create a cover letter header
Before starting a cover letter, you need to mention your name and the most required contact information on top of your cover letter. You can make your cover letter header stand out by mentioning your job title below your name in a larger text. This is a great way to quickly grab the attention of a typical recruiter towards your cover letter.
Address the cover letter
Then give a salutation to the hiring manager with his / her name like "Dear Mr. Arnold." If you do not know the exact name of the person to whom it may concern, you can add a generic greeting like "Dear Hiring Manager."
Start with a brief Cover Introduction
Start your cover letter by mentioning where did you hear about the particular janitor job vacancy. After, continue your letter by explaining your enthusiasm and passion to join with them as a janitorial service provider. Recruiters will love to hire the janitors who enjoy their work. better get an understanding about the job description and go through other resume samples to make a perfect cover letter.
Highlight your Janitor Experience and Other Relevant Qualifications
The cover letter body is the perfect place to mention your related skills. For a janitor position, employers do not focus much on your educational qualifications. However, if you have any educational qualifications up to a certain level feel free to mention them here.
Then briefly describe your relevant work experience. It is always a good practice of cover letter writing that if you can quantify your achievements. For example "Managed floor care, trash removal and restroom cleaning for a hotel with 500+ daily customers."
Show your knowledge of the Company
In the final paragraph, tell something which you know about the company and the company culture. This will impress and let the reader think that the candidate has a good knowledge of their company. So they will pay more attention to you in the future. Tell them why would like to work there. These could be some interesting facts about the company.
End the Cover Letter with a Call to Action
Invite the recruiter to read your attached resume and to contact you if they have furthermore questions to ask. If you have written a perfect janitor resume, they will place your application on the shortlisted resume pile for sure.
End your cover letter with a friendly closing line
Thank the recruiter to spend their valuable time to read your cover letter and for their consideration. Tell them that you are looking forward to hearing from them. Finally, add "Sincerely" and then your full name or the signature.
Add an Impressive Postscript
Postscript is a great way to impress a recruiter. Though postscript writes at the end of the cover letter, recruiters used to read it before going through your whole cover letter. So if you be able to write it in an impressive way you will be get noticed – fast.
Most In-demanded Skills for a Janitor cover letter
Teamwork
Problem-solving
Time management
Organization Skills
Detail Oriented
Attention to safety
Knowledge about cleaning procedures and practices
Knowledge of safety practices
Physical Fitness (for lifting, bending, and standing for long hours)
Experience with hand and power tools
Building effective relationships
Preventive Maintainance
Best Janitor Cover Letter Action Verbs
Organized
Coordinated
Delegated
Responded
Initiated
Maintained
Improved
Scheduled
Removed
Wiped
Cleaned
Filled
Washed
Fixed
Monitored
Checked
Applied
Assisted
Build
Gathered
Inspected
Observed
Recorded
Replaced
Sanitized
Shoveled
Swept
Download Free Janitor Cover Letters
Template 1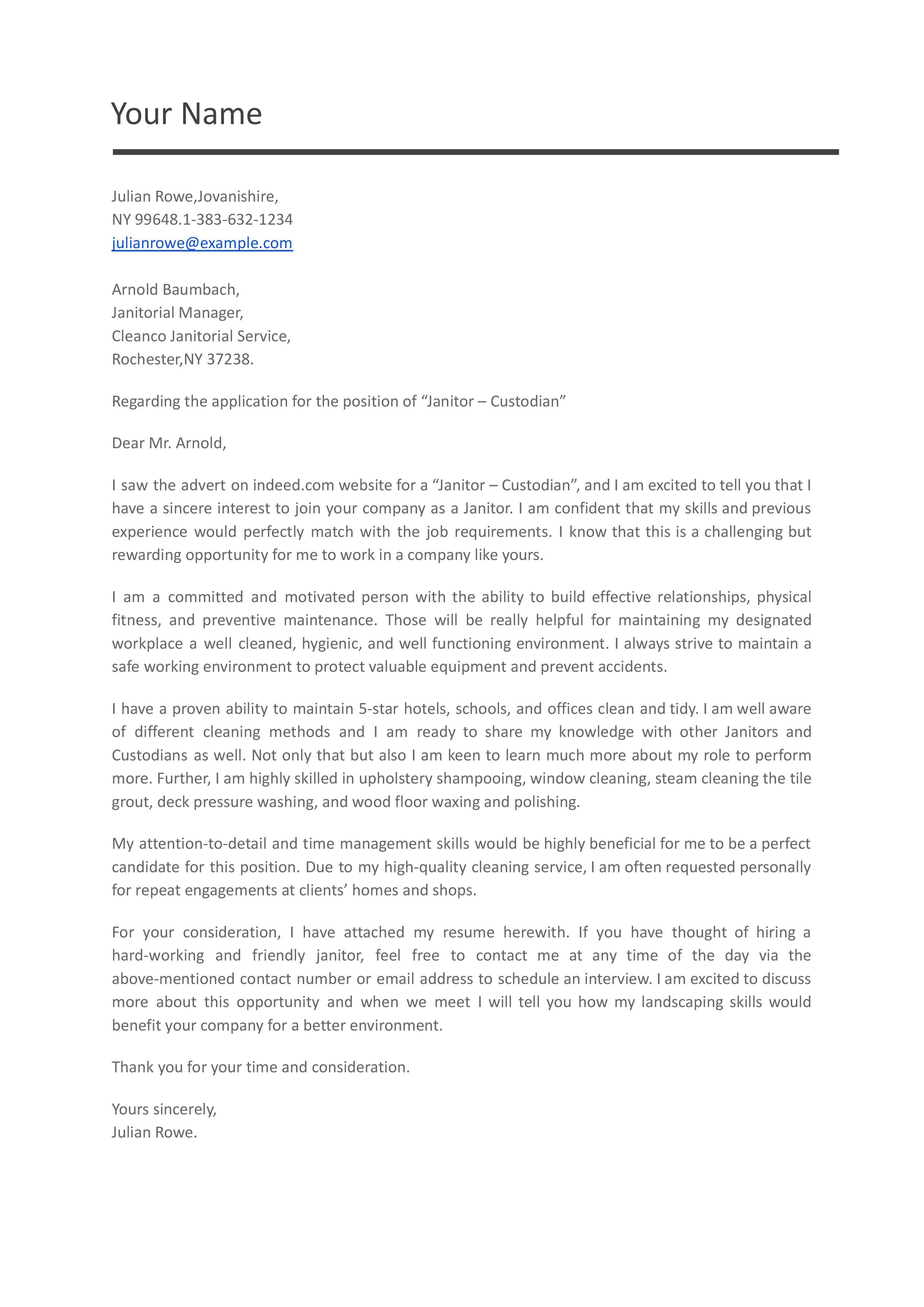 Template 2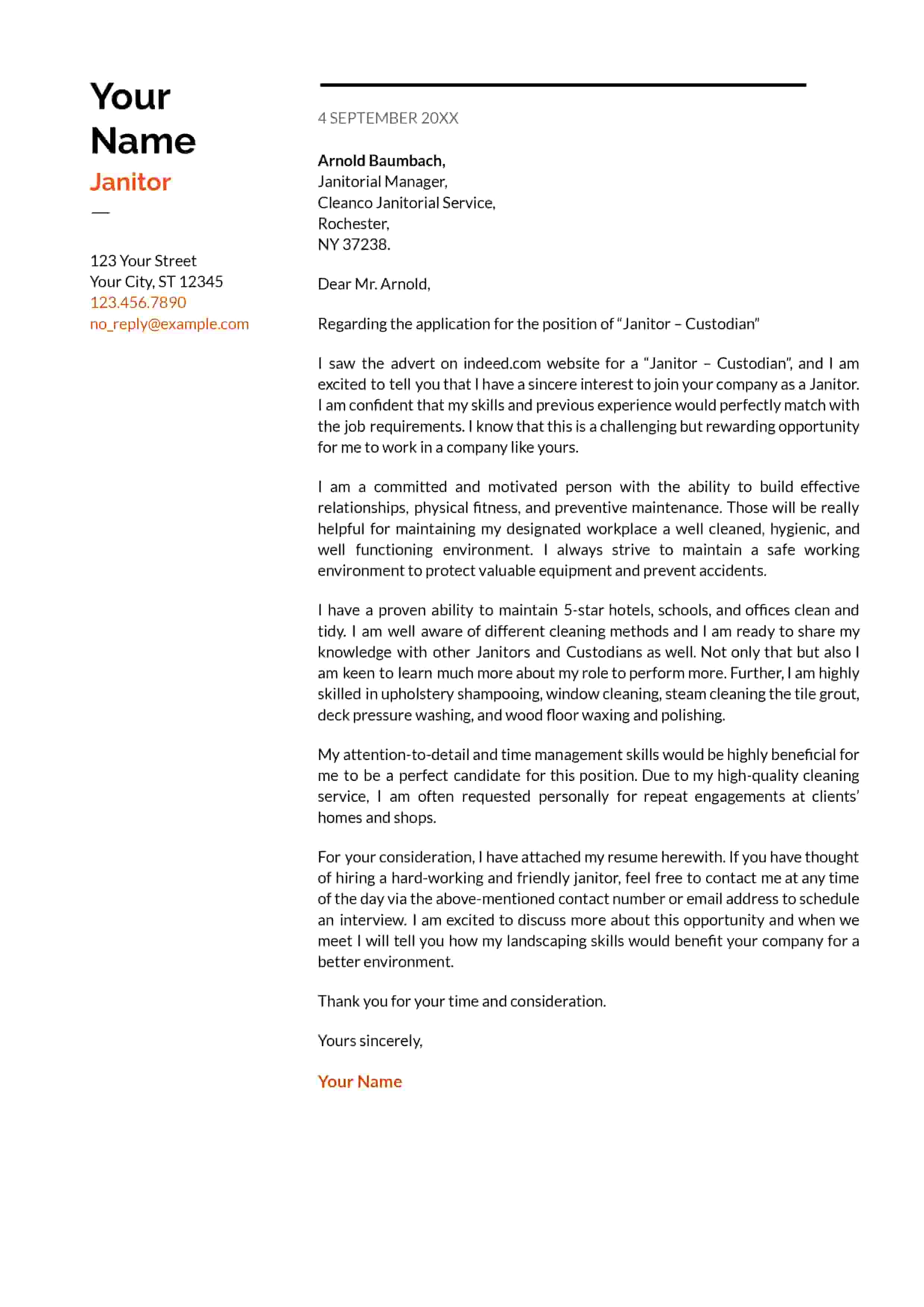 Template 3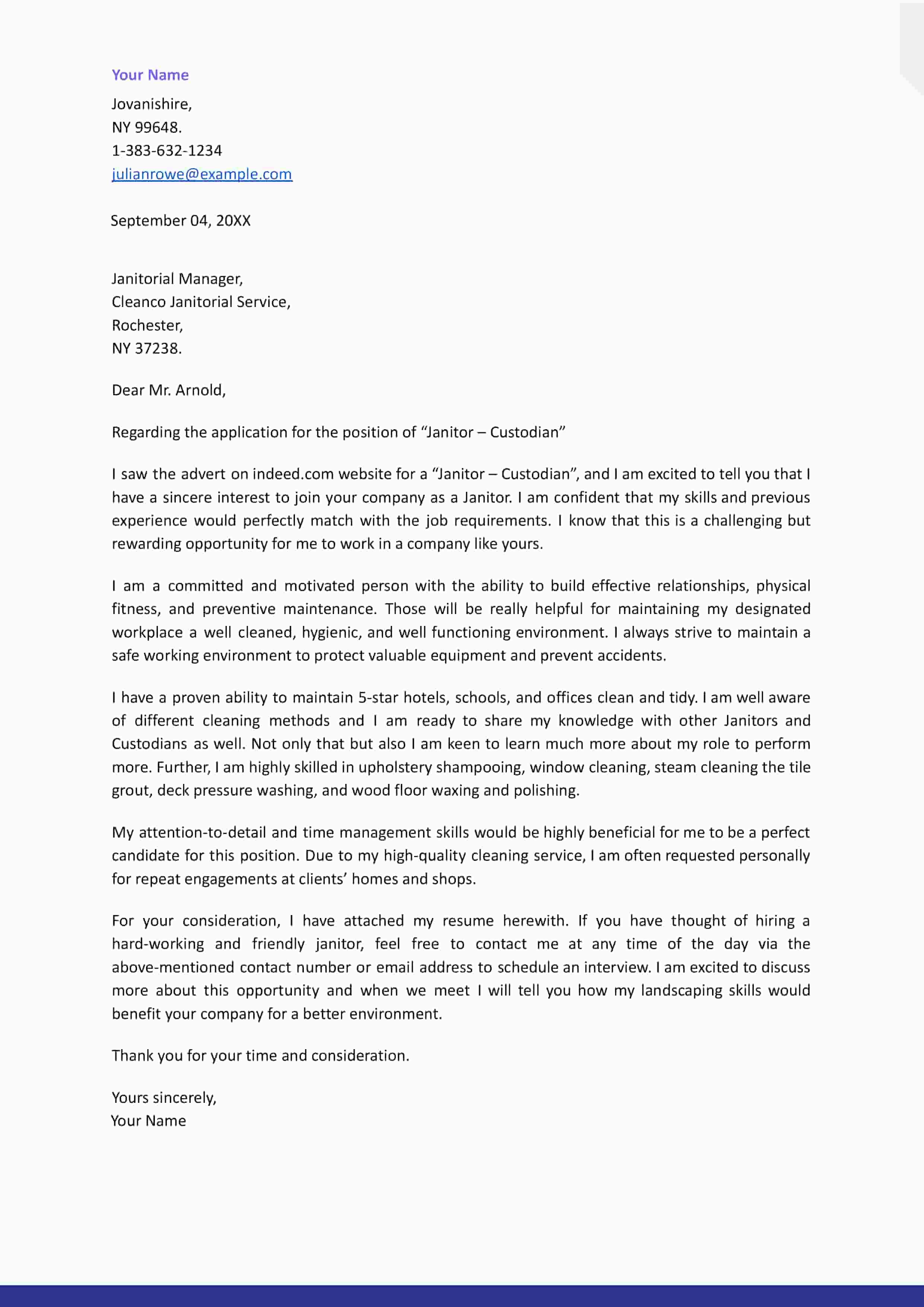 Template 4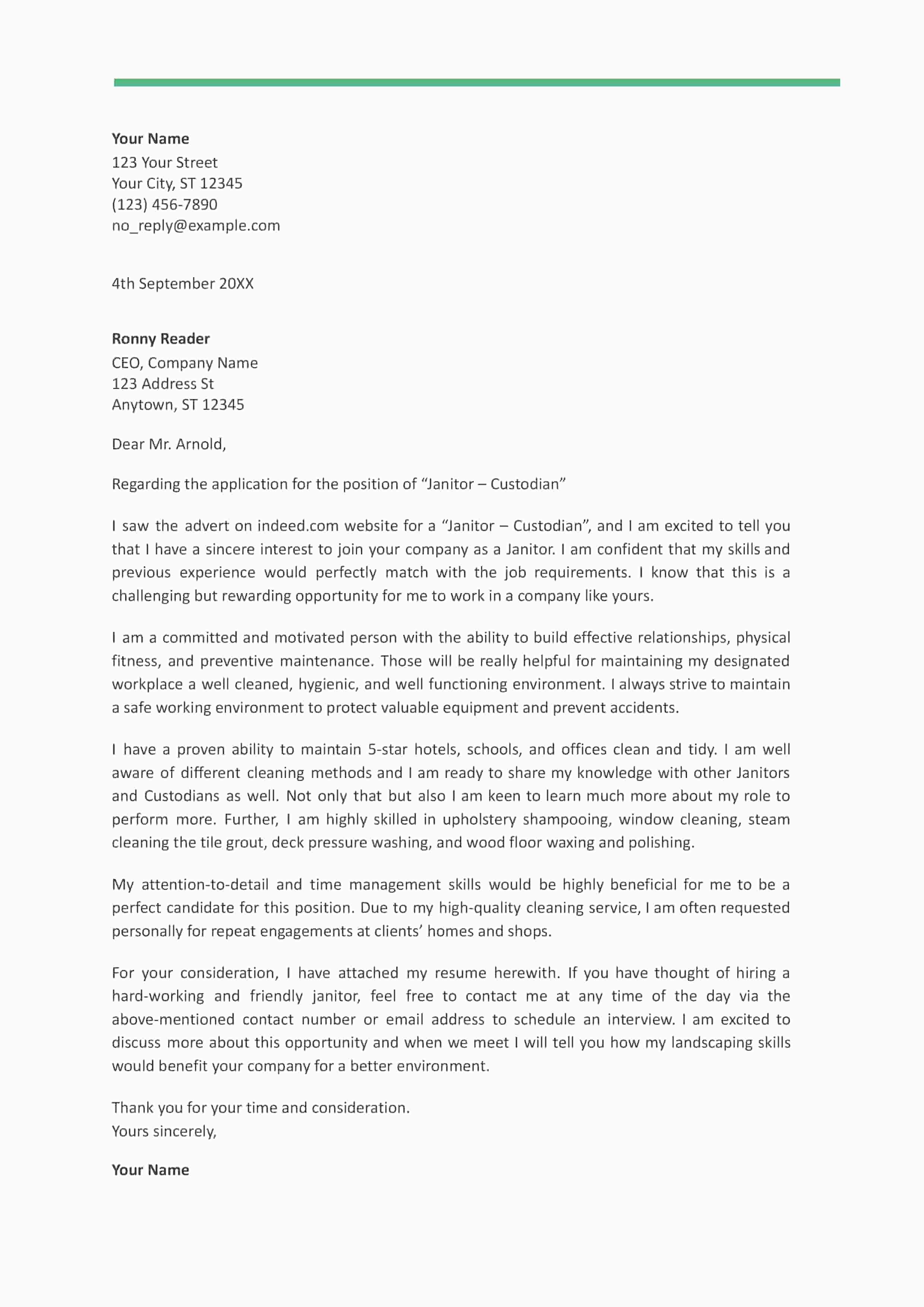 Template 5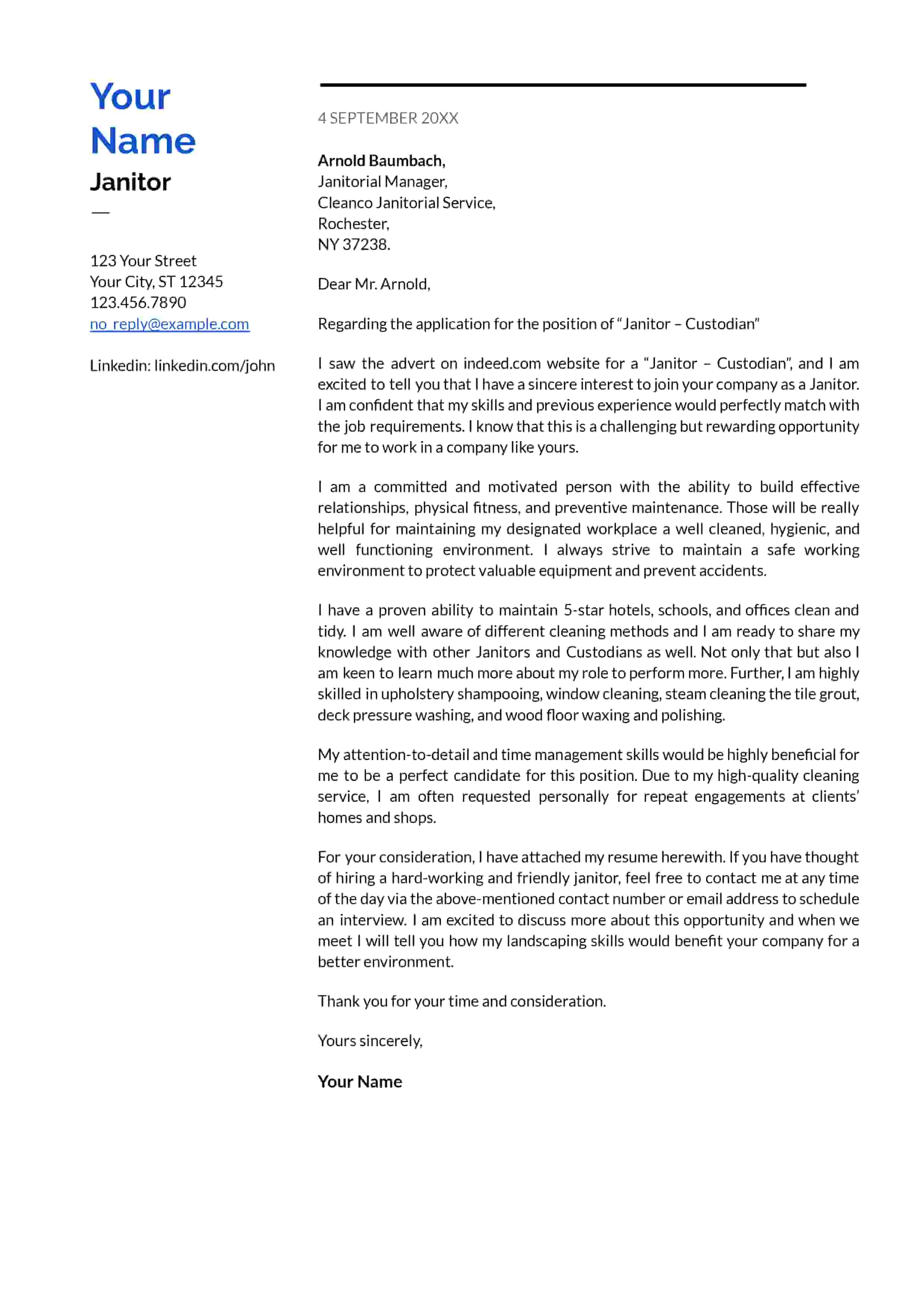 Now it's time to learn how to write a resume for a janitor. Make your resume according to our expert guidelines and tips to increase your job opportunities by multiple times.
Need to read other cover letter examples too? Head over to Cover Letter Examples 2023
Looking for a custom cover letter? Get unique one crafted specially for you from Cresuma experts
People who read this also read :How to write a perfect resume