How to write a CV for UAE Jobs / UAE CV Format?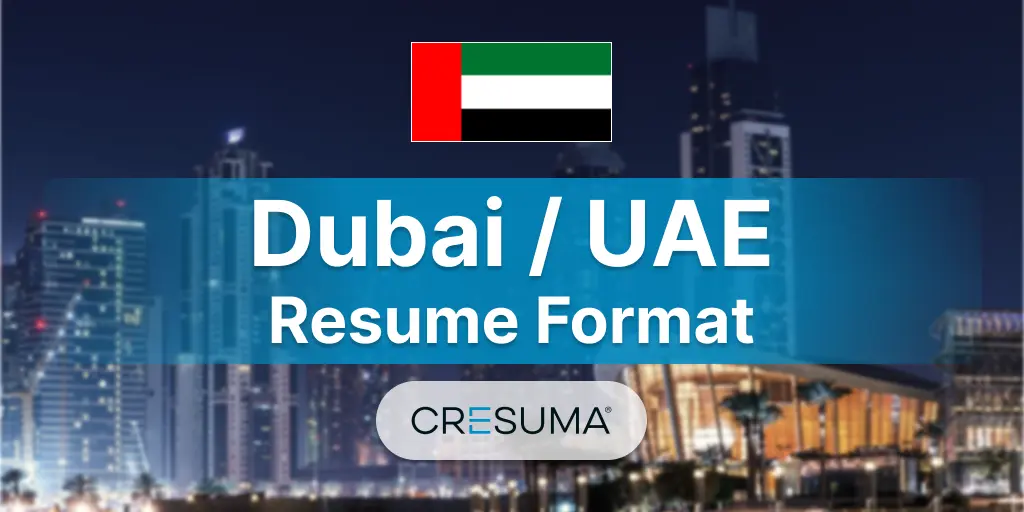 The most common question asked when it comes to CV for UAE jobs or gulf countries is  whether there is any special CV for UAE jobs or a UAE CV format. Well, the short answer is no. Yet there are some guidelines you need to follow if you are to write a UAE CV. For example, A Dubai CV.
Click on the button below to start creating your resume for UAE / Dubai.
Things to remember before writing a UAE CV format
CV is a reflection of your work background, skills, qualifications and achievements. Therefore, you always need to keep in mind that you,
Utilize the space you have to showcase the so called in the most optimum way.
Do not leave lot of white space.
Be specific and keep your CV concise. So that the recruiter will find it easy to read.
Identify the skills or keywords the job advert has asked for, and carefully choose your keywords to address it. Make sure to add key words which are related to your job position.
Let's have a quick view at the below video explaining everything about UAE / Dubai or Gulf CV
What to include in the UAE CV Format?
Below are the sections that are commonly used in the UAE CVs or resumes.
1. Personal details in the Dubai/UAE CV format
UAE is gulf. Not Europe or USA. Therefore, what you need to keep in mind is that you should mention of your personal details on the UAE CV or Dubai CV. Because, they ask for them. They sometimes look at even about your marital status to consider the type of accommodation if the position the package includes it. Usually, what UAE recruiters look for, in your CV's personal section are Name, date of birth, location, nationality, driving license details, gender, location and the languages you know.
Contact details
These usually come in the header section right below the name. In this section, you need to mention  your phone number, email address, and the link of your LnkedIn profile as well.
Photo
Also, please note that a photo of you is mandatory in the UAE CVs or resumes. Photo should be a passport sized photograph and be placed in the top right corner of the CV. Make sure it is professional with no fancy or casual dresses on.

2. Summary
Experts say that an recruiter spend around six seconds to decide on whether the applicant is suitable for the position or not. Therefore, you need to make sure that the recruiter is really impressed and convinced by the way you have presented your content. The best place for this is the summary section. Therefore, make sure that you write a compelling summary with your achievements. Yet be clear and concise. Do not write a long story there. If you do this right, there is more than 95% of a chance the rest is read by the recruiter.
3. Skills
Most candidates takes this part lightly. They tend to copy and paste the skills they need to show. But fail to showcase why they believe they have those skills and how they have helped him/her in his/her career. Therefore, it is advisable to be honest first and question yourself of the skills you have or proven. Try to tally with the job advert or the position advertised. This may take a while but it's worth spending time thinking. Quantify your skills and show them as your achievements. Simply, show the recruiter how they have impacted your performance.
4. Work Experience
When you mention your work experience in the UAE CV or Resume, it is more effective to use the reverse chronological order. Meaning you need to display the latest experience at the top of the list. Use bullet points for each experience. And make sure that you show your experience as an achievement and quantify them. For example, "Doubled sales by 30% within the first year of joining the company".
5. Education
When you write the education section of the UAE CV format, usually we mention the two last or the most recent education qualifications. For instance, if you have an MBA, Post Graduate Diploma and a Diploma in Marketing, usually Master of Business Administration and the Post Graduate Diploma are mentioned in this section. That is ok because, one this is that you need to keep your CV not more than two pages, and the other thing is if you already have a post graduate diploma, recruiter knows that you have the prior qualifications to do this. However, if you have any achievement to show with the prior diploma course, it is advisable to use that and take advantage of that too.

Important :
Do not use paragraphs or long sentences here.
It is always recommended to use reverse chronological order.
Example of Education section on Dubai/UAE CV Format
Master of Business Administration
University of Toronto, Canada
January 2016 - December 2017

Post Graduate Diploma in Marketing
Cambridge University, UK
February 2014 - October 2015
6. Other Relevant Information
This is where you can showcase your certifications, licenses and volunteer work. By looking at this, the recruiter will further understand of your background. However, bear in mind that you need to maintain the minimum use of words and wordings here as this is not a place for you to exaggerate or go into much details.

7. References
References in the Dubai/UAE CV formats are not mandatory to be mentioned unless otherwise the employer has asked you to. Because, they do not necessarily look for it at the very initial stage of filtering CVs and it is not . Therefore, however, it is always advisable to mention in the references section that the references are available upon request.
Highlights on UAE CV formats / Dubai CV formats
Reverse chronological CV format is recommended
Plan your CV content to 2 pages maximum
Use a best and easy to read font and font sizes
Use a photo of you
Insert Personal Details Section
Reverse chronological order for experience section
Reverse chronological order for education and two highest qualifications are recommended to use. Yet do not be limited if you have more achievements with other education qualifications.
Mention you would provide references upon request (Unless they have asked you to send them in the job advert)
Check grammar and spelling
Proofread
Try to use action verbs and keywords instead of buzzwords.
Want to check if your UAE resume has buzzwords and fix them?
Resume Buzzwords simply kills your resume and reduce the chances of being picked by the hiring managers. But how to spot if your short cover letter is also having buzzwords that kills yours too? This is the easy way to do it. You can upload your cover letter or resume to the Cresuma Buzzword Checker and check how many buzzwords and action verbs you have on your resume and fix problems. So that you could expect more calls to come from the recruiters
Also, according to the UAE government's provided CV tips to landing a job , it is also important to increase your knowledge about the region, cultural and social value system as well as keeping your CV always updated
Feel free to find more International Resume Formats for applying for your dream job.
People who read this also read: Best Resume Formats in 2023 to use for any Job in the World
---
Our resume writers work hard to provide you the accurate and effective resume solutions for you. Care to appreciate their work?
Enjoyed Reading?
Help Cresuma cover the server and other costes to continue this 100% Free Service. Show your support below.