German Resume / CV Format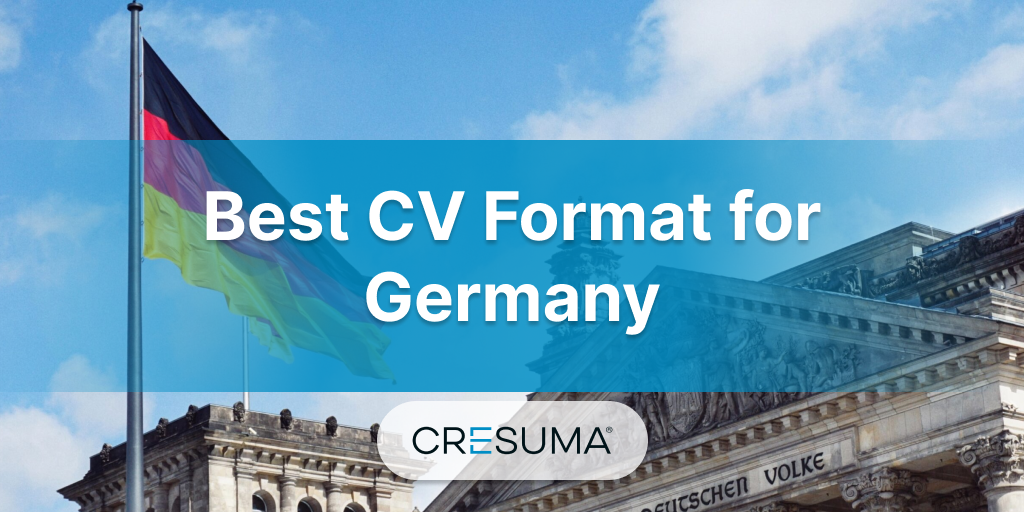 German CV format is not too different from the other resume formats. Yet, you need to pay attention to the key aspects of the standard format as listed below.
Start your resume with Personal Information (Persönliche Daten)
Next, you can add your Career Summary statement (Kurzprofil) which is not mandatory.
The work experience section should come next. (Berufserfahrung)
Next comes the Education Highlights section. (Ausbildung)
Finally, add the Skills section. (Kenntnisse und Fähigkeiten)
It's important to know that adding your hobbies and interests is also not mandatory.
If you are looking for an easy way to build a German Tabular CV (Lebenslauf), you can try out our 100% free resume builder below.
If you have no idea about the section needs to be included, please continue reading!
What's the ideal length of Germany resume format?
The ideal length of a Germany resume template would not exceed two pages. This is where whether you add the optional sections discussed above comes into play. If you still can write your resume within 2 pages including the career summary along with hobbies and interests nothing should go wrong.
Font size and font face - German Resume Example
Font face/ type - It's better to use a simple font face with clarity when it comes to a German CV. Some of the recommended font faces are Roboto, and Times New Roman.
Font size - For headings, you can use 14 pt. - 16 pt., whereas for other general content, use 11 pt or 12 pt.
Most importantly, make sure to keep your format consistent in terms of font size and font face. Also, labeling the sections of your CV with proper headings is mandatory, as professionalism is one of the major qualities expected by German recruiters.
How to write personal details in German resume?
In the Personal Details section, including the following information is compulsory.
Your Name: Here, you can add the first name and the Surname/ Family name. It's not wrong to emphasize this with a bigger font and with boldface as depicted in the German sample below.
Contact details: For this, it's expected to provide an email as well as your contact number. If you are an offshore applicant, it's essential to include the country code in the contact number.
Residential Address
Apart from the above key details, you can add optional information as stated below to create a better picture of yourself as a candidate.
A professionally taken photo
Date of Birth
Citizenship/ Visa: This helps to determine your work rights in Germany.
German CV template / sample / example in English is readily available for you now below. Get access to German resume / CV template free download now.
How to write Career Summary in German resume?
If you choose to have a career summary that is optional in the German resume, still you need to think of its effect on the reader. For example, your summary can focus on one key aspect of yours such as highlighting your strengths as a good fit for the role, your expertise in the role, etc.
Most importantly, don't make it too long. An ideal career summary in German CV layout / model can be a maximum of four lines in length.
Work History and Education summary guideline
Work History - Germany CV Template
German recruiters prefer the reverse chronological order. For example, add the most recent records first and move from there. In each employment record, add the following details.
Name of the company followed by the city (if in Germany) or the country (if offshore)
Job title
Job duration along with the years and months
A brief list of the most important responsibilities that you held in the role. Limit the points maximum up to 8. If you have a lengthy record of work history, rather than listing out the responsibilities, you can give a brief description of it.
Check out the sample below.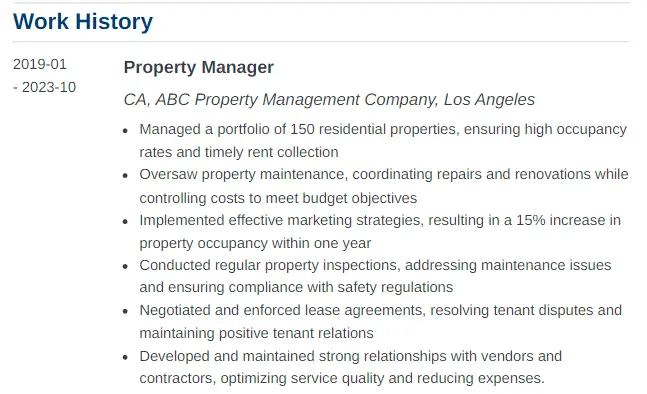 Education History - German Resume Example
Education summary too should be added in the reverse chronological order. In each record, add the following.
Name of the University/ College/ Academic body
Title of the qualification
Duration of your studies
GPA if applicable (optional)
Here's a sample of how to add education history in curriculum vitae in Germany CV format / template.

Other tips for German CV (CV German Template)
Once you create your CV for applying to jobs in Germany, you are advised to scan it using a CV scanner to find out the possible harmful words or action verbs in your CV.
While action verbs can increase your chances of getting hired, some overused buzzwords (clichés) may narrow down your chances. You can use the Resume Buzzword Scanner below to scan your CV and make sure that it does not contain any buzzwords.
When it comes to work history or education records, use only related records for the job you apply for. If you fill your resume with unrelated records, it won't be a good sign as an ideal candidate. Also, it's good to know that CV in tabular form in Germany (curriculum vitae in tabular form German) is an acceptable approach as a German CV template.
Now you can request for a 100% free German CV / resume template in English in PDF of Word format. All you have to do is fill the brief form below.
Sometimes, you will have to write your CV in German language. This is the case either if you have to send the CV for German university or if the job itself was published in German. If that's the case, the employers expect the candidates to be competent in using the German language.
If you are keen on other international resume formats, you can explore them such as UAE CV format, Italian CV format, USA Resume guide and many more from our International Resume Format page now.