Social Media Manager Resume Example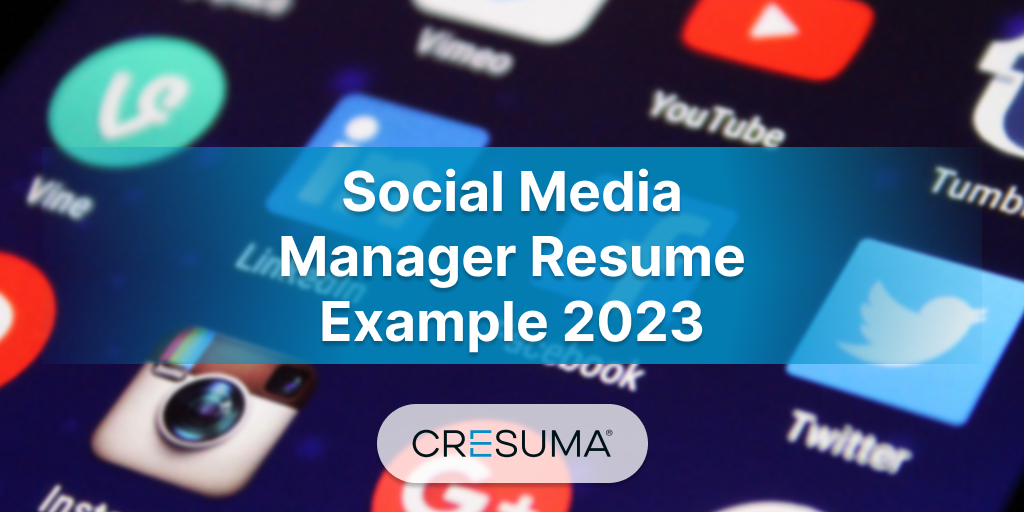 Here is the ultimate guide to make your social media manager resume. You will find the best skills, job-experience bullet points, action verbs, and certifications to insert in your resume to make it stand out.
Social Media Manager Resume
No need to start from the beginning. Edit this resume sample with your information and keywords from the job posting.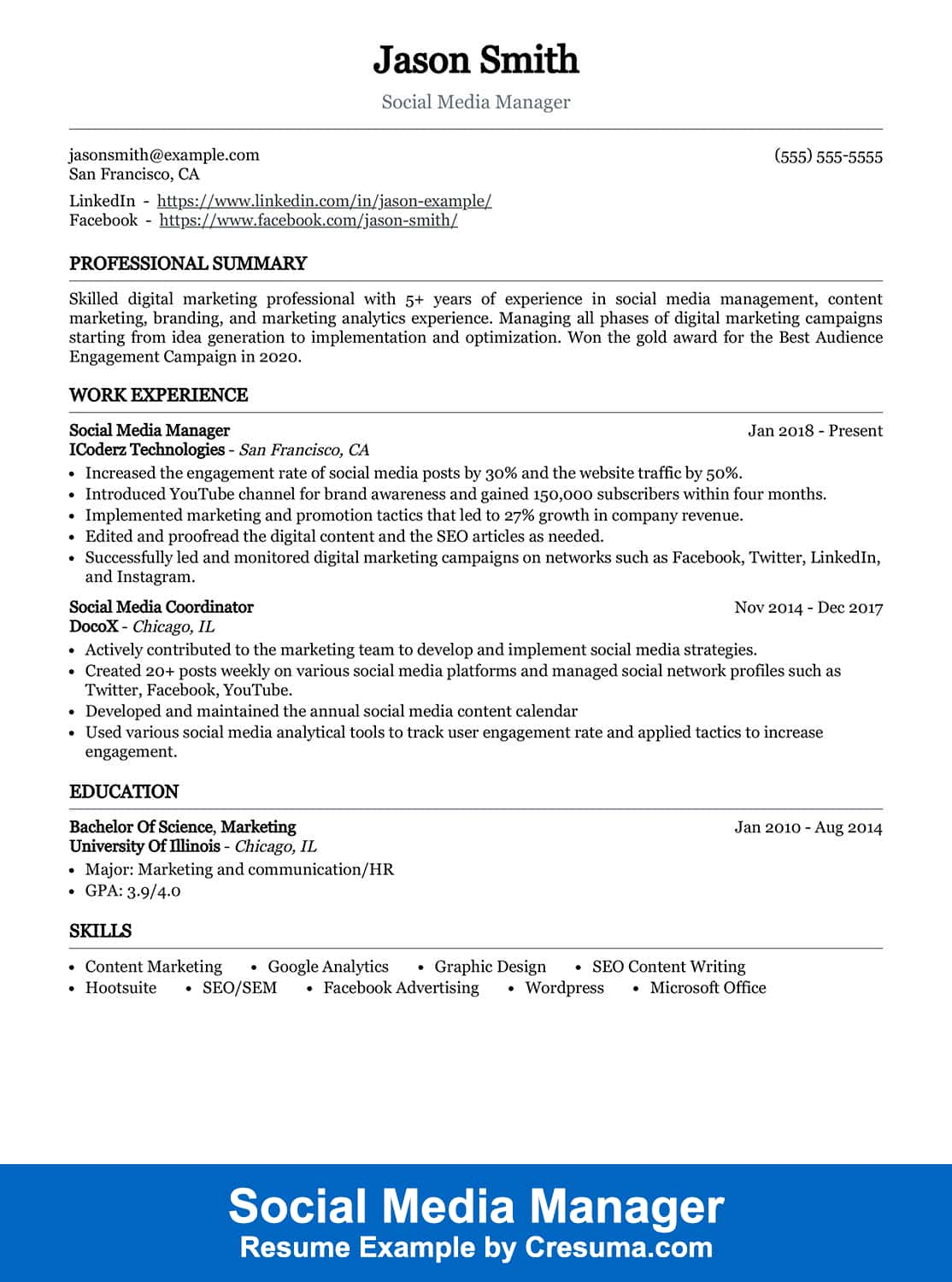 Social media managers do things to increase their company's online presence, such as promoting their company's brands, creating and maintaining company information and marketing campaigns through various social media networks. When writing your social media manager resume, be sure to include the appropriate skills, awards, and certificates related to the job description above. You may want to include a summary statement that clearly communicates your qualifications. The resume sample below will tell you exactly how to create a winning resume for a social media manager position.
Social Media Manager Resume Sample (Text Format)
Jason Smith
Social Media Manager
San Francisco, CA
(555) 555-5555
jasonsmith@example.com
LinkedIn – https://www.linkedin.com/in/jason-example/
Summary
Skilled digital marketing professional with 5+ years of experience in social media management, content marketing, branding, and marketing analytics experience. Managing all phases of digital marketing campaigns starting from idea generation to implementation and optimization. Won the gold award for the Best Audience Engagement Campaign in 2020.
Work Experience
Social Media Manager – January 2018 – Present
iCoderz Technologies, San Francisco, CA
Successfully led and monitored digital marketing campaigns on networks such as Facebook, Twitter, LinkedIn and Instagram.
Increased the engagement rate of social media posts by 30% and increased the website traffic by 50% as a result.
Introduced YouTube channel for brand awareness and gained 150,000 subscribers within four months.
Implemented marketing and promotion tactics that led to 27% growth in company revenue.
Edited and proofread the digital content and the SEO articles as needed.
Social Media Coordinator – November 2014 – December 2017
DocoX, Chicago, IL
Actively contributed to the marketing team to develop and implement social media strategies.
Created 20+ posts weekly on various social media platforms and managed social network profiles such as Twitter, Facebook, YouTube.
Developed and maintained the annual social media content calendar
Used various social media analytical tools to track user engagement rate and applied tactics to increase engagement.
Education
Bachelor of Science in Marketing – August 2014
AUM American University of Malta, Malta
Major: Marketing and communication/HR
GPA: 3.9/4.0
Skills
Content marketing
SEO/SEM
Graphic Design
SEO content writing
Google Analytics
Facebook Advertising
Hootsuite
WordPress
Microsoft Office
Sample Resume Work Experience for a Social Media Manager
200+ posts and contents were posted monthly to 8 social media accounts
Worked with marketing and development teams to implement social media strategies
Supported for the development and implementation of paid media campaigns across various digital platforms
Designed attractive banners for digital marketing campaigns and increased engagement by about 25%
Built an email list of 100,000 for newsletters promotional campaigns
Monitored social media growth and created weekly reports using MS Excel
Trained 20+ junior social media executives
Boosted Facebook and Twitter followings by 31% and 23%, respectively
Assisted Social Media Advertising Manager with managing websites, digital media and social media profiles.
Oversaw the output of 10+ team members including Content Developers, Digital Marketers, and Designers.
Most Required Resume Skills
Soft Skills
Time Management Skills
Storytelling Skills
Strong Visual Aesthetic
Community Management
Trend Awareness
Analytical Skills
Writing Skills
SEO and Content Marketing Skills
Relationship Building
Creative Thinking
Communication Skills
Project Management
Hard Skills
Google analytics
Hootsuite
Meet Edgar
Buffer
Facebook ads
Google ads
LinkedIn ads
Email marketing (MailChimp, VerticalResponse, Get Response)
Photoshop
Related Certifications
Google Analytics Academy
Fundamentals of Digital Marketing by Google Digital Garage
Hootsuite's Social Marketing Training
Twitter Flight School's Marketing Leadership Course
LinkedIn Learning's Social Media Marketing Courses
Boot Camp Digital's Social Media Certification
HubSpot Inbound Marketing Certification
Content Marketing Institute Online Certification
Facebook Blueprint Certifications
YouTube Certification
Action Verbs to Use in Social Media Manager Resume
Analyzed
Organized
Determined
Wrote
Edited
Planned
Scheduled
Created
Led
Designed
Assessed
Congratulations. Now you know how to build your Social Media Manager resume. Want to start building now? Click the below button
Enjoyed Reading?
Help Cresuma cover the server and other costes to continue this 100% Free Service. Show your support below.