25+ Resume Tips to Get More Interview Opportunities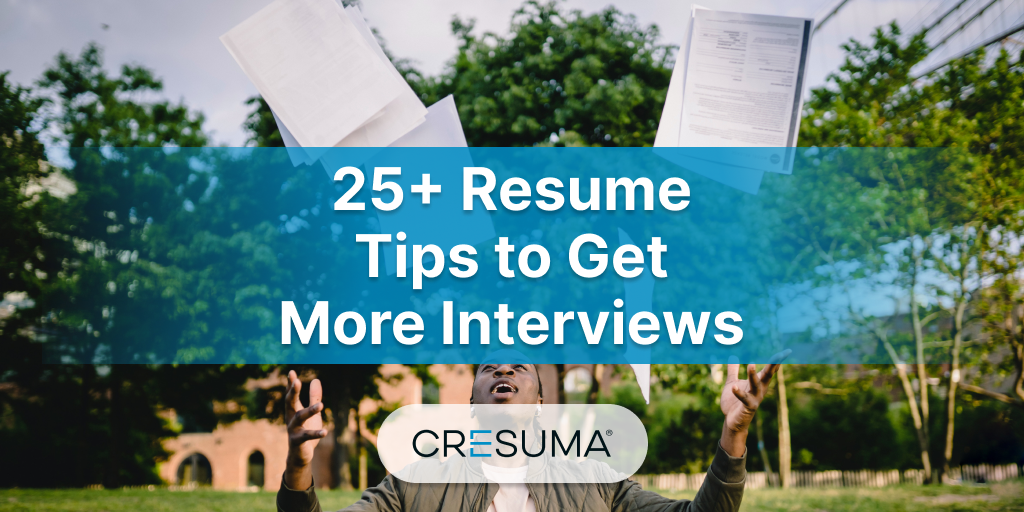 Since you're a career seeker searching for a work opportunity in 2023, knowing resume tips is a really critical consideration to help your resume stand out from the crowd. If you can't bring your application to the top of the pile, you're not going to be allowed to get the job. That's why you need a good resume.
A resume is not just a document. There's a science behind writing a good resume. You can't make your goal a success without doing any hacks in your resume.
So this article is a great source for people looking for resume tips and tricks to get the perfect job in 2023 – fast. Let's just take the chapter.
Top resume tips you should follow in 2023
Use a professional email address
Do not add photographs
Minimize the bulkiness
Reduce over-simplified wordings
List experiences reverse-chronologically
Hide the gaps in your career wisely
Use action verbs and power words
Quantify your achievements
Make your resume in PDF/WORD format
Align your content to the left
Non related referees are old-fashioned
Do not use fancy and vague file names
Use white space effectively
Minimize the grammatical errors
Reduce spelling errors
Use the proper style of narration
Avoid mentioning discrimination factors
Mention only the city and state
Avoid adding unusual interests or hobbies
Don't expand the resume with irrelevant content
Don't include false information
Don't use personal pronouns
Use resume templates
Give priority to spacing
Set your font size to 10-12 points
Try to add relevant social media profiles
01. Use a professional email address
An email address is an essential detail to be on your resume and it should be placed in the resume header. Though it is mandatory to enter, you can not enter any email address that you have. That means you should follow some guidelines to check if your email address is professional. First, if your email address is ridiculous like 'pizzaismyfav895@gmail.com', the recruiter will feel you are a careless applicant. Besides, if you have such an email address, create a new professional email.
When you create a new email, it is better to use a combination of your first name and last name like 'ethanalexander@gmail.com'. If that email address is already taken, you can add a unique number with your names like 'ethanalexander598@gmail.com'.
02. Do not add photographs
You should never add a fanciful photograph to your resume unless you apply for a job as a model, an actress or a dancer. It is not necessary to add a professional-looking photograph to your resume, except on occasions when you are asked to do so. Otherwise, valuable space on the page will be unduly wasted.
Alternatively, you can make a LinkedIn profile and upload your professional photo to it. Finally, you can add the LinkedIn URL to your resume.
03. Minimize the bulkiness
Some applicants submit bulky applications with many pages. The recruiters will get fed up with these booklet resumes and reject them without thinking twice. Therefore, the experts always inform the applicants to enter the most relevant information on their resumes. That means the one-page resumes are impressive to the recruiters. Therefore, organize your resume sections, paragraphs, sentences, and words in your resume wisely.
04. Reduce over-simplified wordings
Regardless matter how high your credentials are, if you use oversimplified language, you will still be considered to be a poor communicator. You ought to show your understanding of technical terms applicable to your field of work. Choose words wisely, pay special attention to grammar, and use a professional type of language as far as you can.
Present yourself as a professional through your resume using a high-quality vocabulary. Don't write "I have assisted the manager in several ways." Alternatively, write "I helped the manager to maintain the inventory of the workplace".
05. List experiences reverse-chronologically
Recruiters will not be interested in reading about all your past roles. They will step straight into your current job and responsibilities. Therefore, start with your current role more descriptively, and then briefly add previous experiences in the reverse-chronological order.
06. Hide the gaps in your career wisely
You may have taken some time between two careers for your personal life, to carry out your own projects, or to complete your studies or to travel. You may have been moderately ill, so you haven't been able to work for a while. Don't leave the time unknown. Whatever your reason for doing so, state it in the specific part. Don't leave your job background holes and give employees a false feeling that you've lost time.
07. Use action verbs and power words
Don't make the recruiter fed up with your application by using overused buzzwords. If you write your achievements, consider using action verbs with bullet points. That could make your resume stand out. When you use action verbs on the paper, it gives the impression that the candidate is a result-oriented individual, such that you can be respected by the hiring manager.
08. Quantify your achievements
This is one of the most important resume tips you need to pay attention when creating your resume. When you explain your achievements and accomplishments try to use quantified metrics such as years, amounts, percentages, etc. That is an important tip to stand out from the others without much effort.  Refer to the below examples for further understanding.

Poor example
"I have completed a project within a few months and increased the profit."

Good example
"I have increased sales from $40 to $100 within 4 months."
09. Make your resume in PDF/WORD format
Many people prefer to send their resumes in PDF format. The idea behind that is to make the resume look more professional and to maintain stable alignments. However, almost all companies use Microsoft Word for their official documentation. Even for resumes, they would prefer to receive it in MS Word format since it is easy for them to edit it if needed.

Some companies have their own resume or CV format and the HR department might want to convert your document into their format before sending it to the relevant department. Sometimes the HR person may want to highlight or summarize details in your resume. It will be much easier for them to edit it when your resume is in MS Word format.
10. Align your content to the left
Including the United States and all the other English-speaking countries are read left to right. Therefore, all the text editors and word processors are set to be left-aligned. This will make easy for them to read the document. So that you need to align your resume content to the left to make it easier to read for the hiring managers.
11. Non related referees are old-fashioned
You do not have to include the contact details of referees unless you are asked to do so. Some employers would not ask for these details until the offer stage.
It is not necessary to add a list of reference contacts which would only make your resume longer and boring.
12. Do not use fancy and vague file names
If you are sending your resume via email, make sure the file name of your document is suitable and professional. Because it is the first sight of an email and the employer might judge you through the file name. Avoid using fancy, ridiculous names.
13. Use white space effectively
Bulky resumes make the reader bored and irritated. Try your level best to fit your resume maximum onto 2 pages. Therefore, avoid using large margins or gaps between sections, or unnecessary space. Ideally, you should be trying to fit your resume into two pages, so leaving lots of blank space due to large page margins and gaps between sections is not a good idea.

Your focus should be on persuading the employer to hire you. Therefore, focus on what you write more than margins and space. But make sure your resume is neat and clear.
14. Minimize the grammatical errors
A resume will mirror your communication skills and educational standard. You are supposed to express yourself in the best way. Therefore, you have to make sure the language you use is perfect and there should not be any grammatical errors in your resume. You can use a grammar checking tool or take experts support to check for grammatical errors of your resume.
15. Reduce spelling errors
It is not necessary to say that spelling errors of your resume would damage your image. The employer would think you are too careless if you did not spend the time to double-check your resume for spelling mistakes.

If you use MS Word, the automatic system will always warn you of spelling mistakes. But make sure you read the suggested word before replacing it because there are lots of closely spelled words with entirely different meanings. Ask someone with a good language ability to recheck or proofread your resume for you.
16. Use the proper style of narration
Your resume should be a direct conversation between you and the employer. Therefore, it should be written in the first person's narration. If you write in the third person's narration, it would appear like you are reluctant to face the challenge. Make the right impression on you by writing your resume in the first person's narration and be straight.
17. Avoid mentioning discrimination factors
It is not necessary to include your date of birth, age, gender, marital state or raise etc. in your resume unless you are asked to do so. The employers would be more interested in your experiences and capabilities more than your birthplace or age. Also it may lead you to discriminate and lose your job opportunity.
18. Mention only the city and state
It is not necessary to include your full address in your resume if you are expecting a response through email or telephone. It will only employ a large space in your resume header unnecessarily. If a wrong person gets your full address, date of birth, and NIC, your information might be used in fraud activities. Therefore, keep your personnel information secured, especially when it is sent via online sources which could be hacked. Include your general location instead of the full address.
19. Avoid adding unusual interests or hobbies
Maybe you have unusual interests or hobbies which would make some people irritated. Therefore, it is better to avoid including them in your resume. If the employer finds it irritable, you might lose your chance.
20. Don't expand the resume with irrelevant content
Some candidates might find it unappealing when their resume is short. Especially those with fewer experiences like school leavers. They might try to lengthen it by adding unnecessary details or lengthy sentences. Though it will make the resume longer, the employer might get a negative impression on your communication skills through it. Therefore, write professionally and avoid unnecessary details. It is better to refer to LinkedIn to find similar profiles and learn what to include more.
21. Don't include false information
People often lie about themselves in their resumes to impress the employer. Some are used to adding false details about experience or qualifications. Some manage to escape with it, but most of the time these lies are revealed, soon or later.

An experienced employer will catch it at the very first interview and even you manage to fool them at that stage, your secrets will definitely be revealed when you start working. You will have to struggle hard to cover up your lies. Be honest and write what you actually got.
22. Don't use personal pronouns
Sometimes you might need to use personal pronouns like I or Me in your resume. But if you use them too often, the tone of your resume will be interrupted. The employer will understand you as a poor communicator and less professional. Avoid using them too often.
23. Use resume templates
It is a good thought if you have decided to use a standard resume template. It will help you to reduce mistakes and give your resume a professional look. But you have to be really cautious when using them. First, you have to choose a template that is compatible with the vacant position and company.

Secondly, you have to make sure you add all your information accurately and remove all examples from the template. Carefully remove the instruction and unwanted stuff before you present your resume. Take time to read it and if possible, show it to an expert for further advice.
24. Give priority to spacing
Your resume is a professional document, and thus, it should look clean. You have to make sure it is not messy. Therefore, sections should be separated with sufficient space and heading should be highlighted using bigger fonts or bold letters. Clear margins, clearly separated sections, and usage of appropriate font sizes will make your resume more attractive.
25. Set your font size to 10-12 points
Some applicants tend to increase the font size by more than 12 points because of the lack of information in their resumes. On the other hand, some others tend to decrease the font size up to 10 points to pack up the resume with too much information. However, resume experts always recommend managing the font size between 10-12 points. A good resume should always be legible not only to the bots but also to the human eye.
Want to know which font to use? Read our article; Best Resume Fonts 2023
26. Try to add relevant social media profiles
Most of the time, the employers would not be interested in your Facebook profile or the pictures you have posted on Instagram. Rather than mentioning those in your resume, try to list something more professional, like your LinkedIn profile and a website or a blog of yours.
Knowing the best resume tips is more important as well as the knowledge about how to write a perfect resume. Because just submitting a common resume is not effective. Therefore, now you can use these resume tips and create a professional resume that forces the recruiters to hire you by showing your real value.
Want to attract the job recruiters through a unique cover letter? Get your cover letter written by one of our expert resume writers.