How Far Back Should A Resume Go In 2023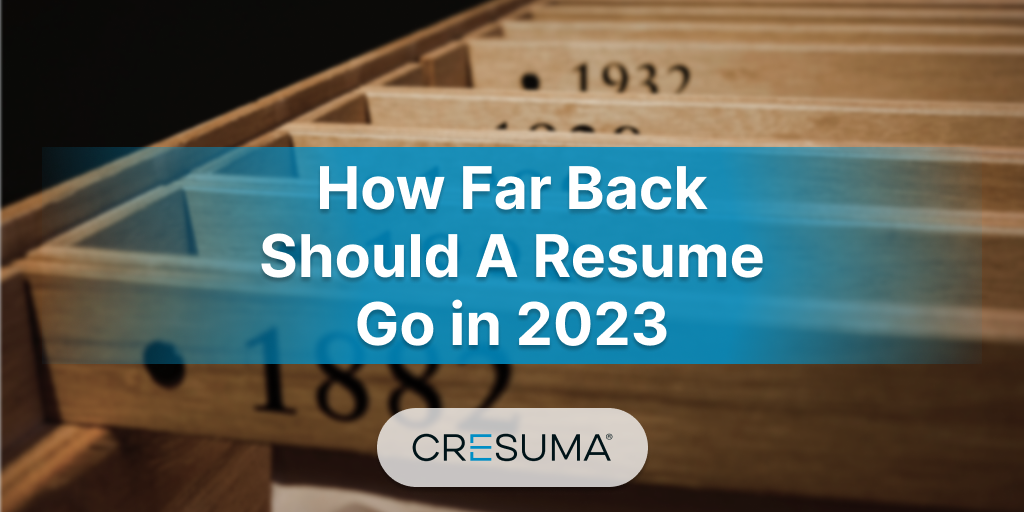 Once you know how much experience you need to add to your resume, you can make your resume more competitive by including only the relevant experience that your target company is looking for. Recruiters don't want to see every experience you have. They just want to know whether you are equipped with the relevant skills and experience. So knowing how far back to go on a resume will make you a better fit for the job and you will be more likely to get hired.
In this article, we'll discuss how much experience you need to add to your resume and how to get rid of unwanted experience, and other important tips related to it.
How to understand how far to go back on a resume?
Think about the relevance of each previous job.
Consider the level of experience that requires your target role.
Review the job description/job advertisement.
Include experiences that have a high value.
Consider the length of the resume.
How many years should you go back on a resume?
When applying for jobs in most industries, it is best to have 10-15 years of relevant experience in your resume. You can showcase your latest skills and contributions to employers by creating your resume based on the last 15 years of experience in your career.
If you have more than 15 years of experience, we recommend not including your previous experience in your resume for several reasons.
If you take your career back to 15 years, your skills and technical knowledge might be very old and outdated. Therefore, mentioning them is not a feature of a professional resume in 2023. Even if you include them, most hiring managers may not be interested in them. The job advertisement sometimes mentions how much experience you need to get the job done successfully. So, consider all these things before making your resume.
You need to be smart and include only the work experience relevant to the job you are going to apply for. By doing this you can impress the recruiters and hiring managers by showing them the successes you have achieved and convincing them that you are the right person for the position.
If you are a person engaged in the civil service or academia, sometimes you will need to include your whole career in the resume work experience section. But if you want to apply for a job in technology, creative or other fields, try to limit the length of your resume to one page as much as possible. Because the skills and experience required for such fields are almost frequently changing.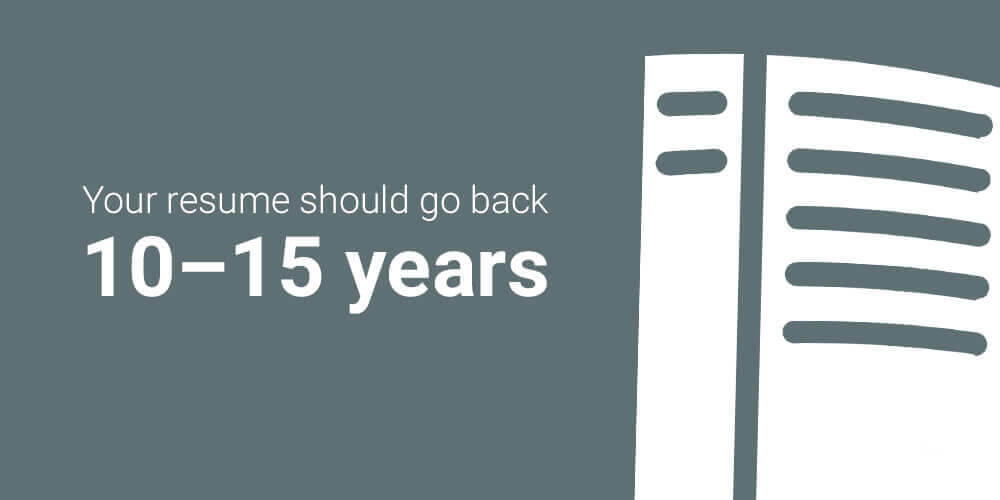 Tips to determine how far to go back on a resume
The below tips will help you understand how far to go with your resume work experience.
List only relevant experience
If you add only the relevant experience to a specific job role, you could make your resume position relevant. So it's very easy to get the recruiter's attention and keep him interested and get more interview opportunities.
Keep non relevant and earlier experiences short
As much as possible, describe the jobs you have had in your most recent history and the achievements you have made under each position. If you want to show much older experience, just listing the job title and the workplace is sufficient. The goal is to convince the hiring manager that you are armed with the latest set of skills and experiences.
Remove outdated skills
If you have old, outdated, and currently under-demand skills, don't list them. They can also be worthless in your prospective job. Therefore, read and understand the job advertisement well and list only the relevant skills in your resume accordingly.
Why shouldn't you add your whole career in a resume?
There are several reasons why including all the career experience into a resume can lead you to disadvantages instead of advantages.
Irrelevant
We consider that it is not necessary to insert your previous experience more than a decade ago. We know that those old experiences were valuable and they helped you a lot in your long career. But that experience may not be necessary to get a job nowadays.
Unnecessarily long
According to professional resume writers and the resume writing standards, you should limit your resume to a single page as much as possible. But you can extend your resume to a maximum of two pages if you really want to. Keep it short, concise, and relevant to quickly show the employer that you're the best match for the position.
Hard to skim read
Hiring managers don't read every word of your resume. What they often do is skim read. Include all your work history in such a scenario so the recruiter can miss your milestones and key achievements of your career. So as much as possible, remove old experiences that are not relevant and include only important and relevant experiences.
Age discrimination
If your resume goes back up to 20 or 30 years, it's easy for employers to guess your age. When they are looking for a young and energetic candidate, they are more likely to refuse your resume due to your age. However, even if they call you for an interview, they can still guess your age but you have a chance to prove your worth.
Employers will guess you're expensive
If you have worked for a long time and are a perfect person with a lot of experience, it's cool. But if it's too much to show on your resume, the hiring manager may think that the salary you expect is beyond their budget, depending on your experience. As a result, your resume may not even be shortlisted. If you really want to tell them about your excessive experience, wait until your interview opportunity arrives.
When to include more than 15 years in your resume?
No matter what we say, there are times when you can't stay without including more than 15 years of experience in a resume. The following are some scenarios.
High relevancy – If you did a job 15 years ago which is highly relevant to your prospective job, and if the achievements you made there are highly relevant to your future job, feel free to include that experience in the resume.

Renowned Company – If you have held a senior position at your company a few years ago or worked for a reputable/prestigious company, you may be able to get special attention from prospective employers by including those experiences in your resume. No matter if it was 15 years ago. This can be a great strategy to grab the attention of a hiring manager.
What if you've worked only for one company for many years?
You may have worked in only one company for many years. If you are such a person then the question you have now is how can I limit my experience to 15 years. No worries! You have a simple thing to do but very effective.
Maybe you worked in the same workplace for 15 years but have held different positions. So you can list each job title and individually specify your achievements. By doing this, your career progression will also be clearly visible to the employers.
If you hold a position in that organization that is not relevant to the job you hope to apply for in the future, you can opt-out of that experience.
Key takeaway
Hiring managers are most interested in the experience you have recently gained, not the experience you had a decade ago. Therefore, always include only your most recent and most relevant experience in your resume and try to make your resume more compliant and competitive.
Congratulations. Now you know how far back should a resume go in 2023
---
Want to build your own resume?
Want to get your cover letter written by one of resume experts?