How to write a New Zealand CV Format in 2023?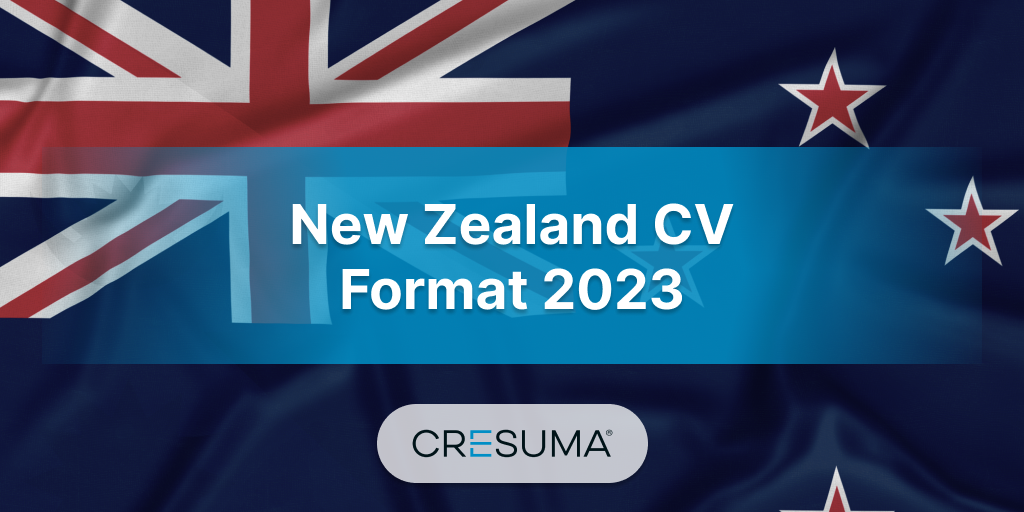 As we already know employers from different countries and regions have their own way of examining CVs or resumes. Same way, New Zealand employers also have a different way of looking at CVs. They would like to filter CVs which are short, concise, and easy to read. Therefore, if you are trying to get a job in New Zealand, it is really important that you know how to write a New Zealand CV format that is short and easy to read and what to exactly include on it.
What to Include in a New Zealand CV Format?
Name and Contact information
Make sure you display your full name on the top of the CV with your contact information.

Email Address: This could be mentioned in the same section, usually in the header section right below your full name. However, what you need to keep in mind is that your email address should be an identifiable one that is not fancy. Eg. bestbuddy07@email.com.
Phone Number: This could be either a land phone number or a mobile phone number. But however, keep in mind that this should be a number with which recruiters can reach you anytime during the standard work hours.
Home address: this might sense you that having a home address is kind of outdated as you are living in a digital era where email has become the most common way to communicate. But, still, the recruiter may want to see where you are coming from and whether the distance of your resident would be a problem to be on time for work.
Your Digital Professional Presence: This is also a good place for you to showcase your professional profile's URL like LinkedIn. So that the recruiters may also go through your professional profile to get further information about you and your expertise.
Your personal summary or career objective
Now you already know that Kiwis like short and concise CVs. Therefore, it is very important to include this summary or objective. Because this gives a clear and brief introduction of your background. New Zealand recruiters often easily identify whether your CV is worth reading for or not by reading this part.
Summary - Usually a summary is used by the professionals who have much experience in their fields and expertise
Objective - Often used by the freshers or novice to the industry without experience and would like to grab them
Work Experience
New Zealand employers may not perhaps be familiar with what you have done with the foreign companies. Yet this is a powerful section that will mostly determine whether you will get a job or not. Therefore, if you have experience or at least voluntary do not forget to get the best out of this.

When you mention your experience, make sure the following is included.

Your Title: Eg. Marketing Executive
Company Name: Eg. ABZ Company
Period of work: Eg. January 2016 - December 2020
What you did: Eg. Increased sales in 20% of ABC products within the first year

Note: Try to use keywords and action verbs when you mention experience. Quantify them and show them as achievements. But do not lie. Be genuine. Use bullet points, not paragraphs.
Your Skills
Always try to give examples for your both soft skills and hard skills. Because New Zealanders always like to see how you have applied your skills in the work setting.
Eg. Results Oriented: Achieved 100% sales targets in the last 10 consecutive months.
Your Qualifications
Here you may mention any related qualifications. Place the most recent qualification at the top and then the others.

Eg.  Master of Business Administration
Merit
Harvard Business School (USA)
March 2016 - February 2019
Note: employers are more likely to skim through your qualifications, Therefore, make sure that you mention them as clear and concise as possible (like in the example), or else they may find it boring to read and skip reading.
Referees
Most of the recruiters in New Zealand will ask for references. So that it is recommended to mention referee contact details in this section. And make sure that the contact details of your referees are up to date and are reachable.
How should the New Zealand CV Format Style Formatting be?

How many pages to include in a New Zealand CV?

What you have to keep in mind is that Kiwis prefer CVs not exceeding two pages. Therefore, whatever you have mentioned on your CV should not exceed the page limit of two.
What is the best format to use for the CV in New Zealand?

The safe and recommended CV format to use in New Zealand is reverse chronological CV format if you have experience. However, if you do not, you may consider either functional or hybrid resume formats.
Fonts and colors to use in New Zealand CV format?
What applies to other CV formats apply here as well. Meaning you need to make sure the fonts you are using are easy and clear enough to read. Strictly avoid cursive fonts. Usually, Calibri or Arial are better choices as they are some of the best resume fonts to use.
It is not easy to define which colors to be used especially when it is a cv with a color combination. Under such circumstances, the safe way to play is going with black and white. However, colors make a good impression provided you place them right in the proper manner. When it comes to New Zealand CV formats, there's no special color combination. But if you want to give a good impression, you better have an idea first what the best resume colors are.
Final Checks on Writing a New Zealand CV Format?
Check your grammar and spelling
Check if you have used resume buzzwords or over-generalized terms
Check if you have exceeded two pages limit. If so, try to optimize your content to a two-page.
People who read this also read: Best Resume Formats in 2023 to use for any Job in the World (Resume format samples included)

Enjoyed Reading?
Help Cresuma cover the server and other costes to continue this 100% Free Service. Show your support below.