How to write an Australian Resume Format for Australian Jobs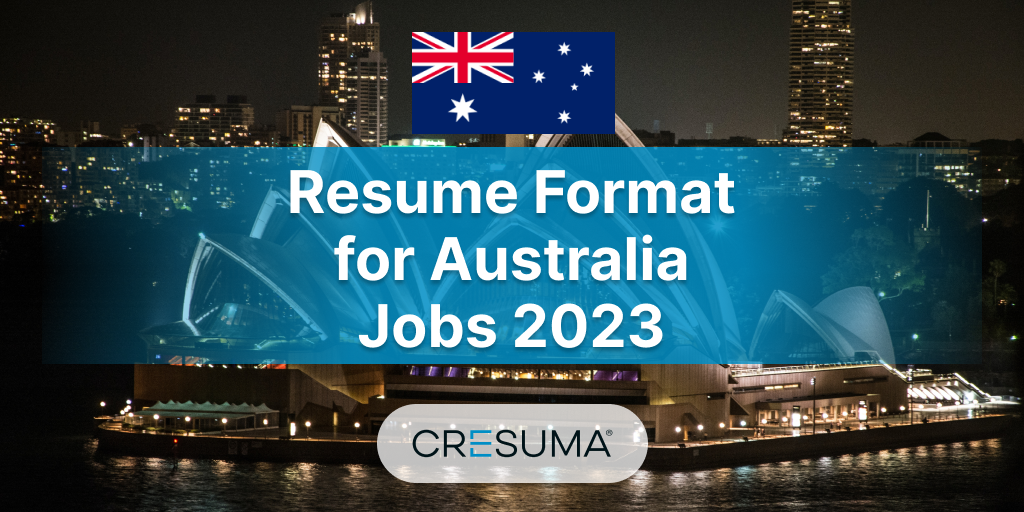 Just like the Australian accent has a different shade of the accent used in the US, or the UK, the resume formats used in Australia have a slight difference too. Let's discuss the differences and how to write an Australian resume format 2023.
Australian Resume format or CV?
This is what comes to your mind first if you are searching for Australia jobs. Because the way you type in the google search bar defines what answers you will get as results. Therefore, in the first place, knowing if it is a resume or cv that is used in Australia matters a lot. Well taking about what term used, the often used is the "resume". But knowing the term as "CV" as a synonym will definitely help you search for further information about the Australian resumes.
What to include in an Australian Resume format?
There are some inclusion when it comes to the Australian Resume formats 2023. They are as follows.
Resume Objective/Summary
Resume objective or summary is not mandatory. But it is always wise and advisable to place it. Because, this highlights your background and gives the recruiter a good impression of you to read the rest of the resume. Resume objective is often used by the ones who are novice to the industry because, this shows the reader how the candidate would contribute to the company and utilize their skills.
Example of an Australian Resume objective is below.
Seeking an entry-level Marketing position in the Telecommunication Industry to utilize my knowledge in the field by performing tasks and duties assigned and earn practical experience through.
Resume Summary on the other hand, is more suitable for the ones who have more experience. Because, the resume summary always provide you the chance to highlight your experience in brief.
Example of an Australian Resume summary is below.
An experienced Marketing professional with over 4 years of experience contributing to the growth of revenue through strategy. Increased customer conversions in 20% within the first six months of assuming the role.
Work Experience in Australian Resume Format
Like in most of the CV or resume formats, Australian resume format also requires you to mention your work experience in the reverse chronological order. Therefore, if you are going to write a resume for Australian job applications, make sure that you mention the most recent experience at the top of the list.  And specifically mention your experience as achievements with the action verbs. Meaning that you need to quantify your achievements.
Example of an Australian resume's experience section
Digital Marketing Manager Position
Increased sales of ABC magazine by 15%  within the first year
Monitored the Google AdWords campaigns and increased the CTR by 25% within the first 3 months
Increased the organic traffic by 20% through strategy within the first six months after joining.
Education Section in the Australian Resume Format
Like in the experience section, in the Australian resume format, you also need to place your education background in the reverse chronological order. Because when you mention them in that way, it helps the recruiter find your latest education qualification that helps the position and to determine your focus towards the field. This should never be a long sentence or a paragraph but a short wording as below.
Example of the Education section of the Australian CV format
Example. 1.   Master of Business Administration
        Deakin University, Australia
        2018 - 2020

Example. 2.   Master of Marketing
         University of Wales  
         Expected graduation 2023
Skills Section in the Australian Resume Format
Like most recruiters in many countries, Australian recruiters too, loo for the candidate's  skills. Therefore, it is important to note that you mention a combination of both your hard skills and soft skills. However, make sure that whatever you place in this section, they should reflect from your experience or your character. Meaning that you must avoid pretending because, they are being experts in the recruitment process, will however identify if you are lying.
Volunteer Experience

This section is not mandatory. But if you have any volunteer experience, never skip this part. Not only because, most Australian recruiters are interested in finding your voluntary experience but also because, this is a good place to showcase your capabilities, skills and how you put them into practice and how you performed.
References
Contact details such as name, position and the phone number will be enough for this. However, most of the Australian recruiters will ask for them after the first interview. Therefore, if they have not specifically asked for the references, it is alright if you do not share the references if you don't want to.
How should the Australian Resume formatting be?
If you are a professional having more experience, going for a 3 to 4 pages is alright. But definitely not a single page. And if you are a graduate with less experience, keeping it a two page will be enough. Like we do in other resume formats, you need to make sure that you use a clear and an easy to read font with a size of 11px. Headings should always be bigger than the content or paragraphs or the sentences in bullets. And when it comes to language, be sure to use the Australian English wherever possible and applicable.
Australian Resume Format FAQs
Should I put a photo on my resume Australia?
It is not advisable to put your photo on your resume unless the position you are applying for, is related to a field where your photo is a concern. For example, modeling, flight attendant, acting etc.
What personal information should I include on my Australian resume format?

Australia is a country which appreciates diversity. Therefore, they do not ask for information like your marital status, gender and race. Also Australia finds it as illegal if any employer asks for such details. Therefore, just mentioning your contact details such as address, contact number, email address is fine.
Should I include references on Australian CVs?
Usually the references are requested after the first interview. Therefore, it is not necessary to to put them. You may place "will be available upon request" in this section
Final Words on Australian Resume Article
Keep it clear and concise
Do not put a photo if not asked or requested
Use action verbs in experience section
Do not lie. Be authentic
Do not exaggerate your skills.
Keep the resume for 3 to 4 pages.
Proofread your resume
Check your grammar and spelling
Use correct Australian English
Use an objective or resume summary to showcase your background and skills
However, if you need to know what Australian government says about Australian resume format, you may also check it here
People who read this also read, Best Resume Formats in 2023 to use for any Job in the World
Enjoyed Reading?
Help Cresuma cover the server and other costes to continue this 100% Free Service. Show your support below.