Flight Attendant Resume Example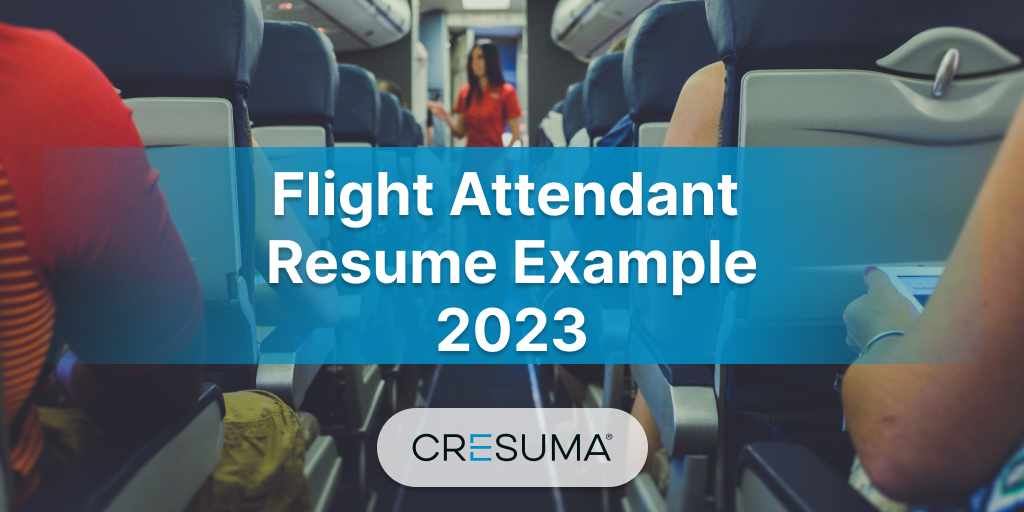 Do you worry about receiving fewer or no interview opportunities? Do not worry! Let's make your flight attendant resume more impressive. So, make your resume stand out by following the resume tips below.
Flight Attendant Resume
No need to start from the beginning. Edit this resume sample with your information and keywords from the job posting.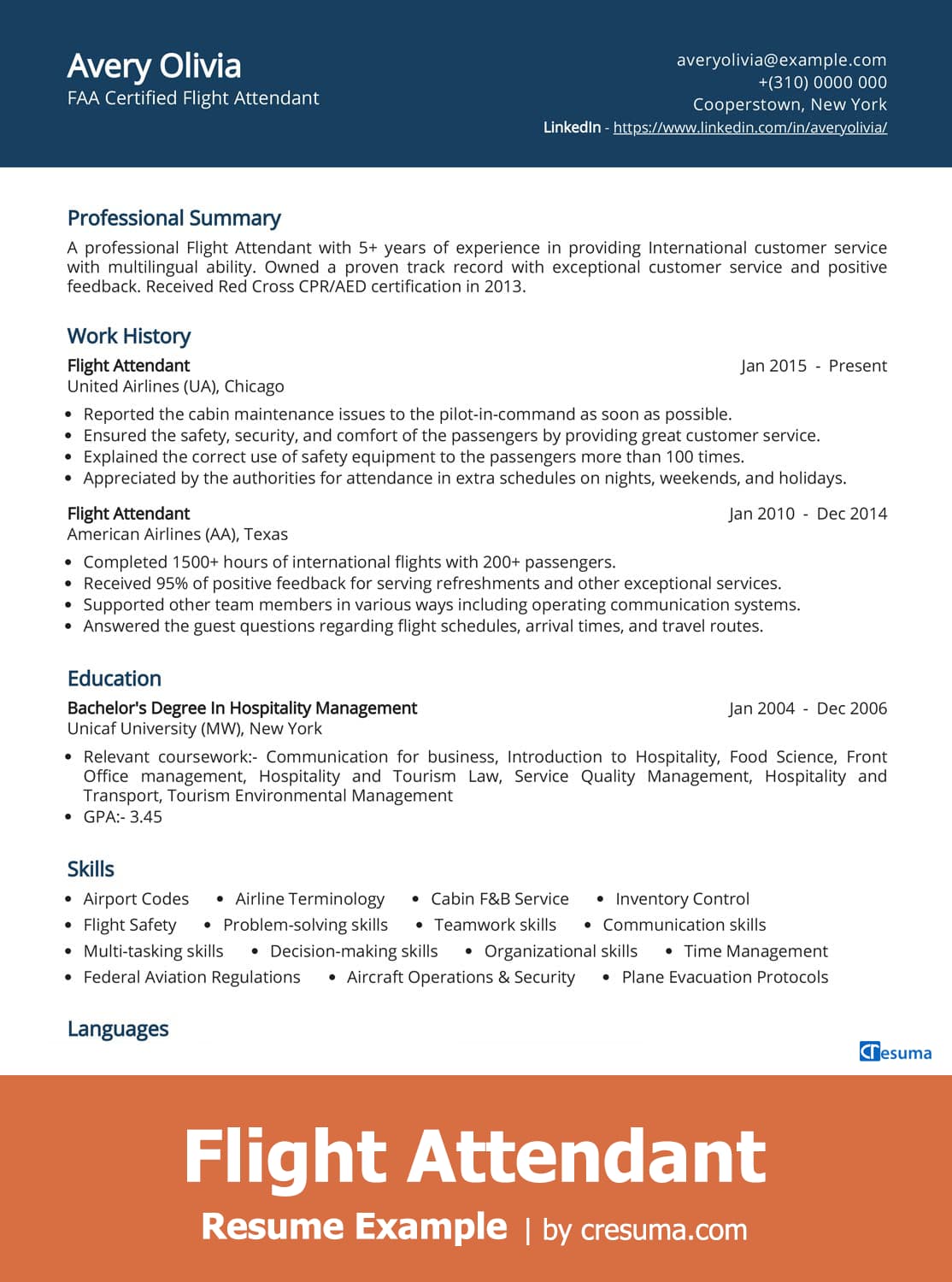 Best Tips to Make Your Flight Attendant Resume Stand out
Make Your Job Title Impressive
A job title grabs the eyes of the recruiters at the very first time. Therefore you need to make it impressive to draw the attention of the recruiters further.
Especially, you can join a certification or unique skill with your job title. For example, mentioning 'Certified Flight Attendant' is more attractive than stating just 'Flight Attendant'. So try to make it more outstanding.
Highlight the Top Career Achievements
Usually, the recruiters are fond of hiring experienced applicants. They are especially looking for the recent and relevant career history in your flight attendant resume. So, you can insert even the customer service experience you have got by working in a hotel, resort, or restaurant in your work experience section.
Handling various types of guests is the main responsibility of a flight attendant. Especially assisting disabled passengers, controlling angry customers, and monitoring children and elders is also an essential talent for a flight attendant. So you need to highlight your career achievements in handling specific customers.
You need to be a physically fit person who can complete a range of physical tasks, like pulling, pushing, bending, and lifting on relevant occasions. Therefore, explain some career achievements that reveal you were a great flight attendant who has done your daily duties smoothly with your excellent physical fitness.
The knowledge of emergency equipment such as flotation devices, oxygen masks, and evacuation slides is very essential to be a flight assistant. Especially the recruiters hope to hire the applicants who can educate the passengers about the safety procedures and equipment clearly and correctly. So bring up some career goals you have achieved as a great instructor on safety methods.
Being well organized, neat, and well-groomed is an extra qualification to be a flight attendant. Because the hiring managers always want to build a positive impression among the customers and guests. So you can provide some positive feedback you have received based on your well-organized skill.
Verify Your Educational Qualifications
The minimum educational qualification of a flight attendant is a high school or equivalency (GED) diploma. But if you have an associate or bachelor's degree in hospitality, communication, tourism, or public relations that will be an extra educational qualification.
However, do not forget to mention a complete set of information about your educational background. At least the diploma/degree type, main subject, studied duration, university or college name, and location under your education section.
Reveal You are a Skillful Flight Attendant
Soft Skills for a Flight Attendant Resume
Strong customer service – The flight attendants are responsible for warmly welcoming guests, aide in seating assignments, luggage, and garment stowage, and provide essential information if requested. As the major job role is centered with the customers, passengers, and guests the applicants must be an expert in customer service.
Excellent communication skills – The main advisor, communicator, and helper in the flight is the flight attendant. So the customers are used to requesting anything from the flight attendant during their journey. So the applicants must be fluent in both written and spoken English. Because it is essential to understand the customer requests and respond to them as soon as possible.
Time management skill – Most of the time the flight attendants have to handle multi customers at the same time. So the punctuality, proactiveness, and memorization skills are very important to enhance customer satisfaction. So reveal you can manage the time well.
Problem-solving skill – A flight attendant has to monitor all the passengers of the flight and provide them what they need. Especially the passengers used to tell their problems to the flight attendants and hope the best solution from them. So as an applicant you need to reveal that you can manage others' problems well.
Hard Skills for a Flight Attendant Resume
Other than the soft skills some hard skills are very important to conduct the flight attendant duties smoothly. Here are some of them. You can add them in your skills section and career achievements meaningfully.
Safety Orientation Announcements
Bridge Maintenance
CPR & First Aid
Airport Codes
Airline Terminology
Federal Aviation Regulations (FARs)
Aircraft Operations & Security
Emergency Procedures
Plane Evacuation Protocols
Inventory Control
Counter-Terrorism Measures
Prove Your Certifications and Licenses
If you have any certifications related to first aid awareness, communication skills, or another relevant field, do not forget to mention them under the 'Certifications & Licenses' section in your flight attendant resume.
However, a flight attendant certification that reveals the flight attendant has participated in the annual training and keeps the certification up-to-date, is essential to be a professional in the international flight services. Also, a valid passport is a must to get your dream job fast.
Bring up Your Multilingual Ability
If you can communicate in different languages that is a great opportunity to show your eligibility for this job. Because the ability to handle various types of natives is essential to provide great customer service. So arrange the languages you are fluent in and their competency level under the 'Languages' section of your flight attendant resume.
Add the Powerful Action Verbs in Your Resume Content
The most powerful action verbs can find in your flight attendant job advert. Also, you need to apply them to your resume to make it stand out. Especially try to start the bullet points with a powerful action verb.
Action Verbs List
Provided
Maintained
Communicated
Collaborated
Stayed
Demonstrated
Assisted
Achieved
Served
Interviewed
Worked
Signed
Greeted
Appreciated
Performed
Monitored
Understood
Changed
Established
Prepared
Attach a Splendid Flight Attendant Cover Letter
The majority of applicants do not attach a cover letter if the recruiters do not ask for it. But a perfect cover letter can speed up your interview opportunities. You can especially highlight the reason to apply for the vacancy, your willingness to join the flight service, and your admiration of the flight service in your cover letter content.
If you are a beginner in cover letter writing, you can be educated from our complete cover letter guide or recruiter's scan.
Flight Attendant Resume Sample (Text Version)
Avery Olivia
FAA Certified Flight Attendant
+(310) 0000 000
averyolivia@example.com
Cooperstown, New York
LinkedIn– www.linkedin.com/in/averyolivia/
Summary
A professional Flight Attendant with 5+ years of experience in providing International customer service with multilingual ability. Owned a proven track record with exceptional customer service and positive feedback. Received Red Cross CPR/AED certification in 2013.
Work Experience
Flight Attendant
United Airlines (UA), Chicago – 2015/Jan – Present
Reported the cabin maintenance issues to the pilot-in-command as soon as possible.
Ensured the safety, security, and comfort of the passengers by providing great customer service.
Explained the correct use of safety equipment to the passengers more than 100 times.
Appreciated by the authorities for attendance in extra schedules on nights, weekends, and holidays.
Flight Attendant
SAmerican Airlines (AA), Texas – 2010/Jan to 2014/Dec
Completed 1500+ hours of international flights with 200+ passengers.
Received 95% of positive feedback for serving refreshments and other exceptional services.
Supported other team members in various ways including operating communication systems.
Answered the guest questions regarding flight schedules, arrival times, and travel routes.
Education
Bachelor's Degree in Hospitality Management – 2004/Jan to 2006/Dec
Unicaf University (MW), New York
Relevant coursework:- Communication for business, Introduction to Hospitality, Food Science, Front Office management, Hospitality and Tourism Law, Service Quality Management, Hospitality and Transport, Tourism Environmental Management
GPA:- 3.45
Skills
Airport Codes
Airline Terminology
Cabin F&B Service
Inventory Control
Flight Safety
Plane Evacuation Protocols
Federal Aviation Regulations (FARs)
Aircraft Operations & Security
Communication skills
Decision-making skills
Organizational skills
Multi-tasking skills
Problem-solving skills
Time Management skills
Teamwork skills
Languages
English – Native Speaker
Spanish – Highly Proficient
German – Good Working Knowledge
French – Very Good Command
Certificates
CPR/AED certification – 2013/Feb
American Red Cross Training Center
Flight Attendant Certification
Federal Aviation Administration
Congratulations. Now you know how to build your Elementary Teacher resume. Want to start building now? Click the below button
Enjoyed Reading?
Help Cresuma cover the server and other costes to continue this 100% Free Service. Show your support below.