How to write a Europass CV, 2023?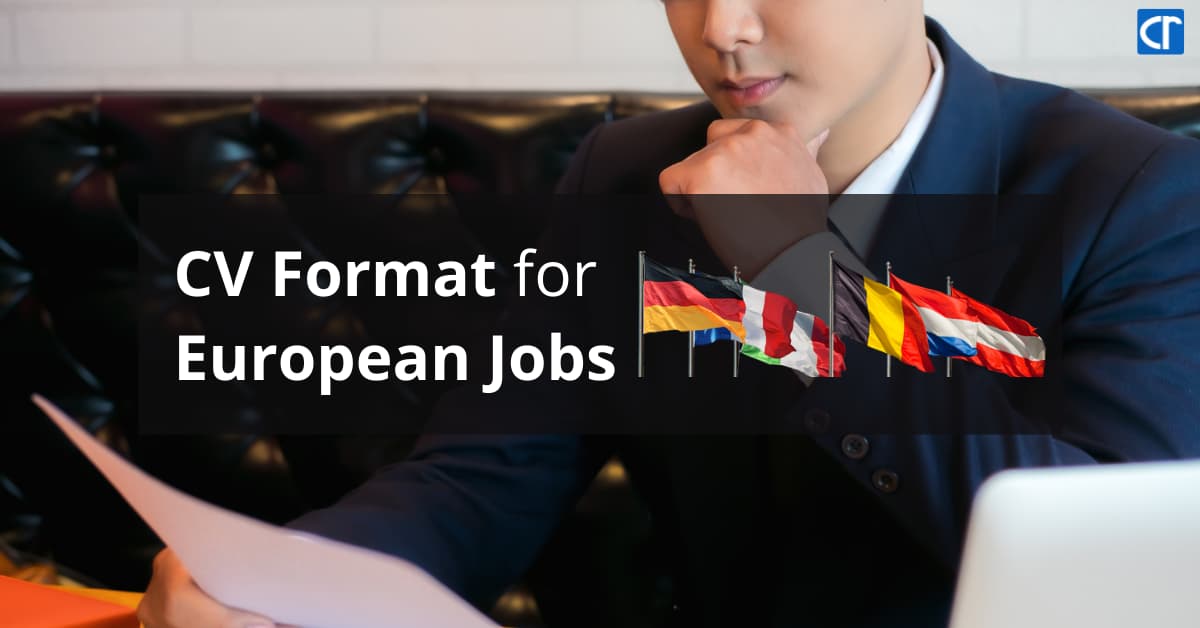 Appreciating European culture, customs and opportunities are a few of the primary reasons why the shifting to European country thought is so alluring. The expert experience you'll acquire is additionally significant. That's why people are apparently going after everything about Europass CV
As we all know European style is quite different when compared with others. The same line applies to the resume too. Most importantly no resume word is used in Europe, But CV. This is often called the Europass CV. The Europe pass CV format is famous all over the European region and most importantly European Union member countries. The history of the standard Europe pass CV format runs to the 1990s. The CV format design is straightforward, user-friendly, and descriptive with must-have pieces of information. So here is the best CV format you can use when you're applying for a job in Europe.
Unique Europass CV features | Requirements
There are some standard points, formats that are unique to the Europe CV format you should be concerned about. Also some standard parallel pieces of information you should provide along with the Europe CV. Let's have a look.

1. Language Passport for Europass CV
The Language Passport gives an outline of the candidate's capability in various dialects. ELP is a Self-appraisal Grid under the Common European Framework.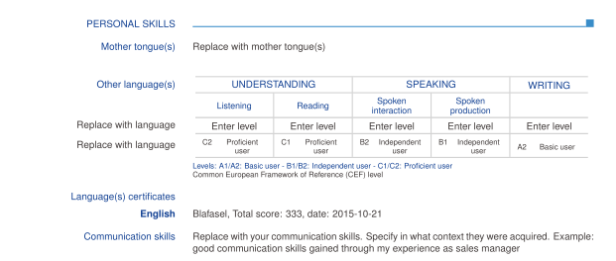 How to asses your language skills by yourself?
Self assessing your language skills means that you reflect on your skills and levels. To do this, you may go into your Europass profile and describe your language skills with their skill levels in any language.  And, there you may also store your language certificates in Europass library.

The language passport Self-assessment grid is characterized by candidates' language ability under these parameters.
Listening
Reading
Spoken Interaction
Spoken Production
Writing
And the reference levels are,
The self-assessment grid  is here for you to get an idea which illustrates the levels of proficiency described in the Common European Framework of Reference for Languages (CEFR).
2. Europass Mobility Report
The Mobility report permits you to record your previous experience gained in various European nations. This incorporates work arrangements, Social works, Voluntary experiences, and years abroad.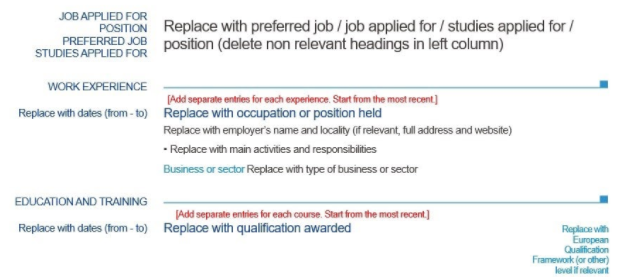 How can I get my Europass Mobility?
If you have mobility experience in another country, you will need to ask your school or the education institution that is organizing your placement to register with the National Europass Centre in your country. This sending partner which could be the school or the education institution in your country and the host organization (the education institution or the college you will be visiting in abroad) will make arrangements to complete the relevant documents. And, you will receive your mobility after you finished your experience in abroad.
3. Europass Certificate Supplement
The Certificate Supplement is the place that allows candidates to feature their professional abilities and vocational skills with confidence under EU standards. It presents under EU standard configuration, the motivation behind showcase honor, level, and sort of learning with understandable manner. The Certificate Supplement represents the European Framework of Qualifications.
How can I get Europass Certificate Supplement?
If you are looking for a way to get the Europass Certificate Supplement for your vocational qualification, try searching in your country's database or  contacting your institution.

4. Europass Diploma Supplement
The same document for the Certificate Supplement. The Diploma Supplement is the document that shows candidates' higher education qualifications.
How can I get Europass Diploma Supplement?
You can simply request the Europass Diploma Supplement from the college/education institution where you studied. And, also note that having your diploma along with your diploma supplement is the perfect combination when you are going to apply for a job in another European country.
Advantages and Disadvantages of Europass CV?
Advantages:
Europass does not inherit a captivating designs. Hence you do not need to spend much time on designing and choosing templates and all.
Eases the job application in Europe
This is up to the European stands that almost every employer look for
With this kind of a formant, the applicants can display their skills and experience both clearly and specifically.
Disadvantages:
Many seem to define it as an outdated CV format due to its pale look
Europass format is not attractive in appearance usually
A lot of wasted white space on the CV
Like it or not, beneficial or not it limits your choice to use more than one page.
Europass CV Example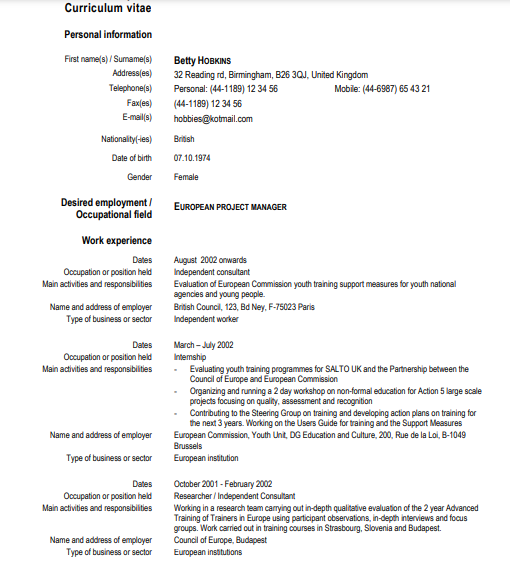 Some Europass CV Writing Tips for you
Leave the template design you are going to use aside. At least make sure your text fits well enough to convince the employers, the requirements they seek for.
Make sure that you use a compelling language filled with specific action verbs and adjectives to describe yourself
Avoid resume buzzwords or clichés that overgeneralize your skills. Eg. self-motivated, Team player.
Avoid repetition or repeating of same words.
Make your writing concise
Demonstrate your achievements of past job roles and skills rather than just saying
Since Europass CV inherits the space wasting design, try to keep your texts as short as possible and keep fit into one page.
How long should a European CV be?
Well, there is not 100% yes or no answer for this. North American standard says you should not exceed one page unless otherwise there's an extra ordinary factor. Nevertheless, there are chances that recruiters will also be expecting more than one page too, as they are accustomed to them. However, we cannot underestimate the fact either, that busy managers will also like one page as it primarily saves their time.
To conclude, It's not actually about the CV format alone. It's about what you have put on CV with your language, how you have put it. Essentially if you have fulfilled the expected Europass requirements.
Interested in knowing more on CV writing? Read how to write a perfect CV