Digital Marketing Manager Resume Example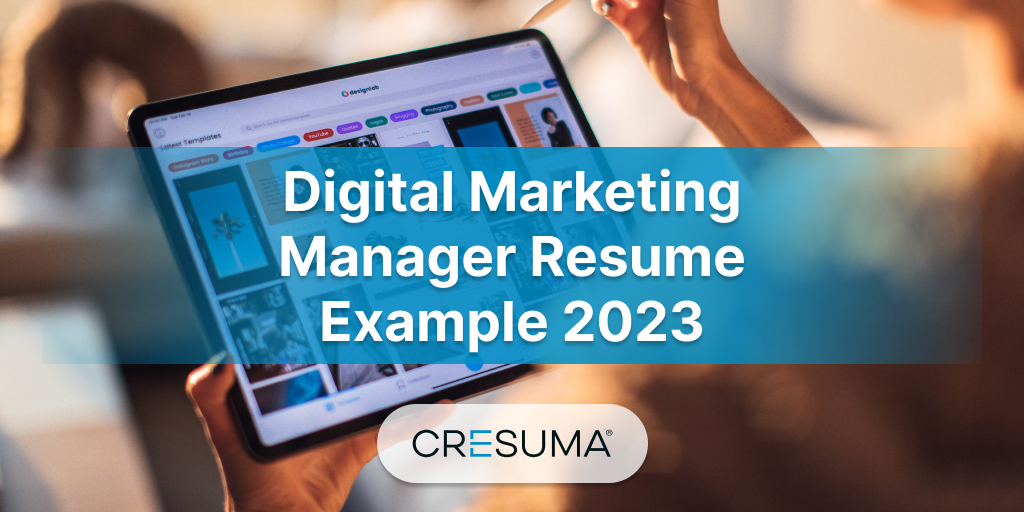 Finding an excellent digital marketing manager is almost a hard task for any company. Hiring a person with an effective digital marketing strategy is even harder. Actually the problem is with the resumes. Though most of the candidates are skilled, they fail to convey their potential through the resumes. Don't worry! We have identified how to make a successful digital marketing manager resume. Now, it's the prime time to get inspired.
Digital Marketing Manager Resume
No need to start from the beginning. Edit this resume sample with your information and keywords from the job posting.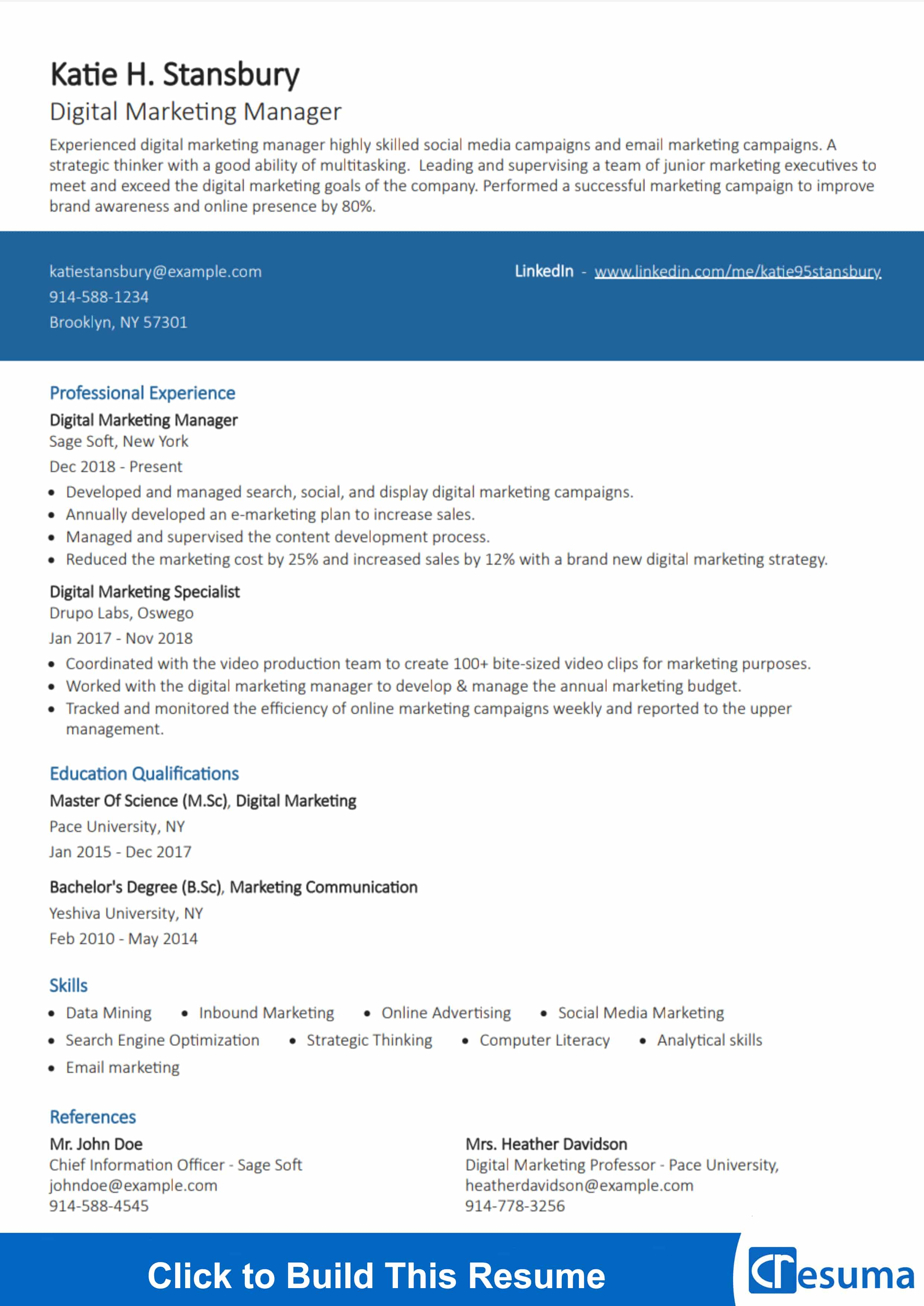 The Best Resume Format for a Digital Marketing Manager
According to the career experts, the best two resume formats in 2023 are the reverse chronological format and combination or hybrid resume format.
However, the reverse chronological resume format is the best for a candidate with years of experience as it will focus more on the work experience. On the other hand, if you are a person with a complex digital marketing background (i.e. projects, freelancing, etc) the hybrid resume format is a better option for you to use as it will highlight your skills as well as your work experience.
Whichever the resume format you have used, the key to success is the relevancy. And also, the hiring managers will be focused on your experience and your accomplishments. So you have to be smart when listing the job descriptions, accomplishments, etc.
Digital Marketing Manager Resume Header
Is the resume header a crucial section for a job-winning resume? The answer is, yes. By including the most important details in the right way will bring you the fortune as the resume header is the key factor of the 6-second resume scan.
So what are the things that we should include in a resume header of a digital marketing manager?
There are mandatory details that you should insert into the resume header such as your name, job title, address, email address, and phone number. Always make sure that you use a valid phone number and a professional email address. Never add your work phone number or email address. On the other hand, you don't need to mention your full address. Just the city and state are enough to mention. Recruiters just need to know whether you stay close to the workplace or not.
As you are applying for the digital marketing manager position, you can make your resume header stand out by mentioning your job title in an enhanced way such as, Senior Digital Marketing Manager, Google Ads Certified Digital Marketing Manager, etc. In this way, you can get the attraction of the recruiter towards your resume without a doubt.
What about including a social URL such as Facebook and LinkedIn. Yes, that's great! As a digital marketing manager, you must have well maintained online social profiles. So do not hesitate to add them to your resume header. Your LinkedIn profile is also a good source for the hiring manager to get a deep understanding of you. These URLs will double your resume value for sure.
How to write a Super Resume Summary or Objective Statement
The resume summary is a very important section of a typical resume and one of the factors which decide your job search. In this short paragraph, you need to provide a quick but compelling summary of who you are, what your expertise is, and the value you can bring to the company.
This is one of the best places that you can sell yourself to the recruiter easily if you have written it correctly. To make it stand out you can add your key achievements with quantified results and also some action verbs instead of resume buzzwords.
Here is a great sample digital marketing manager resume summary for you to get inspired.
An expert digital marketing manager with 5+ years of experience in digital marketing management and specialized in areas like SEO, SEM, Analytics, content writing, AdWords, social media marketing, and email marketing. Managed a team of junior digital marketers and led them to increase web traffic by 80% in 10 months.
But if you are a fresh graduate or entry-level candidate without enough industry related experience, you can simply write a resume objective instead. In a resume objective statement, candidates used to mention their future career goals. But this is a totally wrong approach. All you have to do here is to highlight your key skills and let the recruiters know how you can help the company's success using your existing skills.
Education Resume Tips for Digital Marketing Managers
Do hiring managers care about your degree? We think, no. Because they prefer more experienced ones over qualified candidates. But if you have any relevant degree, include it on your resume. But not in detail. You don't need to mention your GPA or coursework etc. Because those are just irrelevant things for the recruiters. They only value your experience and achievements.
Apart from an education section, you can also add a separate section for the related certifications to further show your qualifications to the hiring manager.
How to impress Hiring Managers with your Digital Marketing Experience?
As we mentioned earlier this might be the most important section for hiring managers on your resume. Because this is the best place that they can get an idea of your abilities. And also, note that this is one of the best sections that you can tailor your resume with the keywords from the job advertisement.
So prove yourself as a result-oriented person by listing the job descriptions. Job descriptions in the sense that you need to describe what you did, which skills you have used, and the result you got. You have to describe this by using around 3-4 bullet points under each work experience or job title.
When you describe what you did, use powerful action verbs to make your resume a more powerful one. And when you describe your results, do not forget to mention some of the quantified results. Also, refer to the job advertisement to pick the keywords and apply them here. Especially the skills required by the job. In this way, you can make your resume stand out among the others.
Here is a sample digital marketing manager resume work experience section for you to get inspired.
Digital Marketing Manager
Cresuma, USA
2017 Nov – 2023 Jan
Increased repeat users from 10% to 45% and conversion rate by 3% to 15% using an email marketing strategy.
Trained a team of 10 content writers to make SEO optimized articles that resulted to get 100+ quality backlinks within 6 months.
Increased ROI of Ads campaign by increasing the sales by 45%.
Digital Marketing Manager Skills for a Winning Resume
When writing your resume you need to be focused on the relevancy with the job offer. The job advertisement will tell you about the intent of the job and you should match your resume according to that intent.
Therefore always note down the required set of skills from the job posting or the offer and mention them on your resume skill section. Apart from that, here are some other essential skills that every digital marketer should include in their resumes.
Data Analysis
Writing and editing skills
SEO and SEM skills
HTML/CSS
Email marketing skills
Content marketing
Social media skills
Paid social media advertising skills
Designing skills
Strategic thinking
Decision-making skills
And also in the digital marketing field, there are so many tools available on the web that can be used for various purposes. So the knowledge of using those digital marketing tools will be an added advantage for digital marketing managers. Here are some:
Google Analytics
SEMrush
Buzzsumo
Moz
Facebook Ads
Google Ads
LinkedIn Ads
Mailchimp
Google tag manager
Ubersuggest
Screaming Frog
Google PageSpeed Insights
Google Search Console / Bing Webmaster tools
Ahrefs
Google Keyword Planner
Google Trends
SimilarWeb
XML Sitemaps
Yoast SEO
SEO Site Checkup
What are the Best Certificates to be on a Digital Marketing Resume?
Certifications can prove that you are passionate and dedicated to your digital marketing career. Certified Digital Marketers are often more educated and motivated than non-certified Digital Marketers. Therefore the recruiters love to see related certificates on candidates' resumes.
Here are the top digital marketing certifications nice to have on your resume in 2023.
Google Analytics Certification
Google Ads / AdWords Certification
HubSpot Inbound Marketing Certification
HubSpot Content Marketing Certification
Facebook Advertising Certification
YouTube Certification
Hootsuite Social Marketing Certification
Facebook Blueprint Certification
Copy blogger Certified Content Marketer
Bing Ads Certification
SEMrush SEO Toolkit Course
HubSpot Email Marketing Certification
Digital marketing is a broad field. To get the optimum results, we recommend you narrow down and specify your resume into the following areas such as SEO, SEM, Social Media Marketing, Analytics, Email Marketing, Content Developing, etc. This could be helpful to increase the relevancy of your resume to the job offer. Which means you are much more closer to land your dream job. Always try to tailor your document for the job you are applying for.
But wait a minute. What about a cover letter? Unless the company strictly says not to send a cover letter, you are always free to submit a cover letter along with your resume. So why don't you give it a try to learn how to write a perfect cover letter? Maximize your job winning chances by composing a great digital marketing manager cover letter.
Digital Marketing Manager Resume Sample (Text Version)
Katie H. Stansbury
Digital Marketing Manager
914-588-1234
katiestansbury@example.com
Brooklyn, NY 57301
Summary
A punctual chiropractic assistant with 10 years of experience in patient and office management at the same time by using strong interpersonal and organizational skills as well as excellent verbal and written communication skills. Comfortable in using both computerized systems, medical machines, and tools. Ready to provide the service in day times, evenings, and weekends as necessary.
Work Experience
Digital Marketing Manager
Sage Soft, Buffalo, NY – 2018 Dec – Present
Developed and managed search, social, and display digital marketing campaigns.
Annually developed an e-marketing plan to increase sales.
Managed and supervised the content development process.
Reduced the marketing cost by 25% and increased sales by 12% in just 6 months with a brand new digital marketing strategy.
Digital Marketing Specialist
Drupo Labs, Oswego, NY – 2017 Jan – 2018 Nov
Coordinated with the video production team to create 100+ bite-sized video clips for marketing purposes.
Tracked and monitored the efficiency of online marketing campaigns weekly and reported to the upper management.
Worked with the digital marketing manager to develop & manage the annual marketing budget.
Education
Master of Science in Digital Marketing – 2015 Jan – 2017 Dec
Pace University, NY
Bachelor's degree in Marketing Communication – 2010 Feb – 2014 May
Yeshiva University, NY
Skills
Data mining
Inbound marketing
Online advertising
Social media marketing
Search Engine Optimization
Strategic thinking
Computer Literacy
Analytical skills
Email marketing
Congratulations. Now you know how to build your Digital Marketing Manager Resume. Want to start building now? Click the below button